With sweeping mountain vistas, an endless array of exhilarating hiking trails, and something to please every member of the family, it's no surprise that Banff is at the top of many people's must-do vacation lists. This Canadian Rockies destination is burgeoning with a variety of activities and Insta-worthy picture opps that will leave you breathless at any time of the year.
But every season offers something a little different to travelers, and "shoulder season" is no exception. If you are planning a trip to Banff in May, be sure to use this handy "know before you go" guide and get the most from your visit.
Getting There & Getting Around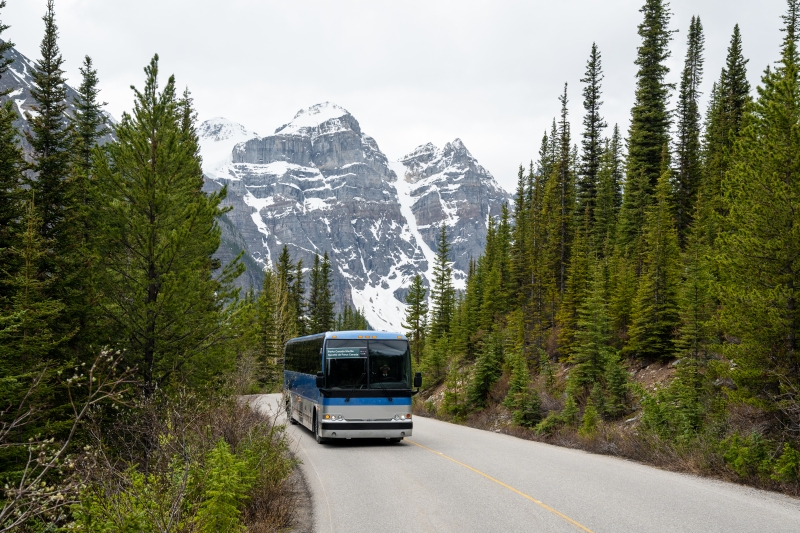 By Air
The easiest way to travel into Banff is via plane. Fly into Calgary, Banff's closest international airport. Calgary is about 130 kilometers, around 80 miles, to the east of Banff.
By Car
Most visitors choose to rent a car at the airport and make the ninety-minute drive. Be aware that parking is at a premium in Banff. Finding an available spot can sometimes be challenging. If you're parking in the downtown Banff area, be prepared to pay $3 CAD per hour in summer months and $2 CAD per hour in the winter. Pay at conveniently located kiosks, or download the Blinkay app for Android or Apple. Free parking is available at the Train Station Public Parking Lot on Bow Avenue for up to nine hours. To avoid parking difficulties when visiting popular destinations, plan to arrive early!
By Shuttle
If you prefer to leave the driving to someone else, there are a couple options available to the savvy traveler. There are many companies that offer shuttle service from the airport into Banff and Canmore. Prices, on average, start around $50 one-way depending on your drop-off destination and whether you choose a private coach or rideshare.
By Bus
You can also opt to take advantage of Banff's excellent public transportation system. ROAM Transit has an extensive route system which will enable you to travel to most popular Banff National Park destinations like Lake Minnewanka, Moraine Lake, Johnston Canyon, and many more.
One-way fares start at $2 CAD for adults, and $1 for youths and seniors. One-day Super Passes are available for $25 CAD for adults and $12.50 CAD for youths and seniors. Certain Banff lodging options even offer free transit passes for their guests on Banff local routes 1, 2, 4 & 6. All fares are available for purchase at the ROAM Customer Service Desk inside the Banff Visitor Center located at 224 Banff Avenue or on the Token Transit app.
Packing for Banff in May: What to Bring for Springtime Adventures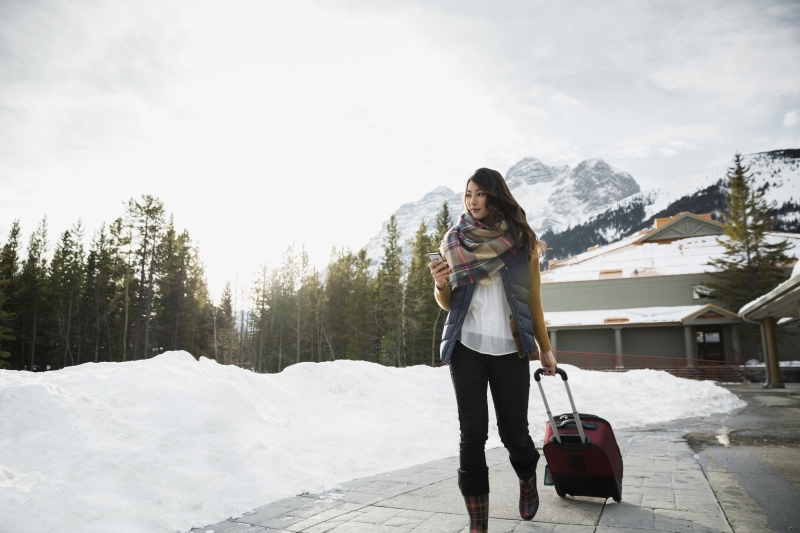 Leave the shorts at home if you're coming to Banff in May. With low temperatures averaging around -17˚ Celsius, or 33˚ Fahrenheit, you'd be shivering in your boots! And speaking of boots, a pair of sturdy-soled boots are the most advisable footwear for trekking around the Canadian Rockies. Make sure they are waterproof. Microspikes are advisable if you have any hiking on your itinerary.
Don't forget long pants, scarves, warm hats, and gloves, as well. It's a good idea to layer clothing when venturing out—you can always remove a layer or two when the sun warms things up. And a down jacket is an absolute must no matter when you plan to visit!
From Snow to Sun: Embracing Banff's Changing Seasons in May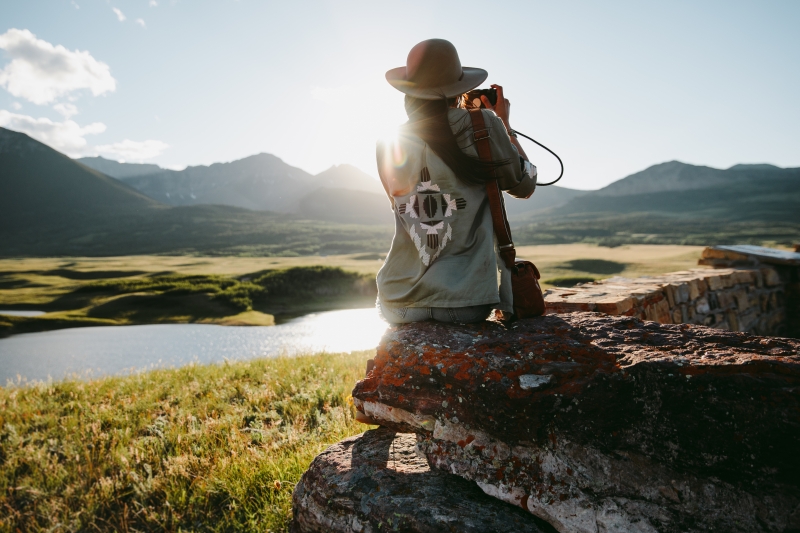 There's still a significant chill in the Banff air in May, but the temperatures do start to climb. The sun begins to make regular appearances, and there's still the odd shower or two. Visitors will experience more precipitation at higher elevations, presenting either as rain or snow—and yes, there is a high probability you will experience snow when visiting Banff in May. If you plan on doing any hiking, expect some muddy trails from melting snow.
Visitors to the Lake Louise and Sunshine Ski Resorts can take advantage of some of the longest running ski seasons in Canada. It won't necessarily be the light powder most favored by skiers, but the runs are still operable to get that final ski of the season.
If you have your heart set on seeing the intense blues of Lake Louise or Moraine Lake, you may not want to plan a May sojourn. The spring thaw has not yet touched Banff's glacier lakes, so you'll probably want to delay your visit at least until June. Also, there are still winter road closures in place, but that doesn't mean you can't access plenty of fun in Banff in May.
What to Do in Banff in May
The natural splendor of the Canadian Rockies is always present, but May is a unique time to visit Banff. As the month churns on, you can almost get the best of both worlds as winter lingers, yet spring begins to peek around the corner. Surrounded by awe-inspiring, snow-capped peaks and sprawling landscapes, there are plenty activities to satisfy even the most discerning adventurer.
Discovering Wildlife in Banff National Park in May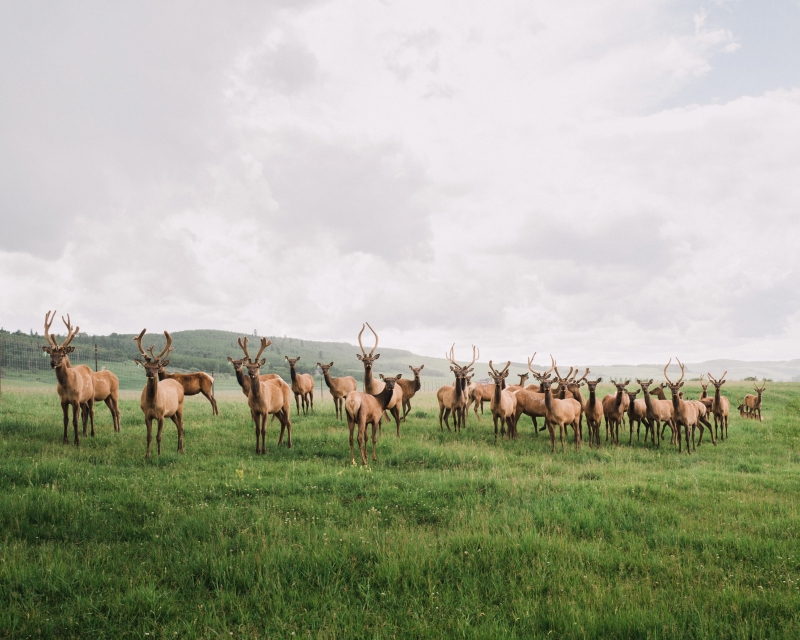 If you're a nature lover, May is a wonderful time to participate in some wildlife watching. Many of Banff's furrier inhabitants start to emerge from their winter naps in May. A keen eye can spot the bashful pikas as they scurry between boulders on Cascade Mountain's C Level Cirque Trail. You can see elk along Vermillion Lakes Drive or the Bow Valley Parkway.
When viewing elk, or any wild animal, be certain to exercise due caution and maintain a safe distance. May is the beginning of elk birthing season, and mother elk aren't very keen about anything getting too close to their babies. May is great time to spot bighorn sheep at lower elevations before they wander back to the high alpine meadows for the warmer months. Whitetail and mule deer can be seen searching for tasty morsels. Don't become a morsel yourself, though, as bears begin to roam the park. Bear spray is a must-have accessory if you are hiking any of the many hiking trails scattered throughout Banff National Park.
Cowboy Cookouts & Horseback Riding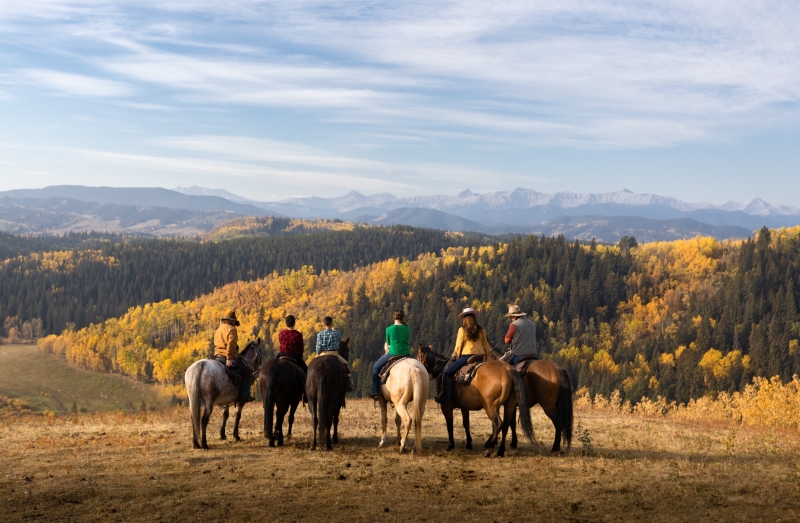 While we're on the topic of animals, horseback riding is a fabulous May activity in Banff. Take a guided ride along the Bow River to experience how early 19th century fur traders and settlers navigated the steep and rocky terrain of the mountains. Don't have any experience, or haven't ridden in a while? Don't worry. Many tour companies offer helpful instruction to help get you back in the saddle.
Many visitors choose to combine their trail ride with one of the popular cowboy cookouts. Banff Trail Riders offer a family-friendly ride along the beautiful Bow River to the 3 Mile Cabin where you'll enjoy western games and a tasty catered meal of steak, BBQ beans, baked potatoes, and lots more. If you have little ones, you can opt for a horse-drawn wagon ride as well.
May Camping in Banff: A Peaceful Retreat Before the Crowds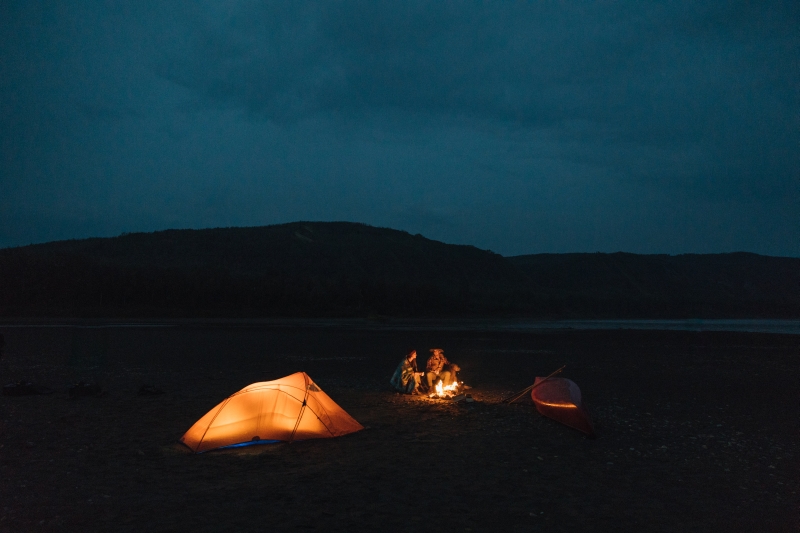 If you're raring to get an early start on the camping season, May is a great time to avoid the crowds. It's definitely the off-season for sleeping under the stars, though. The low season brings freezing temperatures at night. So, if you do plan on camping, make sure your equipment is properly rated for freezing weather.
Lake Louise: Discovering the Beauty of Banff's Iconic Lake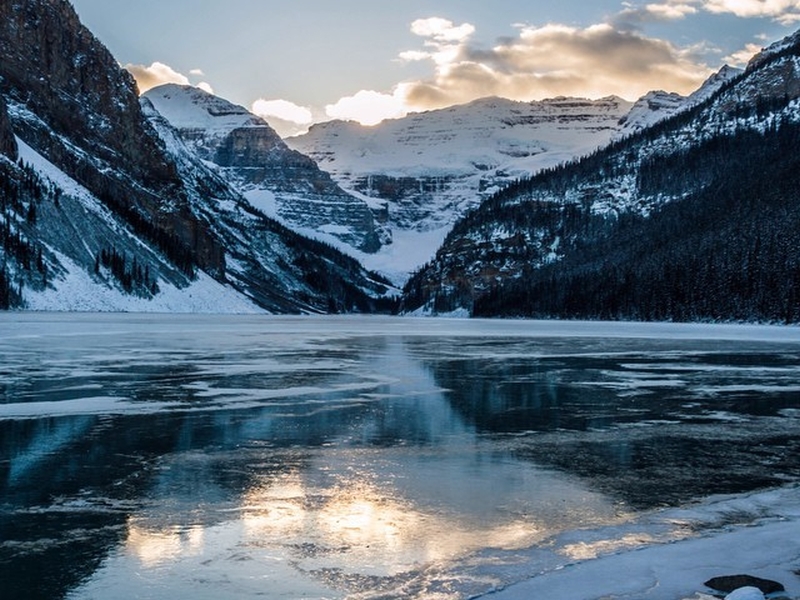 During the spring thaw, Lake Louise is one of the first to show off that signature Banff blue. However, most years, Banff's lovely lakes are still frozen in May, and that includes Lake Louise. Expect the lake's surface to still be covered by a layer of ice. Hiking trails like the Lake Agnes Teahouse hike are probably not quite ready for spring exploration. The teahouse itself doesn't even open until June. However, that doesn't mean there's nothing to do at this popular Banff destination! In May, Lake Louise offers some stunning photo opportunities without having to cope with frigid winter temperatures.
Moraine Lake's: Visiting in May for Solitude and Scenery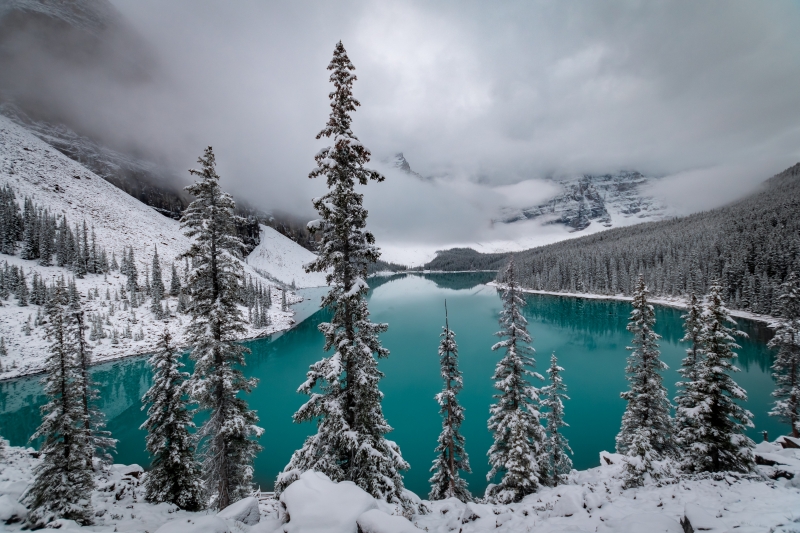 Typically, you can expect Moraine Lake access to open toward the end of May. That being said, Mother Nature has the final say-so in the matter. If the snow is still too heavy, the access road may remain closed well into June. But you can still access the natural beauty of the lake via bike. With the through road closed to vehicular traffic, the invigorating 12 kilometer climb allows you to soak in the majestic, snow-capped peaks and the icy beauty of this stunning lake.
Exploring Banff's Backcountry on Two Wheels in May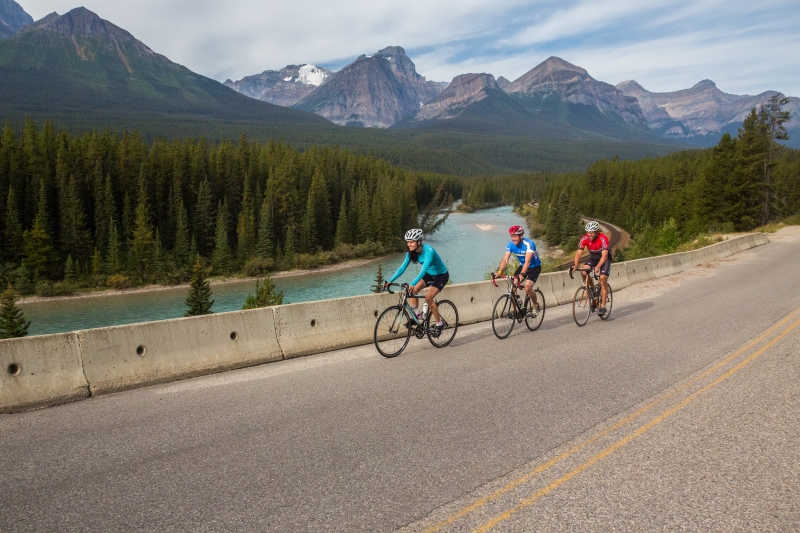 Biking is a great alternative to hiking in the shoulder season. May is actually one of the best months to experience biking in Banff. The roadways are almost completely cleared of snow and perfect for avid cyclists and mountain bikers. Many local businesses offer bike rentals to help you take advantage of this popular May activity.
The Bow Valley Parkway is a beautiful, meandering route with a host of scenic pull-offs scattered between stands of forest and stretching meadows and marshes. The 58-kilometer roadway connects the town of Banff to Lake Louise. The road is smooth and paved, perfect for a leisurely cruise through the Canadian scenery like Storm Lookout Mountain, Moose Meadows, and Johnston Canyon. And don't miss Morant's Curve, the iconic, picturesque bend framing incredible shots of the Canadian Pacific Railway.  
Exploring Johnston Canyon's Waterfalls and Scenery
Some popular Baff-area hikes are still a little snow-logged to be thoroughly enjoyed in May. Johnston Canyon, however, is a fabulous, well-maintained, and easily accessible trail along the Bow Valley Parkway you won't want to miss. It gets its name from a prospector who staked a claim to the area sometime in the 1880s. There's still some snow and ice to contend with, however, so don't forget your hiking boots and spikes!
Perhaps the best feature of Johnston Canyon is the waterfalls. There are two falls to experience along this hike—the Upper Falls and the Lower Falls. In the latter part of May, the snow melting from higher elevations courses down into the canyon and feeds the falls with bright, aqua-colored water making May perhaps the best time to visit Johnston Canyon.
As you trek through the canyon, you'll first come upon the Lower Falls in a little over 1.5 kilometers, just under one mile. You can get pretty close to the water via a small cave, but be careful! It can get slippery.
If you continue for nearly another 1.5 kilometers, you'll get to the Upper Falls.  The Upper Falls is higher than the Lower Falls. A foamy white froth bubbles at the base of the strong, falling water. Here the canyon walls are covered in a powdery travertine drape, formed from limestone and algae. During the winter, this area is popular with ice climbers.
If you wish, you can keep going. In another 3.2 kilometers, or two miles, you'll come upon the Ink Pots, a natural collection of several different colored pools. The vary in color, ranging from a light aqua to a deeper blue due to the varying rates in which they each fill.
Family Fun Times at the Sunshine Slush Cup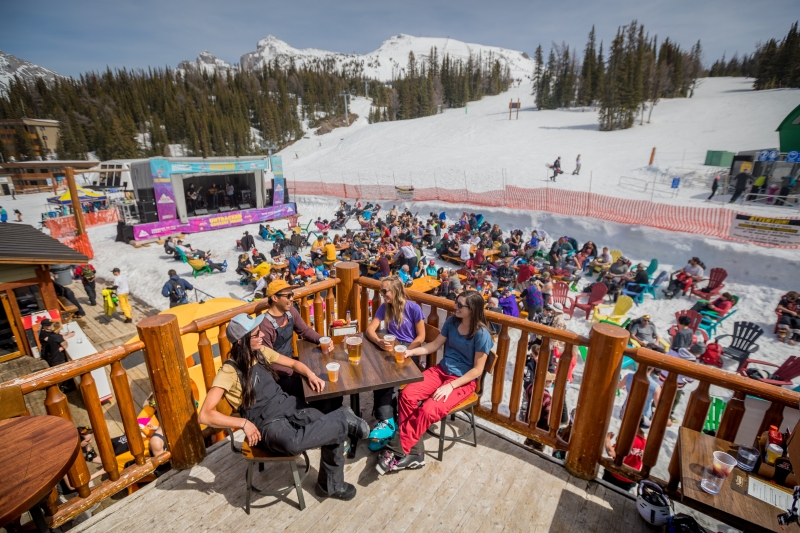 Sunshine Ski Village is a great spot to get some last time on the slopes, but it's an even better spot to kiss the winter season goodbye and celebrate the arrival of spring. The Banff Sunshine Slush Cup is an annual event that takes place at the village. It happens on the May Long Weekend and includes competing fun and games for snowboarders and skiers. The weekend kicks off with the Slushine Rail Jam, continues with an all-ages Watergate Banked Slalom, and wraps up with the highly popular Slush Cup. Expect a party atmosphere and fun for the whole family.
Riding the Rapids: A May Wildwater Rafting Experience in Banff
If you're brave enough to tackle the river wild, treat yourself to an epic adventure riding the rapids on the Kicking Horse River. With the arrival of May, the rivers start to swell with the snowmelt, making it the perfect time for adventure-seekers to take to the water. Wildwater's experienced and knowledgeable guides ensure that you have a safe and fun-filled adventure on the rapids, whether you're a first-time rafter or a seasoned pro. The company provides all necessary equipment, including wetsuits, helmets, lifejackets, and paddles, so all you need to bring is a sense of adventure.
On the Kicking Horse River, you'll experience some of the most exciting rapids in the Canadian Rockies, including the Class 3-4 rapids of the Lower Canyon. The Bow River, on the other hand, offers a more relaxed and scenic float, with the opportunity to take in the stunning views of the surrounding mountains and forests.
Driving the Icefields Parkway in May: Tips for a Safe and Scenic Journey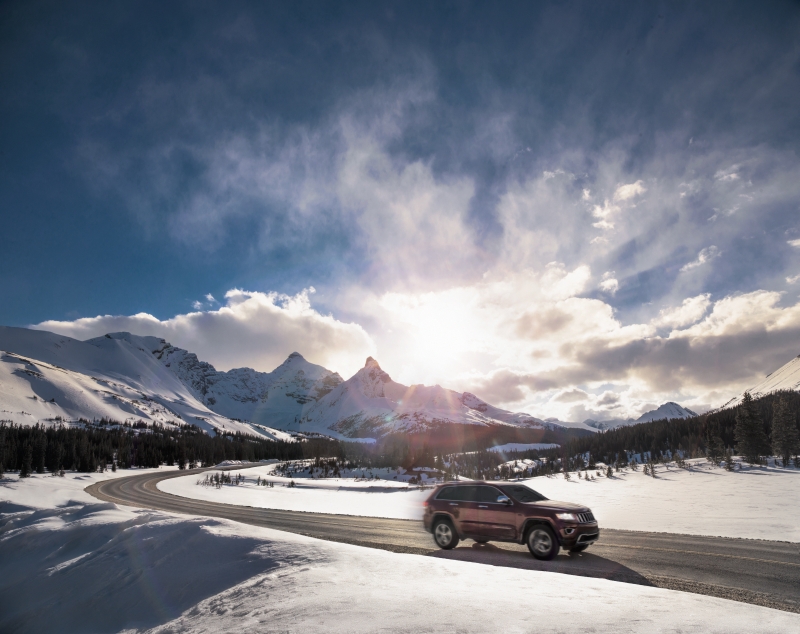 If you have ever wanted to experience stunning views like Mistaya Canyon or experience the jaw-dropping wonder of a glacier up close and personal, then consider a cruise along the Icefields Parkway. During the summer, the Icefields Parkway can be thick with traffic. If you want to feel like it all belongs to you, May is a great time to make the trek.
Crowds are thinner in May on this road between Banff and Jasper. This makes stops like hiking the icefields and the Athabasca Glacier a breeze. May sees the annual reopening of the Columbia Icefield Center and the Glacier Skywalk in Jasper. This 400-meter, glass-bottomed walkway allows visitors to literally step into the scenic view 304 meters, or 1,000 feet above the Sunwapta Valley. See unobstructed vistas of snow-capped mountains and rolling hills and valleys stretching out as far as the eye can see.
While most the snow has melted off, keep aware of potential driving hazards that may still linger, such as black ice.
Banff's Best Views: A Trip to Sulphur Mountain's Summit on the Gondola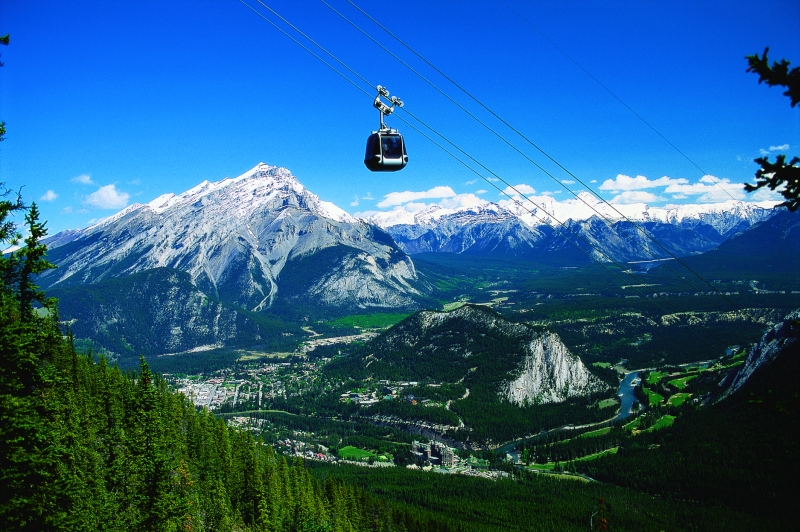 For a May activity that is truly head and shoulders above the rest, treat yourself to a hike or a gondola ride up Sulphur Mountain. Offering spectacular views of Bow Valley, Spray Valley, and over the town of Banff itself.
Take in views of six different mountain ranges and the surrounding alpine scenery as the Banff Gondola ferries you to the top of Sulphur Mountain. The mountain takes its name from the hot springs that burble and bubble and its lower slopes.
May sees the gondola resume spring operation on May 1st. The gondola runs daily from 8:00AM-9:00PM, with the last ride up departing each day at 7:30PM. You can find tickets starting around $47 CAD round-trip. Children under 5 years old are free, but still must hold a ticket. One-way fares are available for half the price of a regular ticket. Each viewing car seats four. Service animals are permitted but leave the pets at the hotel.
Once you reach the summit of Sulphur Mountain, you can take in the views, stroll along the boardwalk, and even visit nearby historic sites. There are also plenty of opportunities to shop, experience the multi-sensory theater and interactive exhibits, or warm yourself by the crackling fireplaces.
Hiking to the top of the mountain is also a great May activity. You can find the trailhead for this hike in the gondola parking lot. The moderate hike is predominantly 5.4 kilometers (3.4 miles) of switchbacks, with an elevation gain of around 744 meters (2,480 feet). Watch the gondola drift past overhead as you make the climb.
The trail may still have some patches of ice and snow along the way, so watch your step. You may want to consider using microspikes or poles to keep you steady along the way. You'll probably find the wind picking up as you near the summit, but don't worry. You can grab a hot cup of joe at The Summit Café.
Hiking in Banff National Park: Best Trails to Explore in May
If hiking is your jam, you can find a few other excellent hikes to enjoy around Banff in May. Some may be a little muddy as the snow and ice starts to melt under the spring sunshine, but besides the Sulphur Mountain hike, two areas stand out as excellent choices for the avid hiker.
Kananaskis Country
You'll have better luck finding nearly snow-free trails in the lower foothills and front ranges in the Banff area. This means the area of Kananaskis is prime early-season hike country. If you're seeking a challenging trail, we recommend Porcupine Ridge. This 6.7 mile (10.78 kilometers) out-and-back trail has an elevation of 2,965 feet (903.73 meters). Push you limits even further with the 8.3 mile (13.36 kilometers) Wasootch Ridge. This out-and-back trail has an elevation of 3,085 feet (940.31 meters).
If you're looking for a more family-friendly trail in Kananaskis, Troll Falls is a brilliant choice. During the winter, this hike's picturesque falls become ice falls. By May, they are usually burbling happily again. This easy trail is just 3.4 kilometers (2.1 miles) round trip with a very mild elevation of 30 meters (98 feet).
Tunnel Mountain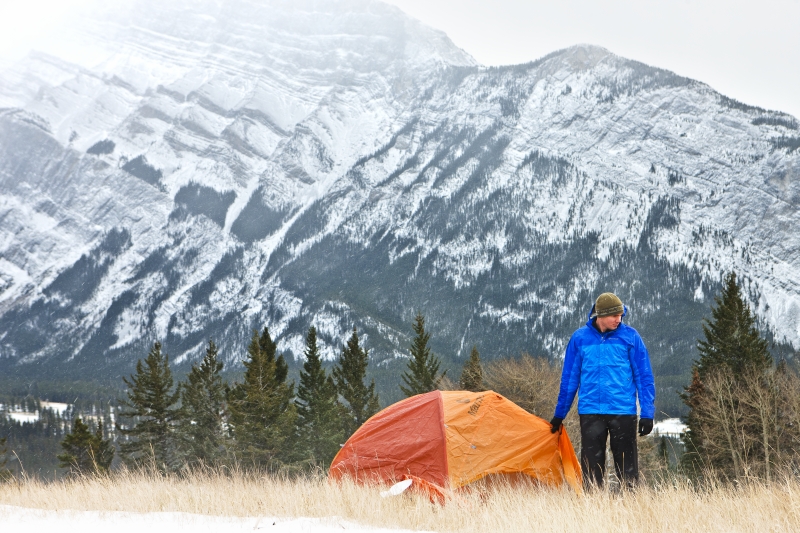 You don't have to look very far to find a great hike near Banff. Tunnel Mountain, named for the proposed historical tunnel through the mountain, offer hikers a short, 4.5 kilometer (2.8 mile) hike that ends with beautiful views over Banff. Though the tunnel never came to pass, the moniker stuck. The mountain's original name is Woweyahgey Wakân in the indigenous Stoney Nakoda language. The name means Sacred Buffalo Guardian Mountain.
Paddling in Banff National Park in May
While it's still more than a little chilly to enjoy swimming in any of the Canadian Rockies crystal blue waters, there are still some water sports you can enjoy. Even though Lake Louise and Moraine Lake still harbors an icy covering, you can often find lakes in nearby Canmore, like Two Jacks Lake and the Vermilion Lakes, have defrosted in time to allow for perfect paddling!
Rent a kayak or a canoe and paddle out to enjoy epic scenery like Ha Ling Peak. The mountain's looming face towers over the surrounding countryside, making it an easy one to pick out. When the weather warms, you can even hike the mountain and see the hydro-electric dam that runs beneath the first portion of the trail.
Plan ahead if you plan on paddling in May. You will likely need to rent your equipment in Banff at places like The Blue Canoe that will allow you to bring your canoes to Canmore. The Blue Canoe typically opens around the mid-month.
Why May is the Best Time to Take a Helicopter Tour in Banff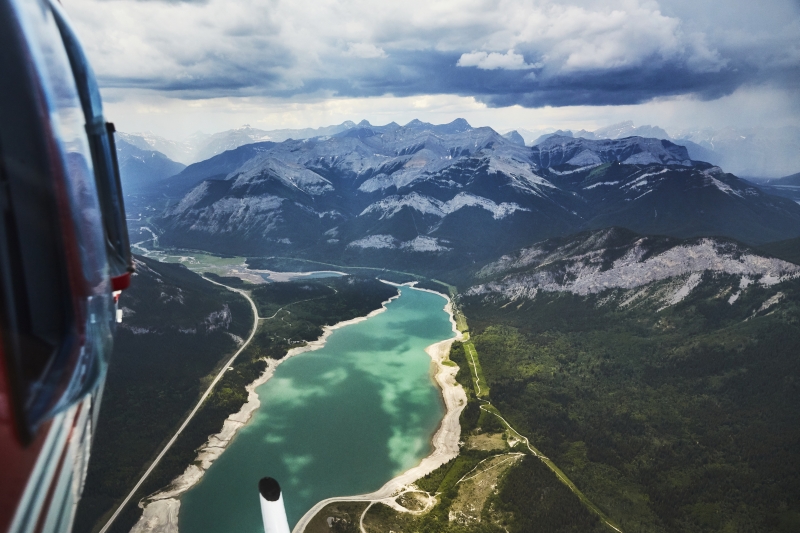 Taking a helicopter tour of Banff in May is a truly breathtaking experience. From high above, you'll be able to see the stunning natural beauty of the Canadian Rockies, including towering mountain peaks, icy glaciers, and sparkling lakes. With the snowmelt in May, the landscape is particularly spectacular, as the rivers and waterfalls are flowing fast and the valleys are bursting with new growth. Helicopter tours are available in a range of durations and routes, from short 12-minute flights to longer excursions that take you deep into the backcountry. Some tours even include a landing on a remote mountaintop, where you can step out and take in the awe-inspiring views from above.
Helicopter tours in Banff in May are operated by experienced and knowledgeable pilots who provide informative commentary on the area's history, geology, and wildlife. You'll also be provided with a headset so that you can communicate with the pilot and ask any questions you may have during the tour. With comfortable seating and large viewing windows, you'll have an unobstructed view of the stunning scenery below. Whether you're a first-time visitor to Banff or a seasoned explorer, a helicopter tour in May is an unforgettable way to experience the beauty of the Canadian Rockies.
If you're looking for a truly heavenly excursion, take a trip up among the clouds, no wings needed. A helicopter tour will take you soaring up and above the beautiful Canadian Rockies, giving you a whole new perspective on things. Several companies offer tours. Pricing varies dependent upon routes and durations.
Sipping Your Way Through Banff: A Fun and Festive Pub Crawl
With all the invigorating outdoor activities available in Banff, you're certain to work up a thirst. Fortunately, May is the start of patio season, and you can enjoy some of the finest craft brews Banff has to offer at one of its several unique breweries. Or make an evening of it and sample the fare at all of them!
Park Distillery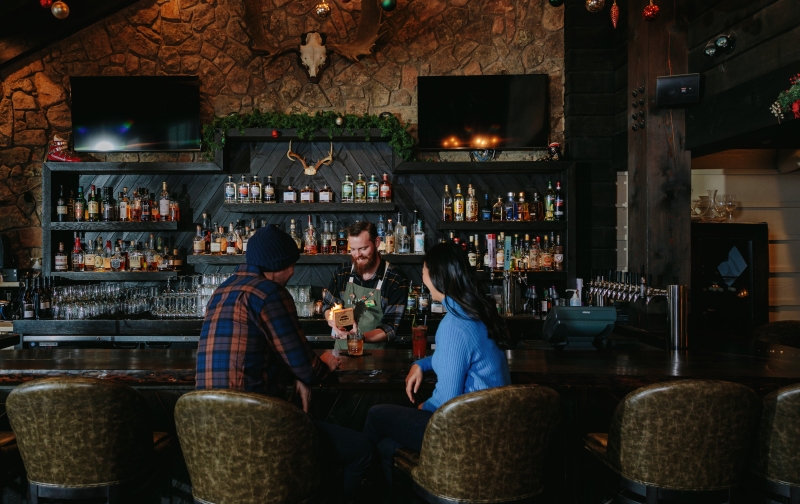 Address:  219 Banff Ave
Pricing: $14.25-16 CAD cocktails, $8.75 CAD pints
Menu: Breakfast, lunch, and dinner
Park Distillery is unique among the watering holes on this list. It is the only distillery. They feature eleven craft spirits and five craft whiskeys, many of which frequently sell out!
Three Bears Brewing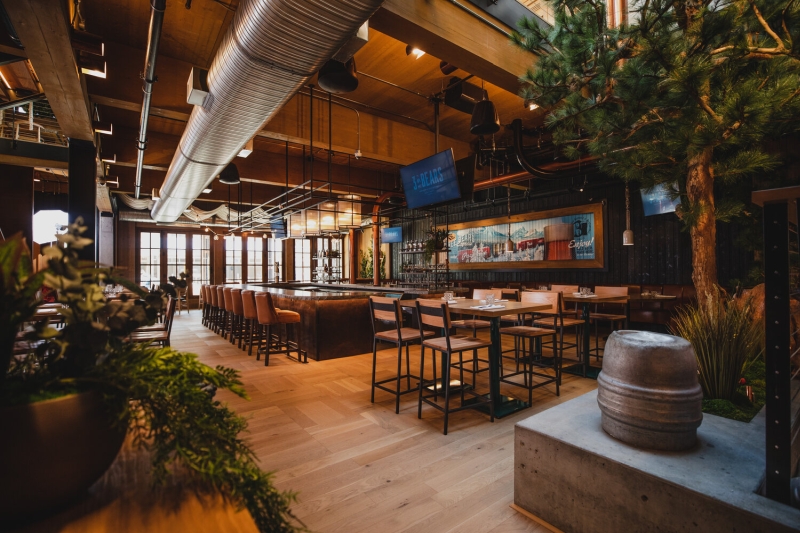 Address:  205 Bear Street
Pricing: $8.75-$9.50 CAD pint
Menu: Appetizers, pizza, sandwiches, bowls, and salads
Three Bears Brewing is actually owned by Park Distillery. Their focus is more on craft beers, with interesting creations like their rotating tea-infused brew. If it doesn't happen to be available during your visit, no worries. They have a full menu of brews to choose from, including IPAs and Pale Ales.
Banff Avenue Brewing Company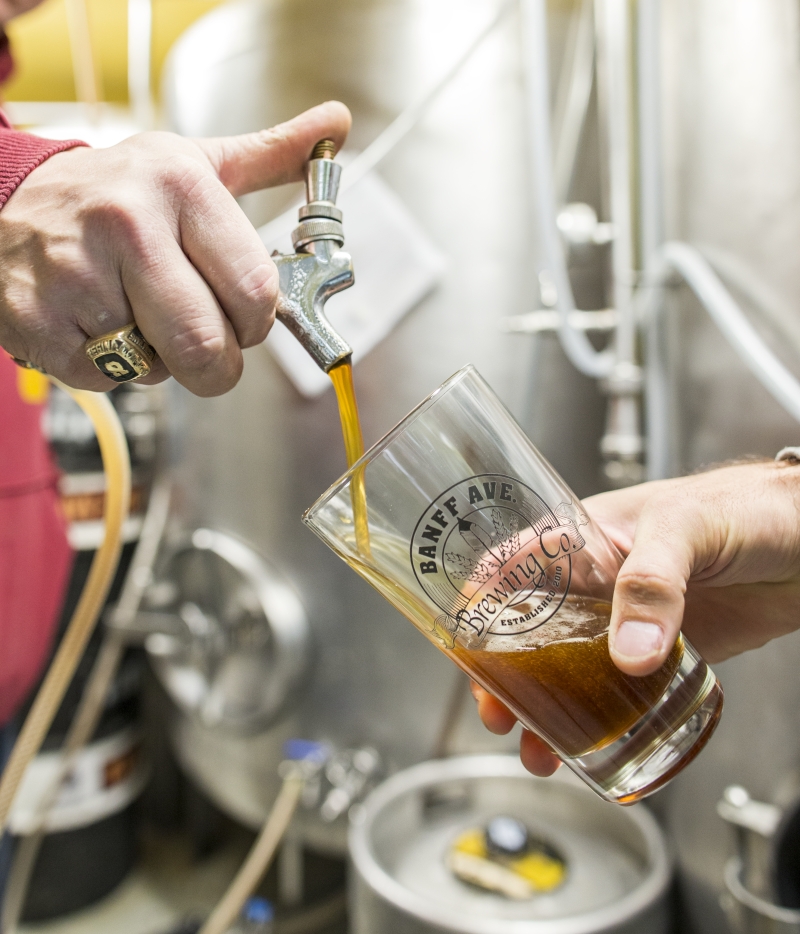 Address:  110 Banff Ave
Pricing: $9.25 CAD pint with Daily Specials
Menu: Varied menu
If you have a hankering for some poutine, belly up to the bar or grab a table at the Banff Avenue Brewing Company. Here you can find the signature Canadian dish along with a wide variety of other delicious pub fare and a dozen specialty craft beers sure to please any palate! The brewery is located on the second floor of the building and offers exotic flavors like the Strawberry Pint'a Colada to the more traditional Pond Hockey Pale Ale.
Summary
With all there is to see and do around Banff in May, it's easy to see that the off-season really has it going on! There may still be some snow and ice to contend with, and temperatures can be a bit on the chilly side, but you can expect smaller crowds and more room to enjoy all that Banff in May has to offer. From epic scenery to terrific early-season hikes, visitors can easily find something to suit everyone in the family—from the avid adventurer to the craft beer connoisseur. Cheers!