Ah, Banff in winter! The mere mention of it can send shivers down the spine of even the bravest of adventurers. But fear not, my chilly companion, for there is much to be enjoyed in this winter wonderland.
From skiing and snowboarding on world-class slopes to soaking in hot springs surrounded by snow-capped mountains, Banff offers a unique and unforgettable winter experience. So grab your toque and mittens, and let's dive headfirst into the frozen fun that awaits us in the heart of the Canadian Rockies.
History (Brief) of Winter Activities in Banff
Banff, Alberta is located in the Canadian Rockies and has a long history of winter activities. The area was first settled by European fur traders in the early 1800s, but it wasn't until the construction of the transcontinental Canadian Pacific Railway and the Banff Springs Hotel in the 1880's that Banff became a popular destination for tourists.
To aid in clearing terrain, Scandinavians adept at traversing steep, wintry landscapes were brought in. They used skis both in their work and for daily activities and others took notice. Once the hotel was up and running, guides were employed for tourist activities and began to introduce tourists and locals alike to skiing. It gradually took hold with the first ski club in the Canadian Rockies being established in the town in 1911.
Today, Banff National Park attracts visitors from all over the world to experience its natural beauty and enjoy a wide range of winter activities. It is regarded as one of the premier locations globally for winter sports, especially skiing and snowboarding. Visitors can also enjoy ice-skating, snowshoeing, dog sledding, cross-country skiing, and snowmobiling. Nearby glaciers like the Columbia Icefield and the Johnston Canyon offer unique opportunities for ice-walks and ice-climbing.
Best Time to Visit Banff in Winter
Though the official first day of winter on calendars in December 21st, it isn't unusual to have the first snow of the year in September and low temperatures below freezing in October. The coldest and snowiest month of the year is December and skiing in Banff is typically best between December and March.
January through March tend to be dryer meaning a bit less snow on average. However, as the snow adds up month after month and the powder packs down, skiers generally enjoy between 90 – 120 cm (36 – 48 inches) of packed powder on the slopes. If you are planning on skiing, snowboarding or snowshoeing check the forecast on the trails and mountains to ensure the ground is suitable.
Banff's location in the Canadian Rockies affords it the unique phenomenon of Chinook winds. These occur when moist air from the Pacific lose their moisture as they rise over the Rockies. Gaining warmth, they descend the mountain slopes toward the Banff area creating dry, warm winds. Sometimes they can raise the temperatures by as much as 20 degrees, making a walk around town quite pleasant.
In January, temperatures can plummet to as low as -15°C (5°F) on average. Despite these below freezing temperatures, activities continue to run throughout the area, just be sure to pack plenty of warm clothing and layer up if you are venturing into the mountains. Since daylight hours wane to just 8 hours during the peak of winter, set off early and make the most of daylight on these gorgeous slopes.
Outdoor Things to do in Banff in Winter
1. Ski or Snowboard at Mount Norquay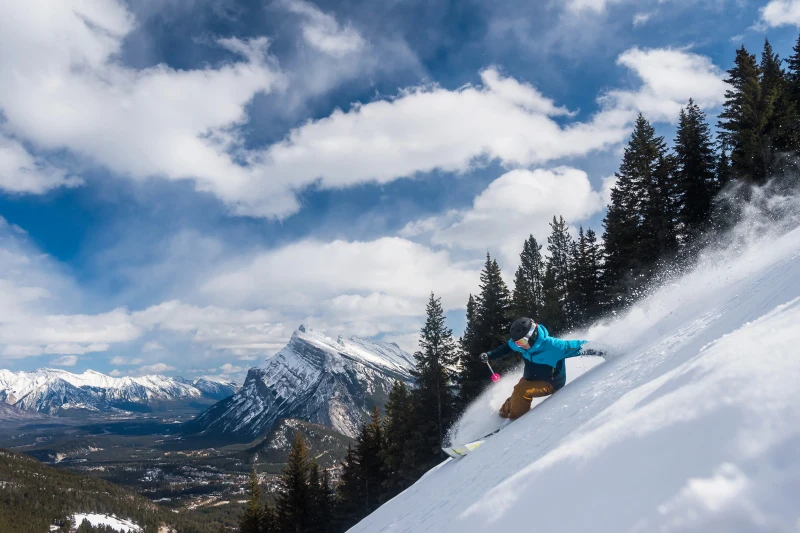 Mount Norquay is a great destination to head to when visiting Banff in winter. This is the closest ski resort to the town of Banff at a mere 7.5 km (4.5 miles) away. Winter sports enthusiasts can find skiing, snowboarding, tubing, and snowshoeing here. It also features nighttime skiing on Friday and/or Saturday nights depending on the month.
With a large and established snow school, Mount Norquay is a perfect skiing destination for beginners. You will spend a day on the mountains surrounded by breathtaking natural beauty while skilled instructors meet you at your current level and help you improve. Snow school offers a range of classes for all levels whether you've never been skiing or snowboarding before or want to hone your skills and challenge yourself.
Mount Norquay Ski Resort is at 2 Mt Norquay Road, Banff, AB T1L 1B4.
2. Ski or Snowboard at Banff Sunshine Ski Resort
Banff Sunshine Ski Resort is a short 25-minute drive from the town of Banff. However, once you arrive you feel like you are miles from anywhere. This incredible ski resort is on the Continental Divide right in the heart of the Canadian Rockies. The resort is at a height of over 2,100 meters (7,000+ feet) and offers stunning views over 3,300 acres of skiing terrain.
Ski season spans from early November till late May due to the snowfall in the area. This gives Banff Sunshine the longest non-glacial ski season in Canada. It is considered to have the best snow of Banff's Big Three resorts. Given its elevation, dryness and temperatures, that snow sticks around to build up a great base. Whenever you choose to visit Banff in winter, you can almost guarantee that skiing will be available at Sunshine. 
Banff Sunshine covers three mountains and offers skiing over both Alberta and British Columbia, both of which are part of one ski run! You will find some beginner runs here, but the majority of skiing here favors intermediate to advanced skiers comfortable with big mountains.
Adding to the allure of Banff Sunshine are its heated chairlifts, which were the first in Canada. Being outdoors in Banff in winter can be magical, but the addition of a warm seat when you are surrounded by ice and snow is wonderful. 
Banff Sunshine Ski Resort is at 1 Sunshine Access Road, Banff, AB T1L 1J5.
3. Ski or Snowboard at Lake Louise Ski Resort
There is no better resort in Banff in winter for the variety and number of slopes than Lake Louise Ski Resort. Covering 4,200 acres over four mountains, you can pick from 145 ski runs depending on your skill level. The breakdown of those is 25% beginner, 45% intermediate, and 30% advanced. The longest run stretches for 8km or 5 miles.
Skiing isn't the only winter activity you'll find here. If snowboarding is more your thing, when you've mastered the slopes you can visit the terrain park. There are jumps, bars and more to practice your skills on. Craving a slower-paced and more personal experience in the wild? Sign up for a guided snowshoeing tour to see some spectacular scenery in a completely different way.
The ski resort is perfect for those wanting to try skiing or snowboarding for the first time. Equipment is available to rent and there are numerous ski and snowboard lessons available. 
Lake Louise Ski Resort is one of the largest in North America with a very long ski season. You can enjoy mountain top views across the Canadian Rockies before heading down the slopes from mid-November to early May.
Lake Louise Ski Resort is at 1 Whitehorn Road, Lake Louise, AB T0L 1E0.
4. Cross-country skiing
An alternative to the speed and excitement of a downhill skiing is cross-country skiing. It allows to enjoy the more intimate and human level view of the area. Sometimes also called Nordic skiing, cross-country skiing is one of a few types of Nordic skiing. Characterized by a binding that only locks the toe of the ski boot to the ski, this leaves the skier with a free heel. This is useful in cross-country skiing where the skier is often on groomed trails and can travel using a shuffling and gliding motion.
Cross country skiing uses long, narrow, and lightweight skis as compared to downhill. Many shops and resorts will rent you equipment, helping you pick out the right items for you. With cross-country skiing, you need to wear clothing in layers that keeps you warm but also breathes and is easy to de-layer. Remember, this is a workout!
Since there is a lot of snow in Banff in winter, there are plenty of trails to follow. If this is your first time, we suggest you arrange for a few lessons either with a local outfitter or at an area resort. If you know what you are doing but this is your first time in Banff, we suggest you sign up for a guided trip. Some trails are easier or harder than others and you don't want to stray into avalanche territory. You also need to get tips on potential encounters with wildlife.
Those ready to get on out there have lots of options. Tunnel Mountain is a great beginner trail. The trail is an 8 km (4.97 miles) loop without any elevation gain. The trail begins at Tunnel Mountain Trailer Court Campground entrance, and follows much of the campground as it is closed during the winter months. This trail offers excellent views of Mount Rundle. At night the trail is lit up for cross-country skiers creating an unique outdoor experience. 
For something a bit more challenging and near the town of Banff, try the Cascade Valley Trail. It is an easy to moderate up and back trail. This means you can go as far as you feel comfortable and turn around to head back. This allows you to decide how long you want to be out on the trail.
5. Experience the backcountry on snowshoes
Snowshoeing in the surrounding backcountry is a great way to see Banff in winter. You don't need to haul your own equipment here if you are traveling from afar. Plenty of shops, both in the town of Banff at at the resorts, will rent you equipment for the day.
Head out on a trail and take in your surroundings. There are numerous trails around Banff which are perfect for snowshoeing. There are also trails for those who are new to the sports and want to learn with an expert. As I mentioned above, the Lake Louise Ski Resort offers guided snowshoeing for an up close and personal experience with this beautiful land.
Check with ski shops or local resorts for cross-country skiing or snowshoeing trails that are available across the area. 
6. Try Heli-skiing for more advanced skiers 
If skiing down a simple ski run isn't enough, try heli-skiing for a bigger adrenaline rush. 
Heli-skiing is pure wilderness skiing in a completely uncontrolled environment. As such, each trip is unique. Travel by helicopter to remote and untouched mountainsides on fresh and undisturbed snow. Once there, tear down the mountain like never before, before the helicopter picks you up for another run. 
There are several heli-skiing trips available in Banff, including one that takes skiers from Banff to Panorama in British Columbia. Most heli-skiing trips offer packages consisting of 3 or 5 runs, or 2 days. Whilst on your tour you will be with a certified guide who will advise on the best course down the mountain. Ski rentals are also provided. Many of these tours also include picnic lunches and even offer aprés-ski treats such as hot chocolates and chases platters.
7. Take a guided backcountry ski tour
Backcountry skiing is a must for those who visit Banff in winter and want to connect with nature. Head out with an experienced guide whose knowledge of the Canadian Rockies will create a fun-filled adventure day. Many backcountry ski tours are suitable for all levels of skiers and can be customized to allow a gentler pace for families or beginners, or offer more challenge for advanced skiers. 
On your tour your guide will share the hidden gems of the fascinating backcountry while sharing knowledge on skiing. Group sizes tend to be small to allow you to get the most out of your experience. Be sure to take a camera or phone with you to capture the staggering wilderness around you as you venture into the backcountry.
If you want to improve your skills and confidence so you can venture out into backcountry yourself, consider a backcountry skiing course. Yamnuska Mountain Adventures offers unparalleled options over multiple days. They can help you transition from a lift and slope skier to someone free to enjoy the true beauty and landscapes of Banff.
8. Attend a guided snowshoe walk
If you are a snowshoeing beginner or simply want to learn more about the history of the Canadian Rockies, sign up for a guided snowshoe walk. The Great Divide Nature Interpretation offers both regularly scheduled tours on weekends and opportunities to arrange private tours at other times. With more than 30 years experience guiding tours in the Banff area, you will be in great hands, err snowshoes, with them. As their business name suggests, they are all about nature interpretation. You will be learning about the Banff area up close and person from some of the best guides in the area.
If your goal is to go out snowshoeing on your own, check out maps for either the area of Banff or around Lake Louise. In the Banff area, Tunnel Mountain is a great beginner trail with easy terrain and a reasonable distance. Get more of a challenge at Ink Pots. Many snowshoe trails are "there and back" trails, but a good beginner loop is Laggan's Trail in the Lake Louise area. It isn't that long, but it is quiet, with slight elevation change and lovely mature forests.
It is always advisable to check in with local authorities on assistance in picking not just the right trail, but a safe one. In winter, avalanches and thin ice are a real hazard. Stay aware of weather forecasts, too, as weather can change quickly.
9. Go ice fishing for your dinner
Fans of fishing can rejoice during a trip to Banff in winter. Take part in ice fishing for a unique experience, and to have the thrill of catching your own dinner. Book on an ice fishing experience with an experienced tour company. They can ensure you have a knowledgeable guide, all equipment, and most importantly your fishing license. 
Surrounded by mountains you will set out onto the frozen surface of the lake. The most common catch in the frozen lakes are lake trout which range from 1-3 pounds. Your guide will teach you simple techniques to ensure even beginners can catch something for their dinner. Close to the lake shore are heated huts where you can cook up your catch along with some delicious sides. Plenty of hot drinks are also provided. 
Canmore Fishing Adventures offers ice fishing tours during the winter months, taking you out onto the frozen lakes and rivers to catch trout, whitefish, and more. With the stunning winter scenery as your backdrop, you'll enjoy a unique and unforgettable fishing experience that you'll be talking about for years to come. Ice fishing tours depart Canmore each morning at 9am, but must be booked in advance. 
10. Take a horse-drawn sleigh ride through the snow-covered valleys
There is nothing more magical than taking a horse-drawn sleigh ride through the snow-covered valleys of the Banff National Park. Surrounding you are snowcapped peaks, thick green forests and frozen lakes which you will explore on your tour. Trips are 40 minutes and depart from Warner Stables in Banff.
There are different sizes of sleighs depending on the size of your party. Even if you have a group of up to 16 people, you can all join in on the same ride. Smaller sleighs accommodate families of up to 4 people. In addition, they include treats like smores, warm beverages, and even cozy blankets to keep you warm. Booking a romantic sleigh ride just for two is a popular couples activity, making memories together to last a lifetime.
1 Sundance Road, Banff. Call ahead for reservations. 
11. Visit the Johnston Canyon Ice walk to see frozen waterfalls
To truly experience the wonder of winter in Banff head on a Johnston Canyon Icewalk hike. You can choose to seek out a guided experience, though it is such as easy walk you will have no problem enjoying the route on your own. Once you've paid for a park pass, access to this trail is free.
There are primarily two waterfalls in the canyon – known as the Lower and Upper Falls. Access to the Lower Falls, the first one you come to, is via an easy to navigate, .75-mile route. Your hike will take you through a natural cave where you will be able to see the incredible frozen waters up close as they remain perfectly still on their cascade to the gorge below. 
Regarding the trail, it is completely a man-made route on paved pathways and steel catwalks clinging to canyon walls. Railways keep it safe and it is wide-enough for you to pass others. Since we are talking about winter hiking, it is recommended that you use ice cleats. They can be attached to your shoes or boots and dig into the ice for more traction. This can make slipping and sliding on the trail less likely.
You can always choose to just visit the Lower Falls and return to the trail head, for an amazing 1.5 mile jaunt. However, it is worth continuing your hike another .75 miles up to the upper falls which has been transformed into a frozen tower of ice stretching for more than 30 metres (98.43ft) above you. This truly is a breathtaking sight. Occasionally, you may find brave climbers scaling the icy walls of the waterfall. If you are keeping track, that means a 3-mile hike to the Upper Falls and back.
The elevation change to the Lower Falls is hardly noticeable. If you continue to the Upper Falls, there is a more noticeable gain in elevation. The beauty of this hike cannot be overstated. Experiencing a canyon in winter that would not normally be accessible quickly makes you realize how special an experience this is.
Those that want to go further can continue on the trail another 2 miles through a bit more rugged and steeper terrain to the Ink Pots. These are small, colorful mineral springs similar to what is found in Yellowstone National Park in the United States. Depending on the weather, you may also want to bring snowshoes to help with any deeper areas and drifts. The full hike to the Ink Pots and back is 7 miles roundtrip from the trailhead.
Check in with Parks Canada regarding any trail improvements that may impact access. As this route is on a man-made path subject to a lot of moisture and elements, maintenance can cause some sections of the trail to close.
Johnston Canyon is at Bow Valley Parkway, Improvement District No. 9, AB T1L 1K2.
12. Hiking through Banff in winter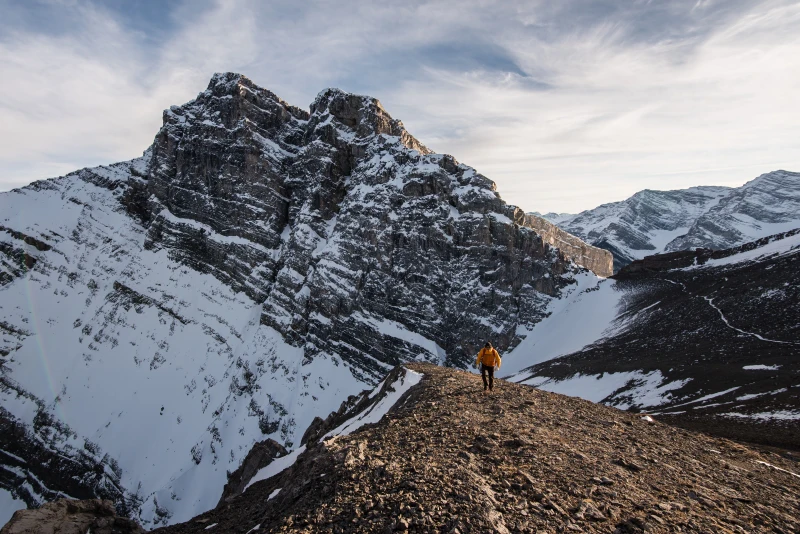 One of the best ways to take in the beauty of Banff National Park regardless of season is by heading out on a hike. There are a wide range of hiking opportunities to explore while in Banff in winter. Even during this cold and snowy season, you will find a variety of trails of different challenge levels and of course, offering different natural sights. 
Before heading out on a hike be sure to check the local weather and snowfall levels. Fresh snow is trickier to walk on, so if you are heading out soon after a snowfall, pack snowshoes. If the snow has been compacted however, hiking boots may be enough though attachable ice cleats might be helpful. Remember to use boots that are waterproof to keep your feet not only warm but dry.
Wrap up warm and take plenty of supplies with you to make the most of your day in this frozen paradise. We recommend a thermos of hot tea or hot cocoa, some energy snacks, and even a picnic lunch. Don't forget your camera!
For those looking for a gentle hike, opt for the Marsh Loop Trail or Fenland Trail, 1.7 miles and 1.3 miles, respectively. Both trails are loop trails but take you to very different areas. As its name implies, the Marsh Loop trail takes you around a marsh in the Bow Valley offering views of winter birds and animal tracks. The Fenland Trail is a hike through a forest of old growth spruce, for a very different terrain experience.
For a longer and slightly more challenging hike, head on the 10 kilometre (6.21 mile) out and back trail to Hoodoos Viewpoint. It is possible to simply drive to Hoodoos Viewpoint, however turning it into a winter hike makes the view even more rewarding. The hike is gentle and offers some of the best views over Banff. Begin your hike at Surprise Corner before climbing through the thick evergreen forest where gaps in the trees will reveal Bow River and Mount Rundle. 
13. Take a dip in the hot springs at Upper Hot Springs 
For true relaxation in wintery surroundings head to one of Banff's hot springs. 
Banff Upper Hot Springs is a local favorite. The waters are mineral-rich and are considered healing. When visiting in winter the hot springs are magical, as steam rises from the water visibly in the cold air. If you are lucky you may even catch a light snowfall whilst taking a dip. 
The water at Banff Upper Hot Springs are geothermally heated. This hot water travels up 1.8 miles (2.8 km) to the earths surface. The temperature of the water in the pools varies depending on season. In winter the waters can reach 47°C (116°F). 
Keep in mind there are no reservations or tickets. Access is first-come, first-served and there is a fee for entering the springs. If you plan on coming back a few times during your trip, look into a multi-visit pass which does reduce the per visit price.
Banff Upper Hot Springs is located at 1 Mountain Avenue, about 2.5 miles south of Banff, at the top of Sulphur Mountain
14. Banff Discovery winter sightseeing tour
One of the best ways to experience Banff in winter is on a guided winter sightseeing tour. The area is vast so there is a tour for almost everything. Tours will open up spectacular natural viewpoints, teach you more about the wilderness surrounding you, and about the history of the area.
Tours can be specialized to include a winter activity such as snowshoeing or skiing, or simply offer a hike combined with discovery on the local area.
If you are visiting Banff for the first time in winter, book onto a Discover Banff and Its Wildlife tour with Banff Adventures. This tour is perfect for first time visitors as it opens up the areas 11,000 year old human history. Your tour will take you through the Bow Valley and tell tales of the rediscovery of the Cave and Basin historical site, and point out significant sites such as the Fairmont Banff Springs Hotel and Hoodoos Viewpoint.
As well as discovering a little local history, you will also learn more about local wildlife. Since the tour is during winter, your guide will share facts about animals winter survival adaptations, where they live, and what their behavior is like. During your journey you will take regular stops to take in the surroundings, and part way though, enjoy a cup of hot chocolate served with maple cookies. This is a great way to learn more about the area and orientate yourself within Banff.
15. Nighttime viewing of the northern lights
The best times to see the aurora borealis in Banff is between September and March as the skies are darker for much longer. One of the best spots in Banff to see the Northern Lights is in the Jasper's Dark Skies Preserve. Here there are strict regulations on when light pollution to ensure that the skies are protected and unobscured. 
If you want to have a guided experience, there are As your tour will be at night, wrap up warm. Tours often last for several hours as you venture to the
Booking on a guided tour will yield the best results in searching for the Northern Lights as your guide will be familiar with hotspots and when exactly to hit them. 
16. Go ice climbing on frozen waterfalls in the area
A must-do activity for adrenaline junkies visiting Banff in in winter is scaling a frozen waterfall. This exhilarating sport is a great way to explore the National Park and observe its beauty from unique angles. 
Tours typically take a half day or full day, and are small in size as each tour is private; you can even book a 1:1 ice climbing session! Each tour is specifically designed to cater for the ability levels of participants. Your climbing experience may include steep and mixed ice climbing or a more basic start that gains in challenge throughout the day. 
Your guide will provide you with all the kit you need including boots, crampons, ice tools and of course safety equipment. Be sure to dress warm!
17. Go on a wildlife safari to spot elk, bighorn sheep and other animals
Discovering the local wildlife is a great winter activity when visiting Banff. Each day is different, and you never know what you might find. While you may be able to see some native animals on your own, signing up for a guided tour has a lot of benefits.
Local guides will know where best to go to see specific types of animals safely. They will also be able to talk to you about animal behavior and interpret the surroundings, rounding out your understanding of what animals eat, how they survive in winter, and how their habits change with the seasons.
Head out on an evening safari to see bears, deer and coyotes, as this is the time those animals are active. Each tour has no guarantee that wildlife will be sighed, but tours do have a 95% success rate. During your tour you will learn about the importance of preserving and protecting these natural areas and what is being done locally.
Guided tours are typically in smaller groups which allows you more interaction with your guide and the ability to hear what they are saying. Some guided wildlife tours include bus travel between destinations so you can cover a larger area and have excellent views of Banff in winter in transit. 
18. Try snowmobiling for a thrilling Banff in winter adventure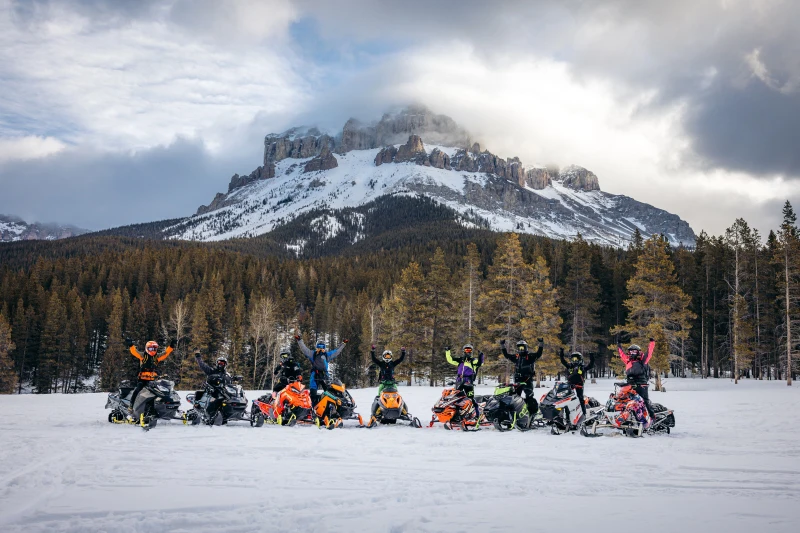 A thrilling way to explore the natural beauty of the Canadian Rockies is on a snowmobile. While snowmobiling is prohibited inside the boundaries of Banff National Park, there are many places just outside park boundaries to explore.
If you've never been on a snowmobile before, this is a chance to check this off your bucket list. Guided tours are the best option. A guide will make sure you know how to operate your vehicle safely and will then take you and your group to places you might not find on your own.
There are hundreds of miles of trails to explore. Since they are outside the park, depending on where you are staying you may need to drive to them or be prepared to take a shuttle. The Kicking Horse Resort and the Golden area have lots of snowmobiling opportunities. Guided tours can take you up mountains, through dense forest and into clearings and lakesides.
There are a range of tours available. You can pick just a half-day tour which is around 2 1/2 hours of sledding or choose a full-day option for almost twice that at about 4 1/2 hours. Full day tours have a break in the middle where lunch is provided as part of the cost.  
19. Take a cultural tour of the First Nations history in the region
While in this beautiful part of Canada, you have an opportunity to learn about the First Nation people who lived here long before the European presence. Many Chief Tours offers guided Indigenous walking tours in the Calgary and Banff area.
Banff National Park is located in the heart of Blackfoot territory. On your tour, led by Tarra Wright Many Chief, the owner of the tour company, you will hear from the Indigenous perspective how the First Nation people lived here and survived challenges to again thrive. On your walk with Tarra you will learn more about the local tribes and their history. She talks through stories, cultural traditions, and the significance of the land to the Blackfoot people.
The experience aims to provide guests with a chance to learn more about local indigenous tribes and how to connect with them, particularly in an outdoor setting surrounded by nature. Tours tend to last between 1.5 and 2 hours. 
20. Take a wildlife photography tour to capture the stunning winter landscapes and animals
Keen photographers and wildlife lovers should head out on a wildlife photography tour when visiting Banff in winter.
There are a range of photography tours within Banff National Park, but all include local and professional guides keen on increasing your photography skills and sharing the natural beauty of the area. On your tour you will learn the best settings for the time of day and brightness, and how to capture the best possible angles of the landscapes.
When capturing wildlife, your guide will show you how to combine aperture and shutter speed to ensure you can photograph even the quickest of movements from birds in flight or animals running. You may also get to see some of the incredible wildlife the Canadian Rockies has to offer such as bighorn sheep, bears and coyotes.
21. Attend the annual SnowDays festival featuring ice carving competitions and winter activities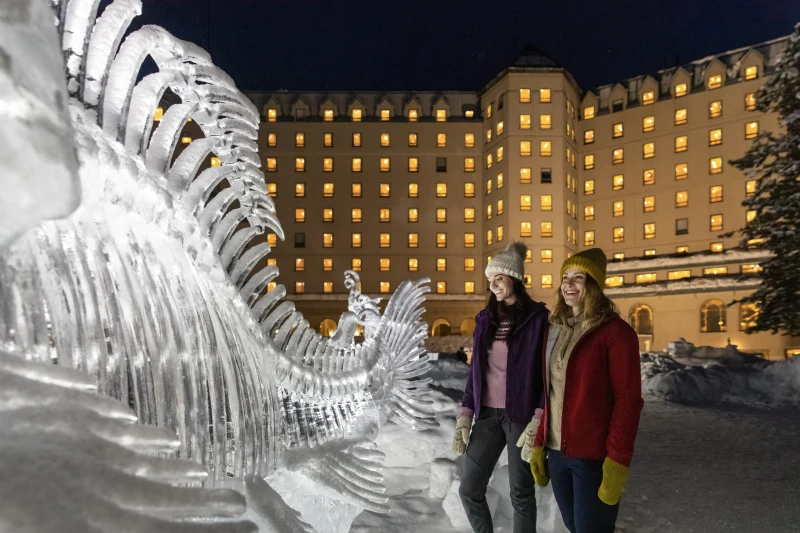 Every January the towns of Banff and Lake Louise are transformed into winter galleries displaying the best winter has to offer. The towns are filled with giant snow sculptures.
As well as incredible works of art, SnowDays also exhibits the unique sport of Skijoring. Skijoring originated as a form of travel but is now mostly a competitive sport. It is a skier pulled by a horse or perhaps a snowmobile or other vehicle. During SnowDays, teams of athletes and horses put on a display of horse riding, trick riding and ski stunts. These races and exhibits run right through the center of the town.
Part of the SnowDays festival is Ice Magic which runs for 12 days in January. The festival is at Lake Louise and is where ice comes alive in an ice-carving competition. This event is packed with incredible ice sculptures and architecture. These works of art are not just displayed, but created during the festival by ice artists from all over the world. 
The ice carving events are free to visit, however a fee is charged if you visit during peak times on a weekend. Check the event schedule for this and other activities. Some events may not occur every year.
22. Try camping in Banff in winter
Whilst camping in Banff in winter reduces your options for places to stay, it is a great way to spend an evening or two in the great outdoors. The park transforms in winter so if it is your first time visiting during the colder months, pack extra layers, pitch your tent and enjoy your surroundings.
Many campsites are closed in winter, however there are still opportunities to tent or places to park your RV. If you plan to stay in a tent, the only campground open to tents is Tunnel Mountain Village II. Despite the lack of choice, Tunnel Mountain Campground II is perfectly located just 3 kilometres (1.86 miles) from Banff itself, and has close access to the ski resorts of Sunshine Village and Mount Norquay. 
If you are staying in your RV, stay at Lake Louise Trailer Campground or Tunnel Mountain Village II. Both campgrounds have facilities including electricity, water and access to toilets. They also have on-site maintenance should anything go wrong with your RV during your stay due to the cold weather. 
It is also possible to camp in the backcountry. This offers a more raw and in-nature experience that traditional campgrounds do not offer. If you plan to do this, a backcountry permit is required as well as a park pass. Please visit the Parks Canada website. for requirements, information, safety information and much more. Random camping in the park is prohibited.
23. Visit the Bow River Trail to see the frozen river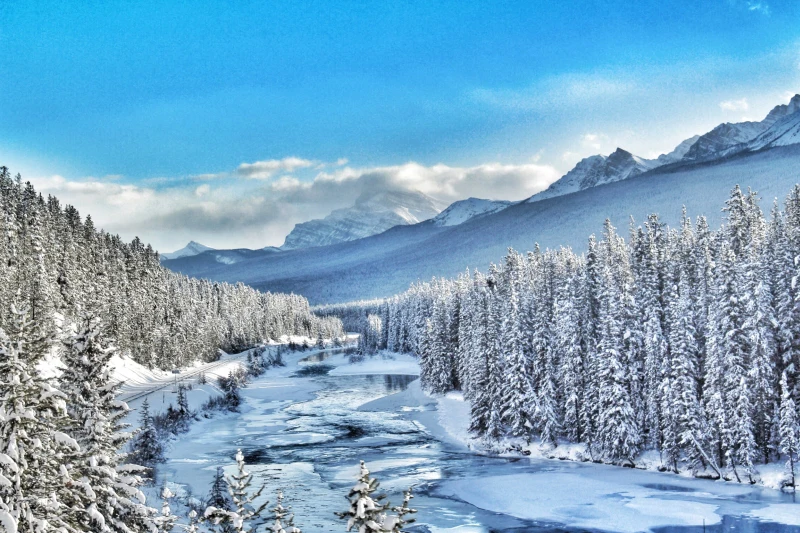 Enjoy an easy winter hike along the Bow River Trail. The trail between Bow River and Bow Falls takes 1.5 – 2 hours depending on ability and covers 6 kilometers (3.73 miles) as a loop. The elevation is 70m (229.66 ft).
This walk is great regardless of time of year, however during winter there is something truly special about a gentle hike surrounded by snow-laden trees, pristine white peaks of mountains, and the waters perfectly still and frozen.
The Bow River Trail is accessible from two parking lots, Central Park and Surprise Corner Viewpoint as well as access points where you can find parking along the Bow River.
24. Take a winter survival course in Banff in Winter
For survival enthusiasts and fans of going it alone in the wilderness, nothing beats a winter survival course. There are a range of survival course and excursions across Banff National Park.
Take part in a winter survival introductory course lasting 2 days to see if you have what it takes to survive the harsh Canadian winter in an emergency situation. The course aims to increase bushcraft skills and leave you with practical tips and techniques to help you survive outdoors. 
During your survival course expect to learn how to light survival fire, how to set basic snares, and how to build your own survival shelter and improvised snowshoes. 
25. Try fat biking
Fat biking is a great outdoor sport for those wanting to see more of the natural landscape of Banff in winter without hiking or skiing. Fat biking is different to cycling in summer. The tires are much thicker and, due to conditions, some sections of your trail may result in pushing the bike rather than riding, but don't let that put you off.
Choose a day with hard packed snow to get the most out of your experience as soft snow will result in falling off your bike frequently. There are many trails around Banff which are suitable for fat biking. Be sure to avoid trails that are not shared or suitable. 
For fat biking beginners, cycle the Fenland Trail along Vermilion Lakes Road. This journey is scenic and a great introduction to the sport. If you are seeking a longer ride try the 12 kilometer (7.46 mile) out and back Spray River Easy Trail. This trail is popular with snowshoers and fat bikers so the snow is well packed down. 
26. Enjoy a backcountry lodge in Banff in winter
Backcountry lodges and huts offer a unique experience when visiting Banff in winter. These lodges are nestled deep in the heart of the Canadian Rockies and are surrounded by thick pine forests creating an alpine feel. 
Because these lodges are only accessible by skiing, snowshoeing, fat biking, or hiking, they offer a truly remote experience. Instead of only engaging in one of these outdoor activities, enhance it by making your destination a backcountry lodge. Extending your stay at one of these special, cozy places affords you a base from which to explore the truly beautiful alpine area.
Lodges have heat, serve meals, and provide bedding and a homey, intimate stay. Skoki Lodge offers many amenities but indoor toilets are not one of them. If you'd rather not add an outhouse to your experience, choose Sundance Lodge. You may be sharing space depending on lodging arrangement and availability. If you have a big group, you can inquire about a full buyout of the lodge for a special family gathering or company team-building trip.
These stays are about slowing down, unplugging from your phone and email, relaxing and exercising, and enjoying some of the most beautiful landscapes in the world. There are a number of specialized trips available including horse riding trips followed by cosy evenings at your lodge. At the lodge your host will prepare hot and tasty meals for you to enjoy as you reminisce about the days adventure. 
27. Attend the Fire and Ice Show at Fairmont Chateau Lake Louise
Immerse yourself in an incredible experience at Fairmont Chateau Lake Louise. Their Fire and Ice show runs evenings from mid January to mid February. Check their schedule each year for specific dates.
The Fire And Ice event is part of a luxury travel initiative by the Accor, the owners of the Chateau Lake Louise, and many other luxury hotels around the world. It is part of a larger event program called Beyond Limits, offering unexpected and impeccably designed cultural experiences. In 2023, at Lake Louise the theme of the event is exquisitely Japanese – sushi on the lake. From the hotel, attendees head towards a small log cabin lit by Japanese lanterns and starting with sake.
Ten seats are available each evening for the intimate 14-course meal. Over several hours, Canadian-source ingredients crafted into elegant dishes are served in line with the theme. Think prime wagyu beef with sunchokes and shishito peppers or king crab and Nova Scotia lobster in yuzu sake butter.
Hungry yet? Call ahead to make a reservation for the event each year.
Fairmont Chateau Lake Louise is at 111 Lake Louise Drive, Lake Louise, AB T0L 1E0.
28. Attend the annual Christmas celebrations in Banff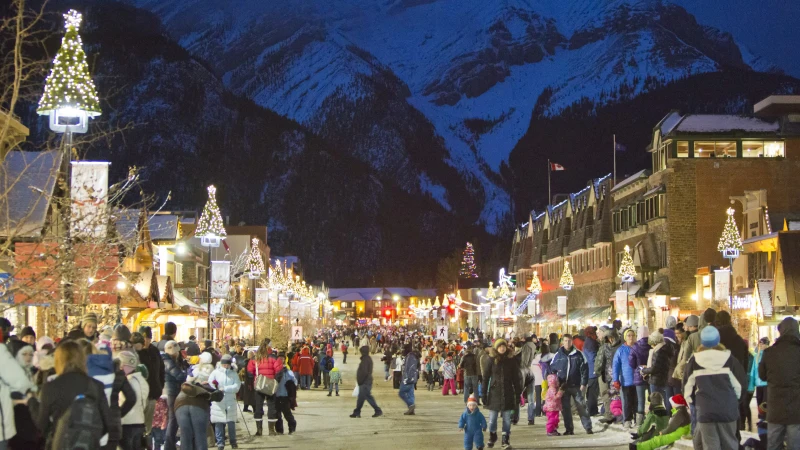 If you are spending Christmas in Banff make the most of your time in this winter wonderland. A white Christmas is typical in Banff as snow starts to fall in mid November. As such the buildings are covered in snow, which, when teemed with Christmas lights creates a cozy winter landscape. 
When spending Christmas in Banff why not indulge in the towns hot chocolate trail? The trail features festive-themed drinks from 24 of Banff and Lake Louise's cafes. The trails typically run from mid-November to New Years Day.
Explore the Banff Christmas Market to get last minute gifts or to simply sample tasty treats and drinks on offer. If you are visiting with children be sure to stop by Santa's house and reindeer stables. 
Indoor Things to do in Banff in Winter
29. Visit the Cave and Basin National Historic Site to learn about the hot springs
The Cave and Basin National Historic Site is not to be missed. You might say Banff National Park owes its existence to these springs. Indigenous people certainly knew and used the springs complex for centuries. However, when three workers helping to create the Canadian Pacific Railway found this spring in a cave on Sulphur Mountain, the idea soon spread of its attraction for tourists and travelers, leading to the idea of a park.
Although you can not swim at this location, you can enjoy a dip in the mineral-rich spring water at the Upper Springs location and then enjoy this site to learn more. The historical site is a small yet informative museum in Banff. It is packed with interactive exhibits and films about the natural landscape, the hot springs, and the history of the national park. 
The historical site is a small yet informative museum in Banff. It is packed with interactive exhibits and films about the natural landscape, the hot springs, and the history of the national park. You can also learn about the endangered Banff Snail. It lives in the warm spring waters of Cave and Basin and is not found anywhere else in the world. 
If you are looking for a great selfie, locate the pair of red chairs placed at this site. More than 200 chairs have been placed at scenic and peaceful locations across the nation. You can not only take a great photo, but relax and enjoy the site. There are reduced days and hours in winter so check ahead
Cave and Basin Historic Site is at 311 Cave Avenue, Banff, AB T1L 1K2.
30. Visit the Banff Centre for Arts and Creativity
Banff Centre for Arts and Creativity is a cultural hub in Banff for all aspects of creative outlets. 
There are a wide range of shows and events at the centre including drawing classes, musical performances from visiting artists or resident performers, and open reading evenings. Some events are free, with details available on the Banff Centre for Arts and Creativity website.
After becoming sufficiently inspired by the creative offerings, stop by one of the centres three restaurants for delicious food made from locally sourced ingredients. 
Banff Centre for Arts and Creativity is at 107 Tunnel Mountain Drive, Banff, AB T1L 1H5.
31. Go on a food tour at Fairmont Banff Springs Hotel
A must for foodies is a visit to the Fairmont Banff Springs Hotel on a food tour.
Your tour takes in an exquisite tasting experience in spectacular surroundings. Each tour begins with refreshments and behind-the-scenes talks on how the hotel sources its zero-miles produce. You then follow your guide into the heart of the hotel to the Vermillion Room where French brasserie cuisine will be served with an appropriate beverage pairing. The Vermillion room is a grand space embracing both French elegance and Canadian charm. You will visit Rundle Bar to sample one of Alberta's seven signature foods, followed by heading to the 1888 Chophouse for dishes that have Canadian produce as the star. Dessert rounds off your culinary adventure.
This is the ultimate luxury foodie day out. Whilst on your tour your guide will also help you discover the history and architecture of the hotel. 
32. Visit the Whyte Museum of the Canadian Rockies to learn about the history and culture of the area
Learn more about Banff and the history of the Canadian Rockies by visiting the Whyte Museum. The museum aims to engage people with the evolving history of Banff, its peoples, cultures, and environment. It also promotes learning around mountain cultures. 
The museum houses a range of permanent and temporary exhibitions. Recent exhibitions include Cold Regions Warming, an art series featuring paintings, drawings and film documenting locations in Canada that have seen an impact of Global Warming. 
Part of the permanent collection incudes the Peter Whyte and Catherine Robb Whyte exhibition which features works of art from the museums founders.
This museum is open daily from 10am -5pm.
Whyte Museum of the Canadian Rockies is at 111 Bear Street, Banff, AB T1L 1A3.
33. Explore the shops in Banff in Winter
Despite the cooler weather, exploring the shops is a great way to get to know a place. The streets are a little quieter in Banff during winter but they are still bustling with locals and tourists alike. 
In Banff there are plenty of big name stores as well as independent boutiques offering winter clothing, Canadian goods and souvenirs. Mixed in with the shops are plenty of cafes, bars and restaurants to round off your day. 
During winter towards the Christmas season expect the shops to be decorated with brightly coloured lights, Christmas decorations and festively dressed window displays.
34. Take a gondola ride to the top of Sulphur Mountain for a panoramic view of the town
A gondola ride to the top of Sulphur Mountain is spectacular at any time of year, but seeing the surrounding mountains, forests and towns covered in snow adds a certain level of magic to the experience. The gondola trip itself is calm and steady and offers views across six mountain ranges. 
If you decide to venture beyond the Gondola Summit, be sure to wrap up warm before exploring the Boardwalk leading to Sanson's peak for more incredible views. 
At the Gondola Summit there is an interactive museum exploring the natural world around Sulphur Mountain, and the impressive Sky Bistro. Sky Bistro has stunning panoramic views over the town teamed with a delicious Canadian menu. 
Banff Gondola is at 100 Mountain Avenue, Banff, AB T1L 1B2.
35. Take a scenic drive along the Bow Valley Parkway
Another spectacular route to take in the views of Banff National Park is a scenic drive along the Bow River Parkway, or the 1A. This route isn't often plowed so be sure to drive slower and with appropriate tires. We would also suggest checking the weather before you depart. The slower speeds do however mean more time to gaze at your surroundings. 
This scenic route is an alternative route to the Trans Canada highway. The drive is particularly special in winter as the trees surrounding the road are covered with snow. Make stops along your journey to take in beauty spots such as Castle Junction and Storm Mountain Lookout. 
36. Take a scenic drive on the Icefields Parkway
Icefields Parkway, or Highway 93, is a scenic road in Banff National Park that should not be missed. This road is the main road connecting Banff and Jasper and covers 232 kilometres (144.16 miles) of double-lane highway. 
The drive itself, without stopping or slowing to take in the surroundings, can be completed in 3 hours however make the most of it and explore a stretch in detail, or plan an overnight stop part-way to really absorb the beauty of the area. 
On your drive expect to see marvels of nature including mountains, ancient glaciers, pristinely blue lakes, and frozen waterfalls. There are plenty of places to pull in and take in the view along the highway. There are no official rest stops with fuel, food or washroom facilities, so pack all you need for your journey before setting off.
When visiting the highway during winter be sure to have a vehicle equipped with 4 wheel drive and winter tires. The road is often not plowed in winter and can get very icy. A Parks Canada pass is also needed when travelling on Icefields Parkway as it crosses into two national parks.
37. Elevation Place (Canmore)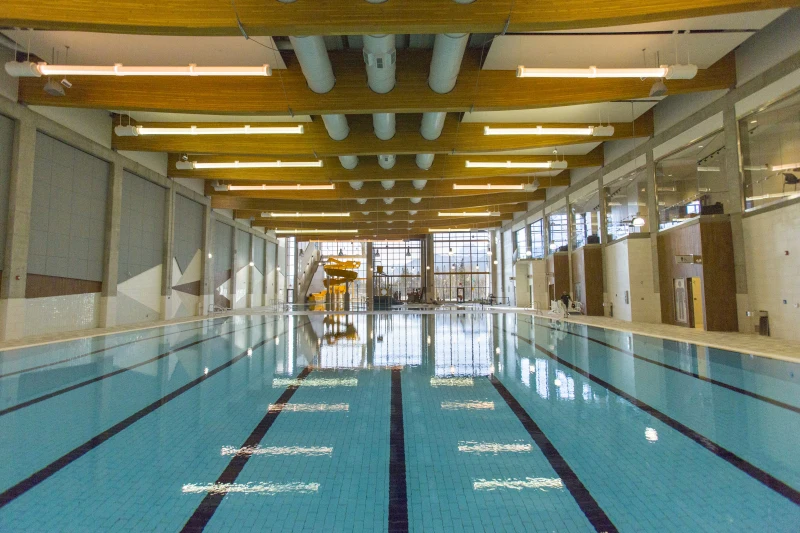 Elevation Place is the perfect place to spend an active day indoors when visiting Banff in winter. The recreation facility in Canmore, a short drive from Banff, is packed with a range of facilities including a climbing gym, swimming pool, fitness rooms and art gallery. 
There are plenty of options for relaxing alone or with your family. There is a large 25-person hot tub and a lazy river to relax in. 
Elevation Place is at 700 Railway Avenue #100, Canmore, AB T1W 1P4.
38. Visit the Banff Park Museum National Historic Site to learn about the areas natural history 
Banff Park Museum was built in 1903 and is the oldest park facility within the Canadian National Park system. The museum is considered a local landmark and is a protected National Historic site. It is the oldest natural history museum in western Canada, and is a great place to escape the cold and learn about Banff and the surrounding area. 
There are exhibits on wildlife living in the Rocky Mountains. More than 5,000 vintage botanical and zoological specimens are displayed at the museum, including bighorns, birds and even bees. The museum not only shows visitors the nature of the area, but also how Canada understood natural history back in the early 1900s when the museum was built. 
The building itself is incredible. The structure was built in 1903 and is the oldest standing federal building in Canadas national parks. Key exhibits include a focus on climate change, the history and heritage of thhe museum, and the culture and history of the local area. 
Banff Park Museum National Historical Site is at 91 Banff Avenue, Banff, AB T1L 1K2.
Kid Friendly Things to do In Banff in Winter
39. Take part in a clue solvers trail
Book onto a clue solvers trail for a fun day out around Banff. On your trail you will explore the streets of Banff whilst racing against time to help a local conservationist save Banff National Park. 
As you explore the town clues can be found, revealing secrets and facts along the way. The trails all begin in Downtown Banff and can begin at any time of day, with finishing before dark the only limit. These trails are available year round and cover an average walking distance of 1.5 kilometres (0.93 miles) making it suitable for all ages and abilities. 
The clues are a mixture of visual and cryptic clues offering varying levels of challenge.
Clue Solvers is suitable for children, however the clues are tricky to solve so family teams would work best if you have younger children.
40. Try an Escape Room Challenge
If games and solving puzzles is something your family likes to do, make a reservation at the Eureka Banff Escape Room Adventures. Kids 8 years old and up can participate, with those between 8 and 12 needing adults along.
Your group will be on your own in the room for an adventure that lasts up to an hour, unless you are really clever! Hints are available unless you don't want them which you can tell your game master before you start.
Each of their two rooms has its own theme, so you can always come back and try the other room another day. A variety of skills are needed and since it requires the group to work together, what better way to get the whole family involved. Afterwards, you can celebrate your (hopeful) escape with some food and drinks at a nearby restaurant.
Located in the lower level at 229 Bear Street, Banff, AB T1L 1C3, which is the Wolf and Bear Mall under the Lux Cinema.
41. Visit the Banff candy store
A visit to the Banff Candy store will be at the top of any kids Banff Wishlist. The candy store is in the heart of the town and is packed with candy from around the world.
Candy in the store invites nostalgia for parents as they find candy from their childhood. An entire was of Pez candies is sure to spark conversation and interest. 
One of the most exciting sections of the store is their pick and mix wall, where a variety of candies can be bagged up for maximum customisability and enjoyment. There is also a counter stocked with locally made treats such as bark, bear paws and peanut butter cups.
Within the Banff candy store are Canadian products, as well as those imported from the USA and UK. Prices vary but are marginally cheaper than other candy stores offering imported selections. 
Banff Candy Store is at 126 Banff Avenue. 
42. Try snow tubing at Lake Louise Ski Resort
Snow tubing is a great way to get kids out during the chillier days when spending winter in Banff National Park. Lake Louise Ski Resort offers a snow tube park ticket which allows everyone from ages 3 and above to try this unique outdoor activity.
Wrap up warm and climb onto your snow tube before heading off down the hills. The park is groomed daily to ensure the surface is safe and suitable. You can race your family and friends to the finish line, or attach the tubes together to form one giant snow tube. 
Lake Louise Ski Resort is at 1 Whitehorn Road, Lake Louise, AB T0L 1E0.
43. Try Night skiing at Mount Norquay
If skiing on this beautiful mountainside resort during the day wasn't enough, why not try night skiing!
The night skiing season begins in early December with sessions running on Friday and Saturday evenings. Once the sun has set the runs are lit up with bright floodlights. Mount Norquay is currently the only resort in the Canadian Rockies that runs these unique nighttime sessions. 
Skiing at night is family friendly and creates a novel activity that is sure to be part of lasting memories of your Winter in Banff trip.
Mount Norquay Ski Resort is at 2 Mount Norquay Road, Banff, AB T1L 1B4.
44. Ice skate on the frozen Lake Louise
What better way to create a lasting family memory than ice skating on a frozen lake! Lake Louise completely freezes over during the winter season. Unlike other lakes within the Canadian Rockies, Lake Louise is actually resurfaced and monitored during the season by the Fairmont Chateau to ensure it is safe for visitors to skate on.
You can rent ice skates from the Fairmont, or from local stores in the village of Lake Louise. 
Lake Louise is at Lake Louise Drive, Lake Louise, AB T0L 1E0.
45. Try ice skating at the outdoor rink in Banff
There are two excellent outdoor rinks in Banff to try when visiting Banff in winter that are perfect for kids.
First, the rink at Fenlands. This outdoor rink is approximately 5,000 square feet (464.52 square metres) in size and is located in a meadow immediately behind the Fenlands Recreation Centre. During winter the rink is open from 8:00 a.m until 8:00 p.m. though check ahead as schedules can change.
If you do not have your own skates you can rent them from the center, but rentals only run until 4:00 p.m. As well as skate rental, Fenland offers skate sharking areas, warming areas, and washrooms. The rink is unsupervised. 
Fenlands Meadow Outdoor Rink is at 100 Norquay Road, Banff. 
Secondly is the Train Station Outdoor Rink. This is the larger of the two rinks, at almost the same size as an NHL rink! The rink is located in the west parking lot of the train station and is open from 10am-9pm each day during winter. There are no additional facilities at this rink, however the washroom at the station is open daily from 9am-5pm. The rink is again unsupervised. 
Train Station Outdoor Rink is at 327 Railway Avenue, Banff.
46. Go on a dogsledding tour
For a truly unique kid friendly Banff in winter experience look no further than a dogsledding adventure. 
Dogsledding is one of the most popular winter activities in Banff and is a great way for families to get out and explore. Dogsled tours operate from December to April in Banff, depending on the weather. 
Wrap up warm before meeting your local guide who will teach you how to ride and run the dogsled. Once acquainted with the self, you will head out along carefully selected trails to explore some of the most beautiful parts of the National Park.
Tours typically last up to 2 hours depending on location. Pulling your sled is a team of friendly and extremely cute Alaskan, Siberian and Seppala huskies that love to run in the cool and snowy temperatures of the Canadian Rockies. Interactivity is encouraged, from harnessing the dogs to the sleigh to encouraging them to gain speed. At the end of your adventure, reward your faithful new friends with a cookie and bask in the magnificent surroundings. 
This activity is suitable for those aged 2 and up, making it the ideal kid-friendly Banff in winter activity. Tours typically include snacks and hot drinks to warm you back up.
47. Visit the Tunnel Mountain Trail to enjoy the beautiful winter scenery
Hike along the 4.6 kilometre (2.86 mile) out and back trail for some of the most incredible and beautiful winter scenery that Banff has to offer. The trail gains an elevation of 266m (872.7ft). 
This trail is highly popular so you can guarantee that the snow will be packed down allowing for a good hike. You can even bring your furry friend with you as the Tunnel Mountain hike is dog friendly. 
This hike is a great way to introduce winter hiking to younger children and can serve as a great way to tackle their first summit. The hike is the shortest hike to a summit in Banff National Park. The hike does offer challenges for younger children, but the reward of views like no other at the end are worth the climb. Look out across the town of Banff below and to the surrounding mountain ranges. 
Hiking to the summit of Tunnel Mountain during winter can take between 1.5 to 2 hours. 
The Tunnel Mountain trailhead is located in the lower parking lot on St Julian Road.
48. Go Bowling
If you want to find an inside activity just for the kids or for the entire family, consider one of the two bowling options in Banff. A great way to warm up, have a snack, and make some great family memories.
High Rollers, located on Banff Ave, is a Bowling Alley/Beer Hall but it is kid friendly until 10pm. They serve food and have six bowling lanes and three pool tables. One lane is equipped with bumpers that keeps balls out of the gutters. They also have a ramp that allows younger children to more easily place and roll the ball into the lane.
Shoe rentals are affordable and they have a solid menu of burgers and pizza that will satisfy all in between knocking down some pins. Call ahead to reserve a lane, especially if you want the one with bumpers.
Bowl Valley is located in the Fairmont Banff Springs hotel has four lanes of 5-pin bowling. You can even request neon blacklight bowling to jazz up your gathering. They have a takeout menu so you can order food and drinks, too.
49. Down hill sledding
Down hill sledding is the ultimate kid friendly winter activity. Despite down hill sledding being a popular activity, there are no designated areas for using toboggans at the three ski resorts in Banff National Park. 
Head to a local snow-covered hill with your toboggan and simply have a go! Locals in the Banff area head to Spray Meadows Hill, which is located behind the Banff Springs Hotel. For younger children look for the hills near Cascade Points on Lake Minnewanka Road. Here the slopes aren't as steep making it perfect for smaller children or those just starting out.
Toboggans and sleds can be rented in Banff at various mountain sports shops and hotels.
50. Visit the Yamnuska Wolfdog Sanctuary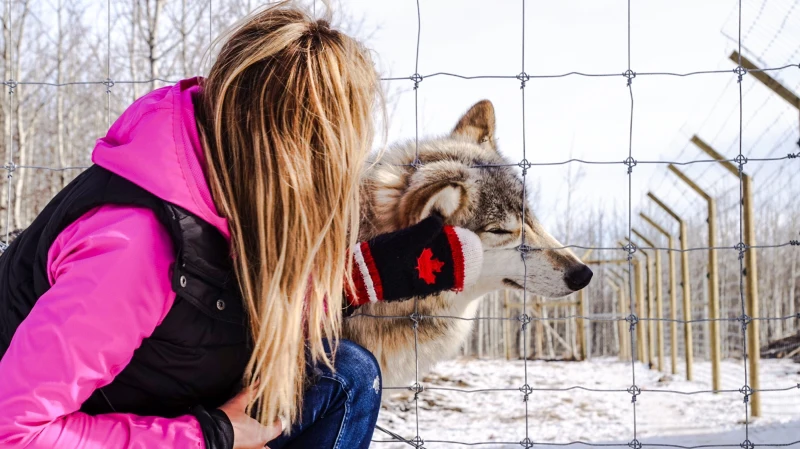 A great place to visit for families with kids who love animals is the Yamnuska Wolfdog Sanctuary. This non-profit is a great way to introduce kids to conservation and the importance of caring for animals.
The sanctuary is open year round but in winter during the snow and colder temperatures the wolves are at their most active as they enjoy the weather. 
Book on an interactive tour to get a closer experience with the wolf dogs. It is even possible to feed them! Kids will love to see the animals and interact with them, as well as learning about these wonderful creatures and how we can protect them.
Yamnuska Wolfdog Sanctuary is at 263156 Range Road 53, Cochrane, AB T0M 2E0.
Summary
Banff is a great place to visit year round, and the cold, snowy days of winter do not stop this area from having plenty of activities to do. When planning your winter adventure in Banff National Park be sure to take in a wide variety of both outdoor and indoor activities. The landscape transforms into a wild yet wonderful winter paradise between November and March, offering spectacular landscapes and activities and unique adventures to take part in.