For those looking for a unique way to discover the natural beauty and breathtaking scenery of Canada, traveling from Vancouver to Banff by train is an experience that any adventurer is sure to remember. You simply can't get the same views and experience when traveling by air or car.
Choose from several options depending on your time frame and budget. You can choose a luxury experience in a domed train car offering exceptional service, lots of included amenities, and comfortable accommodation on a two-day trip. If you want to save your pennies for skiing the slopes or rafting trips, there are more budget-friendly options with fewer included amenities.
Many people either do not like flying or just want to make the trip part of their vacation. Train travel gives you the chance to slow down and see the country at a human level. Watch the scenery, read a book, eat a delicious meal, and share conversations with family and friends. You can trade the cramped, hectic flying experience or the stress of being behind the wheel for a relaxing and nostalgic way of travel.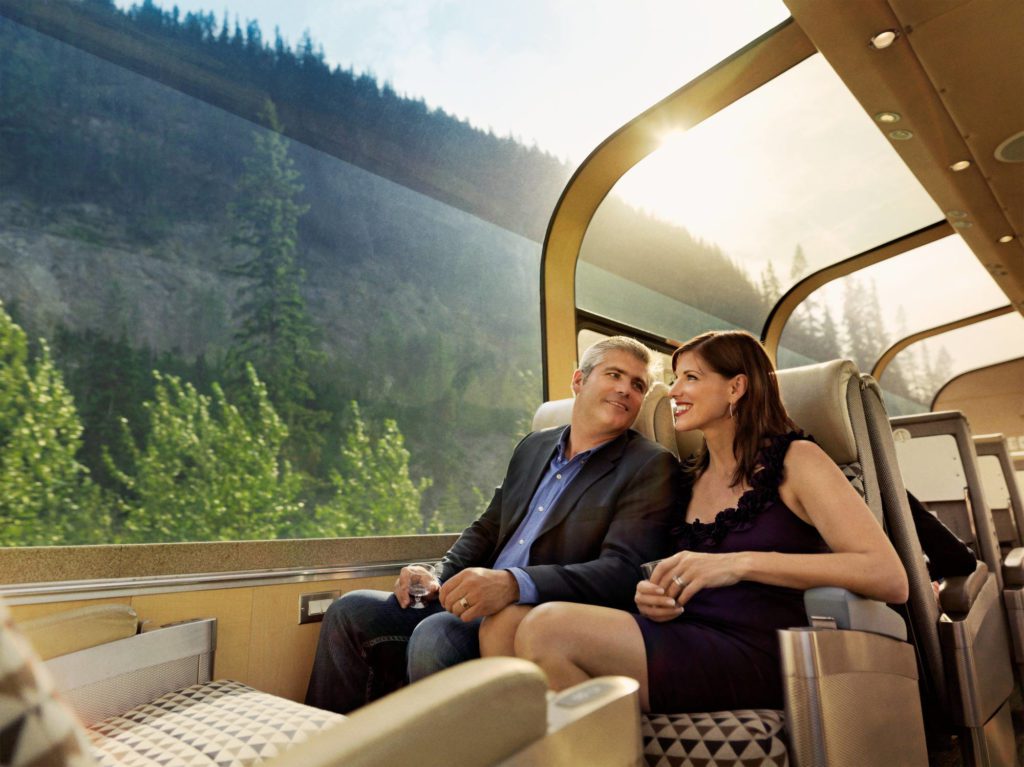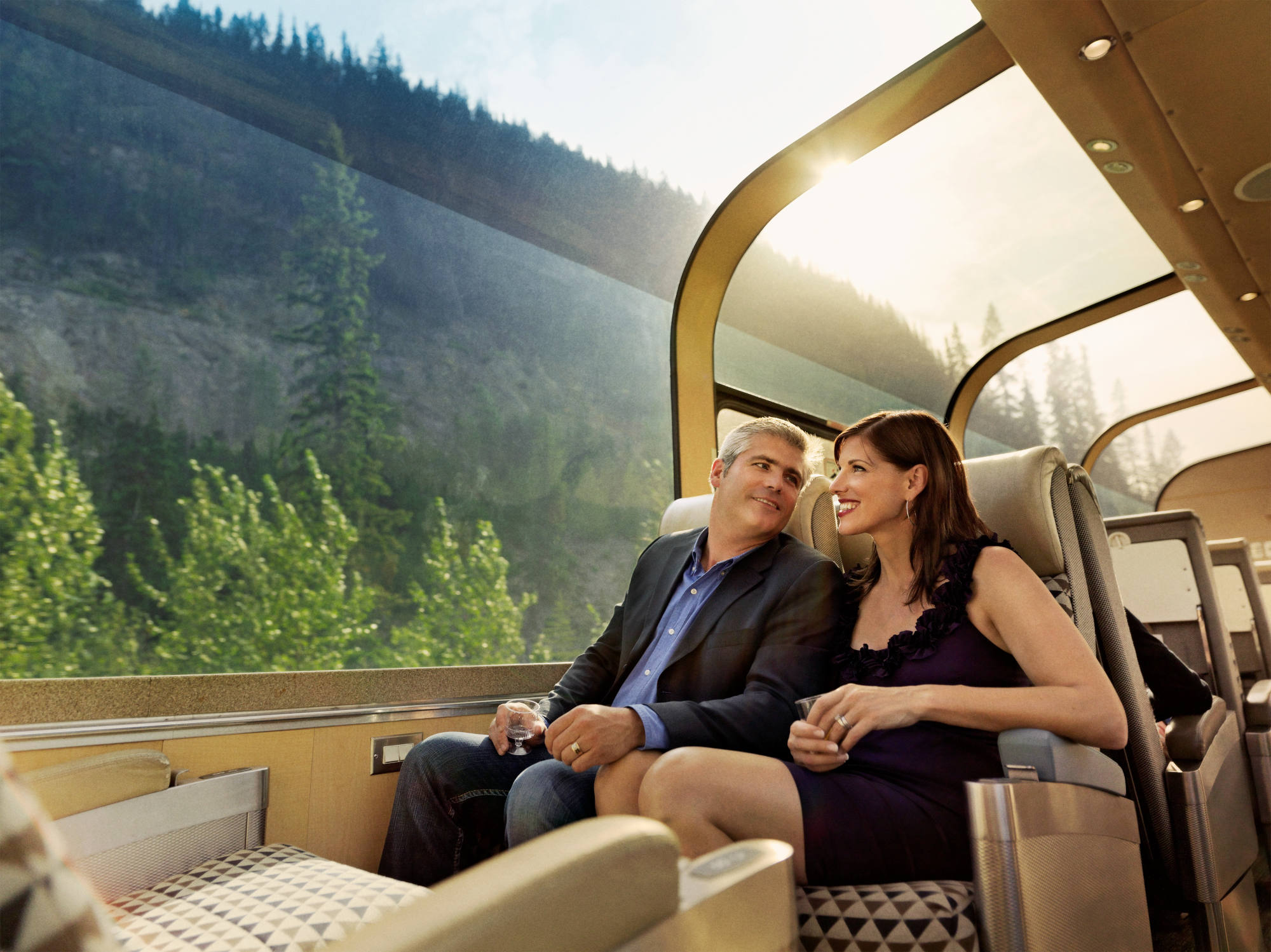 Both Vancouver and Banff, the beginning and ending locations are must-visit destinations that should be in every traveler's bucket list. Vancouver, British Columbia, is not only a lively West Coast seaport but also one of the most ethnically diverse cities, a popular filming location, and a metropolis with a thriving artistic scene. The first stop of the journey is Vancouver, British Columbia. This city is located on the west coast of North America and has a population of approximately 675,000 people. It's home to several tourist attractions including Stanley Park, Granville Island Public Market, and Gastown.
Banff, Alberta, on the other hand, is a vibrant mountain community surrounded by the Canadian Rockies with rivers to raft and fish, mountains to climb and ski, and stunning nature to paint and photograph. The town serves as the commercial center for Banff National Park and was established in 1885 during construction of the railroad. 
How to Travel From Vancouver to Banff By Train
Is there a train between Vancouver and Banff?
Yes, there are technically two ways to enjoy train travel with Banff as your destination – the Rocky Mountaineer and the VIA Rail train. Both options are multi-day trips. Taking VIA Rail means you will likely book a travel package through an independent Tour Operator company.  Those travel packages vary with trips over five, nine, or 10 days.  They include a train trip to Jasper, from which you take buses or shuttles to other gems within Banff National Park such as Lake Louise and Banff.
On the Rocky Mountaineer, you will travel exclusively on a train from Vancouver to Kamloops, stay in Kamloops at overnight accommodations, and then travel from Kamloops to Banff. We wanted to focus on the trip wholly by train and so will highlight the Rocky Mountaineer.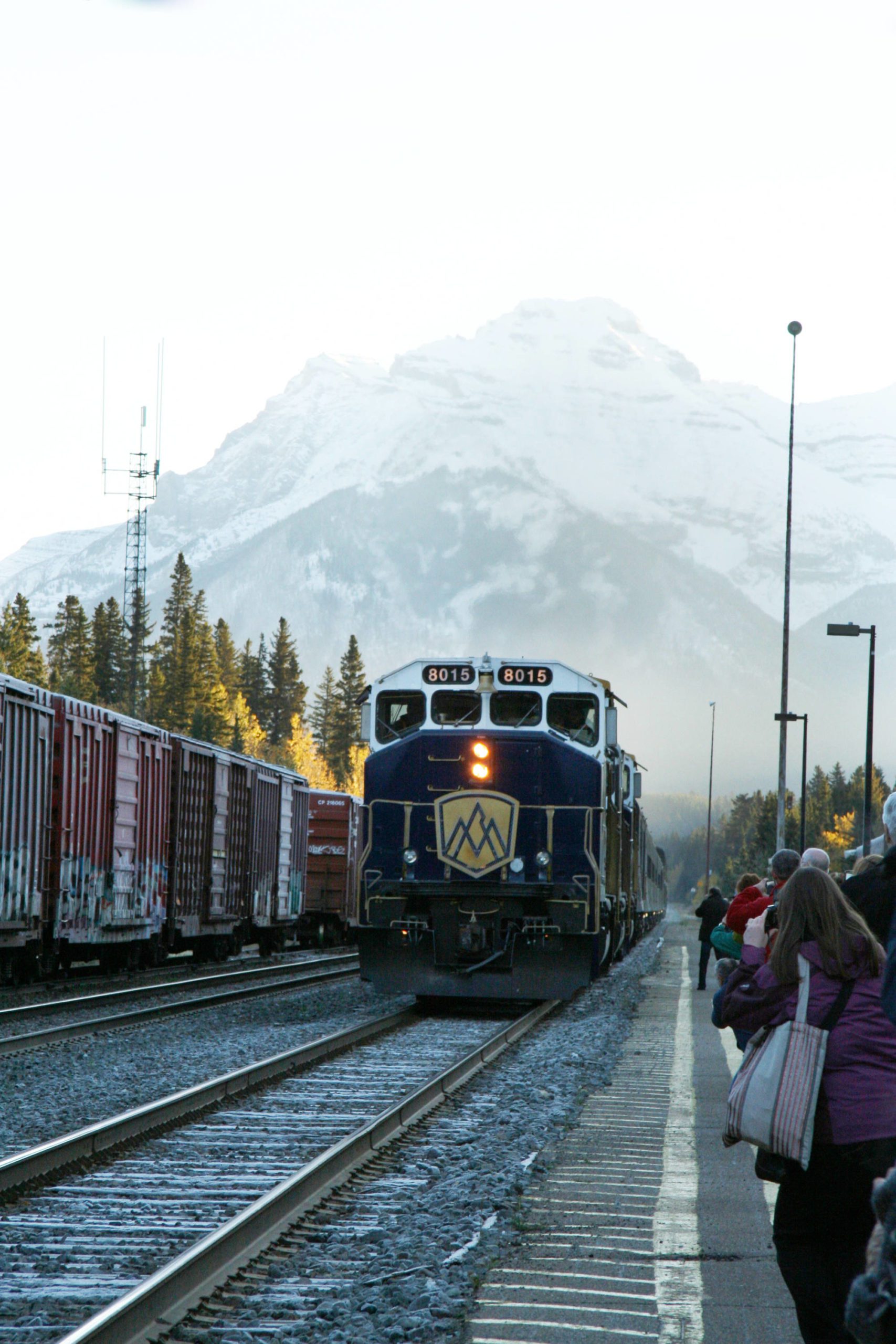 How much does it cost to take a train from Vancouver to Banff?
The Rocky Mountaineer offers 3 different package options for access to Banff:
The First Passage to the West Classic is the most direct and least expensive option averaging $3,000 CAD per person. It travels the historic rail that connected eastern and western Canada back in 1885. The trip is between Vancouver, Kamloops for an overnight stop, and Banff, for a total of two full days on the train. Costs can vary depending on if you choose the Silverleaf, Goldleaf, or Goldleaf Upgrade. The cost in U.S. Dollars will depend on the exchange rate on the day of booking.
Included in the package cost is a pass to the national park, dining on the train, alcoholic beverages, luggage handling in Kamloops, and hotel accommodations for three nights. 
There is also a modified option of this trip that only includes the hotel accommodation in Kamloops at a lower price, allowing you to choose your own accommodation and save a little money both in Vancouver and in Banff.
There are several modified versions of the First Passage to the West route that adds on days and trips to other locations within Banff National Park as well as a sightseeing bus ride to Calgary. Prices vary based on number of days and level of service.
What can you see on the train between Vancouver and Banff?
The Rocky Mountaineer travels the historic rail of the Canadian Pacific Railway. Completed in 1885, it connected the east of Canada with its economic centers in the west through what happens to be some of the most stunning scenery on the planet.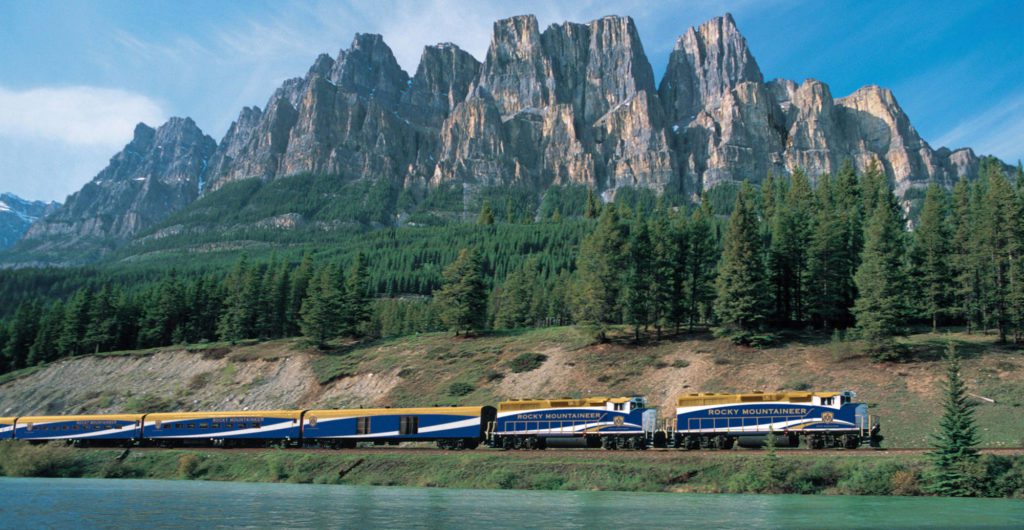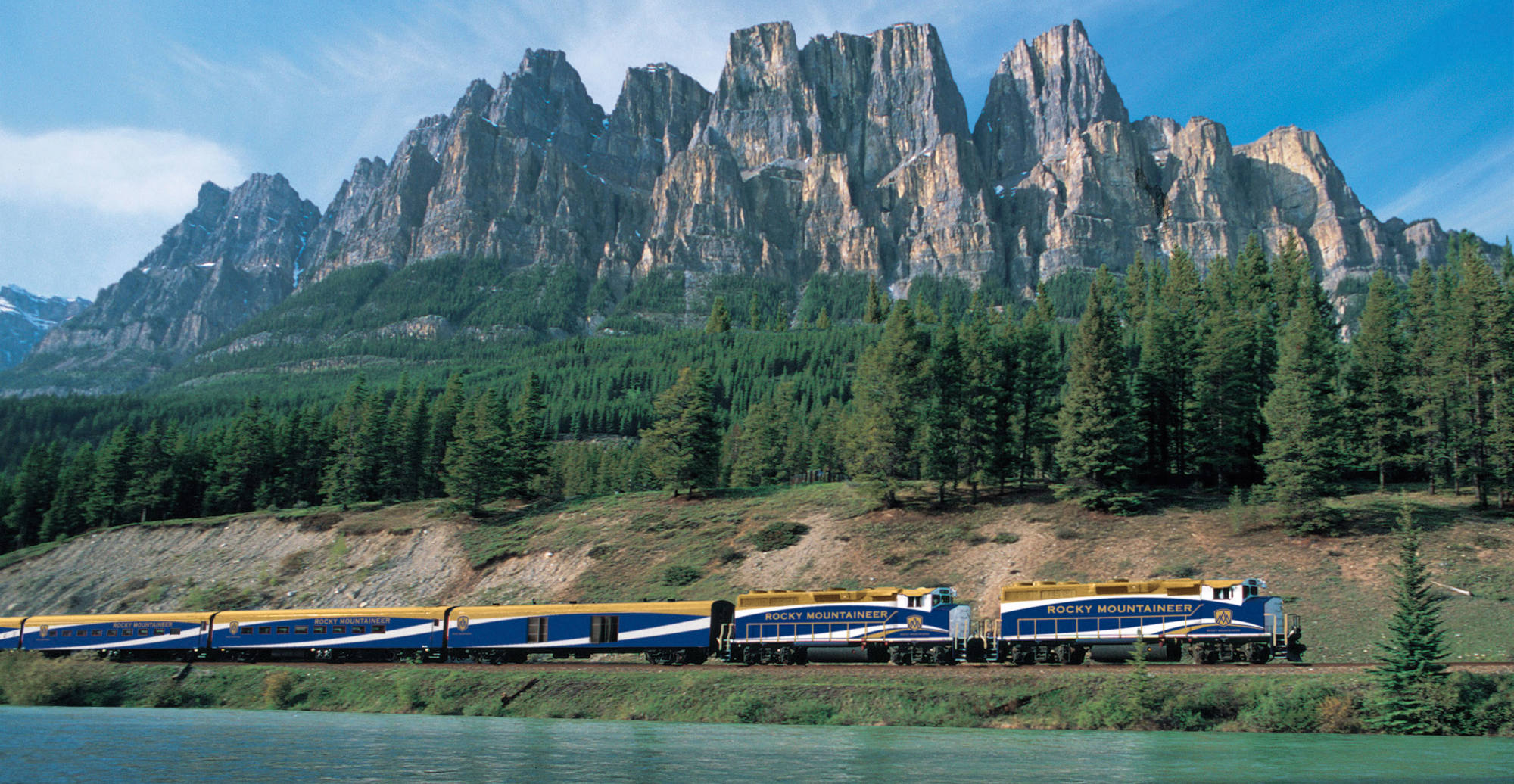 The train moves through a wide variety of landscapes, from ranchlands, along rocky lakeshores, through valleys, and over mountain passes. One highlight of the trip is passing by Craigellachie, the location where the last spike was driven in when the tracks were completed. Other highlights are Rogers Pass, Kicking Horse Canyon, Fraser Canyon and along the Fraser River, and the Spiral Tunnels. Many passengers get most excited to see the snow-capped peaks of the Canadian Rockies as the train enters the forested inlands and crosses the Continental Divide.
How long is the journey from Vancouver to Banff by train?
The purpose of this trip focuses more on leisure and luxury than on savings and practicality, and the time it takes to get from Vancouver to Banff varies depending on the train you travel on and the package you choose.
The Rocky Mountaineer's First Passage to the West Classic and the First Passage to the West Excursion have a duration of 3 or 4 nights, respectively. If you choose to travel by VIA Rail the train trip from Vancouver to Jasper takes 19 hours and the bus ride to get to Banff is 3 hours.
Do you sleep on the Rocky Mountaineer train?
If you're wondering if you'd sleep on the Rocky Mountaineer train during the trip the answer is no. Each pass offers the option to include the hotel service in the total cost of the trip or you can book your stay for each stopover destination. 
Which is better Via Rail or Rocky Mountaineer?
VIA Rail and the Rocky Mountaineer trains are very different and have their perks.
For those who don't have a large budget, and don't mind traveling with less luxury or having to take a bus ride to get to Banff, the VIA Rail train is the best option. On the contrary, those who want to travel straight to Banff surrounded by fine dining, deluxe cabins, full-length windows, and other commodities then the Rocky Mountaineer is the perfect choice.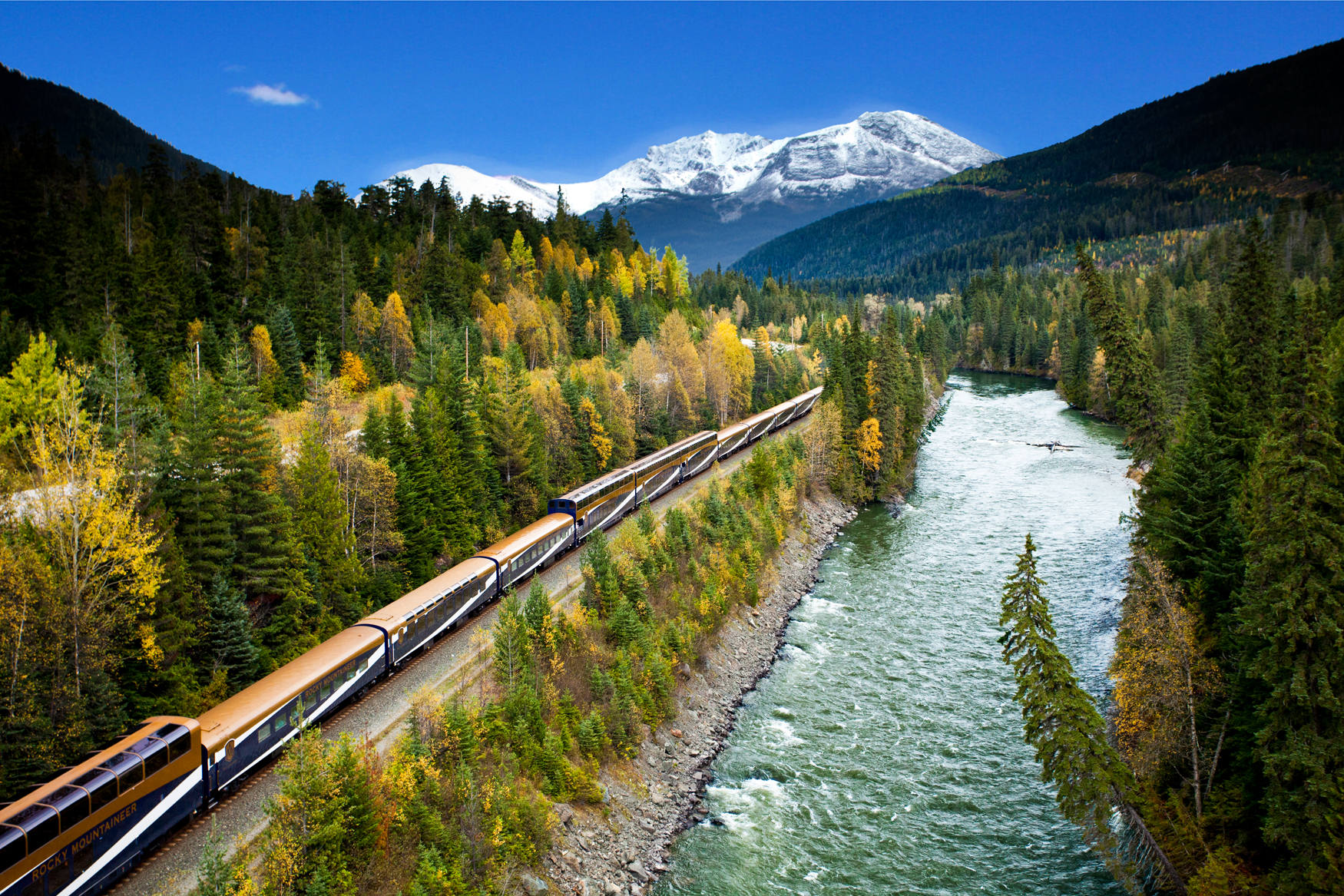 Best Time To Travel from Vancouver to Banff by Train?
The Rocky Mountaineer operates between April and October each year, though dates can vary. Certainly, the best time to visit both Vancouver and Banff is during the summer months when the sun is shining, wildlife is moving about, and the views and weather tend to be better.
Trains departing on Fridays tend to be the most crowded. Higher demand prices are attached to those Friday departures. You may be able to secure less expensive tickets if you vary your departure dates to mid-week depending on availability.
Most people fly into or arrive at Vancouver and then leave from there to Banff. Depending on how many days you have for your visit, you can visit as many locations as possible that make Banff National Park so special. This includes the world-famous Lake Louise which is 34 miles from Banff. 
When leaving Banff, you can book a return trip on the train back to Vancouver or you can arrange transportation to Calgary which is only 86 miles away. From there, you can fly out of the Calgary International Airport.
Alternatively, you can fly to Calgary first, explore the wonders of the Canadian Rockies, and then travel by train to Vancouver to enjoy the night life and bustling city with a rich arts and food scene. There are a wide range of flights out of the Vancouver International Airport.
Ready to travel from Vancouver to Banff by Train?
Taking a trip to Banff by train is the perfect adventure for every traveler seeking a long overland journey where the landscapes and experiences are unparalleled. We are sure that if you decide to embark on this expedition, you will have a great time!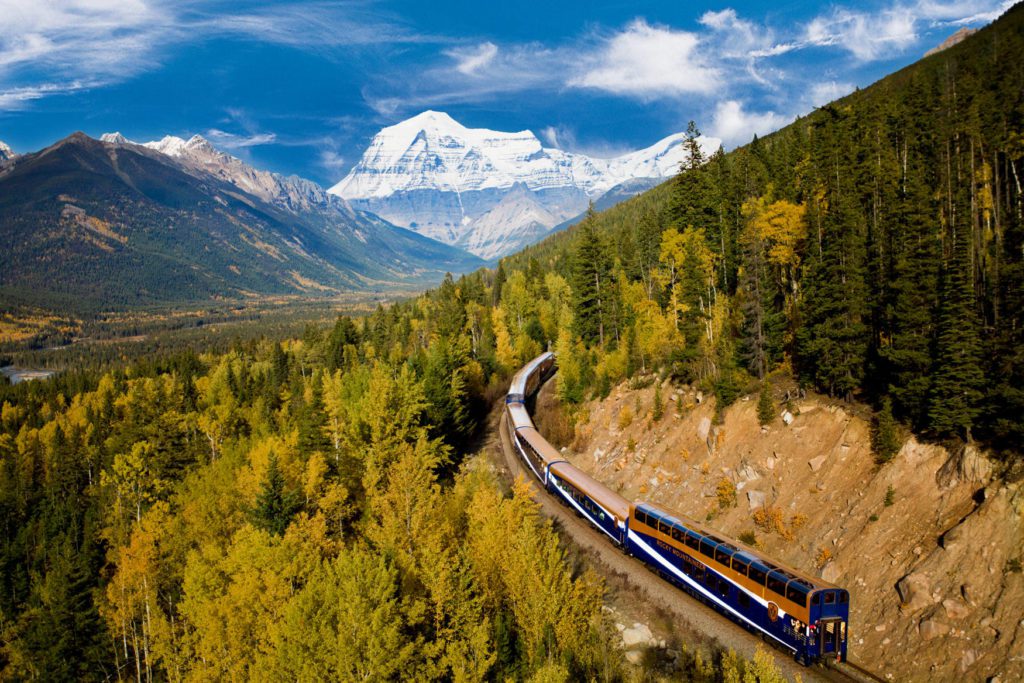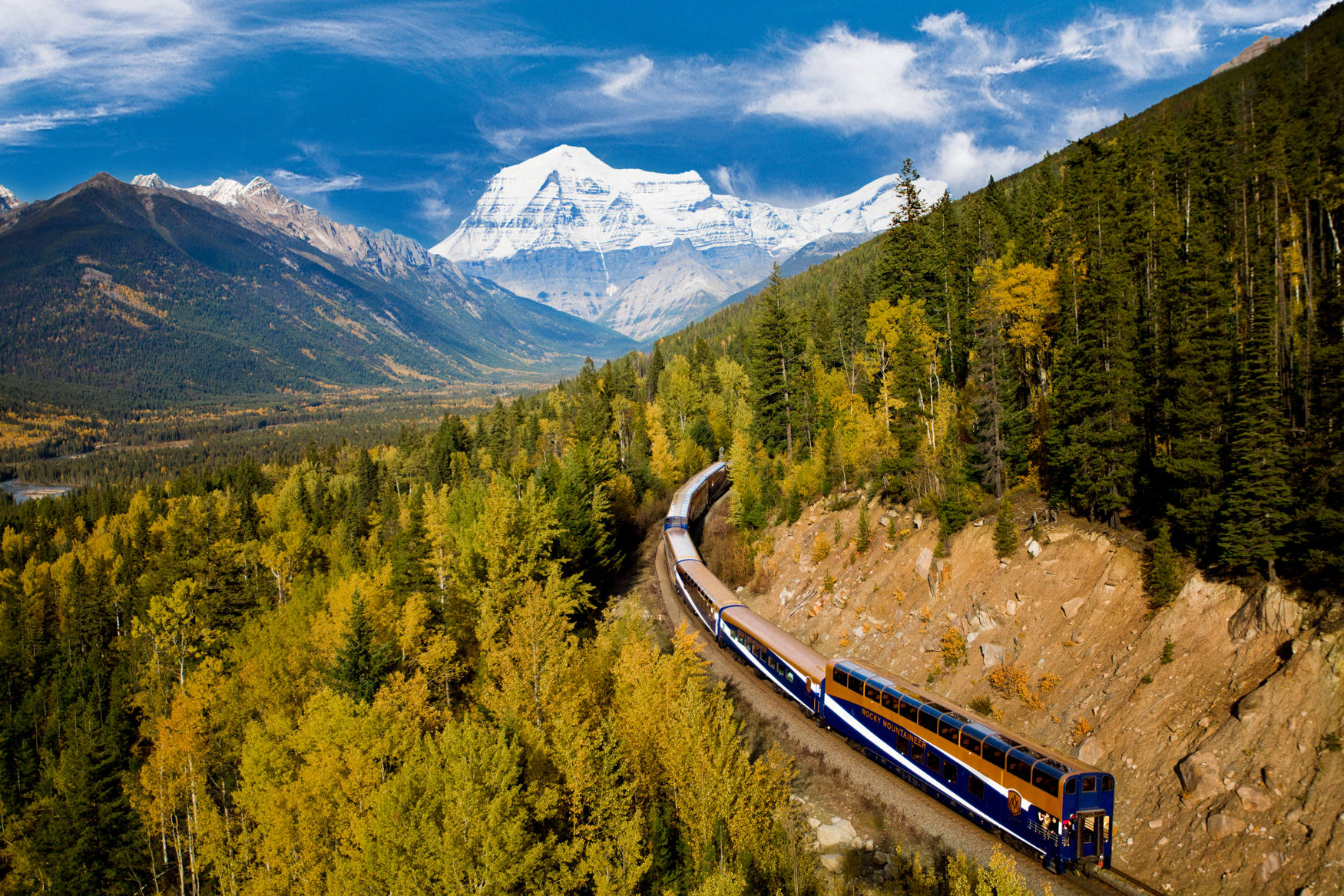 To plan you trip, if you are traveling on the train one way, decide if you want to start your trip Banff or Vancouver. If you choose Banff, you will need to fly into Calgary and take a shuttle to Banff. There is no train service to/from Calgary. Airport shuttles are available between Calgary airport and Banff several times daily and take just under two hours. If you choose to start in Vancouver, you can choose to travel one-way east to Banff and then depart from Calgary or splurge on a roundtrip train travel trip back to Vancouver.
2023 Pricing
April & October Dates
SilverLeaf Train Service
$1864 CAD per person
May, June, & July Dates
SilverLeaf Train Service
$2194 CAD per person
August & September Dates
SilverLeaf Train Service
$2261 CAD per person
Request Availability and a Quote
If you are Interested in booking your first train passage, then fill out the form below and a vacation planner will send you a quote by email including the latest information on availability, pricing, and any applicable specials.
Vancouver, British Columbia – Gateway to the Canadian Rockies
Situated on the idyllic Southwest corner of British Columbia is one of the most unique and beautiful cities in the world. Vancouver has the perfect mixture of a stunning mountain backdrop, gorgeous beaches, beautiful people, an atmosphere that is both relaxed and serene at the same time and a ton of activities to choose from. You can just as easily pack your day full of cool things to do as walk around admiring your surrounds in the Kitsilano area. With no offence intended towards Calgary or Edmonton, if you have time Vancouver is the perfect gateway to come to the Canadian Rockies.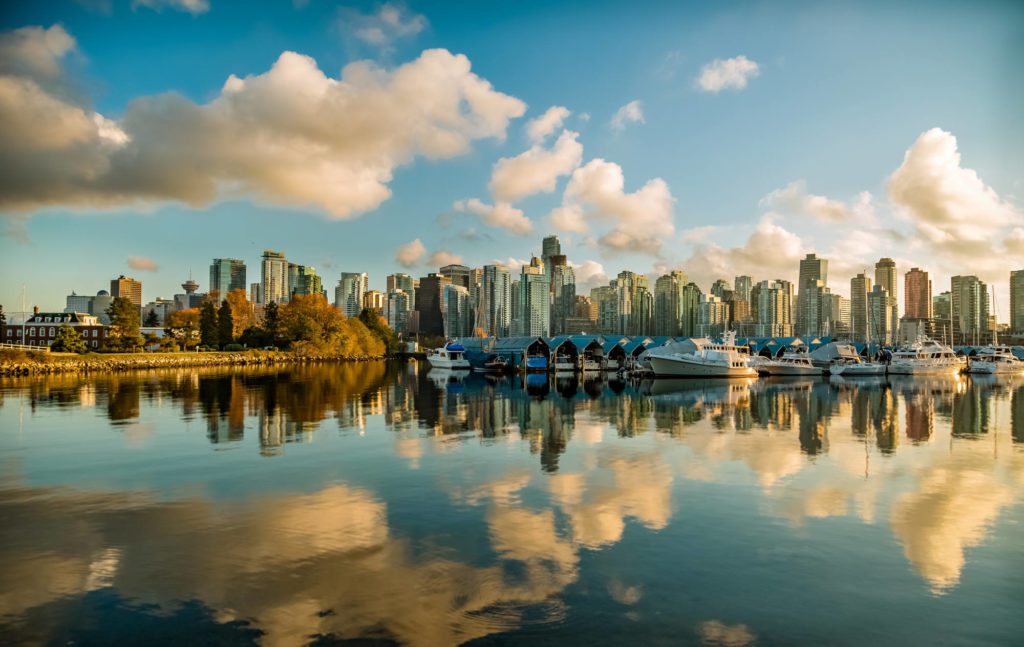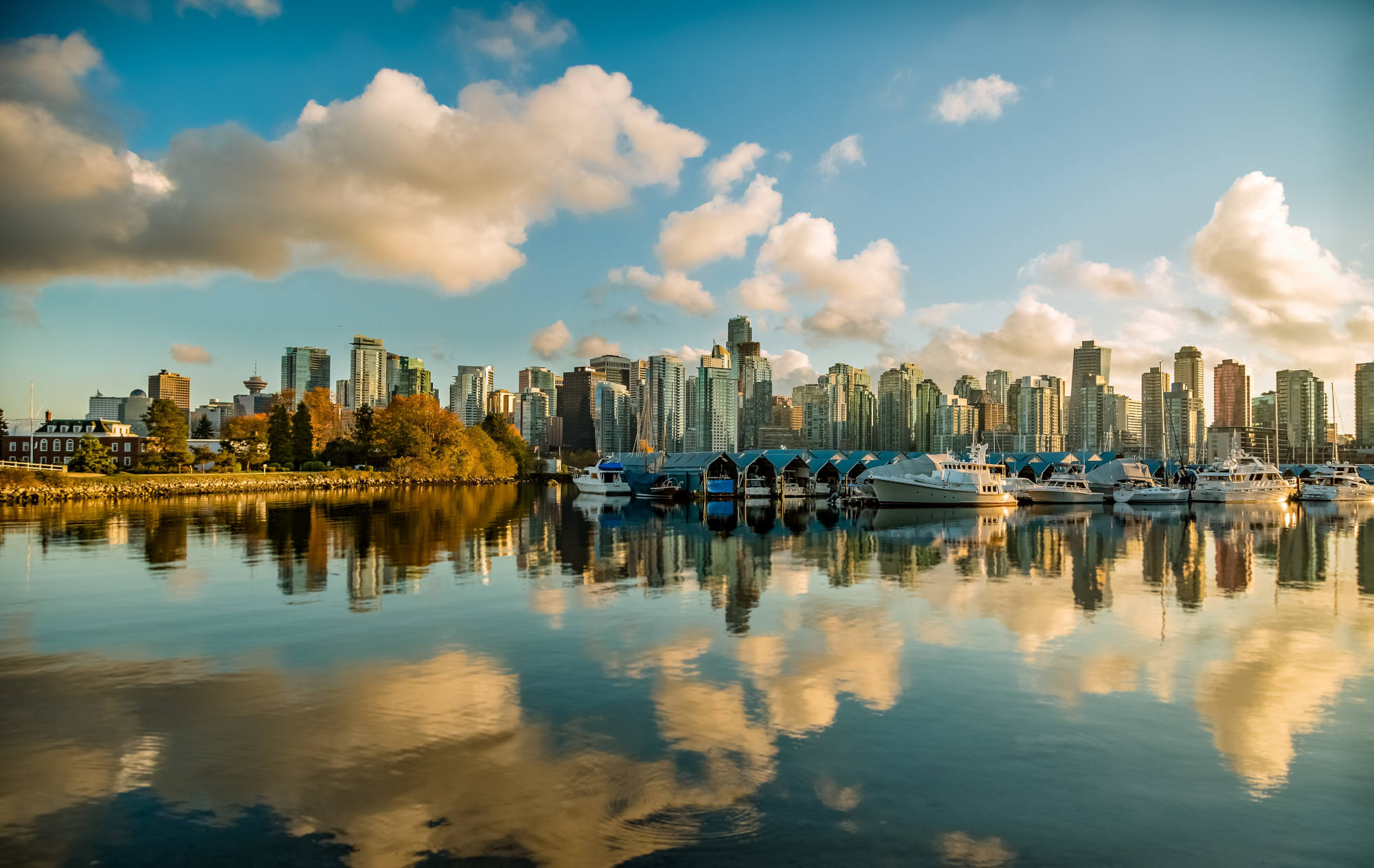 Before you head for higher pastures like Banff, Jasper and Lake Louise, try and spend a few days in this gorgeous city which is constantly named in the top 5 most liveable cities in the world. There are literally tons of things to do from cycling, hiking and camping to golfing, skiing and snowboarding. The winter Olympics proved that Vancouver really has it all and if you are going to be experiencing Western Canada, you will have to take the time to visit!
Where To Stay in Vancouver
There is a tremendous choice in hotels in downtown Vancouver that are 10-15 minutes from the train station. TransLink, Vancouver's public transportation service can help you plan your arrival at the train station. You can also choose a taxi or if you drive, there is parking in available while you are on your train trip.
The Sutton Place Hotel
This exceptional 4-star hotel features beautiful and comfortable rooms along with an attractive interior design. Guests will enjoy magnificent views of downtown Vancouver. Its central location puts you in easy walking distance to the waterfront and steps from the must-see historic Robson Street's international character.
Workout in the fitness center or take a swim in the indoor pool. Afterwards, treat yourself to a massage in the full-service spa. Purchase a bottle of wine at The Sutton Place Wine Merchant for a comfortable evening in your room or for the upcoming adventure on the train. You will find on-site parking but it is subject to additional charges.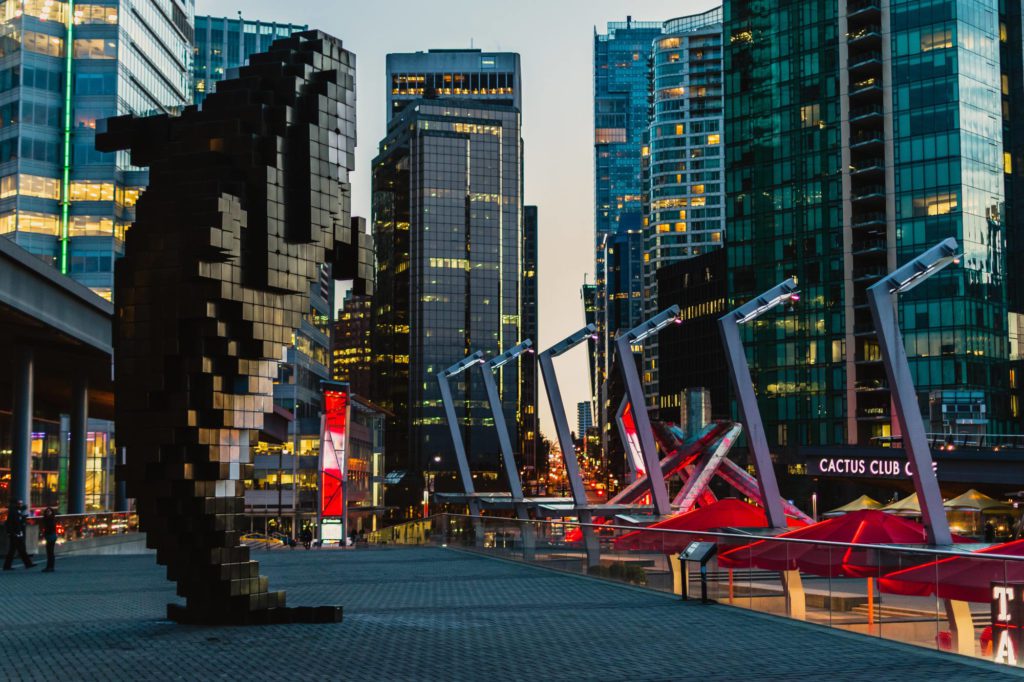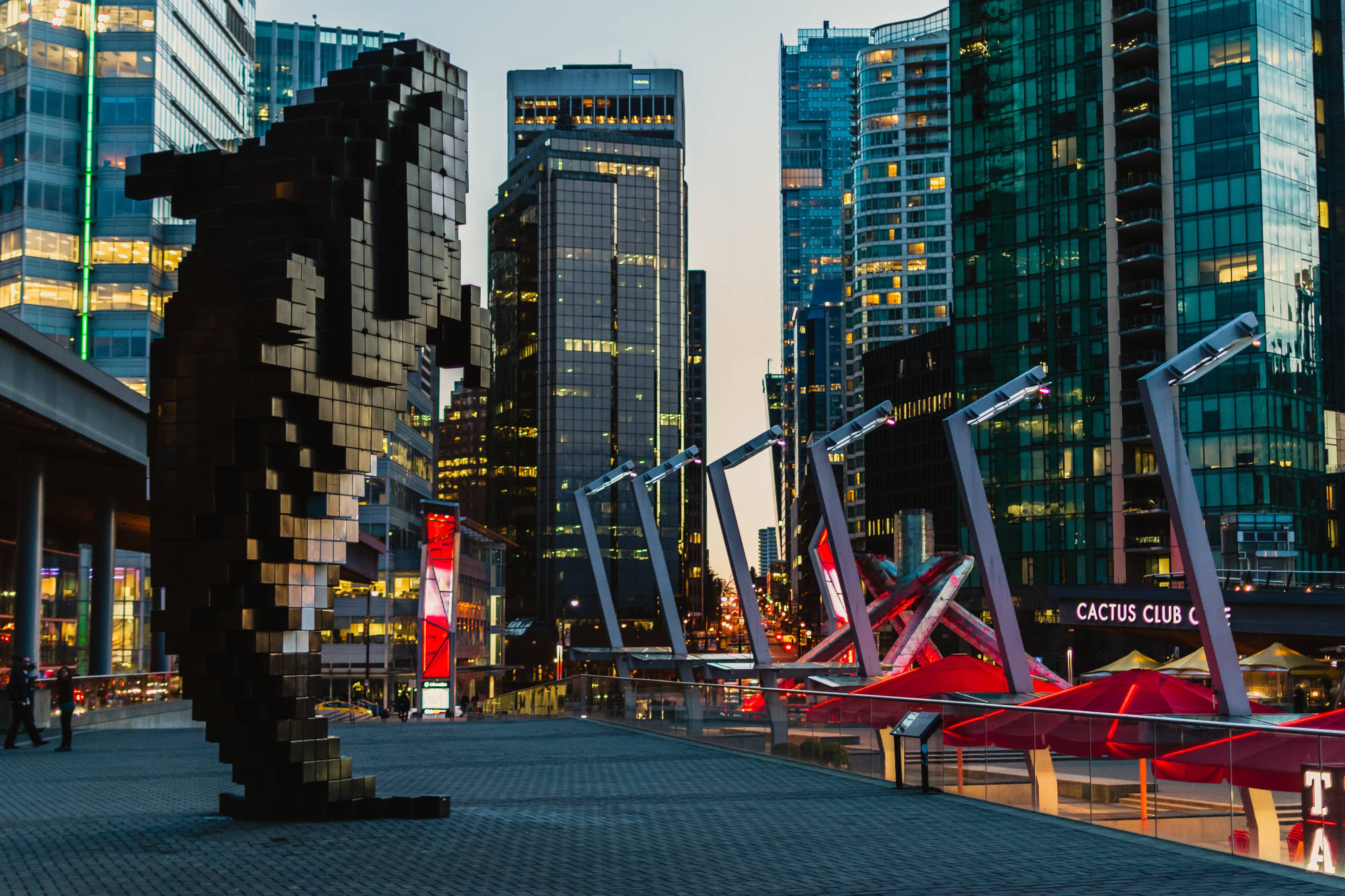 The St. Regis Hotel
The St. Regis Hotel is an elegant place to stay prior to your train trip.  This historic, Canadian-owned hotel offers exceptional accommodation and the highest levels of service and comfort. Two restaurants accessible from the hotel, one with a cocktail bar, provide an easy choice for dining if you don't want to venture out to other nearby downtown restaurants. 
Following a restful sleep on clean, crisp bedding, couples can enjoy a complimentary breakfast in the morning. Before you truly set work aside, you can attend to any necessary last-minute calls or emails in the 24-hour business center. The St. Regis was honored to be named a 2022 Forbes Travel Guide Recommended Hotel.
Wedgewood Hotel & Spa, Vancouver
The award-winning Wedgewood Hotel will start your vacation in style. This boutique hotel features just 83 luxury rooms which allows staff to provide personalized and exceptional hospitality and service. Renovated from a previous apartment hotel, this extraordinary, reimagined hotel offers a private balcony in almost every room from which guests can take in great views of the city. 
Venture outside your beautifully furnished room and you can enjoy a full-service spa or have cocktails in The Bacchus Lounge (with live piano entertainment). The Bacchus restaurant, a dining experience that is award-winning in its own right, boasts a menu with wine pairings that you won't soon forget.
Delta Hotels Vancouver Downtown Suites
Located in the heart of downtown Vancouver, the Delta Hotels Vancouver Downtown Suites.  This all-suite hotel will give you room to spread out and is pet-friendly in case you are traveling with dogs or cats. The suites include expected amenities such as TVs and refrigerators, but the hotel also provides a 24-hour fitness center, a full-service restaurant, and on-site parking.
They've thought of everything when it comes to accessibility needs which makes it easy to understand why the Delta Hotels Vancouver Downtown Suites was a Trip Advisor 2021 Travelers Choice hotel.  You won't be disappointed with this comfortable accommodation positioned perfectly to experience a bit of Vancouver before embarking on your trip to Banff.
The Barclay Hotel
If you've made the train trip your splurge and need to find a comfortable, quality hotel that keeps you on budget, The Barclay Hotel might be a great option. Located in downtown Vancouver, putting you near famous landmarks and great dining experiences, this tucked away heritage hotel may be the perfect fit.
Rooms are updated and air-conditioned but are offered as basic accommodation. Rooms have a hot water kettle but not all rooms have refrigerators. Important to note is the lack of an elevator so be prepared to carry bags even to an upper-level room. While it is not luxury accommodation, it provides a clean, comfortable, and very affordable place to stay.
Options range from a single room with one double bed up to a king bed with fold out couch for families. The Den, located at the hotel, has an arcade and a full bar. While they don't serve food, you can visit a nearby place for takeout and bring it back to The Den to enjoy with drinks before heading upstairs.
Where To Eat in Vancouver
One of Vancouver's attractions is its exciting, international food scene. This up-and-coming gastronomic destination has numerous restaurants that will delight hungry travelers of all tastes. As a port city, the influences of the many cultures that have arrived in this port city shine beautifully in the variety of dining choices. 
Many restaurants strive to take advantage of the local farms and proximity to the ocean to celebrate the best that is this part of Canada. While it is hard to highlight only a few, below is a list of some of the best places to eat in Vancouver in a range of price points. 
Miku Waterfront
Open since 2008, this gourmet Aburi-style sushi restaurant is full of vibrant energy. It was the first restaurant to introduce Aburi-style cuisine to Vancouver and features a full bar and lounge, area, waterfront patio, private dining room, and full-service sushi bar. Miku presents traditional Japanese flavors and techniques with local West Coast elements for a unique dining experience.
St. Lawrence Restaurant
Despite being on the west coast of Canada, dining at the St. Lawrence Restaurant will transport you to the culture and cuisine of Quebec. In only its first few years of operation it has garnered numerous awards. Once you enter and gaze at the menu it is easy to see why.
Menus change with the seasons, always complimented by the French-focused wine list. They will offer prix fixe menus that could include choices of their classics such as escargots, duck liver mousse, cod & mussels, or rabbit in mustard sauce. Finely crafted desserts such as maple tart can be paired with coffee or an after-dinner digestif. 
Medina Café
If you are wanting a good place for brunch, look no further than Medina Café. The extensive, Mediterranean-inspired menu is an amazing array of choice. From cassoulet featuring andouille sausage, Israeli couscous with roasted eggplant, eggs with Moroccan lamb meatballs, and savory sides like babaganoush, you'll be drooling once you open the menu. There are vegetarian options, and you can satisfy your sweet tooth for a Brunch dessert of delicious Liège-style waffles with a selection of dips including lavender, chocolate, salted caramel, and more.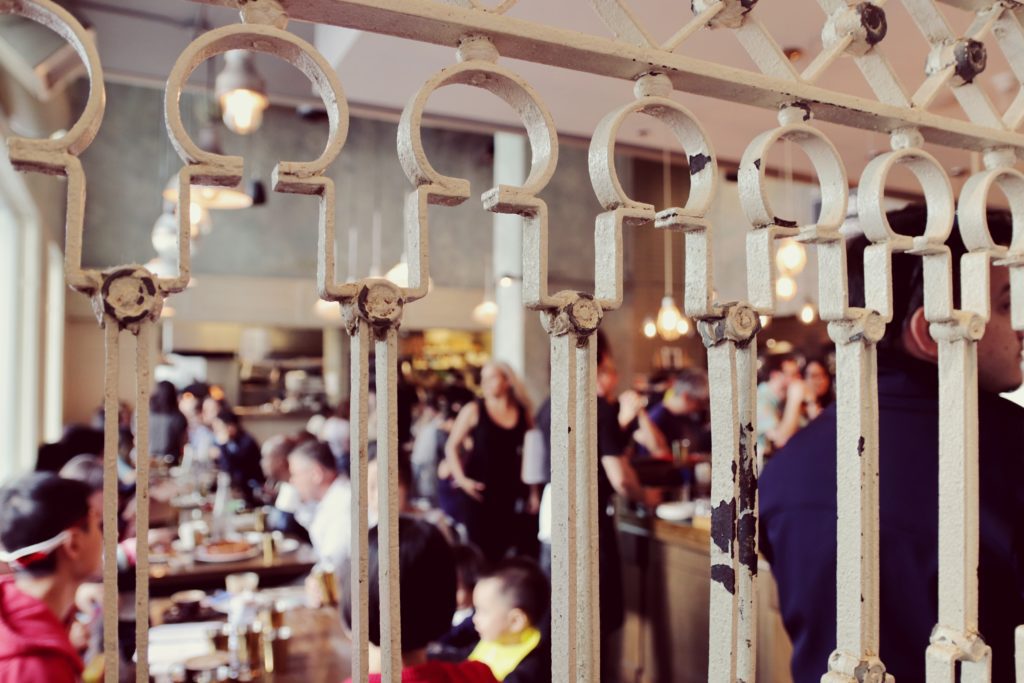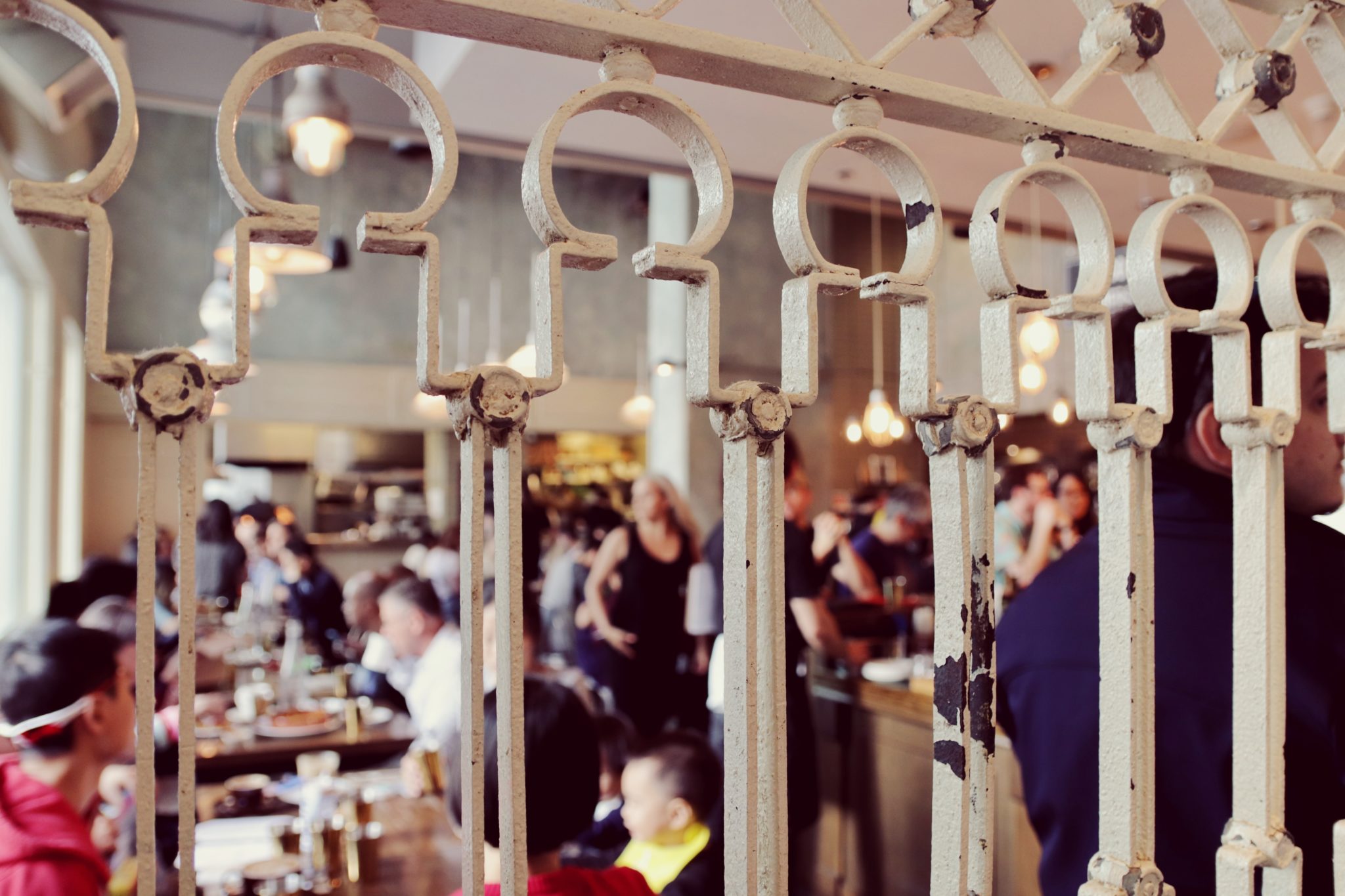 Forage
An exceptional breakfast, brunch and dinner restaurant can be found in Forage. Founded on the premise of eating local and seasonal from both farm and sea with plates designed to be shared, you will find an excellent meal in a welcoming setting. For breakfast you could have Roasted Mushroom Benedict or amazing French toast, which should be award-winning if it isn't already. Dinner choices might range from potato gnocchi to duck to bison carpaccio. Don't miss a chance to choose from their carefully curated offerings.
Japadog
The first Japadog location was at the corner of Burrand and Smithe streets. This unassuming trailer exploded onto the Vancouver food scene with its unconventional and unique hotdog creations featuring Japanese and Asian influences. Think Wagyu beef, chili umami, seaweed, peanuts, Japanese Fried Mashed Potatoes. Understandably, they've expanded to other locations around the city and offer a unique, satisfying option at an affordable price.
Downlow Chicken Shack
Chicken and waffles, anyone, any time of day? You can get it at the Downlow Chicken Shack, Vancouver's first Nashville-style spot. Experience the best of what southern food can offer in the form of sandwiches, combination plates, and sides. It is worth mentioning their chicken is freshly delivered daily from a local farm where they run free and are free of hormones and antibiotics. There are two Downlow Chicken Shack locations in the Vancouver area and could be your go-to affordable meal while out and about enjoying the city.
Banff, Alberta – The Gem of the Canadian Rockies
Banff is a happening tourist town! With its cool mountain bars filled with ski bums slurping beer and restaurants serving elk are plentiful, not to mention the great shopping in Banff. Banff offers the best adventure activities in the Rockies.
First class accommodations will await the adventurous traveler in the town of Banff and the village of Lake Louise. Explore Banff National Park and you will share this striking area with some of Canada´s wildest creatures including wolves, caribou and even grizzly bears. 
This notable and historic hotel is world-renowned for its chateau-inspired architecture in a story-book setting. As grand as it appears on the outside, it is equally majestic on the inside. Accommodations and service are of the highest level. Guests enjoy luxurious rooms and amenities including a spa, access to a natural mineral hot spring, and numerous fine dining options and cocktail bars throughout.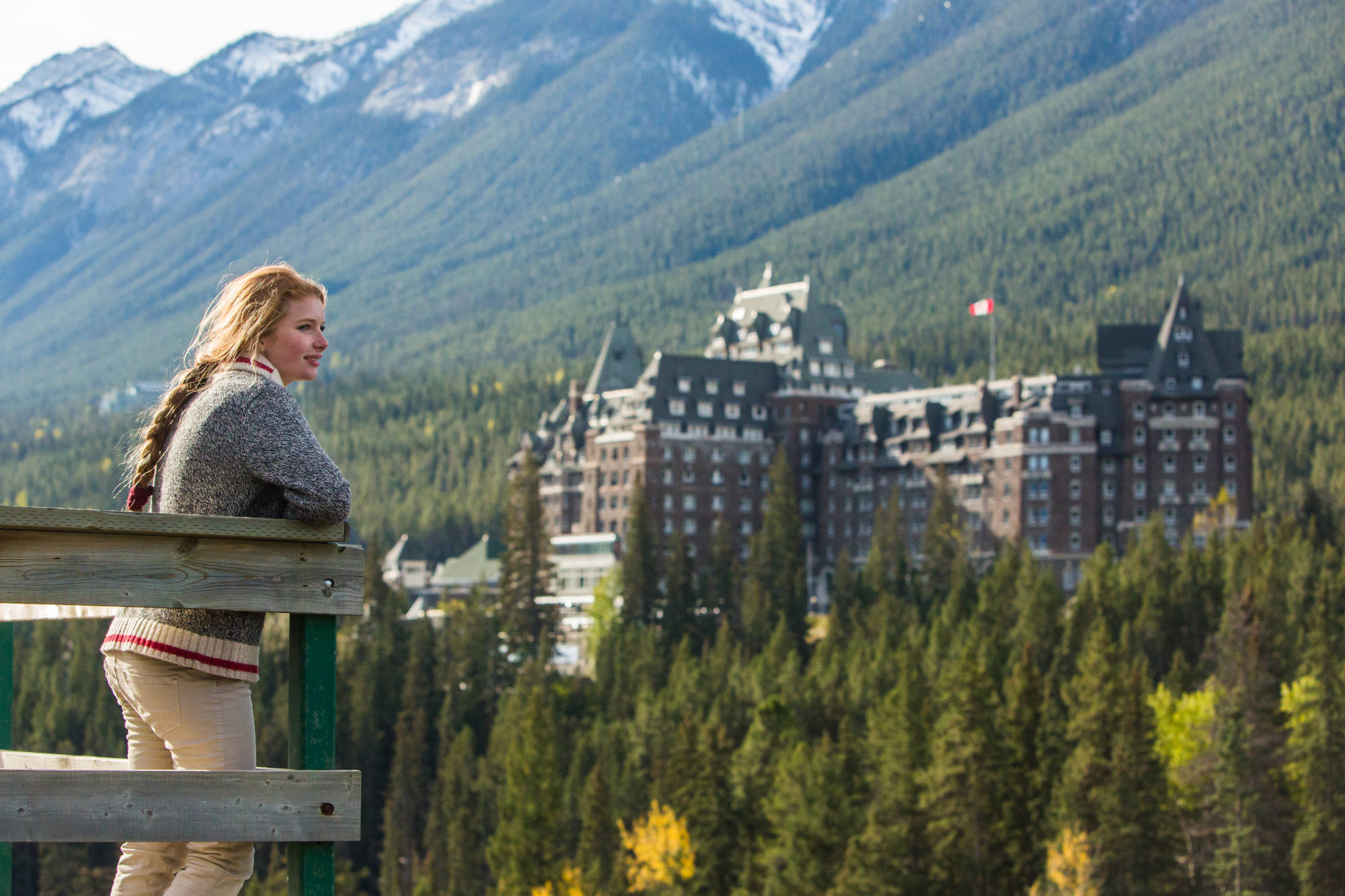 Banff Caribou Lodge and Spa
Located on the main street in Banff, this lodge is everything you might envision in an upscale mountain hotel. An exercise room and hot pool are your places to sweat a little and relax, without leaving the lodge. The pet-friendly hotel features over 180 mountain-style hotel rooms. Guest can choose the Keg Steakhouse and Bar or easily walk to nearby restaurants in downtown Banff.
Elk + Avenue Hotel
Less than one mile from the Banff city center, the Elk + Avenue Hotel is an ideal location for your Banff adventure. All rooms are air conditioned which can be important in the summer months. The 3-star hotel has an a la carte Farm & Fire restaurant offering local dishes and has earned rave reviews. The on-site bar is your go to location for a relaxing drink at the end busy day. Don't hesitate to ask the courteous staff questions about what do to during your visit. An added bonus is they offer lockers where you can easily and safely store any luggage or gear you have.
Where To Eat in Banff
Whether you are craving pizza, ethnic or local cuisine, there are wonderful options for dining out in Banff.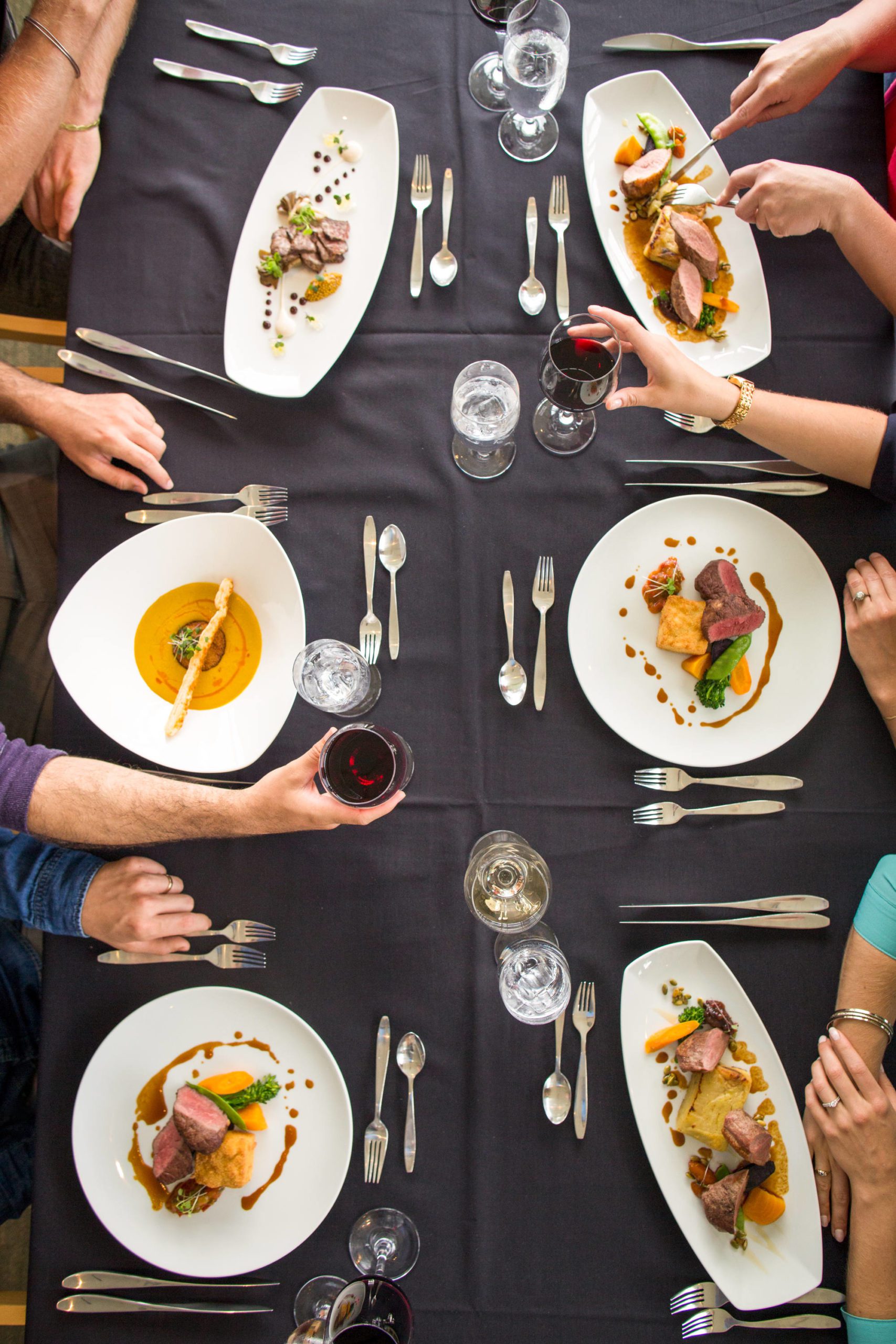 Eden
Located in the Rimrock Resort Hotel, Eden offers an international fine dining experience. You can choose a prix fixe 3- or 5-course tasting menu, both of which have vegetarian versions. Add on a wine pairing to elevate your dining experience. For the most discerning palates, an 8-course Grand Degustation menu could very well be the highlight of your time in Banff. French cooking techniques combined with the best local ingredients in a refined and relaxed atmosphere is not to be missed.
Three Ravens Restaurant and Wine Bar
Known for their creative menus that are a twist on local ingredients and the classic culinary heritage of Canada, Three Ravens will surprise you. Excellent service is the foundation for a wonderful dining experience. Octopus carpaccio and lamb sweetbreads will lead you into entrée choices such as duck consommé or bison tenderloin. Chosen as one of the 100 Best Restaurants in Canada, the menu changes with the season and with the genius of the executive chef.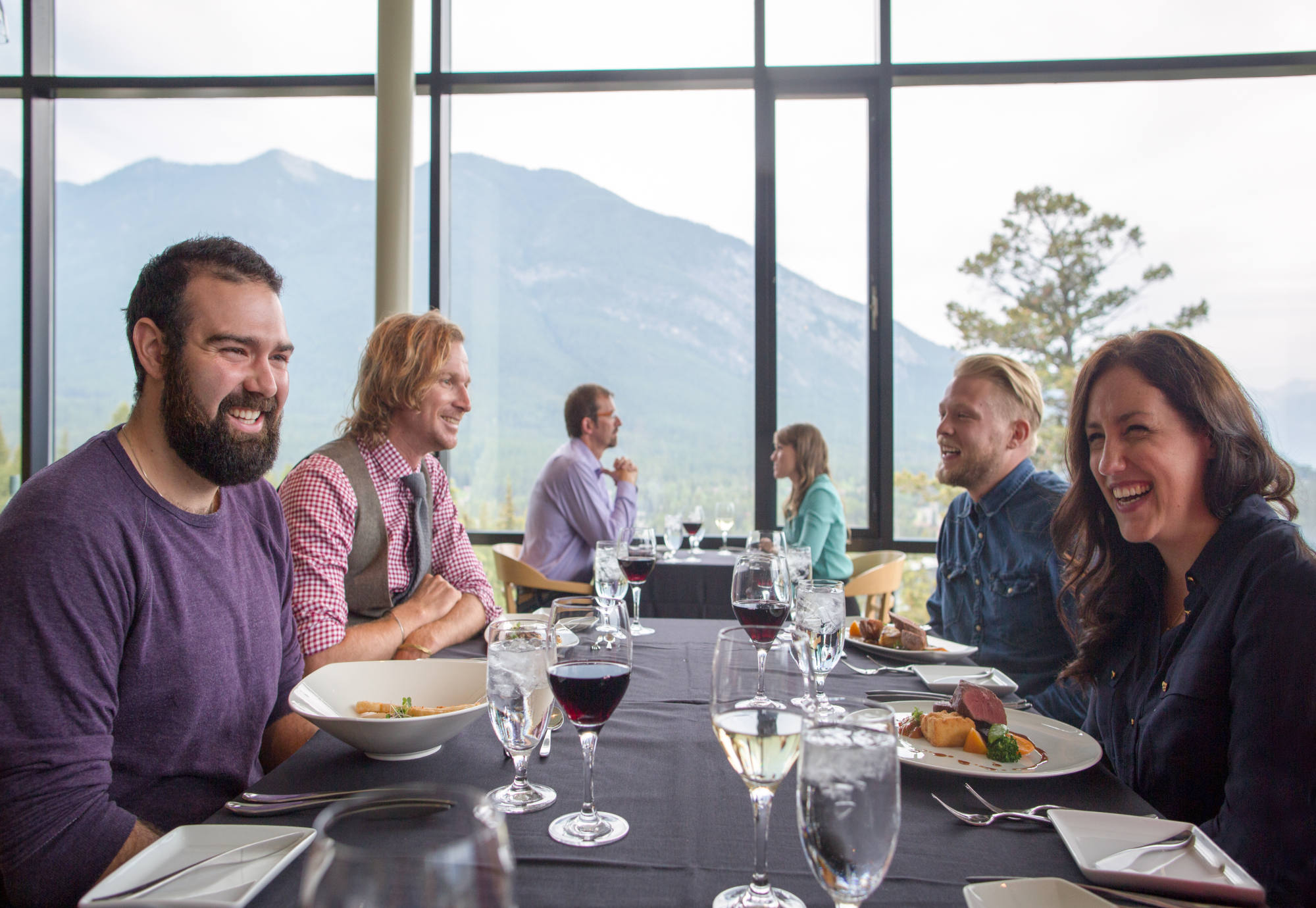 Hello Sunshine Sushi
Yes, sushi in the Rocky Mountains. After you've enjoyed the more classic meals one might expect in the mountains (think meat and potatoes), this sushi restaurant is a standout. Everything you love about your sushi restaurant back home is here, elevated with on-trend ingredients like yuzu, leeks, miso glazes, and the freshest of seafood. On offer is some of the best maki, nigiri, sashimi, and hand rolls you've ever had. Aside from sushi you can find great Ramen choices and main dishes including a vegan option, as well as the world-famous wagyu beef steaks that might actually make you cry. 
There's Nothing like the Train Journey from Vancouver to Banff
In the modern age, it's easy to get to Banff National Park – you can rent a car and drive the highway, ride a bus, hire a taxi or even hire a tourism agency to arrange it all for you.
Those are all fine choices. But the oldest way of reaching the park still holds a special attraction for many travelers.
There's nothing like the train.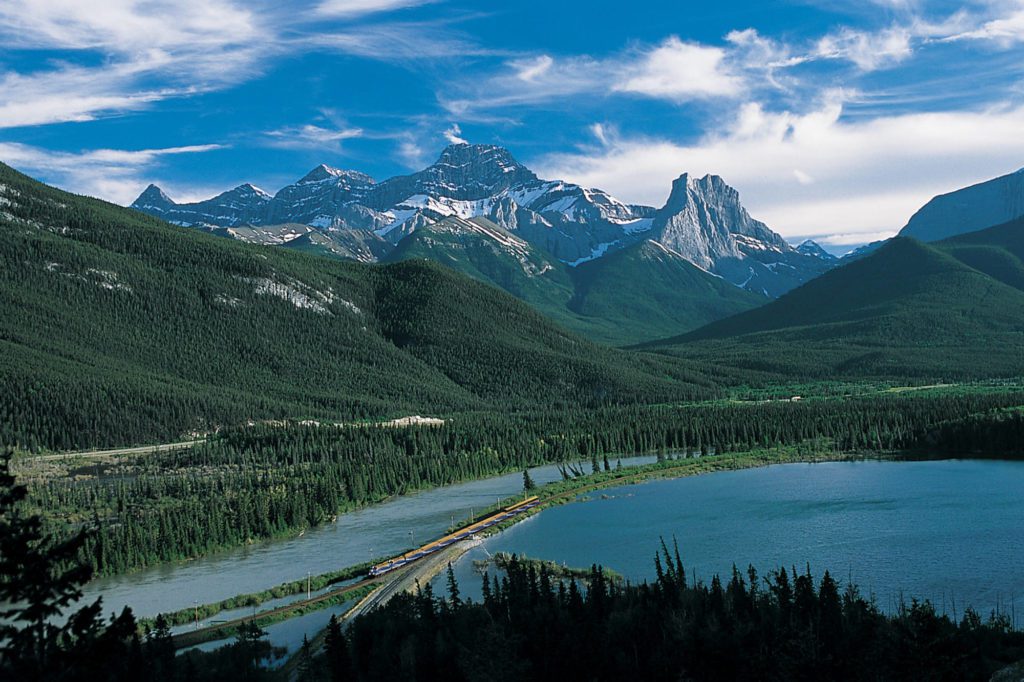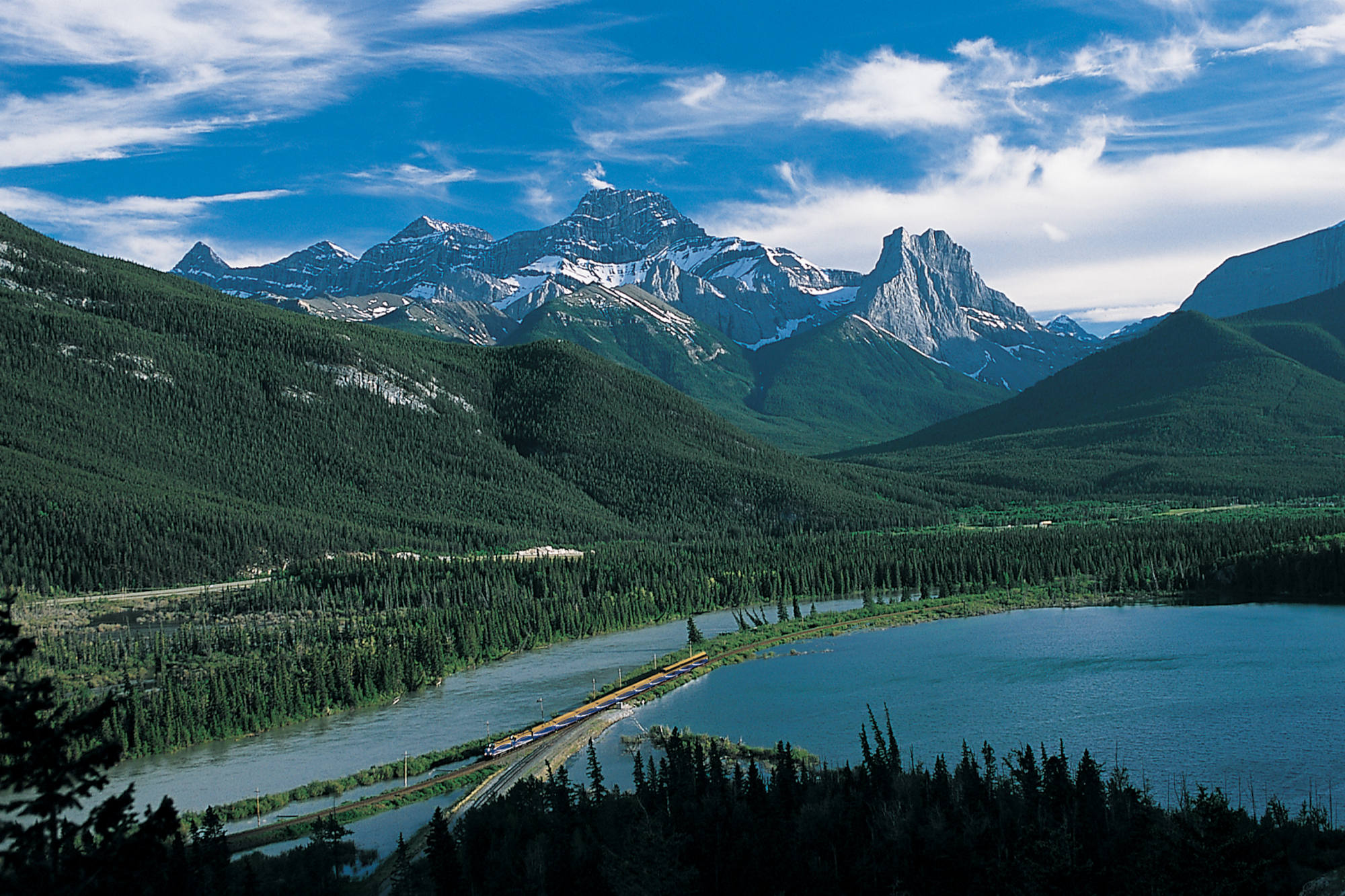 Rocky Mountaineer and VIA rail tours offer the traveler unparalleled views of the Canadian Rockies – not to mention the comfort of the train in which you are riding, or the first-class dining available to you as you go. There are several packages offered;  from budget-friendly to world-class extravagance. Along the way, you can stay at any of the hotels in Banff or at other stops in the mountain tour.
Cars are fantastic things, and the highways in Banff are replete with stunning views. But ride the train, and you will see things you never would by car. And you get to see them while riding in the elegant comfort of a railroad car.