Located a mere 11 kilometres (6.84 miles) northeast of Banff town, Two Jack Main Campground is the perfect place to lay your head during your Banff National Park getaway. Two Jack Main Campground gets its name from nearby lake Two Jack Lake. Historic characters Jack Stanley, a boat concession operator and Jack Watters, a miner in Bankhead, gave their names to this beauty spot.
The campground itself is more secluded than other campgrounds in the area and offers a more authentic camping experience. Two Jack Main Campground is minutes away from the beautiful shores of Two Jack Lake. The waters of Lake Minnewanka feed Two Jack Lake and opens up a wealth of natural beauty to explore. 
The Perfect Spot for a Nature Getaway
As Two Jack Main Campground has limited facilities, it encourages campers to become more attuned with nature. There is no power at the campground. This allows Two Jack Main Campground to be the perfect location to switch off from technology. Instead, make the most of the natural beauty that surrounds you. The campground is close to the shores of Two Jack Lake which, at any time of day, is simply spectacular. Head to the shores of the lake on a clear evening to see the night sky full of stars. This is the ideal place for astrophotography. Take out your telescope and marvel at the skies, or recline in a camp chair and get lost in the shimmering dots above.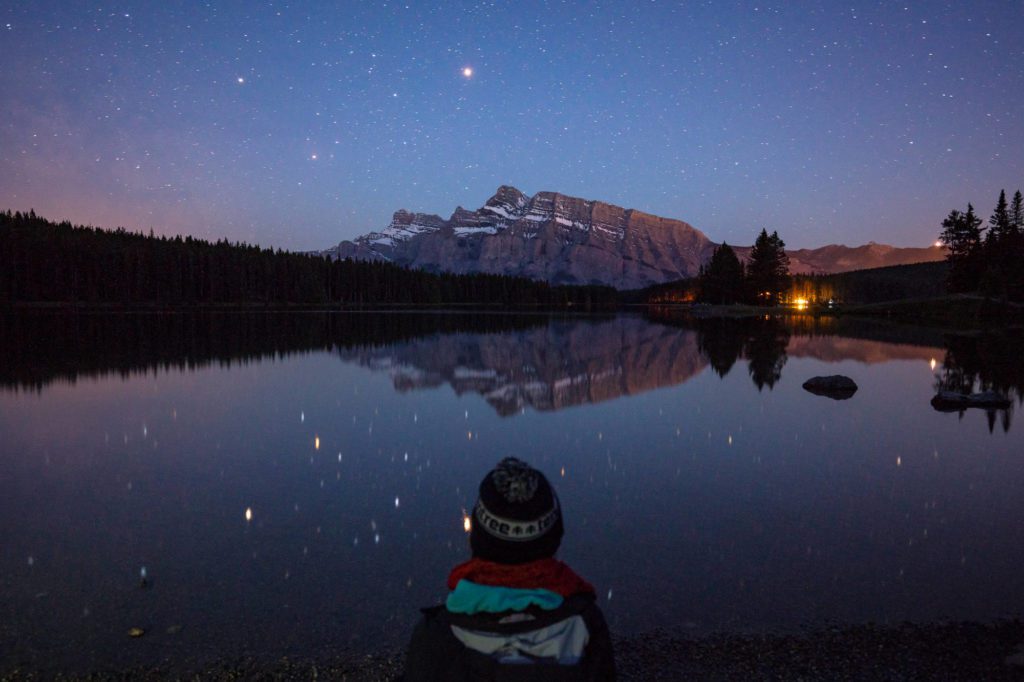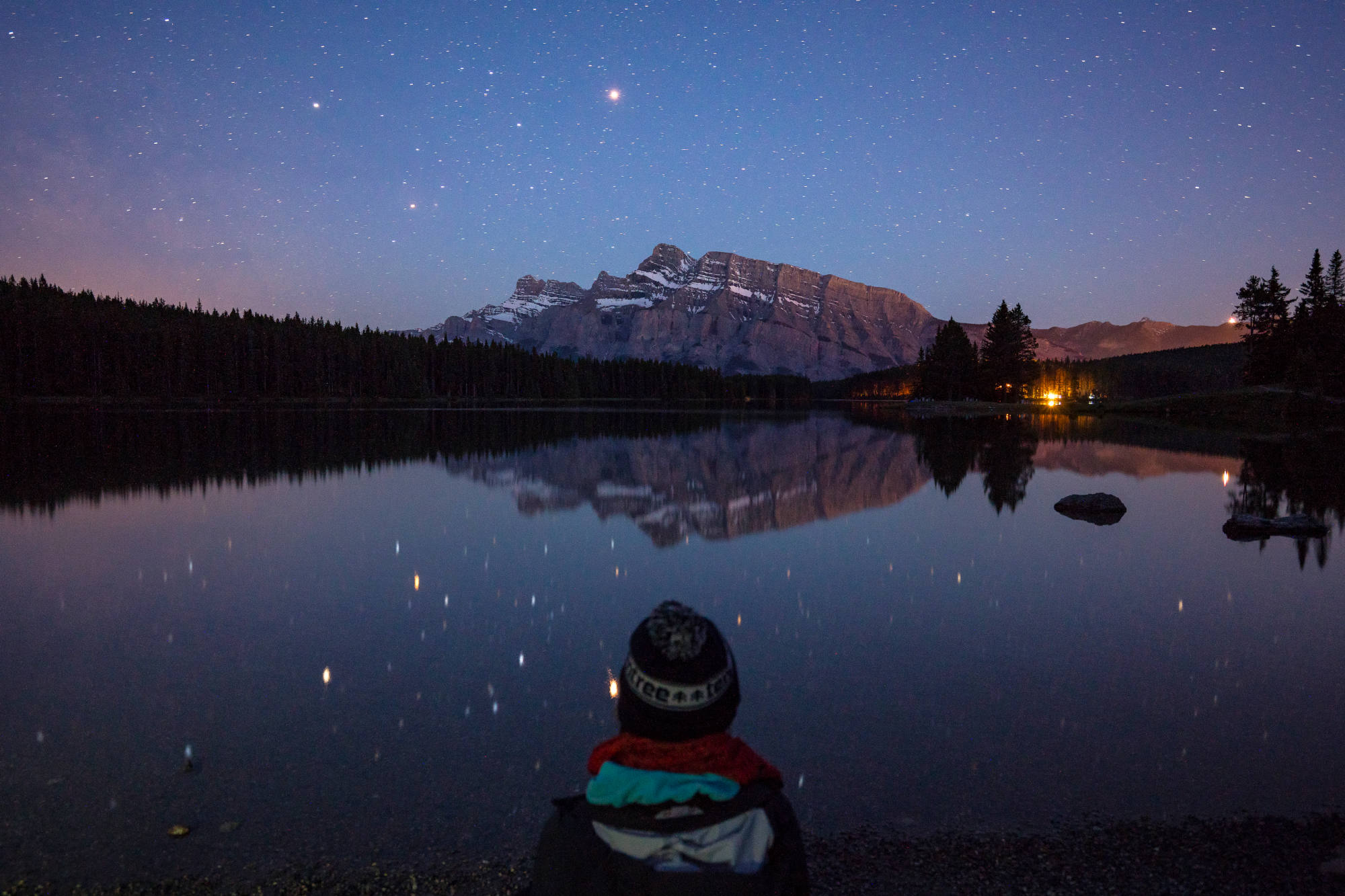 Wildlife is All Around You
Nature surrounds you when camping at Two Jack Main Campground. Nestled within the thick alpine forest is the campground.
Like elsewhere in Banff National Park, the natural wildlife is spectacular. If you are fortunate, you may catch a glimpse of bull elk, deer, bears and bighorn sheep. Many of the animals within Banff National Park are most active just after sunrise or before sunset. Head out then for your best chance at seeing some of Canada's most incredible wildlife. When camping at Two Jack Main Campground you are most likely to sight Bighorn sheep, which are in the rocky cliffs along Lake Minnewanka and Two Jack Lake.
As with all of Canada's National Parks, Banff National Park expects visitors to be respectful of their natural surroundings. Do not use food to attract the wildlife. If camping, lock food away in a secure box. Any litter should be disposed of with care to avoid attracting native animals to the campgrounds. 
Camping at Two Jack Main Campground
Go back to camping's authentic outdoor roots at Two Jack Main Campground. Two Jack Main Campground offers 313 sites practically on the shores of Two Jack Lake. Surrounding the campground is alpine forest.
Two Jack Main Campground is a no-service campground, but is only a 15-minute drive from Banff town should you need any additional supplies. The campground itself has scenic sites for tents to pitch and plenty of space for RVs. RV spaces can accommodate vehicles of up to 27ft (8.23m) in length. The campground also has room for group camping. Visitors are able to camp for up to 14 nights.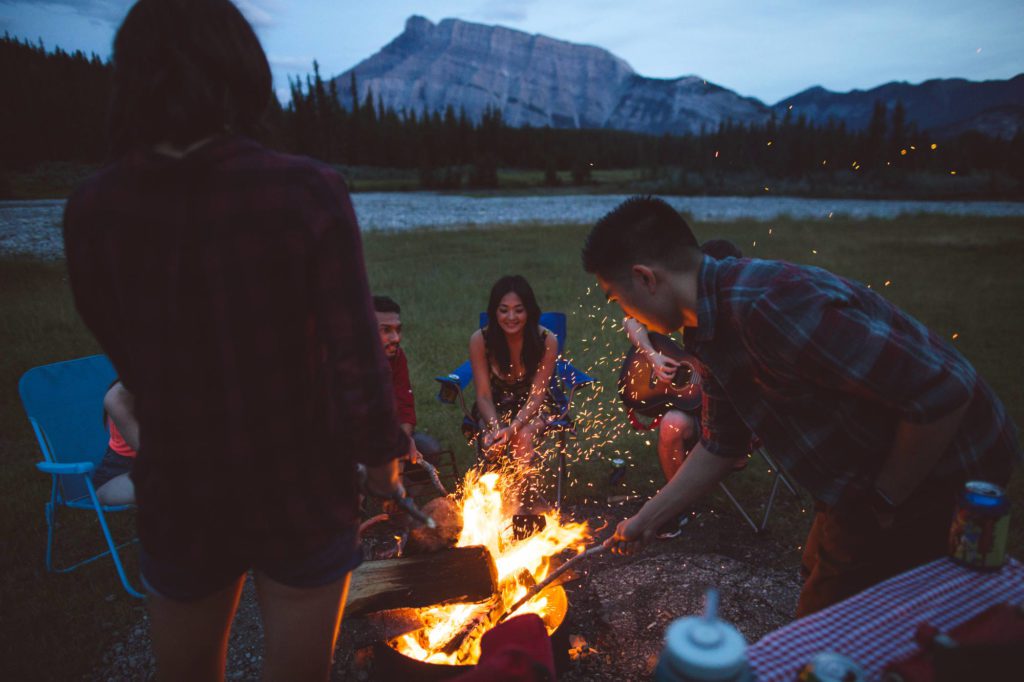 30 of the 313 sites are equipped. Equipped campsites include a 6-person tent, stove, propane, sleeping pads, lanterns, and broom kits. If you are not staying on one of the equipped campsites you will need to bring your own sleeping accommodation. 
Amenities at Two Jack Main Campground
Two Jack Main Campground does have some amenities; flush toilets, fire pits, and cook shelters are all provided, and firewood is available. There is also a water tap, Sani station, plenty of picnic tables and a public phone. There is no power at the campsite, so be prepared to switch off from the grid for a few days.
Amenities are basic however showers are available at nearly Banff Upper Hot Springs. Do not try to take a shower at Two Jack Lakeside, as access is not permitted.
Pets are welcome at the campsite, making it the ideal place to bring your four legged friends on your adventure.  Please ensure they are kept on a leash and are in your control. This will help keep the peace at the campground with your neighbours, and to protect the native wildlife. 
The campsite gets particularly busy on weekends and during holidays. Bookings are recommended although during off-season are not always required. Two Jack Main Campground is open from mid-May till mid-September.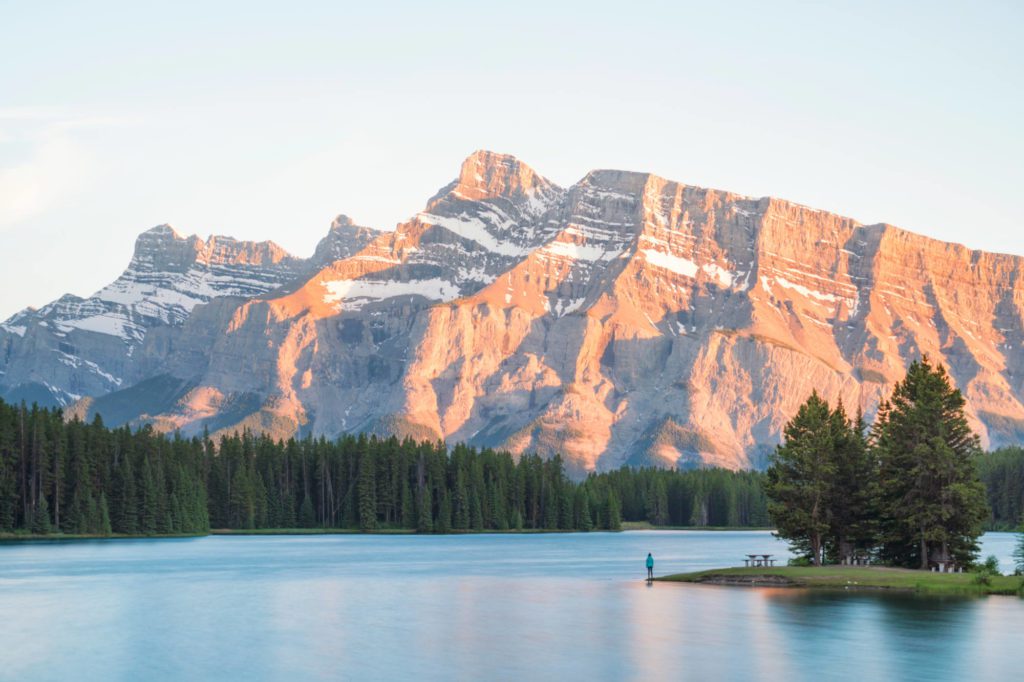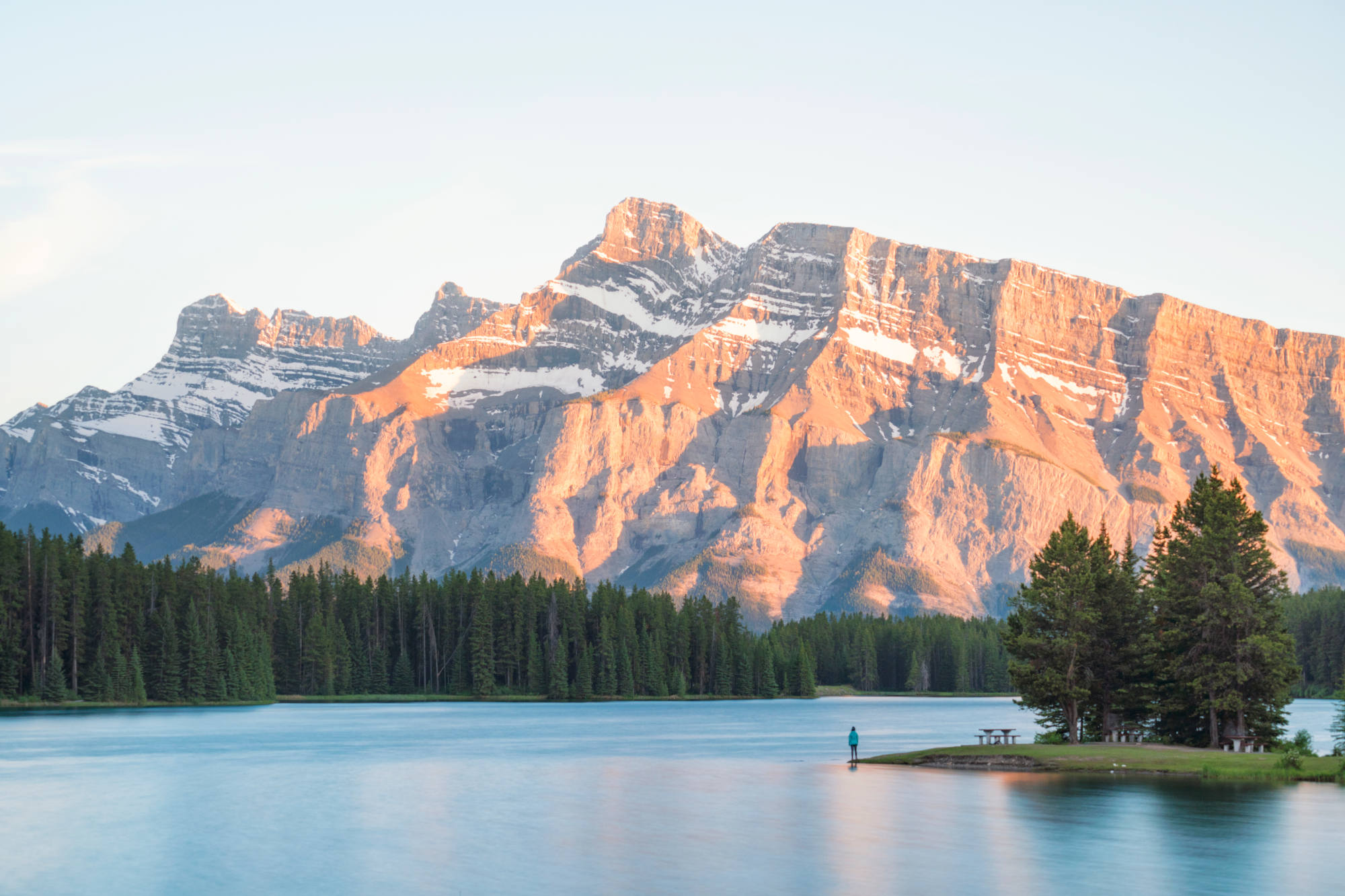 Check the Weather
As with any campground in Banff National Park, you should prepare for all weather. Pack plenty of warm clothing and layers for your daily adventures into your magnificent surroundings, and enough blankets to keep you warm at night should the temperature drop. 
Camping Permits
Camping permits are required, and campers must check in at the campground kiosk before pitching their tent. Permits for fires are available when you book or from the campground kiosk. Purchase a National Park Entry Pass before your stay. These are available from the Banff East Gate, Parks Canada visitor centers, or your campground kiosk.
Two Jack Main Campground Factsheet
| | |
| --- | --- |
| Number of sites | 380 (30 of which are equipped sites) |
| Services available | Tap water (both hot and cold), flushable toilets, fire pits, Sani-Dump, cooking shelter, picnic shelter. |
| Maximum number of nights | 14 |
| Tents, RV's or oTENTiks | Tents and RV's of no more than 24ft. There are 30 equipped sites that include a tent, groundsheet, camping beds and stoves. |
| Reservations? | Yes, however during off-peak times it is possible to turn up and book on the day from the campground kiosk. |
Hiking near Two Jack Main Campground
From Two Jack Main Campground there are many pleasant strolls, walks and hikes of varying levels of difficulty. All offer the staggering beauty of Banff National Park. 
Two Jack Lake, which the campground is close to, is a perfect place to start your Banff adventure. Visiting the lake is a popular pastime for locals of Banff due to its close proximity to the town itself. Tourists tend to head for the larger lakes of Minnewanka and Louise. Two Jack Lake is the ideal spot for a quieter adventure.
Two Jack Lake is truly a breathtaking spot. Bordering the calm waters are thick alpine forests. Across the water are the snow-capped mountains of the Canadian Rockies. Some couples choose to marry on the shores of the lake as it is so beautiful.
During the summer months the lake is a popular canoeing, kayaking and swimming spot. In winter its surface freezes over and becomes a great place for ice skating. The soft show surrounding the lake is ideal for snow-shoeing.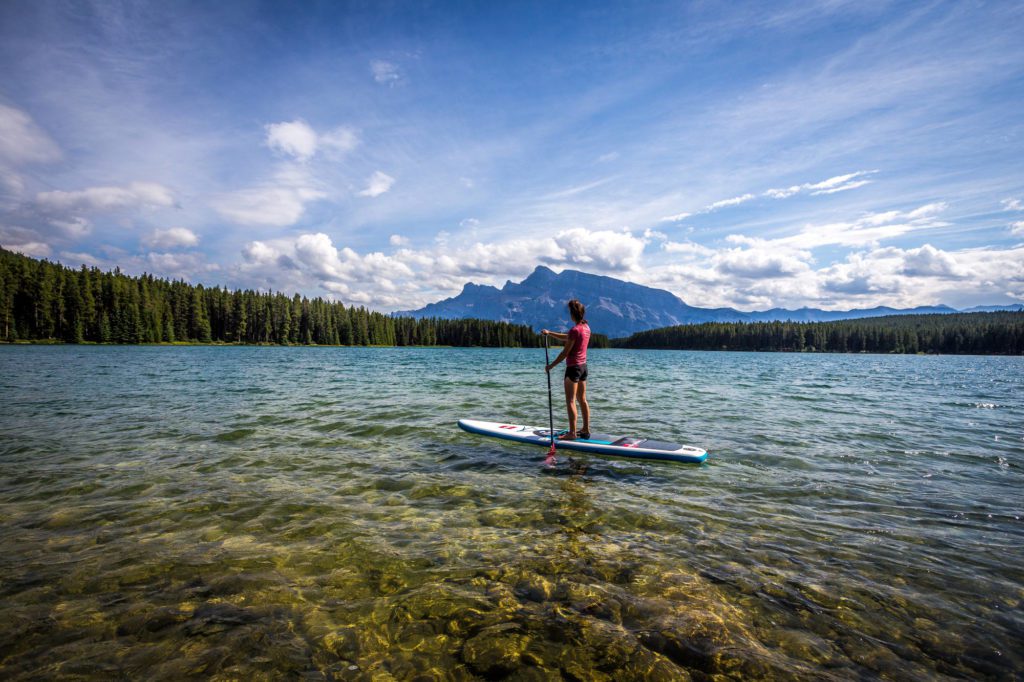 Despite its incredible beauty and close proximity to Two Jack Main Campground, many tourists opt to travel to Lake Louise or Lake Minnewanka, which feeds Two Jack Lake. 
Shorter Hike Recommendation
If a short hike to Two Jack Lake is for you, pack a picnic and while away the afternoon surrounded by trees and peaks. Cascade Mountain is to the east, Mount Alymer and Spectral Peak are in the north and Mount Girouard is to the west. Walking around the lake is also possible, but be wary of straying too far as the lake opens out into Lake Minnewanka.  There are several hiking trails available around the lake ranging from 1-3 kilometres (0.62 -1.86 miles). Trails from Two Jack Main Campground last from 30 minutes to 2 hours.
There are many vantage points along the trails that share different yet equally spectacular views across the blue waters of the lake and up to the magnificent mountains beyond. The best time to hike around Two Jack Lake is shortly before sunrise. Heading out early means a spectacular site as the sun rises above the lake. 
Longer Hike Recommendation
For a more challenging hike, spend half a day on the C-Level Cirque trail. The trail starts at the bottom of Cascade Mountain surrounded by enchanting forests. On this trail hikers will pass an abandoned coal mine before opening out to Cascade Mountain Cirque, a semi-semi-cycle of mountainous cliffs surrounding you from above. It is possible to end your hike and simply head back the way you came from this point, however for a more adventurous trip continue through the forest to where the rocky alpine zone begins. From this height, there are incredible views across the Canadian Rockies. The incline here is steep. Attempt hikes here if you are a fit and experienced hiker.
As with any hike, be sure to pack enough provisions for your trip, including food, water and warm clothing to layer.
4.3 kilometres (1.86 miles) away from Two Jacks Main Campground is the Hoodoos Trail. The trail spans 10 kilometres (6.21 miles) and takes hikers up an elevation of 305m (1000ft). Expect this trail to take anywhere between 2.5 and 3.5 hours to complete. The trail itself is popular with families and dogs as the elevation is minimal and the views across Banff town and the National Park are unrivalled. This trail is a great opportunity to sport some of Banff National Park's wildlife. 
Exploring Banff National Park
Within a short drive or longer hike, there are many trails and other places of natural beauty for you to discover.
Two Jack Main Campground follows the Lake Minnewanka Scenic Drive which is a must do in itself. Along the Scenic Drive there are plenty of trails, view-points and day-use areas where you can set up a picnic, BBQ or simply relax surrounded by nature. Lake Minnewanka Scenic Drive covers 14 kilometres (8.7 miles) of scenic road looping around the lake. It begins at the Minnewanka Interchange on the Trans-Canada Highway. 
A Must-See: Cascade Falls
At the start of the drive hikes to Cascade Falls, an impressive waterfall rushing down the eastern face of Cascade Mountain, should not be missed. It is of course possible to hike to this location but it is a fair distance from the campsite, so heading out in your car and parking up would be a better option for newer hikers, or those short on time. 
Take in Some History: Bankhead
Along Lake Minnewanka Scenic Drive, there are many beauty spots to explore. Lower and Upper Bankhead share secrets of a town from decades past. Bankhead is a ghost town nestled inside the awe-inspiring beauty of the national park. Bankhead thrived in the early 1900s as an anthracite coal mine was located nearby. The mine was closed and dismantled in 1922 which forced the majority of its residents to leave to follow work elsewhere. Afterwards, Bankhead soon became a ghost town. Taking a short and family friendly 1 kilometre (0.62 miles) hike to this location offers an unique opportunity within the National Park. The walk around Bankhead is educational and interpretive and shares the secrets of the coal mining operation within Banff. 
The Ideal Picnic Spot: Johnson Lake
Drive for 3.1 kilometres (1.93 miles) to reach the gentle waters of Johnson Lake. The lake is a small alpine lake and is the ideal spot for a scenic picnic or a day on the water in summer. There is a free parking lot close to the lake, however this can fill up quickly during weekends and holidays. Local busses also make the journey to Johnson Lake, departing from Banff Town. 
Summary
Two Jack Main Campground is an ideal spot to pitch your tent during a stay at Banff National Park. With maximum stays of 14 nights there is plenty to do within a short walk or drive of the campground. As Banff town is only a 15-minute drive away, explore its shops, museums, restaurants, and leisure facilities. The public transportation network from Banff has many local bus routes traveling to popular destinations within the National Park. Whilst Two Jack Main Campground offers fewer services and amenities than other campgrounds in Banff National Park, it is the perfect spot for a a more rustic and authentic stay surrounded by nature.