The ring is on your finger. The date is set. And the only venue spectacular enough to hold all the love you feel is the beautiful, breathtaking Canadian Rockies and the sprawling vistas of Banff National Park. Now all you need is to find the perfect photographer that just makes you want to say, "I do!" But how do you find the best wedding photographers Banff has to offer?
Look for a Local
While many articles might suggest beginning your quest for the perfect photographer with your budget in mind, your best bet is actually to start by looking for a local. This will help ensure you get the best bang for your bridal buck. One of the biggest advantages of going with a photographer from the area is their expertise. Local photographers have firsthand knowledge of the best spots to stage stunning shots. They are also keenly aware of crowd flow in popular areas and how natural lighting typically behaves in specific locations and at certain times of day. As a bonus, local photographers usually have the inside scoop on "hidden gems" that may not necessarily be on everyone's go-to list.
There are also some less obvious, but just as important advantages to choosing local. Many Canadian municipalities require licensing for businesses operating in their jurisdiction. Additionally, specific permits are often required to shoot in certain areas. Photographers traveling to the area for work may not be aware of the need for such permissions. You don't want an oversight to ruin your big day!
Remember, a wedding planner in Banff can also help with many of your questions concerning your big day.
Stick with Your Style
Beyond looking for a local, it's important to choose a photographer that suits your own personal style. Whether you're envisioning ice castle kingdoms or a brazen "trash the dress" shoot, to find that "perfect someone," spend some time checking out some actual wedding shots. You can find many of these on social media and on photographer's sites. Look for the shots that speak to you.
Besides your own personal style, be sure to consider the photographer's style. This not only includes their editing style—whether their shots trend to light or dark or favor vintage retro or true to color—but should also consider their shooting style. Some photographers shoot more naturally. Others prefer posing their subjects in a more formal style. No matter what the preferences, only "marrying" compatible styles will ensure your wedding story gets told the way you want.   
Question the Person Behind the Camera
Love at first sight is truly a romantic notion, but don't rely on it to find your perfect wedding photographer. Go on a "date" or two with prospective photographers. Whomever you choose, you will be spending a good deal of time with them. Make sure they don't hog the covers or steal the remote. Just kidding! But you DO want someone you can work and get along with easily. Don't be afraid to ask them questions and be sure to listen to their responses. Reach out to hopefuls in person via phone, or even by video chat.
Would You Like to Try a Sample?
While websites and comp cards can give you a taste of what a photographer has to offer, the savvy couple understands that more than an amuse bouche is needed to determine if a photographer is truly the right fit. Social media and websites obviously only display their best work. To get a more well-rounded concept of what a photographer can do on a typical shoot, ask to see some full galleries. This will give you a better concept of how your own collection will appear should you choose their services. The better candidates will show you even before you have a chance to ask. Be certain to view galleries comparable to your expected event so you're not comparing apples to oranges—outdoor to outdoor, indoor to indoor, evening to evening, etcetera.
Nail Down the Specifics
Your heart is thrumming. Your pulse is pounding. You think you've finally found "the one!" But it's not over until you sign on the dotted line…and we don't mean the marriage certificate. While signing a marriage certificate may make legally make you and yours a happy couple, you'll also want to sign a contract with your chosen photographer. But before you sign by the "X," carefully review all the details to make sure everything is clear and all parties are in agreement to the specifics. A comprehensive contract will include a cancellation policy, a delivery schedule, and editing and retouching stipulations and limitations.
Best of the Bunch
Still leery about making the right decision? Don't worry. We've gathered some information just for you on Banff's best—the top ten Banff area-based wedding and elopement photographers to make your special day picture perfect.
Burnett Photography
Troy and Shirleen Burnett are award-winning photographers based in Alberta with over forty-three honors to their name. A boutique firm run by family, they pride themselves on the specialized attention they offer their clients, only accepting a limited number of assignments a year. Their packages start at $10,000 and include one event per day, a second photographer to capture those special moments, additional hours, multiple locations, and much more! They offer proofs, prints, albums, and a variety of other formats. Check out a gallery of their work at www.shirleenburnett.com.
Chinook Photography
Another fantastic Alberta-based photographer is Chinook Photography. If you truly want to incorporate the splendor of Mother Nature into your photo shoot, Chinook might just be the photographer for you! Owner Chris Beck favors a photojournalistic style, viewing through the lens of someone whose work has appeared in such famous publications as Cosmopolitan. Offering a wide variety of photography items, packages start around $1900 and include one event per day, multiple locations, two shooters, and carry liability insurance. You can see some of Chinook Photography's work at www.chinookphotography.com.
Kelly Szott
Marriage is a grand adventure, and Banff photographer Kelly Szott specializes in photographing adventure elopements and offers specialty shoots like boudoir and "fearless bridal" sessions. See some of Kelly's portraiture style at www.kellyszott.com. Whether you're looking to hold an intimate micro wedding or a grand affair, Kelly prides herself on spending the time needed to fully understand what each couple wants. Packages begin around $3,700 for traditional photography items such as albums and canvases, but Kelly also offers additional tack-on items, like save-the-date and thank you cards.
Studio Lumen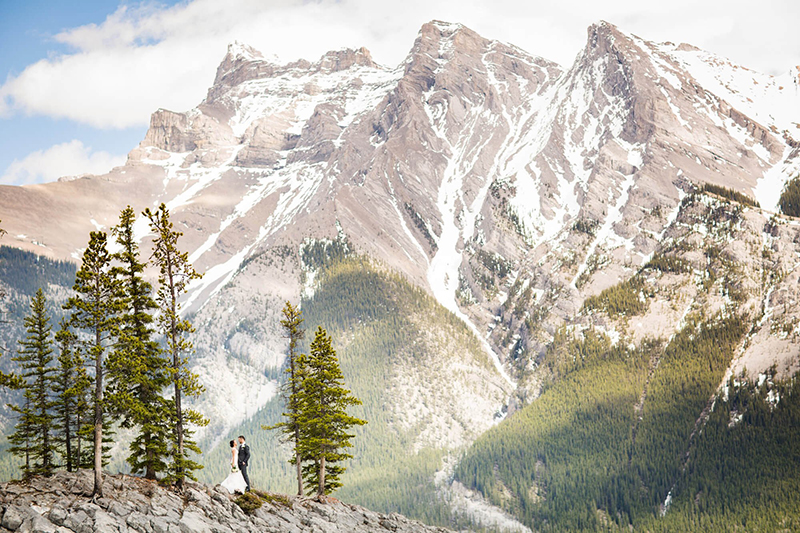 Studio Lumen is a five-star rated photographer on WeddingWire.ca. Offering a wide range of styles from traditional to contemporary, they have service packages to meet just about every budget, with prices starting from just $500. No matter which package you choose however, Studio Lumen offers personal and professional service, eager to capture the magic of every moment of your big day. For the couple who's hesitant about looking their absolute best have nothing to fear with Studio Lumen. Their photographers at Studio Lumen realize not everyone is a professional model. They take pride in working closely with you so all your moments will look beautifully authentic. Check out some examples of their happy clients at www.studiolumen.ca.
Kim Payant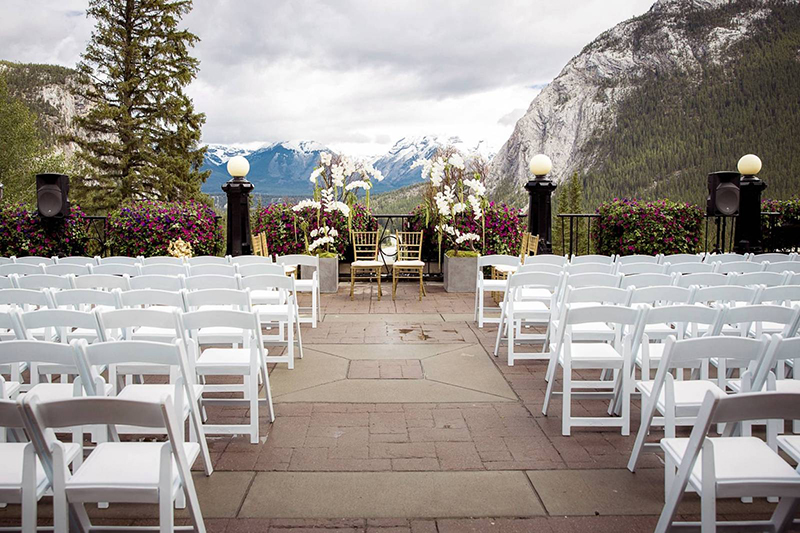 There's a story behind every romance and Banff-based photographer Kim Payant is the perfect choice to tell your love story in pictures. Located in the heart of Banff, Kim knows just how to frame each gorgeous shot to capture the magic of your love against the spectacular backdrop of Alberta's scenery—Canmore, Banff, Emerald Lake, Kananaskis, and more. Her experience in fashion photography lends itself to helping you feel comfortable before the lens for some awe-inspiring shots like you can see here. Kim offers hi-res digital photo collections, multiple locations, matted prints, a second photographer if necessary, and lots more. Packages start around $1,500 which includes the hi-res digital files.
The Wild Vow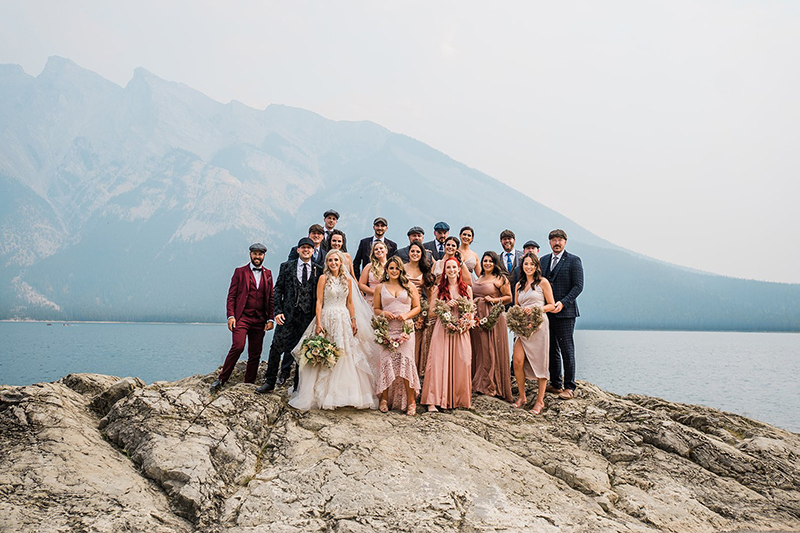 Photographers Megan, Emilia, and Alex are the talent behind The Wild Vow. They take a candid, photojournalistic approach to every shoot, preferring to capture moments rather than poses. They treat every client like a close friend. They are available for all types of events, including adventure elopements, helicopter weddings, boudoir shoots as well as more traditional affairs. Some of the special services they offer are makeup artists, floral designers and photography add-ons like hand-coloring and an online gallery you can share with family and friends that is backed up for a period of five years. Packages start at $2,000. Sneak a peek at some of their candid shots at their website, The Wild Vow.    
Alpine Peak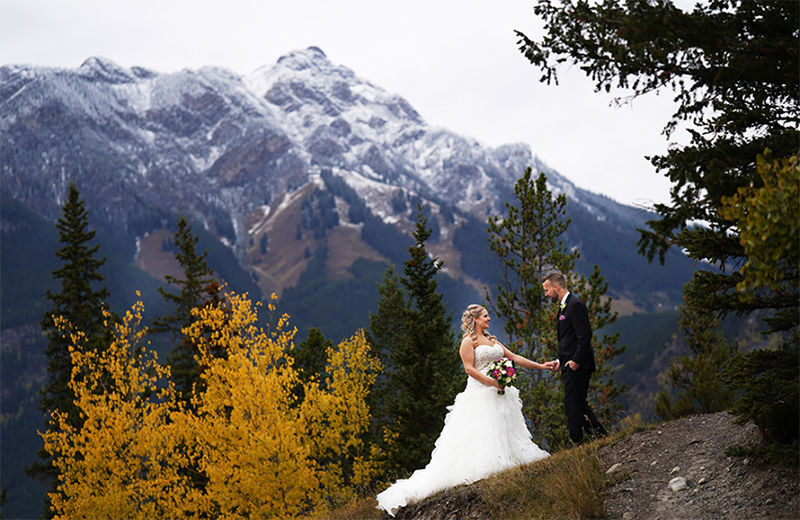 From castles to 'copters, photographers Malcolm and Roger have over 25 years of experience serving marrying couples in the Banff area. With packages starting at $700, Alpine Peak Photographers are great for the budget-conscious couple who don't want to skimp on quality. Alpine Peak Photographers have documented more than three thousand events. They will only commit to one event per day, though, so you'll have their complete and undivided attention. Whether you're looking for a traditional, contemporary, portrait, or photojournalistic style, this experienced team will have sneak peeks ready for you to view within forty-eight hours. Final hi-resolution images will be made available to you on a handy USB card.
Owen Amantillo
Based in Banff, experienced photographer Owen Amantillo offers stunning photos to the couple who wants to highlight the majesty of the Canadian Rockies in their memories. Brooding castles and craggy mountains provide the backdrop for his hi-res, photojournalistic style. His $1,800 starting package includes dedicated one event service, multiple locations, and digital files. View galleries of his work at www.owenamantillophotography.com.
Cedar Lane Adventure Elopements & Weddings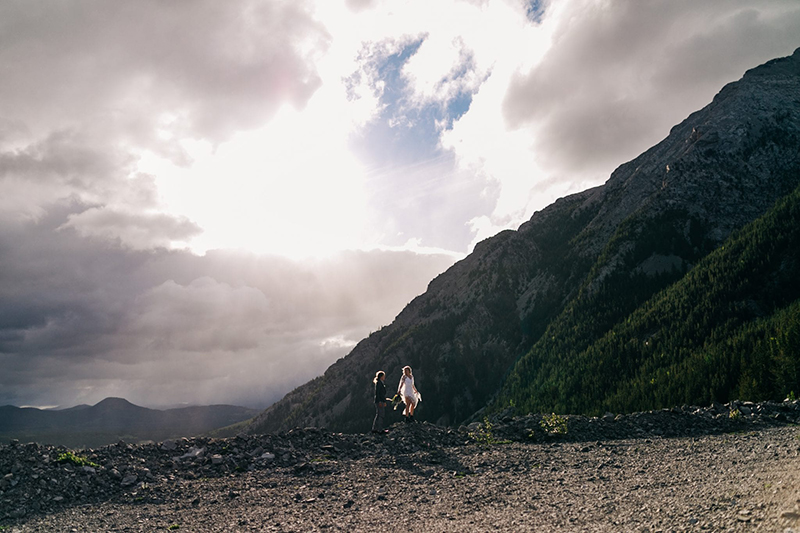 For the couple with adventure on their mind and love for each other and the environment in their heart, Cedar Lane Adventure Elopements & Weddings might just be the photographer for you! As the first Leave No Trace Photographer in Canada, Melissa Blunden is proud to help couples capture the splendor of the Canadian Rockies with little to no impact on the environment. She captures stunning images centered around her couples but works with them to ensure the delicate sub-alpine environment remains unharmed. See some love notes from her satisfied clients and share some of their memories here.
Bonner Photography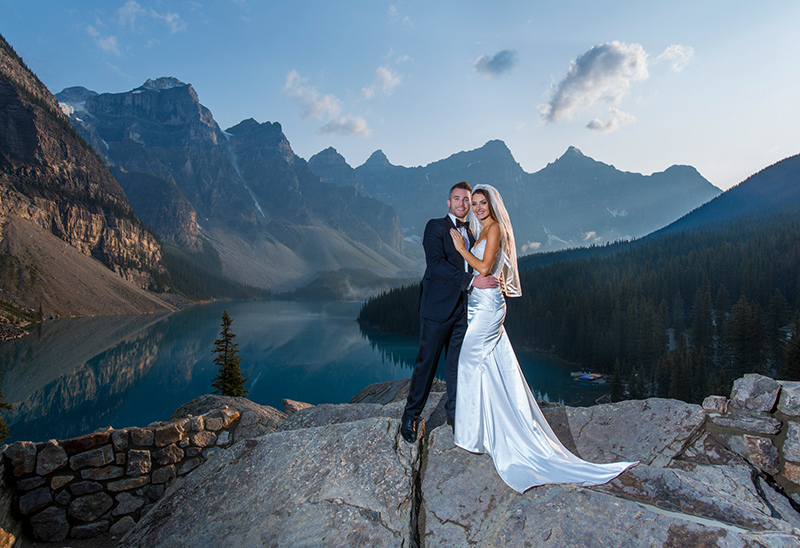 Photographer John Bonner has experience photographing a wide variety of events across Western Canada. If you are looking to create a striking wedding or elopement album, let Jim dedicate a day exclusively to you. Whether you're seeking fresh, contemporary poses or a more documentary, photojournalistic look, Bonner photography will work with you. Starting packages are available for around $1,500 and include digital, hi-res files, proofs, multiple locations, and a slide show. You can see John's portfolio on his website, Bonner Photography.
Summary
So, no matter your budget, your taste, your style, or your ideology, Banff has a host of talented photographers ready to help you capture the magic of the Canadian Rockies and your wedding memories. You've planned your dream wedding. Now, use this helpful listing of the best wedding photographers Banff has to offer to make your dream a reality.