If you're looking for the best skiing in North America, look no further than Banff National Park. Certainly, given the mountainous terrain, Banff National Park is home to some fabulous downhill skiing. Known as the Big 3, Lake Louise Ski Resort, Banff Sunshine, and Mount Norquay offer up world-class skiing.
Each of these resorts offers something unique, from world-class skiing and snowboarding to beautiful scenery and a variety of après-ski activities. We are about to break it down for you to help you decide in you want to ski just one, or maybe all three.
All of the ski resorts are an easy drive from the town of Banff. That said, you don't necessarily have to drive to the resorts. Most hotels offer a ski bus to take you from the hotel to the mountain of your choosing and then back again at the end of a long day. You can also pick up a shuttle from points in town operated either by the resorts or local tourism services.
Wanting to slow the pace down a little with some cross-country skiing? No problem. Enjoy some solitude on the tracks to recharge your mental batteries. Around the town of Banff there are six easy and four moderate trails. Around Lake Louise you will find a whopping 18 trails available with varying ability levels. 
Downhill Skiing in Banff
Lake Louise, Banff Sunshine (formerly Sunshine Village), and Mount Norquay are known as the Big 3 ski resorts in Banff National Park. The largest by far is Lake Louise at 4,200 skiable acres with 11 lifts taking skiers up to 164 named runs on four different mountain faces. Banff Sunshine occupies more than 3,300 acres with 12 lifts going up to 137 runs. These are some impressive stats.
In comparison, Mount Norquay is honestly tiny at just under 200 acres. Norquay is also at a lower elevation than the others meaning the season is shorter and less snowfall requires more snowmaking capacity. So why both with Norquay? Read on!
Mount Norquay
Ski on Mount Norquay and you're skiing on some historic slopes. Opened in 1926, Mount Norquay is home to the first ski run in the Canadian Rockies. It is the closest of the Big 3 to Banff town. Since many skiers head for the bigger resorts and higher slopes of the other two, Norquay tends to be less crowded. This can be great news for families and beginners. We'll get to the ski school info in a sec. 
The lack of crowds also makes Mount Norquay a favorite among locals. It is the best chance to duck out over lunch breaks for a quick run close to town. The season is from early December until mid-April.
The fact that it is lower means powder doesn't stick around as long and there can be a bit more ice. That is actually good news for ski racers. In fact, Mount Norquay is synonymous with racing and skiers from all over the world have visited this resort for Olympic-level training. 
The resort has an elevation change of 1,650 feet. There are some excitingly steep and difficult trails for the advanced skiers in your group, including Excalibur – the steepest groomed piste in North America. In fact, almost half the runs here are difficult or expert. Don't discount Mount Norquay even if you are a very experienced skier. It is worth a visit.
Beginners, however, would be mistaken in thinking they can't also enjoy this hidden gem. Mount Norquay has lots of suitable terrain for beginning skiers and snowboarders. You'll also find a remarkable Ski School, standing on the shoulders of a long history of skiing instruction here. 
Skiing and Snowboarding Lessons on Mount Norquay
Have you watched the Olympic skiers and wondered what it would feel like on the slopes? Never had the chance to ski before. Mount Norquay's beginner ski lessons for adults may be just what you are looking for.  Meet others who are also just learning about skiing.
Learn what corduroy is (hint, it isn't those pants your mom made you wear in middle school).  Gain confidence with skiing etiquette, how lift passes work.  You may not know what apres-ski is, but you are going to like it.  Forget about what color your parachute is, learn what color slope gives you the time of your life.  Learn how the terms pendulum and fall line relate to controlling your speed on a snowboard.
Lessons can be arranged to be private but, honestly, you'll have so much more fun in a group lesson. It is a chance to meet new people and learn from Mount Norquay's excellent instructors.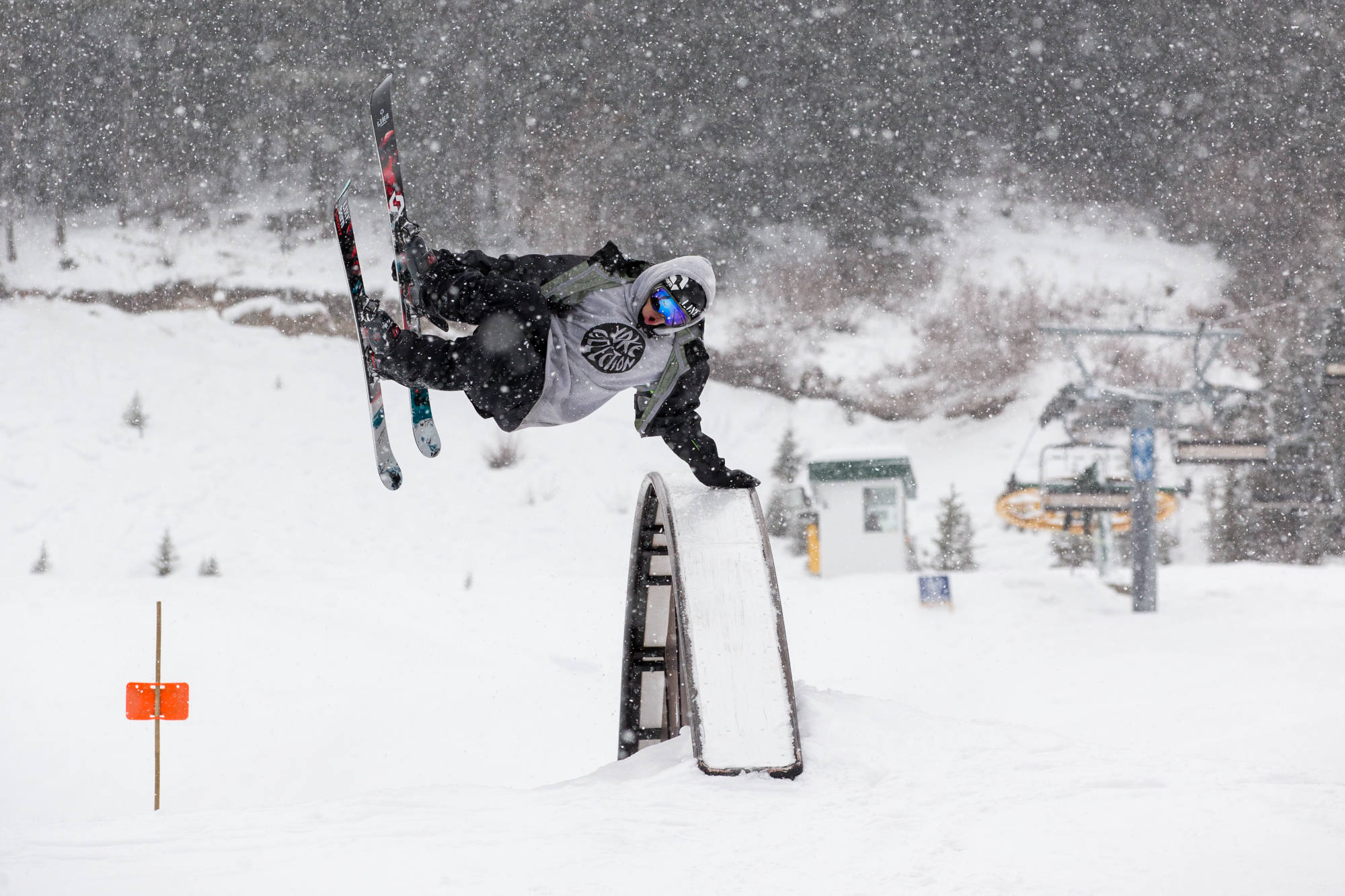 Looking for something to do with those teenagers that aren't happy with anything? Lessons can also be arranged for a family, even if you have different levels of experience. Make some great memories, laugh together, and maybe at each other, and bond over learning something new.
Ski and snowboard lessons are available for little ones as young as 3 years old for 1 to 2 hours and are under $100. Prices go up a bit for longer lessons for youth where they will be guided out, whether they are new to skiing or want to gain more skills and confidence.
Enjoy the Slopes at Night
If you've ever wanted to ski at night, this is your chance. Mt. Norquay offers the only night skiing in the area. Safely lit and guaranteed to have snow on most of the trails, this can be one of the most adventurous or romantic (or maybe both) experiences of your trip. Slopes are lit up and open for night skiing and snowboarding on Friday and Saturday nights.
And a bit more on snowboarding – Mount Norquay has a terrain park that is also fully lit during night skiing. You can freestyle to your heart's content, practice new skills, and challenge yourself on boxes and rails. 
Beyond Skiing on Mount Norquay
After lessons or a full day of skiing, let yourself go at Norquay's Tube Park. You won't believe how much fun you will have, at any age, at shooshing down one of eight lanes of powdery, downhill enjoyment.
For a slower pace but great exercise, you may want to rent some snowshoes and tackle the snowshoe trails around Mount Norquay. The Upper Stoney Loop trail has a variety of terrain and stellar views that will remind you of what a stunning location you are in.
Since we are talking about skiing, we'll have to set aside talking about the phenomenal activities on Mount Norquay in the summer season like the Via Ferrata. Let's just say if you could visit in both winter and summer, you'll still have the experience of a lifetime on Mount Norquay.
Banff Sunshine
Banff Sunshine is located on the Continental Divide, 18 kilometers (11 miles) west of the Banff townsite and just a 15-minute drive away. Heck, you can drive there from Calgary's international airport in just an hour and a half; the exit from the Trans-Canada Highway is clearly marked.
The short distance from the town of Banff still makes a big difference in skiing conditions. Spread out over three mountains – Mount Standish, Lookout Mountain, and the imposing Goat's Eye Mountain that reaches 9,200 feet – it gets a lot more snow than Mount Norquay. The ski resort itself has a base elevation of 7,200 feet and a top run elevation of almost 9,000 feet, the biggest elevation change among the Big 3.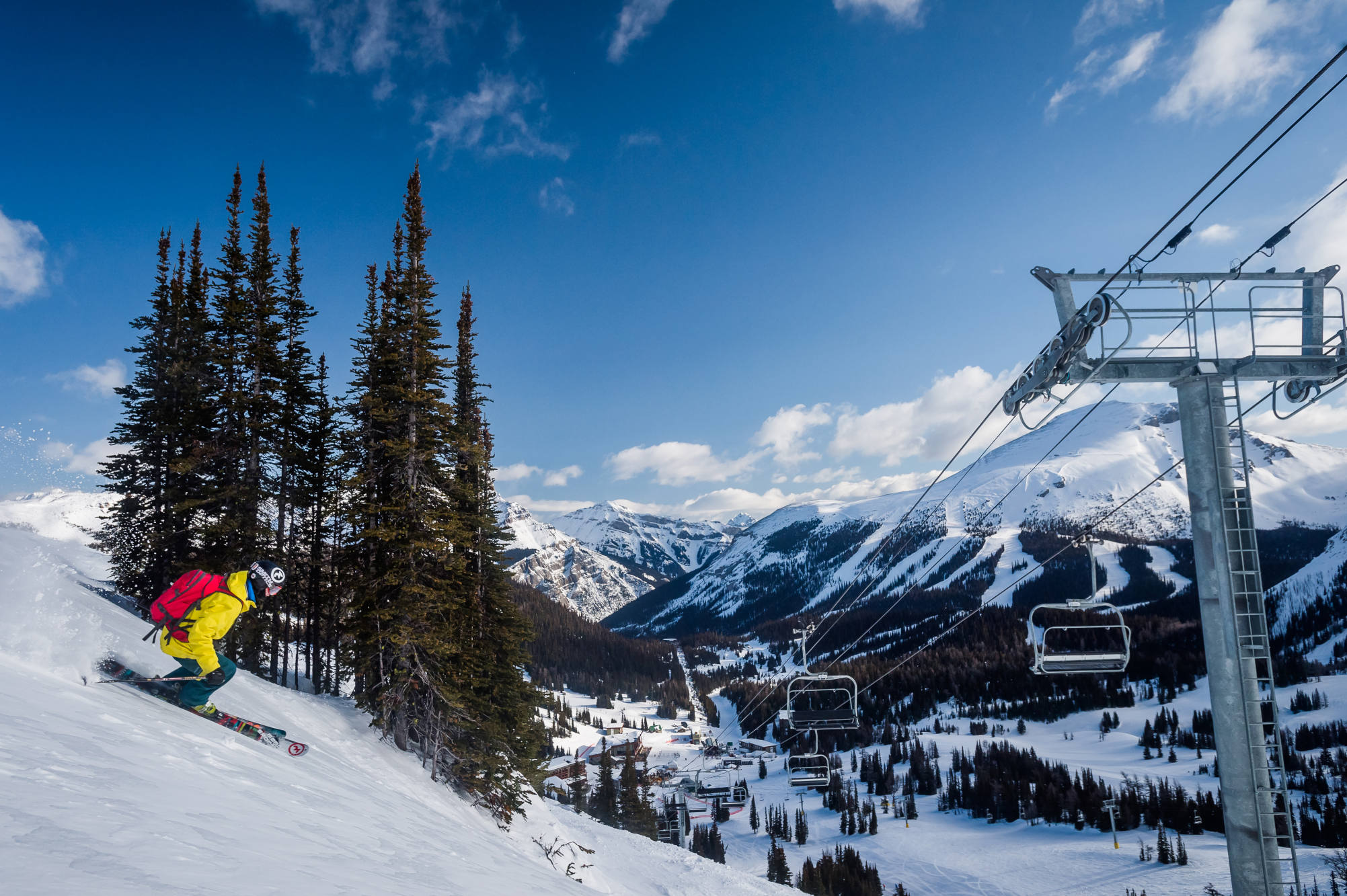 Higher elevation means more snow, and Banff Sunshine gets an impressive 30 feet of snow annually. There is no snow making here, Mother Nature handles that part on her own. Banff Sunshine is known for one of the longest seasons at a surprising seven months. From early November until late May, the dry light snow makes for perfect skiing conditions., what many call "Champagne Powder".
Where to stay for skiing in Banff
Another thing that makes this resort special is it is the only one to have on-hill accommodation. No, we really mean "on hill". Sunshine Mountain Lodge sits at 7,200 feet and is the only ski in/ski out hotel in Banff. The 84-room hotel is in a vehicle free snow bowl accessible by an 8-person gondola. Not only will you be the first one on the slopes in the morning, but you'll be also able to roll yourself off the hill and straight into bed if that is all you can manage.
Ski Runs at Banff Sunshine
There are 137 named runs at Banff Sunshine broken out into 20% beginner, 55% intermediate, and 25% advanced and expert. Speaking of expert skiing, Delirium Dive, one of the top 10 off piste destinations in the world is found here.
A system of twelve lifts, including one heated quad and several high speed quads, is designed to cover as much terrain as possible. It is easy to get exactly where you want to be and spend more of your time on the slopes.
Terrain Parks at Banff Sunshine
There are four distinct terrain parks here. Choose from Grizzly Park that has a long line of jumps to Strawberry Park with a long line of rails with kinks and curves. Each offers their own combination of challenges meant to help you work on different freestyle skills
There is also a terrain park dedicated to younger kiddos so that they can take their time to play and practice. While it is called the Kids Play Park, adults are welcome to play there, too. Beginner-level boxes, rails, and jumps will help you gain confidence before you advance to the more challenging parks.
Is Banff skiing good for beginners?
Banff Sunshine has a well-regarded snow school where you and your family can learn skiing and snowboarding, even if you've never been on snow before. World-class instructors are ready to help you find the right class, so you have a wonderful experience here. If you happen to be arriving in Calgary, you can stop by the Snow Central location downtown. They'll help you make all the arrangements so you can then focus on having fun.
Banff Sunshine won the 2016 ALTO (Alberta Tourism Award) for service excellence. If that doesn't mean you'll be in good hands, we don't know what does. They'll make sure you feel safe and confident while learning to ski for the first time. When you are ready to level up, even up to Double Black Diamonds, sign up for a little bit of coaching first. Let the instructors share their tips for safe and successful runs.
Lessons are available as private one-on-one experiences or for a group. We strongly encourage you to go for the group. It is a great way to meet others at your same ski level and who knows, you may end up shredding some slopes with them by the end of your visit. Costs vary based on type of lesson, number in your group, and skill level. 
Accessibility at Banff Sunshine
It was due to adaptive ski lessons being taught at Banff Sunshine that an entire foundation was created in 2009. Rocky Mountain Adaptive strives to redefine the word ability. They can help make arrangements for lessons, transportation, and the rental and fitting of equipment. 
Lake Louise Ski Resort
Skiing in Banff wouldn't be complete without a visit to the Lake Louise Ski Resort. You'll find it 36 miles (60 kilometers) from Banff just off the Trans Canada Highway.
The first exploration of the area was in 1930 and the beginnings of the resort here go back to 1938. Skiing at Lake Louise seems to gain in reputation not just every year but every week. Likely the most well-known of the Big 3, it hosts Men and Women's world cup ski events every winter. 
It was voted the Best Ski Resort in Canada in 2019 by the World Ski Awards. Because of this, it can be the busiest and most touristy, though its system of 11 lifts is designed so skiers don't have to wait long.
Whether you are splashing out for luxury accommodation at the Fairmont Chateau Lake Louise or have found a budget-friendly place to stay, the resort is a short distance away. Ski Big 3 posts a ski shuttle schedule each year and makes it easy to get from your hotel, wherever that is, to the resort you want.
What is better: skiing in Banff or Lake Louise?
One benefit of being a bit farther from the town of Banff is that you will be further out in the pristine wilderness that is what celebrating the Canadian Rockies is all about. Views of the surrounding peaks might make it hard to keep your eyes on the slope in front of you.
The resort covers 4,200 skiable acres among four mountains and at this size, is one of the largest ski resorts in North America. You will be skiing among giants here. Of its four mountains, Mount Richardson and Pika Peak are over 10,000 feet and Ptarmigan Peak and Redoubt Mountain are just under 10,000 feet. It is no surprise it has a vertical rise of 3,250 feet (991 meters) at the resort.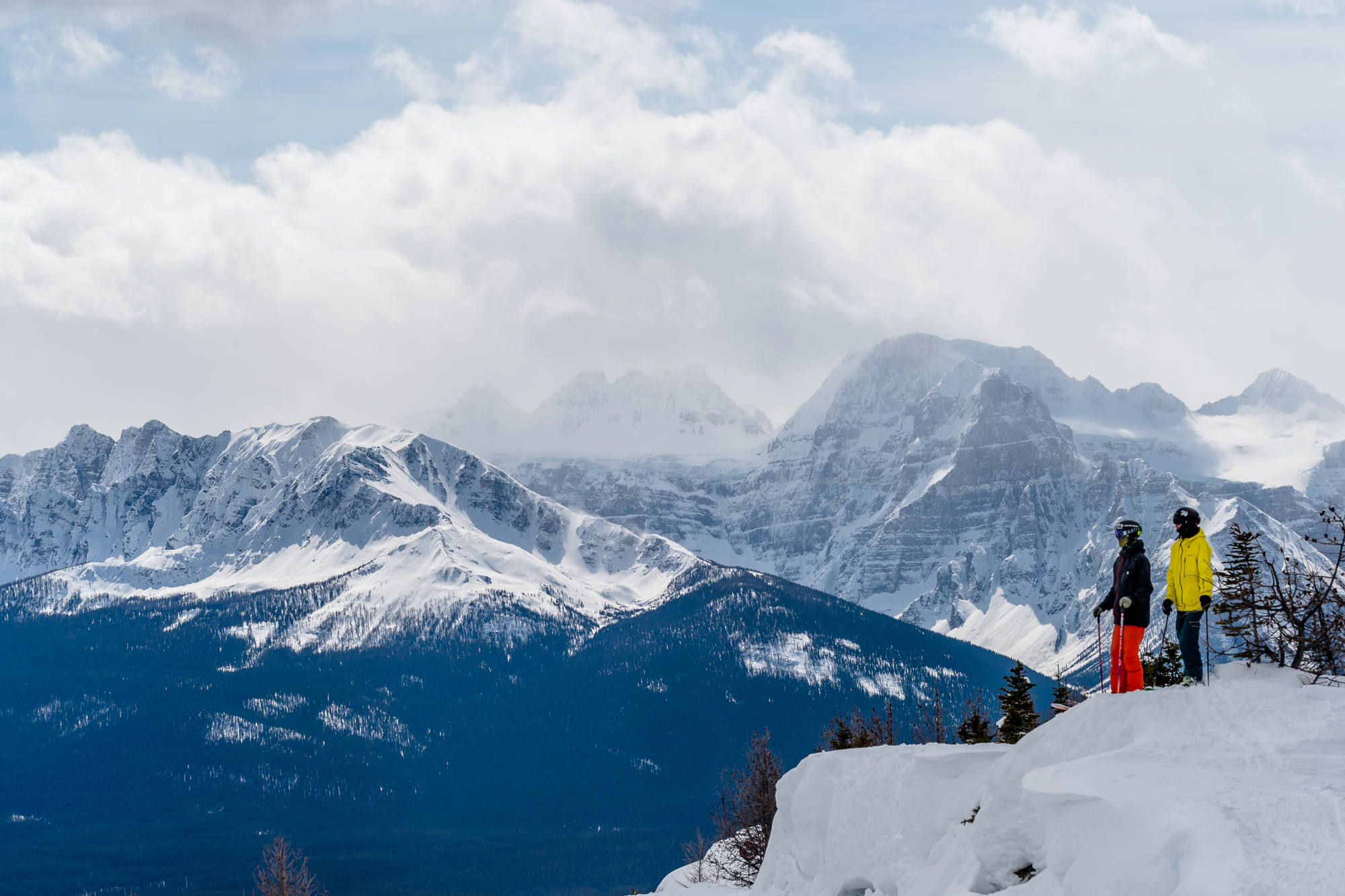 Snow amounts range from 140 to 160 inches each year. There is snowmaking at Lake Louise to supplement natural snow, making the season from late November until early May. Of the 164 named runs, 25% are beginner, 45% are intermediate and 30% are advanced. The longest run is a luxurious 5 miles (8 km) long.
There are plenty of beginner and intermediate runs that feature long, gentle, runs for plenty of time to practice and just enjoy the scenery. In fact, a green, or beginner, run heads down from every chair lift. Those with more advanced abilities can head higher up to the steeper runs in some of the Rockies most challenging ski terrain.
Freestyle Terrain Parks at Lake Louise
There are four terrain parks to choose from catering to different levels of experience. Beginners are welcome to play on the smaller jumps and boxes at Upper Triple Bridge Park and Elbow Park. If you aren't new to freestyle and want to pull tricks on medium to larger rails and jumps, you can also enjoy the features of Easy Street Park. Boulevard Park is the terrain park designed just for advanced to expert skiers and snowboarders.
Beyond Skiing at Lake Louise
If you want to slow down the pace, trade downhill skiing for cross-country skiing. Getting up close and personal with the snow-covered meadows and forests is a fantastic way to spend a winter day. 
Once Lake Louise freezes, you can find ice skating mid-December to mid-April. The snow is cleared daily on the shores by the Fairmont Chateau Lake Louise and skate rentals are easy to come by in the hotel.
You can find opportunities within Banff National Park to ice climb, snowshoe, go tubing on the snow, and even go for a dog-sledding tour. And don't forget, bringing along a camera, binoculars, or even some art supplies will give you the chance to really commune with the area's natural beauty and wildlife.
How Much Is Skiing in Banff?
Wouldn't it be nice if there was an easy dollar figure answer to this question. As you might expect, it depends on how many days you want to ski and if you need to buy or rent your equipment. The complete answer to this question would also factor in your lodging, food, and transportation from where you live.
Let's face it, this kind of vacation is something you save up for. In an attempt to ballpark it for you, for a 3-day trip plan on spending between $2,000 and $2,500 USD per adult. That rough estimate in U.S. Dollars breaks down as follows:
Lodging $750 ($250/night)
Food $360 ($120/day)
3-day Lift Pass $400
3-day Equipment rental $300 ($100/day) 
Add on $300 to $750 as an estimate of air fare. 
If you are booking your trip to Banff early, look into discounts for advance lift tickets. Purchasing early can save you up to 15% and there are generous policies for those that need to cancel or make changes. You can also find package deals that combine a hotel stay with ski rentals and meal options and other extras.
Equipment Rentals while skiing in Banff
Skiing is in the fabric of this place, so you'll have no problem finding equipment to rent. Don't let a lack of equipment stop you from planning a winter skiing getaway. There are shops in Banff town and in the hamlet of Lake Louise, as well as facilities at the ski resorts themselves. The larger resort hotels also will have their own ski center where you can rent equipment and arrange lessons.
In some cases, the cost of lessons includes the rental of the equipment. If you are an experienced skier but just deciding to travel light, you may want to call ahead. You can make reservations to reserve your favorite brand or style of skis if that is all you need. Until Covid, there were also places to rent ski clothing but these days that will be the one thing you do want to bring along or purchase when you get there.
[adinserter block="15″]
Credit cards are required for most rentals to keep on file for deposit. No matter how independent your teenager is, if they aren't yet 18 you will need to be with them to rent the equipment. It is possible to rent items individually but if you need several items then a rental package is more economical, though lift tickets are a separate cost.
How much does rental equipment cost?
For those 13 and up, you'll be paying around $50 to $75 per day for rentals, depending on type of equipment and whether it is for a full day or half day. If you plan on skiing for several days, you can arrange a 3-day package that brings the cost down a bit per day. Helmets are usually included in rental packages only for those under $12, where you will pay between $30 and $40 per day. Rental of youth snowboards and packages is around the same costs.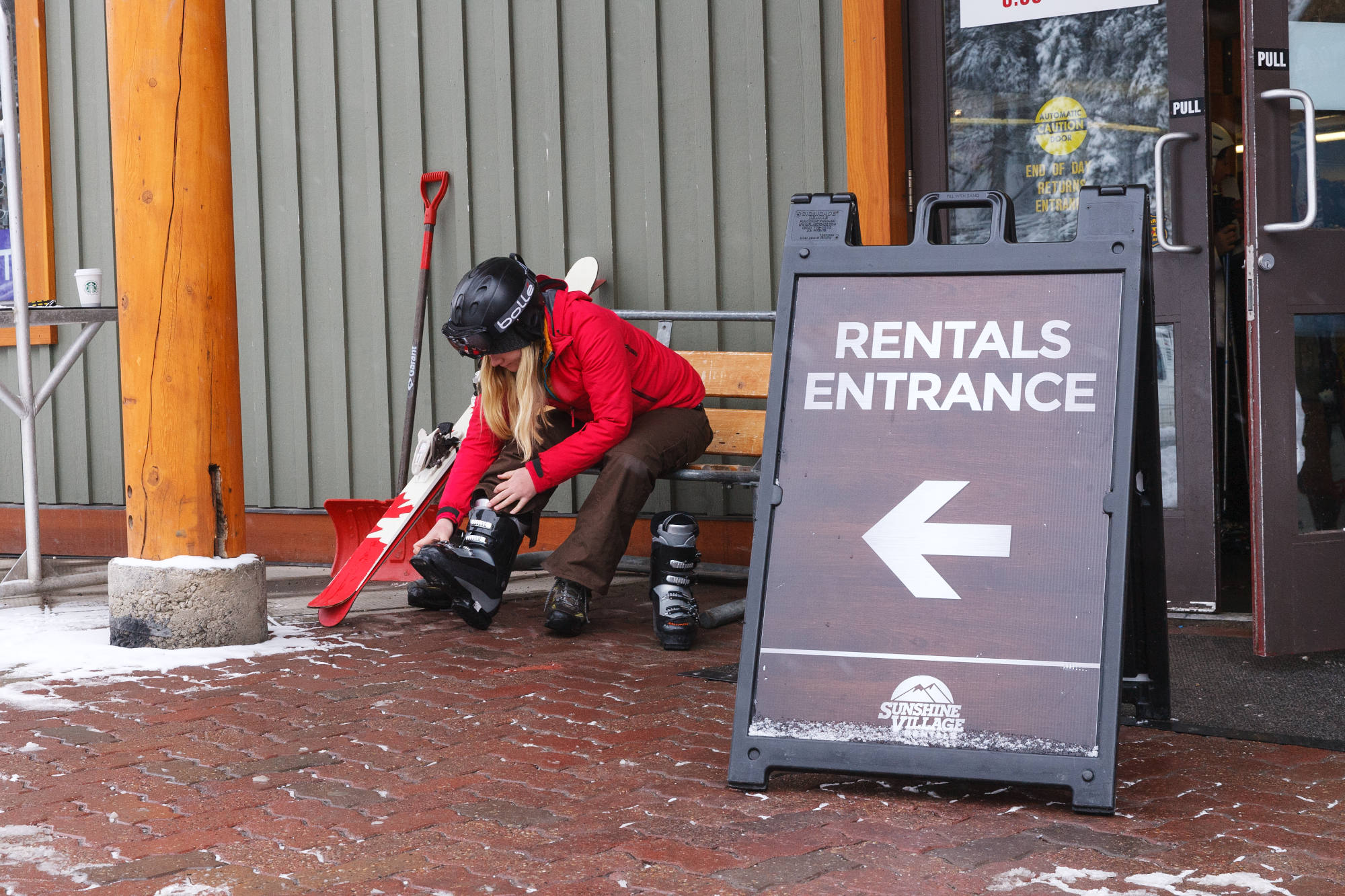 As you might suspect, adult equipment will cost you a more, how much more depends so much on brand and whether it is sport (casual skiing) or performance (expert and off-piste). In general, expect to pay $100 per day or $300 for a 3-day package, but these are really generalizations. 
[adinserter block="15″]
You may want to rent the big-ticket items like skis but purchase your own helmet, goggles, gloves, clothing and/or boots. Either way, it is important to talk to experts to get the right equipment. Your skill level, height, weight, and where you are skiing (think slope conditions) can all factor into what you need.
Note that some rental shops will throw in free delivery of your rental equipment to your Banff hotel. Now that is fantastic customer service and takes a lot of the stress out of getting what you need. If we haven't said it yet, the Banff area oozes hospitality. People here want you to love it as much as they do.
Ski and Snowboard shops in Banff, Alberta
The ski season in Banff and indeed around the Canadian Rockies is long. Many people come up for a holiday and end up staying for the whole season. If you find you need some new ski or boarding gear, check out the collection to choose from. Some of these shops offer rental and purchase of items, while some only have items for purchase.
Banff Mountain Wear
Address: 317 Banff Ave
Ski clothing and all the gear you might need regardless of season.
[adinserter block="15″]
Banff Springs Ski & Mountain Sports
Address: 405 Spray Ave, Banff
Snowboards, skis and all the big names that come with these sports. As well as buying, you can also rent gear for the slopes. Huge selections available.
Monod Sports
Address: 129 Banff Avenue, Banff
This is Banff's original outdoor store. They have everything from ski to climbing gear and repairs.
Rude Boys / Rude Girls
Address: 205 Caribou Street, Banff
This is Banff's original snowboard shop with every named brand you can mention.
[adinserter block="15″]
Ski Big 3 Adventure Hub
Address: 114 Banff Avenue, Banff
Everything from ski and snowboard rentals to waxing services and tune-ups.
The Ski Stop
Address: 203A Bear St., Banff
Repairs, tune ups, rentals, sales, clothing and accessories. All things skiing.
Snowtips Sports Rental
Address: 225 Bear Street, Banff
Ski and hockey accessories for sale and boards for all abilities.
[adinserter block="15″]
Soul Ski and Bike
Address: 203A Bear Street, Banff 
Wide range of products and services to help you make the most of your ski time.
Ultimate Ski and Ride
Address: 206 Banff Avenue, Banff
State of the art gear, free delivery, rent or buy all your ski or boarding gear.
Unlimited Skate & Snow
Address: 319 Banff Ave, Banff
Other than a great assortment of ski gear, Unlimited has knowledgeable staff and top brands for sale.
Specific Skiing in Banff Questions
If you're planning a ski trip to Banff, we hope these Frequently Asked Questions will help make your experience even better. Do you have questions that aren't answered here? Let us know and we'll do our best to answer them. We can't wait to see you on the slopes!
When can you ski in Banff?
You can start skiing at Banff Sunshine or Lake Louise as early as mid-November all the way through to mid-May. Mount Norquay has a shorter season beginning in December through April due to its lower elevation which translates into less snow. As mentioned above, 85% of the snow at Mount Norquay is from snowmaking.
[adinserter block="15″]
Can Beginners ski Banff?
Absolutely. All of the Big 3 locations have beginner runs and even offer lessons. Everyone has to start somewhere. How wonderful would it be to tell people you learned to ski in Banff.
Does Banff have snow?
Boy, does it. The town of Banff and the nearby Mount Norquay doesn't get as much snow as locations to the west as you head up into the higher elevations of the Rockies. Banff Sunshine gets up to 30 feet a year, while amounts at Mount Norquay and the town of Banff are only on average 7 feet a year. Lake Louise is in the middle of those numbers, at around 14 feet of snow annually.
[adinserter block="15″]
Is there always snow in Banff?
It typically starts snowing in Banff in October, though accumulations for skiing shouldn't be expect until mid-November at the earliest. By May, and sometimes sooner, the resorts are changing over to hosting activities in the summer months.
Summing it Up on Skiing in Banff
If a ski vacation in Banff National Park isn't on your bucket list, it should be. For a place that gets cold and snowy for half the year, its best to lean into it and celebrate what is here. And what is here is some of the most stunning scenery you will ever find, especially in winter. 
Canada's first national park features three wonderful places to ski yourself silly. Whether it is the local favorite Mount Norquay, the expansive Lake Louise Ski Resort, or the perfect natural snow of Banff Sunshine, you won't be disappointed. Breathe in that crisp, clean, mountain air, get some great exercise, eat some great food, have some laughs with family and friends and you may never want to leave.
Whether you're looking for a challenging ski run or a place to relax and take in the views, Banff National Park has something for everyone. So what are you waiting for? Pack your bags and hit the slopes!