The Banff Springs Hotel was originally built by the Canadian Pacific Railway Company in 1888. In addition to being one of the first hotels in the area, it quickly became popular because of its proximity to the mountains and the beauty of the surrounding landscape. Today, the hotel remains a favorite among travelers who appreciate its unique location and warm hospitality. 
Located wholly within Banff National Park, a UNESCO World Heritage Site, this historic and world-famous hotel delivers on location, style, comfort, and amenities. Approaching the Chateau-style hotel with its towers, steeply pitched rooves, dormer windows, and substantial presence, it is easy to feel you've been transported to the French alps.
Many of the rooms have stories to tell and have hosted famous guest including English and Hollywood royalty. Queen Elizabeth and King George the VI stayed at what was then the Banff Springs Hotel in 1939. Fourteen years later in 1953, the hotel hosted Marilyn Monroe, in the area to film a movie.
The History of the Banff Springs Hotel
As the nation of Canada formed, an enticement for British Columbia to join was the creation of an intercontinental railroad that would join the west to the east. Train travel was the best method for long distance travel. Completed in 1885, the Canadian Pacific Railway Company began to also develop towns and lodging along the line to accommodate passengers.
Why was the Banff Springs Hotel built?
During the construction of the railroad, workers reportedly found hot, mineral springs in the Banff area. William Cornelius Van Horne, president of the Canadian Pacific Railway, saw an opportunity to cater to the affluent traveler at the time who favored nature excursions and spa resorts. Van Horne was famous for saying "If we can't export the scenery, we'll import the tourists." Indeed, he did. 
The Fairmont Banff Springs, formerly known as the Banff Springs Hotel, was one of several in a network of grand, chateaueasque hotels along the line. Far from basic accommodation, these hotels were grand landmarks with incredible interiors and furnishings to rival some of the best hotels in Europe.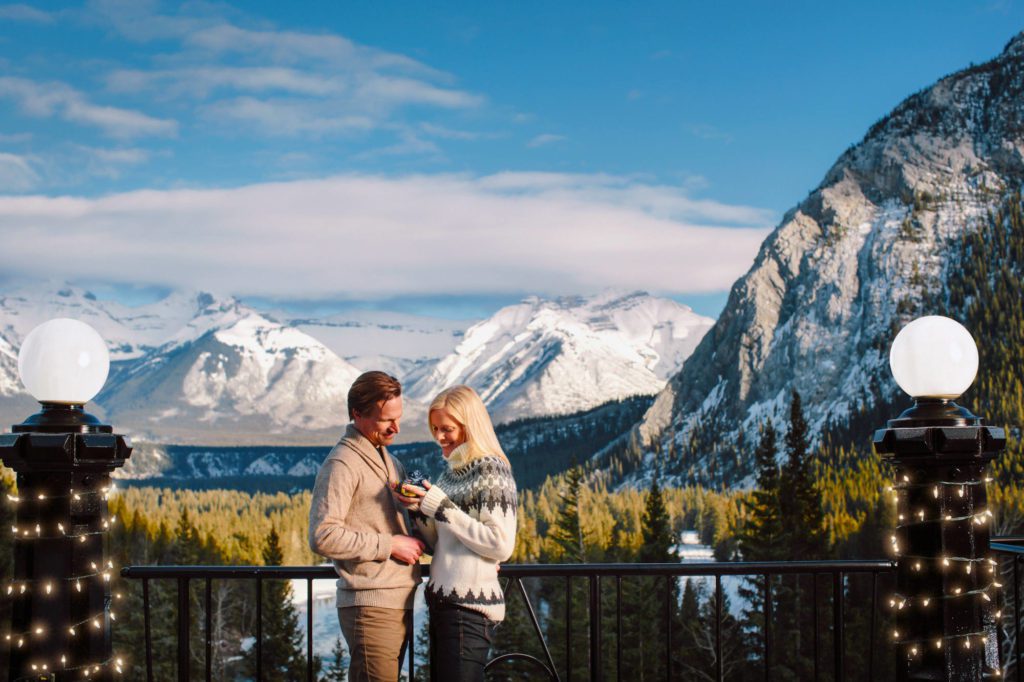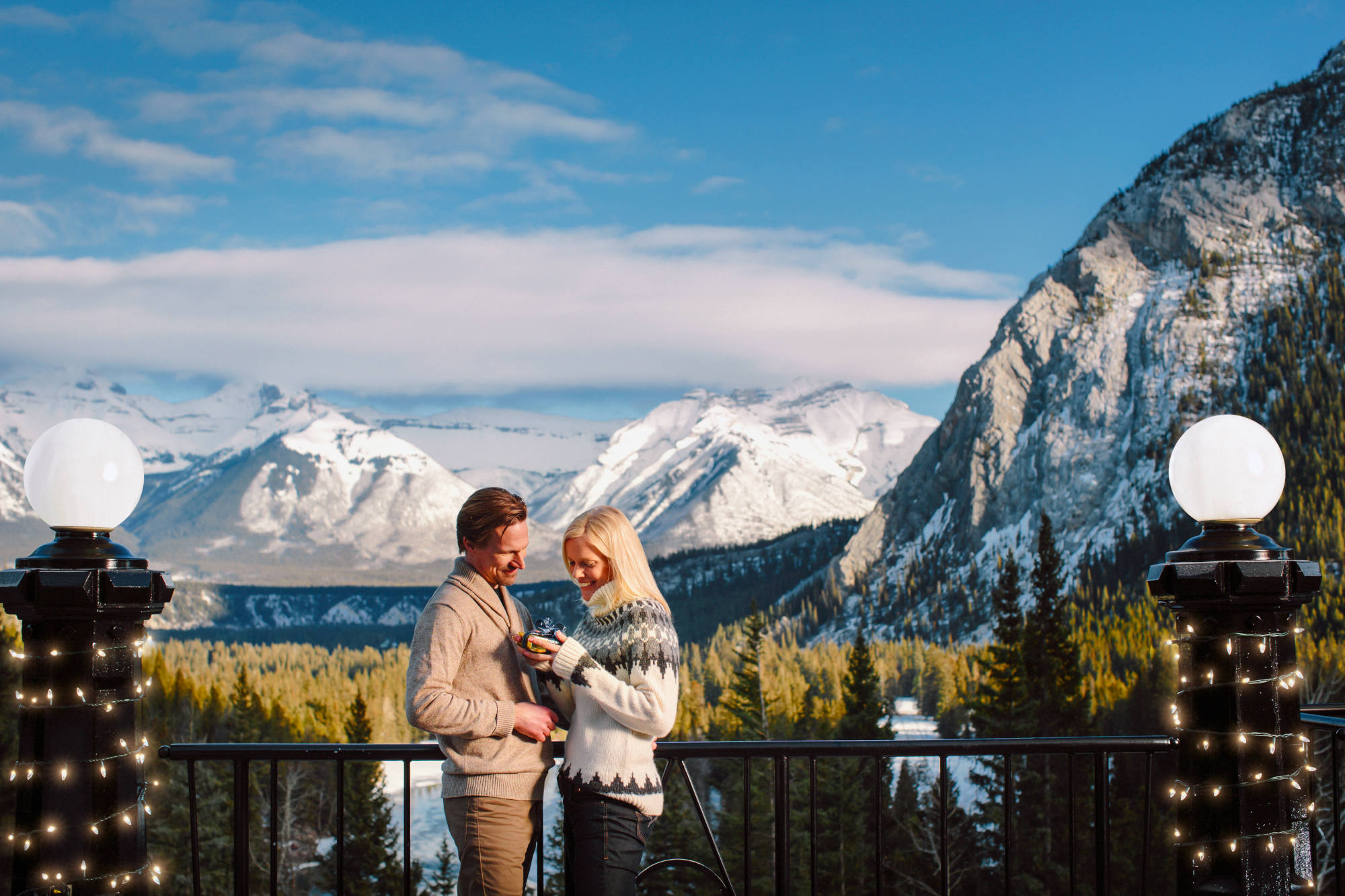 Related to the Fairmont Banff Springs is the Algonquin in St. Andrews, New Brunswick, the Chateau Frontenac in Quebec City, Quebec, the Chateau Lake Louise and the Hotel MacDonald in Alberta, and the Empress Hotel in Victoria, British Columbia. All of these hotels were built to provide exception experiences and become destinations in their own right for the upper classes.
Providing luxurious travel and lodging to the more powerful and influential people of the nation also helped market and promote the value of Canada's western lands. In a sense, the railroad and the tourism it encouraged and economy it generated served to unite the new nation of Canada.
When was the Banff Springs Hotel built?
Construction began on the original part of the hotel in 1886 and it opened in 1888, at the height of the Gilded Age. At that time, the explosive growth that had occurred following the American Civil War in steel, railroads, banking, meatpacking, mining and even the textile industry resulted in enormous wealth for a small group of businessmen in America. Many European businessman, through trade and manufacturing, also accumulated tremendous wealth.
For these families, vast and sudden wealth meant they had the luxury of leisure and time. Travel become the most popular occupation, becoming not only something to do but a way to show off their wealth and status and mingle with others of the upper classes.
The original hotel, completed in 1888, was designed by the architect Bruce Price who also designed the Chateau Frontenac and Place Viger in Quebec City and Montreal, respectively. Designed to rival any hotel in Europe, the Banff Springs Hotel could accommodate almost 300 guests over five stories. It was the second hotel completed by the Canadian Pacific Railway. Its popularity resulted in expansion in subsequent years. The tower was completed in 1914 and the main block was built to replace Price's original wooden portion of the hotel that burned down in 1926. It closed during World War II from 1942 to 1945.
In the early 1970s it was updated for four-season accommodation and began to attract winter sports enthusiasts. A challenging golf course, at the base of Mount Rundle, was completed in 1928. The award-winning spa has recently been enlarged to more than 40,000 square feet and updated to include couples' areas and modern fitness facilities.
The Banff Springs Hotel Today
The Banff Springs today continues to offer visitors an authentic mountain experience with its beautiful scenery, cozy accommodations, and delicious food. It also offers a variety of activities for guests to enjoy, such as hiking, horseback riding, golf, fishing, and skiing.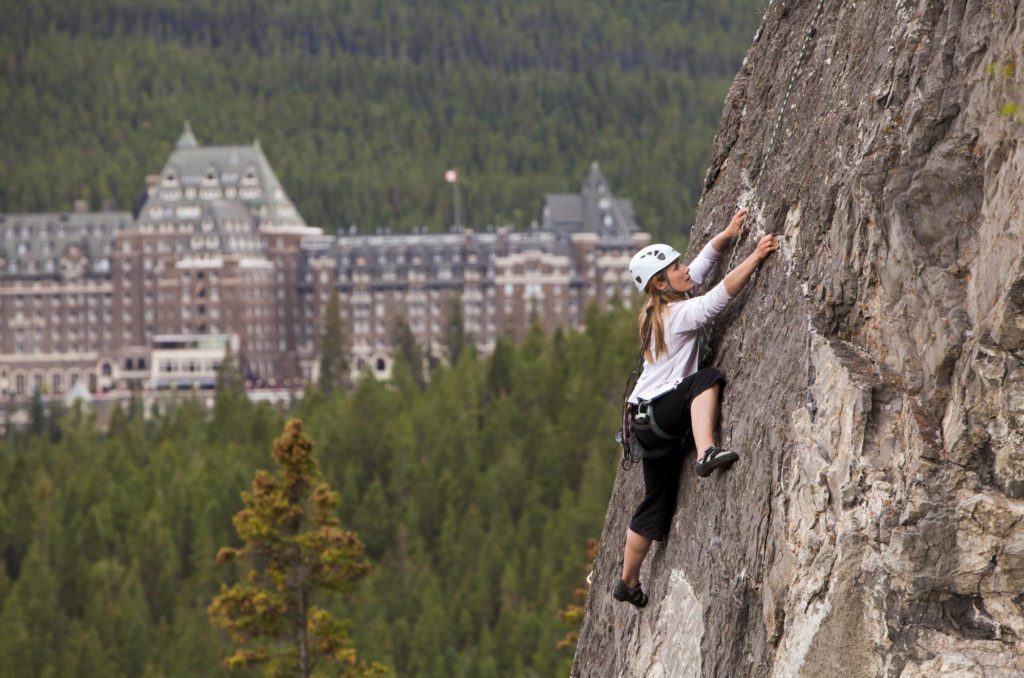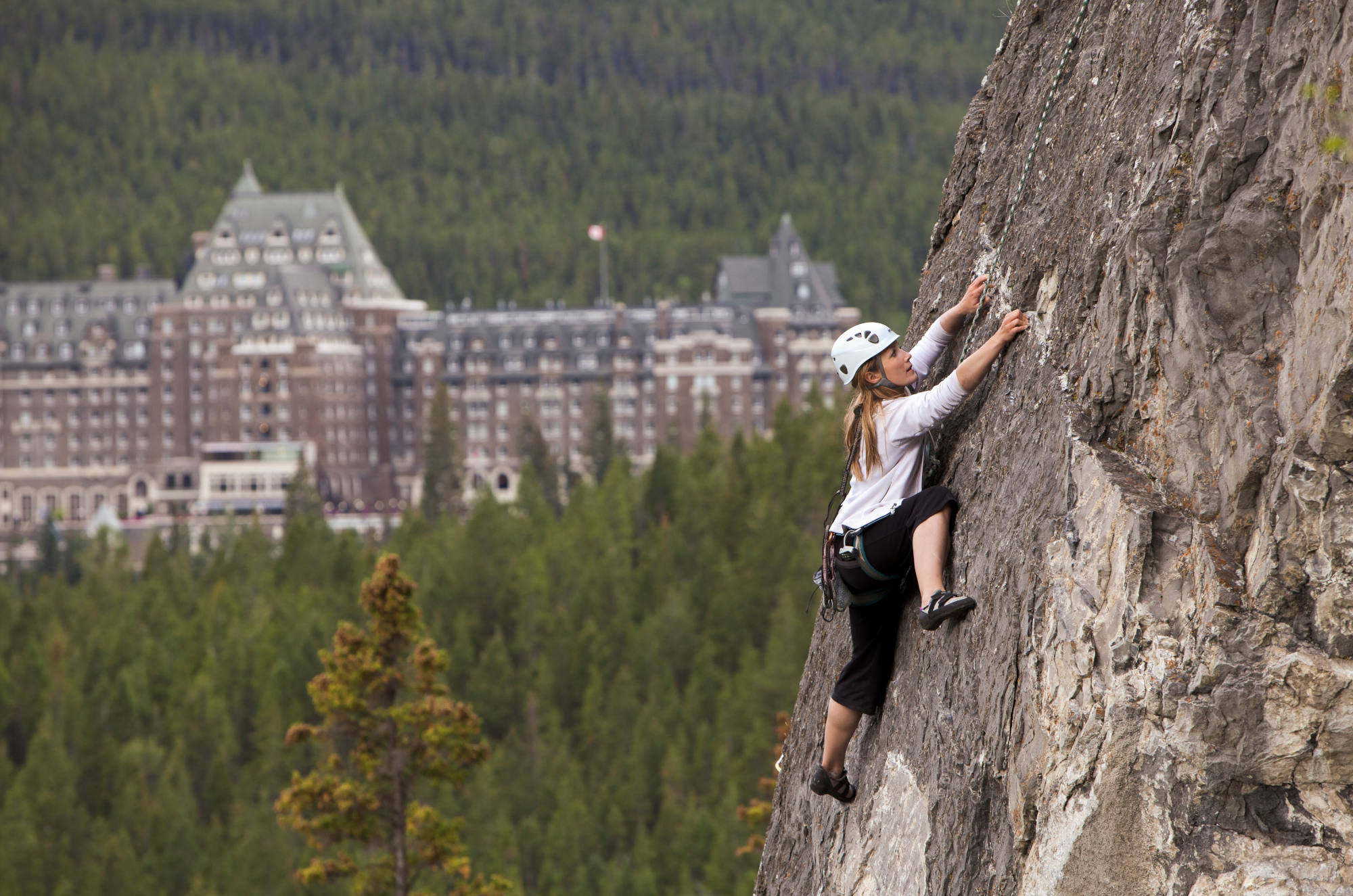 How many rooms does the Banff Springs Hotel have?
Choose from among the Fairmont Banff Springs' 745 guest rooms for the perfect accommodation for your visit.  Everyone can find exactly what they need whether it is a cozy, tucked away room for a couple's getaway or a lavish, spacious suite to celebrate a family or group event in style.
Twelve highly acclaimed restaurants give guests a wide variety of dining choices.  After an energizing day of hiking, nature photography, or golfing, dress for the evening and enjoy a cocktail at the historic Rundle Bar, maybe even some live music, before enjoying an excellent meal.
The Fairmont Banff Springs is also a family friendly hotel. Most restaurants have menus accommodating children with smaller portions and half plates. If you would like a romantic dinner for two, there are child- and baby-sitting services available.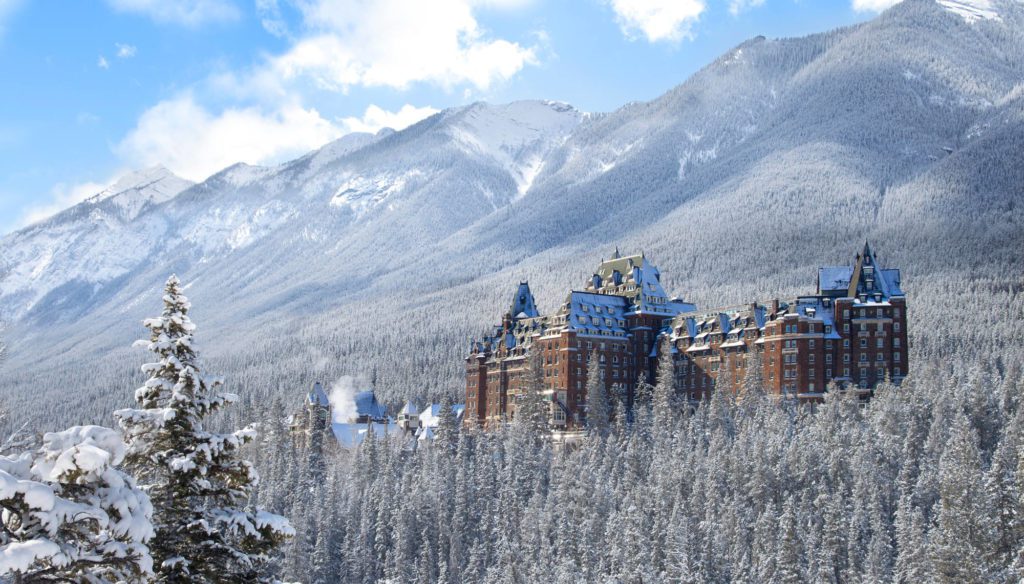 How much is the Banff Springs Hotel worth?
Determining a precise dollar figure for the worth of the Fairmont Banff Springs is difficult since the hotel is privately held. It was part of a global luxury hotel brand acquisition when the French hotel chain AccorHotels bought its parent company in 2016 for $2.9 billion USD.  
AccorHotels really bought the holdings of three companies – Fairmont, Raffles, and Swissotel – comprised of over 150 hotels and resorts with more than 50,000 rooms globally.
Is Fairmont a luxury brand?
The Fairmont brand is most certainly associated with luxury. The Fairmont name began with the Fairmont San Francisco. The hotel opened in 1907, one year after the earthquake and fire destroyed much of the city. 
From that moment on, the Fairmont name has been associated with exceptional accommodation, fine dining, and the best locations. So much so that in 1999, when the Canadian Pacific Limited company bought a major stake in what was then known as Fairmont Hotels, instead of keeping its name it was renamed Fairmont Hotels & Resorts. 
There is a long list of royals, dignitaries and celebrities that have visited hotels under the Fairmont brand. Commonwealth visits, political strategic planning, and iconic pop culture moments have all occurred in Fairmont hotels across the world.
Does Marriott Own Fairmont?
The hotel was owned by the Fairmont Raffles Hotels International company until 2016, when the company was sold to the French AccorHotels. The Marriott hotel chain, which merged with Starwood, is a competitor of AccorHotels who now owns the Fairmont Banff Springs.
How much does it cost to stay at the Banff hotel?
Depending on the time of year and size of the room, prices vary. In general, one can expect to pay approximately $500 USD/night. During the more popular summer season or if you have your heart set on staying in a suite, prices can be higher, ranging from $650 USD/night up to $3,000 USD/night.
How many days do you need in Banff?
To make memories that last a lifetime and to truly feel the embrace of this special place, if you can spend two weeks in Banff you won't regret it. If you only have a few days or a week, certainly you may be able to squeeze in a hike, play a round of golf,  enjoy some fishing, or marvel at an indigenous cultural event. But you will be moving too fast to really enjoy and reflect on the wonderful experiences you are having.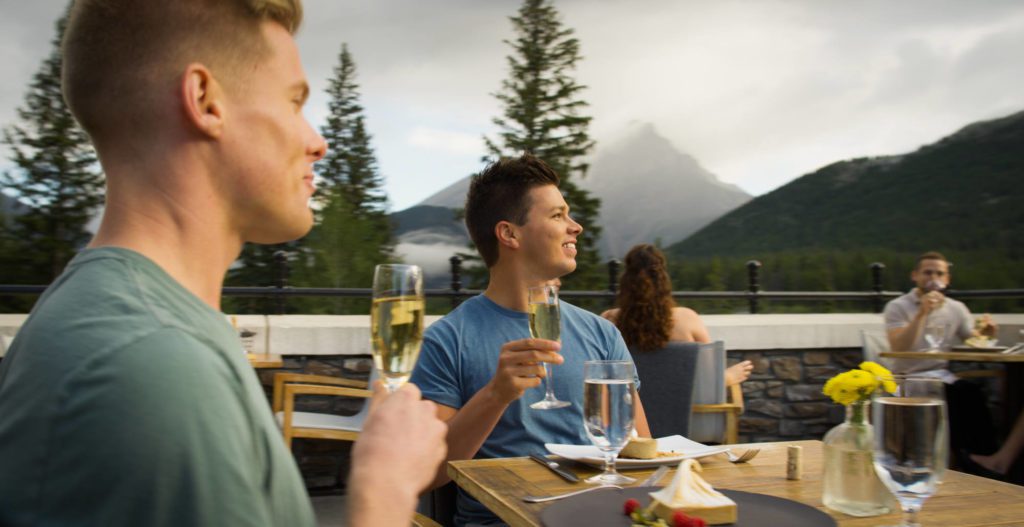 Part of the tonic of this place is reflecting back the calm, the beauty, the wonder and the peace of that amazing natural settings. If you can stay longer, you will begin to appreciate the magic of hikes in different habitats, the path and energy the rivers take, the quality of skiing before and after a new snowfall, and the friendliness and warmth of the people you will meet in the communities throughout the region.
How much money should I take to Banff?
Aside from the type of accommodation you choose and the type of meals and activities you want to do, the time of year you choose to visit can also impact how much it costs to visit Banff. Rates for hotels tend to be lowest January to early March and mid-August until early December. Certainly, a solo traveler or couple will have lower expenses that a family of four or five.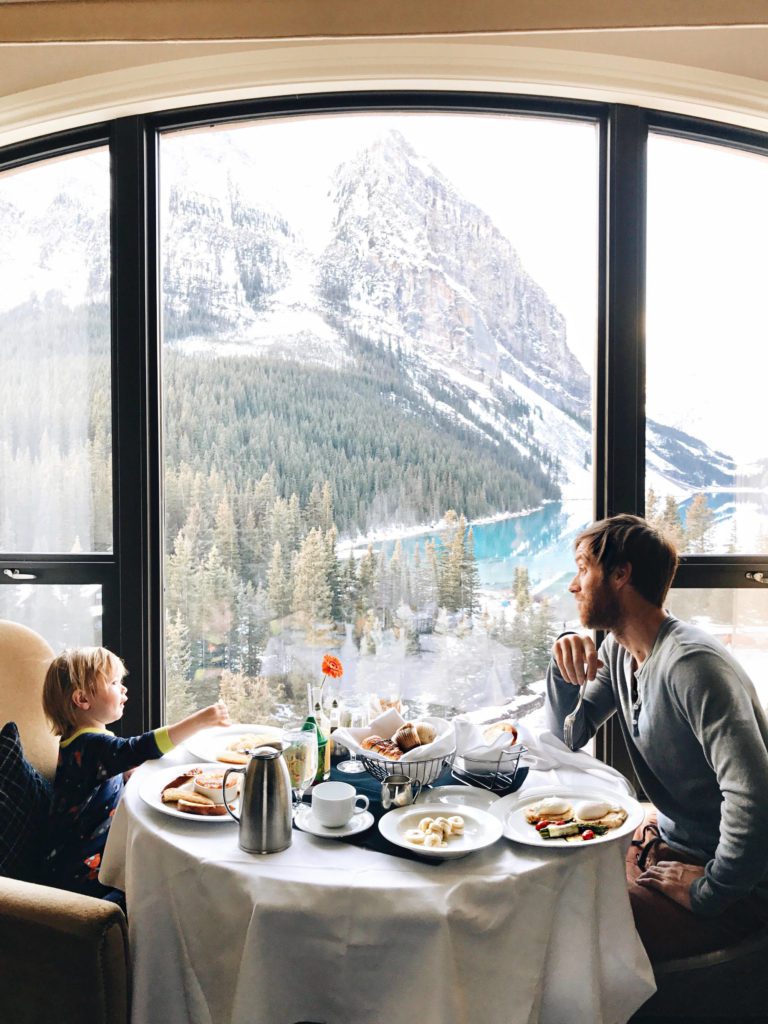 A solo traveler could expect to spend between $25 to $50 USD per day on budget on food, entertainment, and sightseeing activities. Personalized activities, fine dining, access to luxury amenities such as spas or golf, or all-day activities such as skiing with rentals would move the needle on costs up to as much as $200 USD per day.
These figures can multiply up for couples and larger groups.  Costs can range from $225 (budget) to $700 (luxury) USD per day for couples and $400 to $1,000 USD per day for a family of four. There are certainly ways to economize and save your dollars on some things to be able to splurge on other activities, or even just save your dollars.
These estimates do not include travel costs such as air fare or hotels in Banff or rental properties. Some hotels offer transportation services to and from airports and to local sites that can eliminate the need for a rental car. Short-term apartment or house rentals allow you to cook many of your own meals and reduce the costs for restaurant dining. 
Why Is the Banff Springs Hotel So Popular?
The Fairmont Banff Springs hotel, often called the "Castle in the Rockies", is landmark hotel, equally important for its architecture and history as for its location in the stunningly beautiful Banff National Park of Canada. Guests can enjoy a wide variety of year-round outdoor activities and relax each evening in the comfort and luxury of the hotel's amenities.
This five-star hotel offers exceptional comfort, impeccable, personalized service, and amenities to compliment everyone's interests. Take advantage of the fitness and aquatic center for a workout or swim, a yoga class, or relax with a spa treatment or a soak in the hot springs pool. 
Venture out on a hike recommended just for you or hop on hotel-provided transit to the town of Banff for shopping. All season access means you can hike, golf and fish in summer and ski, snowboard, and ice climb in winter. Located at the confluence of two rivers, canoeing, fishing, and whitewater rafting can also feature into your stay.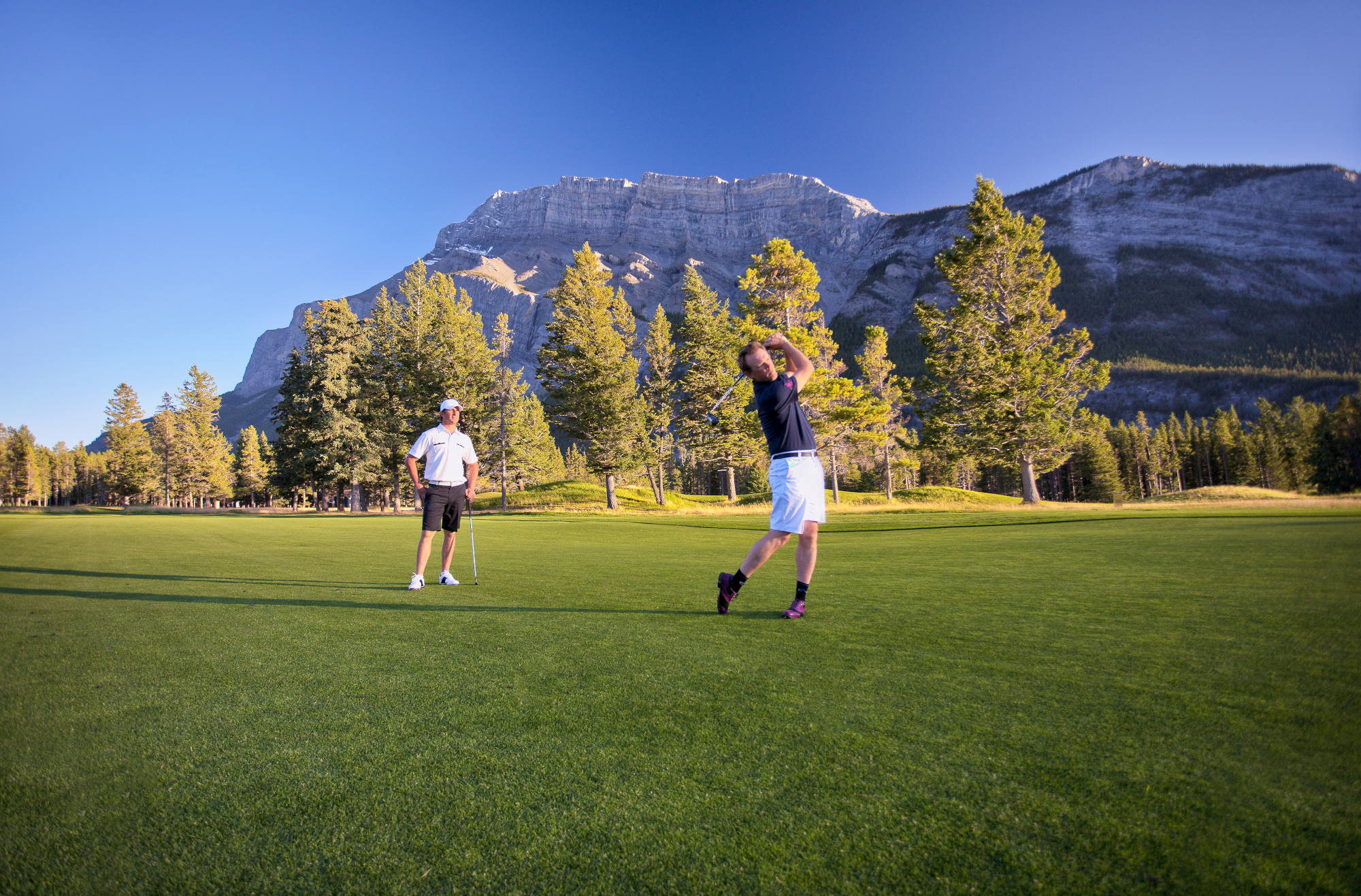 Why Is This Place So Popular?
Located in the Canadian Rockies, Banff Springs Hotel offers visitors an opportunity to enjoy nature at its finest. Guests can hike through the nearby forests, take part in outdoor activities such as skiing, snowboarding, and ice climbing, or simply relax in the hot springs pools.
The Banff Springs Hotels' Future
In addition to being one of the world's oldest hotels, Banff Springs Hotel also boasts some of the most luxurious accommodations available today. With a variety of room options, including suites with fireplaces, private balconies, and whirlpool tubs, guests will find everything they need to make their stay memorable.
The hotel is undergoing a program of updates to guestrooms and suites. One phase will be completed in the summer of 2022 and a second phase is expected to be complete in the spring of 2023.