Snowshoeing in Banff and Lake Louise is a favourite pastime of both locals and tourists alike. During winter when Banff and Lake Louise are at their snowiest, putting on your snowshoes is a great way to spend a day. Snowshoeing is easy to learn and great for all ages, fitness levels, and skillsets.
There are many excellent routes fit for snowshoeing across Banff and Lake Louise that vary in length.
Why go snowshoeing in Banff and Lake Louise?
The best places for snowshoeing in Banff and Lake Louise offer incredible views and fun walks. If you are new to snowshoeing and do not have your own kit, there are plenty of places around Banff and Lake Louise offering snowshoes and equipment for sale or rent. Many of the winter snowshoeing trails follow parts of summer trails, but the summer trails are not always suitable for winter travel. They often contain steep sections that can cross over into avalanche territory. Snowshoeing is a great solo, family or team activity, and with a variety of trails across Banff and Lake Louise, there are plenty to choose from. 
When is the best time for snowshoeing in Banff and Lake Louise?
The best time to go snowshoeing in Lake Louise or Banff is between December and April. If you are snowshoeing during this time, there are a few conditions that will make for a great day out. First, look for a clear day. With bright skies and good visibility, your snowshoeing experience be more visually interesting. Second, aim for a fresh powder day. Fresh powder is soft and light and makes travel a real pleasure. For a more challenging workout, snowshoe during dense snow as it creates more resistance and requires more effort. Beginner snowshoers should seek out hard-packed snow as this creates minimal resistance. 
Be careful when snowshoeing in the mountains from November to June, as this is avalanche season. 
There are designated winter trails for snowshoeing across Banff National Park and Lake Louise, with some following summer hiking trails. Not every summer trail is suitable for snowshoeing so be sure to check your snowshoeing map before setting off. 
Snowshoeing should be avoided when the snow has turned to slush, which starts to happen on warm days from April onwards. Slush can really clump up on the bottom of your snowshoes, and can soak your boots, which leads to cold and uncomfortable feet. It is equally important to avoid icy conditions. Snowshoeing on packed snow that has melted and frozen can be quite dangerous on snowshoes, as the snowshoes' built in crampons catch on the ice.
Snowshoeing in Banff
Where can I go snowshoeing in Banff?
There are a number of exciting and varied snowshoe trails throughout Banff National Park. Trails vary in difficulty and offer snowshoers some of the best views throughout the national park. Many snowshoe trails in Banff completely depend on how much snow has fallen recently. The area surrounding Banff tends to be popular with hikers and fat bikers, so be prepared to share the trail.
Easy Snowshoeing in Banff
These trails are best for beginners, and can even be completed without snowshoes and using spikes instead. The easy snowshoe trails are perfect for families, first timers, or those looking to see a little more of this scenic winter wonderland.
Tunnel Mountain Drive
The Tunnel Mountain Drive snowshoe trail is an easy trail and one that is suitable for the family. It follows a 2 kilometre (1.2 mile) one way route. This trail has an elevation gain of 130m (426.5ft) and a loss of 135m (443ft). 
Tunnel Mountain Drive snowshoe trail begins at the closed gate where Tunnel Mountain Drive and St Julien Road meet at an intersection. Due to the route being completely closed to vehicles during winter it is the ideal snowshoeing location. 
Tunnel Mountain Drive is one of the best places for snowshoeing in Banff as it offers incredible views over Cascade Mountain. For those looking to extend their trail, the route intersects with the Surprise Corner to Hoodoos trail. 
Johnson Lake
Johnson Lake's snowshoe trail is a 2.8 kilometre (1.7 mile) loop, and is one of the best places for snowshoeing in Banff. The Johnson Lake trail has minimal elevation gain making it an easy and gentle trail which is perfect for beginners. The trail follows the shoreline of the lake. From the trail there are incredible views of Cascade and Rundle Mountains. The trail begins at Johnson Lake Day-use area parking lot. 
After leaving the parking lot, head towards the lake and over the bridge. This will lead you to a thick and dark green forest of Douglas fir, spruce and pine trees which create a magical winter environment. This forest is also part of the montane ecoregion, the richest biological zone in Banff National Park. 
As you emerge from the forest there are incredible views of both Rundle and Cascade Mountains. After crossing the bridge on the far side of Johnson Lake, two trails can be taken. The first climbs further up the ridge offering increasingly spectacular views. The second re-enters the forest before returning to the parking lot. 
This snowshoeing trail is perfect for families.
There are no facilities at Johnson Lake parking lot except for toilets, so pack plenty of drinks and snacks for your snowshoeing adventure.
Johnston Canyon via moose Meadows
Johnston Canyon Snowshoe is an out and back snowshoe trail covering 5 kilometres (3.1 miles) in total. This impressive trail gains 120m (393ft) and heads towards Upper Falls.
The trail is used more for winter hiking, but it is still possible to snowshoe to the canyon using the trail from Moose Meadows. In winter the waterfalls are frozen creating a truly beautiful winter landscape. 
First, find the Moose Meadows parking lot, which is just under 2 km west of the parking lot for Johnston Canyon. The trail here is perfect for snowshoeing through the winter forest. At the 3.2 kilometre (1.9 miles) mark the trail branches towards Johnston Canyon or up towards the Ink Pots. 
If continuing towards Johnston Canyon, look out for ice climbers scaling Upper Falls.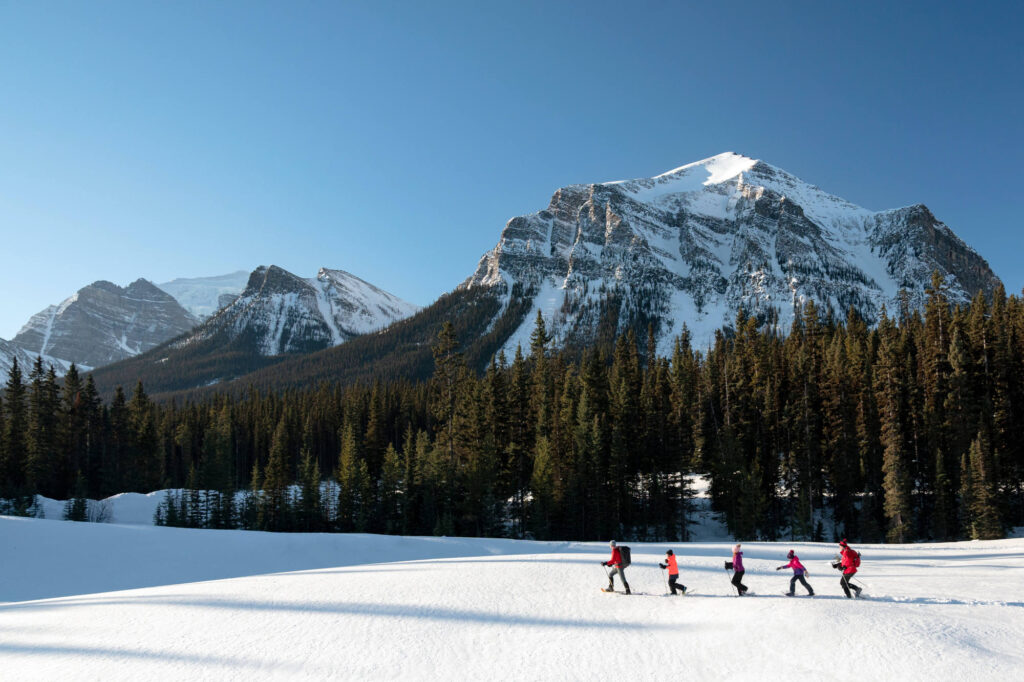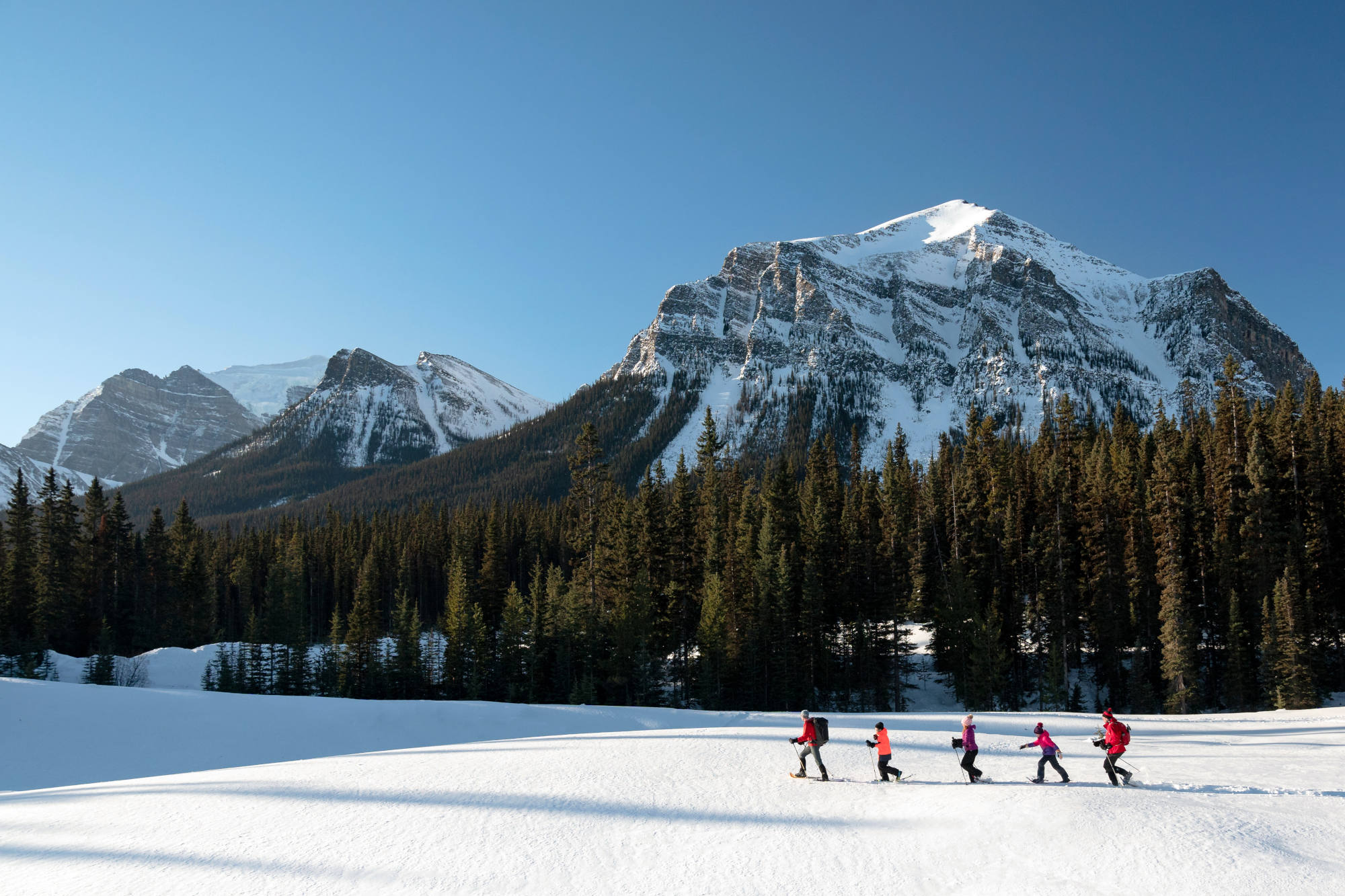 Moderate Snowshoeing in Banff
These trickier snowshoeing trails in Banff offer spectacular viewpoints which act as a reward after a more challenging trail.
Upper Stoney
Another of the best places for snowshoeing in Banff National Park is Upper Stoney. Upper Stoney is a 4.8 kilometre (2.9 miles) loop with an elevation gain of 205m (672.5 ft). The trail begins at Kiosk at the southern end of Mount Norquay Ski area parking lot. Once you leave the parking lot, the ascent begins. 
The Upper Stoney snowshoeing trail is narrow and climbs through thick evergreen forests. As the majority of the trail is in the forest, there aren't many views of the surrounding area. 
The trail heads to Stoney Lookout where spectacular vistas over Cascade Mountain and the Bow Valley make it the perfect place to stop, catch your breath and admire the beauty of the national park. After you drink in the view, continue north and begin your descent back to the parking lot along a twisting trail. The trail runs above the ski-area lodge.
The trail is easy to follow as it is one of the most popular in the area. Upper Stoney is frequented by snowshoers, hikers and fat bikers. 
Ink Pots via Moose Meadows
Ink Pots via Moose Meadows is another moderate snowshoeing trail. The trail has a gain in elevation of 340m (1115.4ft) and a loss in elevation of 130m (426.5ft). 
The Ink Pots are a series of mineral springs that turn their waters a vibrant shade of blue-green. The water can even be seen bubbling up through the mud surrounding them. 
The trail is significantly quieter than Johnston Canyon Trail. The allure of Ink Pots via Moose Meadows is without doubt its scenery. The trail climbs through thick evergreen forests leading to Moose Meadows, an alpine valley. When you reach the Ink Pots, take the time to admire the incredible valley surrounded by towering snow covered mountains. There are plenty of well-positioned benches around Ink Pots making it the ideal place to rest and take in the scenery. This route is definitely worth the challenge. 
Ink Pots via Moose Meadows covers 5.6 kilometres (3.4 miles) one way. To return back to the start, take the same trail downhill. 
Difficult Snowshoeing in Banff
The following difficult rated snowshoe trails in Banff are longer, more physically demanding, and yet still offer incredible views and experiences. These trails are recommended for keen snowshoers rather than beginners.
Cascade Amphitheatre
Cascade Amphitheatre snowshoe trail is a 12.8 kilometre (7.9 miles) out and back trail with an elevation gain of 885m. The trail begins at the Mount Norquay Ski Resort.
Follow the signs for the snowshoe trail down past the chair lifts. You will begin to descend into the forest close to the Mystic chairlift at the resort. 
The trail here has a descent heading down towards Forty-Mile creek. Following the descent, the ascent begins up towards Cascade Amphitheatre shortly after passing the bridge.
This section of the trail has regular glimpses of mountain views from through the trees. 
The trail reaches a junction and branches off to the right. As the ascent continues the trees become thinner until it levels off. At this point the forest thickens before opening up into a clearing with breathtaking views over the mountain. 
As the trail is an out and back, simply retrace your footsteps back to the parking lot.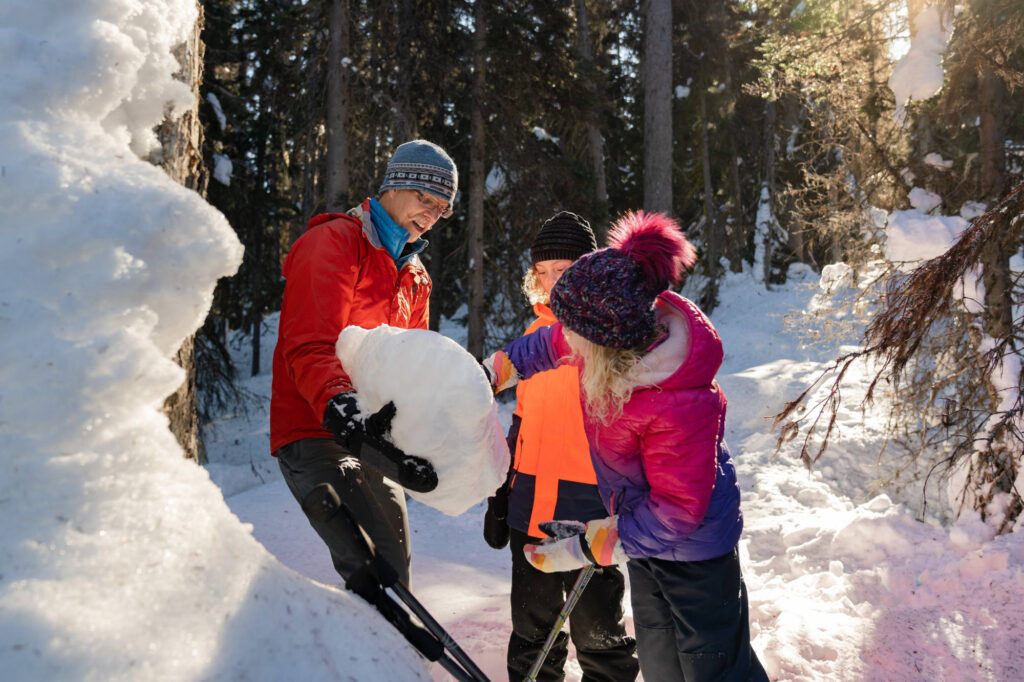 Sulphur Mountain Westside
Those seeking the best places for snowshoeing with challenge should look no further than the Sulphur Mountain Westside trail. The trail gains 885m (2903.5 ft) and offers challenge and scenery in abundance. 
The trail begins at Cave and Basin National Historic Site, at the Sundance Trail to the west of the main building. Snowshoers should begin following the Sundance Trail for 2.6 kilometres (1.6 miles) before branching to the east to follow the Sulphur Mountain Westside trail. 
The trail is actually an old weather station access road that has long since ceased in operation. The road here is a sustained climb to the maximum elevation. 
Sulphur Mountain Westside snowshoe trail is 7.8 kilometres (4.8 miles) one way. 
Snowshoeing in Lake Louise
As in Banff, there are a great number of snowshoe trails in Lake Louise to explore. The lake is a Canadian Rockies icon and is worth exploring in every season. Add a winter explore to your Banff bucket list by snowshoeing around the shores of the spectacular Lake Louise.
Lake Louise is the ultimate winter wonderland. As a result, once the snow has fallen, locals and tourists alike head to the lake and to its numerous snowshoe trails to make the most of this magical scenery. The snowfall around Lake Louise is significantly higher than in Banff making it ideal for snowshoeing, as the shoes really help keep you on top of the snow.
The best time to snowshoe at Lake Louise is from December until mid-April.
Many of the trails around Lake Louise start at the lake itself, or have the lake as a final reward for your hard work. 
There are also local facilities for renting equipment for snowshoeing close by, making it a more accessible activity. 
Easy Snowshoeing in Lake Louise
Easy Lake Louise snowshoeing trails can make a great day out for families, or for those looking to explore snowshoeing as beginners. The trails take in some of the most beautiful sites in the area, and of course centre around the spectacular lake itself. 
Lake Louise Lakeshore
Lake Louise Lakeshore is one of the best places for snowshoeing in Lake Louise. The trail is a 4 kilometres (2.4 miles) out and back and has no elevation gain making it perfect for beginners. 
The trail is also frequented by hikers so the snow will more than likely be packed down. Aim for a fresh powder day and arrive early to get there before the trail gets packed down, or if the lake is fully frozen over, hike around the lake edge itself. An easy way to check if the lake is frozen is by seeing if the rinks are being maintained. If they are, it typically means the lake is safe to skate and walk on. 
The trail begins at the front of Chateau Lake Louise. The trail offers spectacular views of the lake and the overlooking mountains. At the end of the trail spend some time marveling at the 100m (328.1ft) frozen waterfall. 
Please note that the trail beyond the end of the lake leads towards dangerous avalanche terrain. This section of the trail should only be attempted by those who have undergone avalanche training and have the correct equipment. 
Fairview Lookout
Another great trail to begin your snowshoe adventure is Fairview Lookout. This trail is a 2 kilometre (1.2 mile) return trip with a steep 100m (328.1ft) elevation. The trail scales a section of Fairview Mountain on the south side of Lake Louise. 
Begin the trail by facing Lake Louise at the World Heritage Site rock. Look left, and start to follow trail signs for Fairview Lookout. There are several hiking and snowshoeing trails that leave from this site however Fairview Lookout is well signposted. 
The trail begins easily with a pleasant trip through the forest with spectacular views over the lake. Look out for Chateau Lake Louise on the shores of the lake. There are many openings in the forest to pause and marvel at the sights. 
It is not possible to turn this trail into a loop due to crossing avalanche territory. To get back to the starting point, retrace your steps. 
Louise Creek
Louise Creek is a 5.6 kilometre (3.4 miles) return snowshoe trail with an elevation gain of 195m (639.7ft). This trail is easily accessible from the village, with the route starting at Samson Mall. 
From here, walk along Lake Louise Drive towards the Bow River Bridge. Cross the bridge and keep your eyes peeled for the trailhead on the downstream (south) side of the bridge. After walking for a few minutes you will be completely immersed in thick, wintery forest. 
A few hundred meters into the forest a bridge crosses over Louise Creek. After the bridge the trail begins to climb. The trail flattens at the intersection with the Tramline cross country ski trail. 
Continuing higher still, the trail eventually opens onto Lake Louise. This is a perfect place to stop for a rest or lunch break, or simply to admire the views before continuing. 
The journey back to the car park is downhill following the same trail. 
Laggan's Loop
Laggan's Loop is a pleasant snowshoeing trail and one of the best places for snowshoeing in Lake Louise. The trail is a gentle 1 kilometre (0.6 mile) loop with an elevation gain of 50m (164ft). The trail's gentle nature makes it perfect for families.
Begin your loop by heading up the Mirror Lake trail for 60m on the right hand side of Lake Louise. The elevation along this snowshoeing trail is thanks to the 'benches' of Little Beehive. The trail leads you through a mature sub-alpine forest embracing you in quiet tranquility. 
Moderate Snowshoeing in Lake Louise
These trails offer a greater challenge but are still feasible with families. Moderate snowshoe trails encompass longer walks. Be sure to pack plenty of layers, snacks and drinks.
'Highline' Trail to Paradise Creek
"Highline" Trail to Paradise Creek is a 9 kilometre (5.6 mile) return snowshoe trail with an elevation gain of 60m (196.8ft). 
The trail is one of the best places for snowshoeing in Lake Louise. The trail begins by following the Fairview Lookout trail. When you reach Lookout turnoff, continue for 40m (131.2 ft) along the main trail, before turning left when you reach the horse trial sign. Despite the trail not offering the big landscape and mountainous views of other snowshoe trails, 'Highline' Trail to Paradise Creek takes in some incredible forest sights. Between December and February when the snowfall is particularly heavy, it builds up on the branches creating a true forest winter wonderland.
Care should be taken when on this snowshoe trail, as at kilometre 1 (after 0.6 miles), the trail crosses over the runout zone of an avalanche path. The path is a Simple Class 1. The path rarely runs but it is advisable to be cautious at this point. The formal snowshoe trail ends at the bridge over Paradise Creek. There are great views in the meadow just upstream of the bridge, but after enjoying a break there, snowshoers without avalanche training and gear should head home, as the Upper Paradise Valley – as well as the rest of the Highline trail – will take you into avalanche terrain.
Mirror Lake via Lake Agnes Hiking Trail
Mirror Lake via the Lake Agnes hiking trail is a moderate 5.4 kilometre (3.3 miles) return trail with an elevation gain of 295m (967.8ft). 
The trail begins at Chateau Lake Louise. Follow the main Lake Agnes trail through its forest rise. Be aware that sections of this trail cross avalanche terrain. 
The trail to Mirror Lake climbs steadily through old-growth forest, but there are a few openings with views. When you reach Mirror Lake you get your real reward, a straight up view of the snow-covered Big Beehive.
The trail leading beyond Mirror Lake is a Challenging Class 2 terrain due to its avalanche exposure. You should only attempt this section of the trail with appropriate training and equipment. 
Blue Square '27' Trail
The Blue Square '27' Trail gets its name from the trail markers along this particular route. The trail is identifiable by a series of blue squares labelled with the number 27. 
The trail begins at Chateau and peels off from the beginning of the Agnes trail and descends into thick, snow covered evergreen forest. It crosses over the Great Divide ski trail before cutting through several meadows. These afford good views across the valley to the Lake Louise Ski Area and Mount Hector, and are worth all the ups and downs in the forest. When crossing the ski trails be mindful of skiers, and of the carefully groomed ski trails. 
After the meadows, the trail crosses the 1A and gradually climbs back up the hill towards the Chateau. Blue Square '27' Trail is not on the Parks Canada website, however once you find the trail markers, it is easy to navigate. The trail is approximately 6 kilometres (3.7 miles) return. 
As the trail is not on any maps, it is often very quiet and makes a great snowshoeing destination if you want to avoid the crowds on the more popular trails. 
Difficult Snowshoeing in Lake Louise
There is only one snowshoeing trail rated difficult in Lake Louise. The Taylor Lake Trail is suitable only for those with experience at snowshoeing and above average levels of fitness. The trail also takes in major elevation loss and gain, with long steep sections.
Taylor Lake
The most challenging snowshoe trail in Lake Louise is Taylor Lake trail. The trail is a 12.6 kilometre (7.8 miles) return and gains an elevation of 585m (1919.3ft). 
Begin your trail at the parking lot located 18 kilometres (11.2 miles) to the east of Lake Louise, or if coming from Banff, travel 8 kilometres (5 miles) from Castle Junction on the Trans-Canada Highway. 
The end of the trail reveals the incredible scenery hanging valley below Mount Bell. 
Taylor Lake Snowshoeing connects to hiking trails on O'Brien Lake and Panorama Ridge, both of which lead to avalanche terrain. Snowshoeing or hiking here requires avalanche training and equipment. 
Snowshoeing on Icefields Parkway
Icefields Parkway, or Highway 93N, only has one snowshoeing route, however it is certainly worth checking out. 
Peyto Lake Viewpoint
Peyto Lake Viewpoint is another easy snowshoeing trail which is perfect for beginners. The trail is a 2.3 kilometre (1.4 miles) return with a gentle 45m (147ft) elevation gain. This easy snowshoe trail should take no more than 1 hour to complete. 
Begin at the Bow Summit parking lot and head towards the north western corner. Signposts from here signal the trail. Along the trail helpful signposts identify landmarks from your surroundings. After 650m (2132ft) you will reach a wooden viewing platform. The best view across Peyto lake is from this platform so be sure to stop, catch your breath, and take it all in. 
Continuing further on takes you to the Upper Peyto Lake Viewpoint. From this point it is advisable to turn back to avoid entering avalanche terrain.  After a further 450m (1476ft) look for a set of rocks. Here is another incredible view over the lake and the Icefields Parkway. This viewpoint is not official but offers perhaps the best views on this particular snowshoe trail. 
The trail is well-packed and therefore easy to walk on in snow shoes. Plan your trip for a clear day to make the most of the views out towards the lake. 
This is also a trail used in summer. In winter it tends to be very quiet, so there is a chance you will have the lake at the end of the hike to yourself. 
Moraine Lake
Can you snowshoe to Moraine Lake?
It is possible to snowshoe to Moraine Lake. Moraine Lake, but it's a long haul, about 12 km one way. Due to its elevation of 1885m (6183ft), conditions can change quickly and become very difficult. It is advisable that visitors without avalanche training should only visit the lake between May and October. The road up to the lake is closed from mid-October to late May every year, as it crosses several avalanche paths.
For those with avalanche training it is possible to snowshoe during the winter season. As the lake is at a high elevation, it remains frozen and covered with thick snow until May. Visitors wanting to see the brilliant blue waters will want to visit between June and September, when the road has re-opened, the lake is ice-free, and the hiking trails are back in shape.
Moraine Lake Road Snowshoe Trail
The Moraine Lake Road trail is moderately difficult, and will take the best part of a day, with many snowshoers completing it in between 6 and 8 hours. The trail is one of the longest in Banff National Park as it covers 24 kilometres (14.9 miles). Moraine Lake Road snowshoe trail gains an elevation of 375m (3257ft). 
The trail is multi-use and sees cross-country skiers, snowshoers and fat bikers. This trail is an excellent way to challenge your snowshoeing abilities and to see some more of the incredible Canadian Rockies, including Moraine Lake. Visiting during winter and taking advantage of snowshoe conditions means that the trails will be quieter, and there will be less people marveling at the lake when your reach it. 
The route does take a full day to complete, so pack plenty of layers, drinks and snacks. 
The route begins at the Moraine Lake Road parking lot.
After passing the Paradise Creek Trailhead approximately 2.5 kilometres (1.5 miles) into the hike, continue along the road. The views over the valley are incredible. It is possible to see the ski runs at Lake Louise Ski Resort. As you continue up the road you'll start to see peaks towering high above the lake at the end of your journey. 
After 9.2 kilometres (5.7 miles) the tracksetting and packing of snow for skiing ends. Beyond this point there is a large avalanche path. It is advisable to only continue on if you have avalanche training. If venturing on, the spectacular sight of Moraine Lake frozen over will appear in a few kilometres. 
One of Banff's most established snowshoeing companies is Great Divide Nature Interpretation, based in the deep snow country of Lake Louise. Great Divide was founded in 1997, and lead guide Joel Hagen has over 20 years of snowshoeing experience. He specializes in bringing guests into wilderness settings with fresh snow, eye-popping scenery, and nature galore.
Joel trained as a biologist, and brings to his trips exceptional knowledge about the landscape, wildlife, and history of Banff and Yoho National Parks. If you want to know about wildlife tracks, or trees, or the glacial landscape you're travelling through, Joel will share with you the stories behind the scenery. As an added bonus, on every trip there is a break where you get to enjoy tea or hot chocolate, and Great Divide's famous home-made power bars.
For bookings, go to https://www.greatdivide.ca/snowshoeing/ or call 403-522-2735.
Snowshoe Rentals in Banff
There are plenty of places in Banff where equipment for snowshoeing can be rented, opening up the winter activity to more people.
Banff Adventures
Banff Adventures takes pride in its high quality and well maintained winter equipment. They advise that reservations should be made online in order to ensure the correct sizes and days are available. From Banff Adventures it is possible to rent skates, snowshoes, winter boots and more. 
The snowshoes available from Banff Adventures are from TUBBS, a well-known and high quality brand. The snowshoes are lightweight, comfortable, and perfect for snowshoers of all abilities. 
Abominable Sports
Another central Banff rental shop, Abominable Sports, provides everything you need for a fun day of snowshoeing at a low price. 
Abominable Sports offer package deals where snowshoes, snow boots or both can be hired. If you rent with them for a week, your third and seventh days are free of charge.
Ultimate Sports
Ultimate Sports offers a large selection of winter sports equipment for hire, including snowshoes and poles to assist in your snowshoe adventure. Equipment can be booked online, rented from stores, and even dropped off at your hotel. 
Snowshoe Rentals in Lake Louise
Wilson Mountain Sports
Wilson Mountain Sports offers a large selection of winter sports equipment for rent, including snowshoes, poles, and even winter boots.
Summary
Snowshoeing is a great winter activity for the family, or for those keen on seeing more of the Canadian Rockies. With a range of trails of varying difficulty and location, but all in equally breathtaking surroundings, there is a snowshoeing trail for everyone.