The Canadian Rockies offer some of the most incredible scenery in the world. From towering mountains to pristine lakes and forests, there is something for everyone to enjoy. Guided tours allow visitors to see these natural wonders at their leisure, while also learning about the history and culture of the area. Taking advantage of the variety of guided tours in the Canadian Rockies are a great way to make the most of your time!
And remember, you get to see all that this amazing region has to offer!
History of Guided Tours in the Canadian Rockies
Guided tours in the Canadian Rockies run throughout the year regardless of the season. The Canadian Rockies become more and more dramatic and beautiful as the year progresses, making any time of year an ideal time to explore. With high peaks of shale and limestone, much of which are inside protected national and provincial parks, large parts of the Canadian Rockies also have World Heritage Status. This entire region was first explored during the early 1800s as explorers and traders forged paths through the mountains to open up trade routes.
Guides of the Canadian Rockies have existed since the early 1920s. Since then, locals, Canadians, and tourists from further afield have been captivated by this mountainous region and have longed to explore it. The introduction of guided tours during the 1950s and 60s opened up much of the Rockies to those who are not avid hikers or climbers. Today, guided tours take the form of short to day long hikes, longer treks across the peaks, tours via bus, or bicycle to name a few. 
The Canadian Rockies By Region
There are 5 directional regions, based off the centrally located Banff National Park, that follow the spine of the Canadian Rockies. These regions are further divided into the 7 National Parks. At the heart of the Rockies is Banff National Park, which was Canada's first National Park. All regions within the Canadian Rockies boast untouched nature, pristine blue-green lakes, snow-capped mountains, enchanting forests and of course incredible wildlife. With each region offering something a little different, you will find a great tour while there.
Central Region
Banff, the oldest National Park in Canada, covers 2564 square miles (6640 square kilometres) of the Canadian Rockies. Banff is one of the most popular tourist destinations in Canada thanks to its vividly coloured lakes and snow-capped peaks. It is a great location to see the Northern Lights. Within the National Park are many spectacular skiing hills. Banff is an UNESCO World Heritage Site, and has excellent plant and animal diversity.
North Region
Jasper is the largest National Park in the Canadian Rockies, covering an area of 4335 square miles (11,228 square kilometres). The skies above Jasper are the perfect place to stargaze as it is the second-largest Dark Sky Preserve in the world. Waterfalls and glaciers pack the National Park. It's beauty and geological importance had Jasper named an UNESCO World Heritage Site. 
East Region
The river running through the National Park gave Kananaskis its name. This park covers 1544 square miles (4000 square kilometres) of wild land parks and ecological preserves. Kananaskis is well-known for its scenic mountain drives leading to many pristine, blue-green bodies of water. 
West Region
Kootenay National Park is an extreme wilderness of extreme beauty. Kootenay covers 543 square miles (1406 square kilometres). The National Park is filled with hot springs and contrasting icy rivers. Above all, Kootenay is a hotbed for Canadian wildlife, with black and grizzly bears often sighted.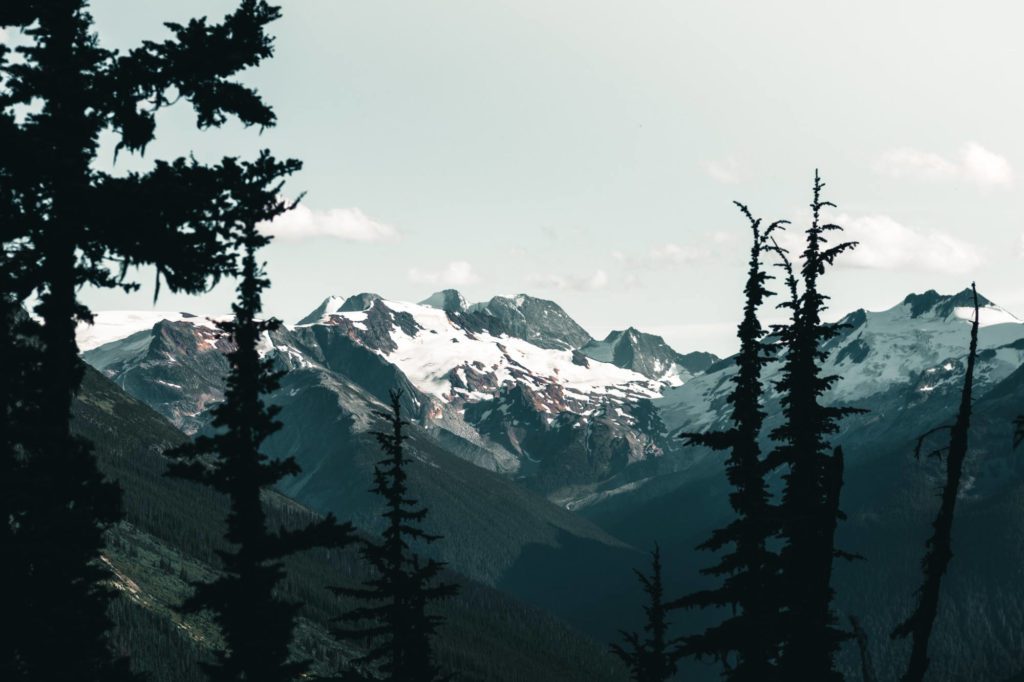 Glacier National Park is 521 square miles (1349 square kilometres) in area and was established in 1886. Within the National park is one of the largest cave systems in Canada, active glaciers and many high peaks just wanting to be scaled. Glacier National Park is famous for its heavy snowfall.
Yoho National Park covers 507 square miles (1313 square kilometres). Endangered pine trees pack the National Park. It has many sheer vertical rock walls. Paleontologists discovered many fossils while exploring this UNESCO World Heritage Site. Yoho is the Cree exclamation of excitement and awe, which is appropriate given the beauty of the region.
South Region
Waterton is a significant place for Niitsitapi and other indigenous peoples. This staggeringly beautiful area is the smallest National Park in the Canadian Rockies at just 195 square miles (505 square kilometres). Waterton is home to many of Canada's native large predators; black and grizzly bears, wolves, and coyote. The National Park is also home to the deepest lake within the Rockies. Waterton is another excellent location for observing the night sky as it is a multi-national Dark Sky Park. 
Best Guided Tours in the Canadian Rockies
Banff National Park – Top Rated Tours in the Canadian Rockies
There are many guided tours within Banff offering a range of tours for individuals, families, hikers and more. Each guided tour takes in a different part of the National Park revealing some of its hidden treasures. 
Wow Banff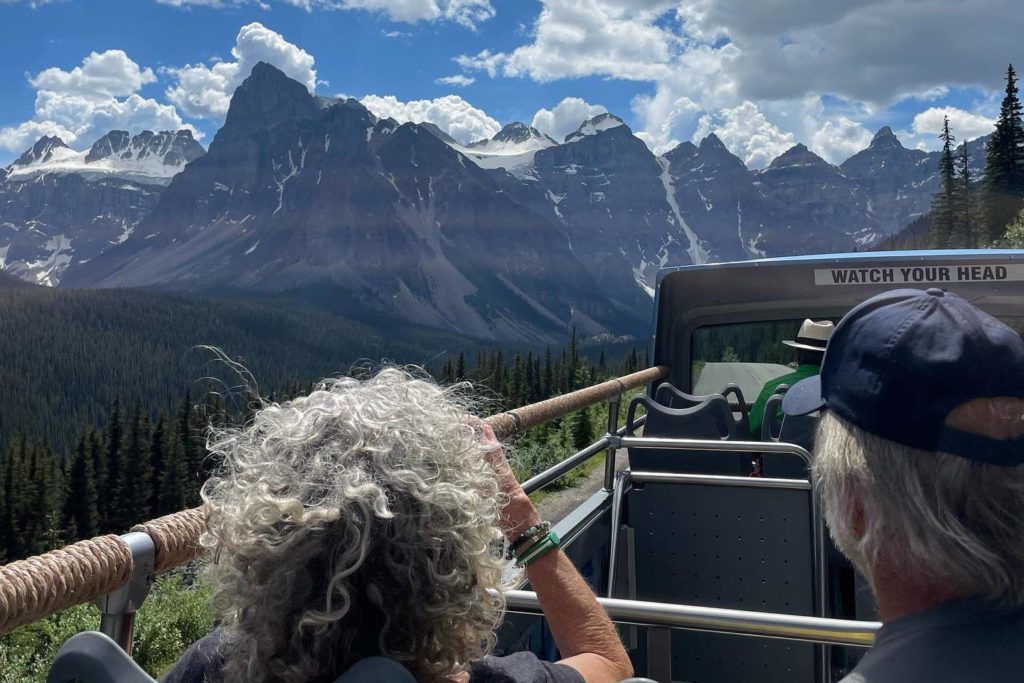 Wow Banff makes sightseeing across Banff easy.  This comfortable open top double decker bus is a multi-language, hop on hop off tour takes a range of routes to some of the most beautiful areas in Banff. 
Wow Banff's Same Day Sightseeing Loop is their most popular tour. From one of their outdoor seats, undoubtedly the best seats in the house, Wow Banff offers an immersive experience through the Canadian Rockies and Banff National Park. 
On the tour there are plenty of opportunities to take in beautiful panoramic views across the Rockies. Whilst on the tour you will learn about the lakes, mountains, waterfalls and wildlife that call Banff their home. Each tour on the Sightseeing Loop takes approximately 2.5 hours offering visitors a great introduction to the area. 
Add tickets to the Lake Louise Gondola to extend your day.
Mahikan Trails
Mahikan Trails offers a unique tour range differing from traditional hiking and sightseeing tours. The tours offer indigenous experiences
Mahikan's tour selection covers two medicine walks, and one canyon walk. 
On a Banff Medicine Walk offered by Mahikan, head out with an experienced guide who will share the history of Cascade Ponds with your group. This tour has a minimum group of 6 people in order to run and takes between 1.5 to 2 hours to complete. The walk is relaxed with plenty of stops to rest and take in the beauty of the area. The trails are well established and easy to walk along, making this a great tour for many interested parties. 
Your knowledgeable guide, Brenda Holder, will identify plants, trees and bushes on your walk that could help with survival. Brenda will point out plants used in traditional cold and flu remedies, great sources of food and perhaps most importantly in the cold mountains, fire starters. 
Pack appropriately for the weather on your medicine walk. The tours run year round so if booking a winter walk, bring extra layers. Moreover, should the conditions in the canyon be icy you can even hire boots to help make your walk even more comfortable.  
Rocky Mountain Cycling Tours
Rocky Mountain Cycling Tours, does exactly what it says on the tin; offering a range of cycling tours for discovery, adventure and fun.
Rocky Mountain Cycling has ran tours in Banff since 1977. They aim to create unique travel experiences and allow their visitors to experience new things and places, and make memories. 
Three types of tours are available through Rocky Mountain Cycling; cycling, hiking and custom. All of Rocky Mountain Cycling Tour offerings are more akin to adventure holidays, with each tour regardless of style spanning several days of exploration and fun. 
Book onto the Best of Lake Louise and Banff to explore more of this incredible National Park from the saddle. The trip lasts for 3 days and 2 nights and is all inclusive. No more than 12 people will be in your group making for a more intimate experience. Rocky Mountain Cycling Tours have the ability to cater to the level of need for its participants. All levels of riders are welcome and trips can be modified to be more relaxed or more challenging. They are the ideal trip for anyone with a more active lifestyle.
This incredible mini-break begins in the Bow Valley Parkway with time to meet your group, guides and get set up on your bike. You will then head to Lake Avenue on day 2, before finishing back in Banff on day 3. As the trip is all inclusive, all meals are included in the cost. Also included are your 2 professional guides from the region, hotel accommodation, transportation and luggage. 
Banff by Scooter 
Banff by Scooter is a self-guided tour where you can hire a scooter for unforgettable experiences. Hire a 49cc Vespa and take off into the mountains.
To explore Banff by Scooter you need to have a valid driver's license. Drivers feet must be able to reach the ground when seated, and passengers feet must be able to touch the foot pedals. For more adventurous families, this could be the ideal way to see this incredible area. 
Banff by Scooter is a self-guided tour, however they can provide you with recommended routes to make your journey easy, and to take in as many incredible sites as possible.
Head to Tunnel Mountain for incredible views across the rest of the National Park, or explore Cave & basin National Historic Site. Start in Banff by having a tasty lunch at one of the town's many restaurants before heading off on your adventure.
Included in your booking is unlimited gas, 2 helmets per scooter, unlimited kilometres to travel, route advice and an orientation to Vespa scooters.  Booking lengths also vary. Scooters can be hired for as little as 2 hours or as many as multiple days if you are staying in the area for longer and want to see as much as possible. 
Glacier National Park Tours – A Must Visit Destination
Glacier is a spectacular National Park to explore. It's alpine scenery is filled with ancient forests just waiting to be explored. Swiss pioneers mapped the National Park, creating many spectacular ways and hikes. Within the National Park is Rogers Pass, an important historical location in the coming together of Canada as a country, united by the railroad.
Glacier Sun Tours
Glacier Sun Tours run a range of bus tours through Glacier National Park on Going-to-the-Sun Road and throughout Blackfeet Country. Guides at Glacier Sun Tours are local and specialise in Blackfeet culture, history and tradition to name a few. Furthermore, Glacier Sun Tours offer a range of tours to suit your needs. All of Glacier Sun Tours through the Canadian Rockies are suitable for the whole family. 
On their full day tours, you will be picked up and taken to your starting destination. Full day tours do not include lunch so it is recommended to bring lunch or snacks, or money to purchase food at the designated lunch stop.
Full day tours begin in the high plains. Your knowledgeable guide will show you a range of plants from the more than 1500 species that grow in the area. There is also a multitude of wildlife in Glacier National Park including black and grizzly bears, moose and antelope. Your guide will stop regularly giving you the chance to photograph the incredible scenery surrounding you. Stops on the tour include Rising Sun, Deadhorse Curve, Grizzly Point and Logan Pass. 
Jasper National Park – Majestic Mountains and Abundant Wildlife
As Jasper is the second largest Dark Sky Preserve in the world, there should be no surprise that one of the best tours to do involves the night sky. Likewise with all areas in the Canadian Rockies, Jasper can be explored individually or with an expert on a guided tour. Here are two we recommend for your visit. 
Jasper Hikes & Tours 
Jasper Hikes and Tours is a great place to start your Canadian Rockies adventure. On your tour you will learn about the geology of Jasper, its history and ecology. 
Jasper's tours are divided into three main categories; summer hikes, climbing and winter adventure. 
One of Jasper Hikes and Tours most popular packages is their Wildlife and Hike package that is available in May, June and September. The timings of the tours and the months selected are directed by the wildlife activity. 
During this unique tour, which is suitable for the whole family, head out on the trail in search of the characteristic fauna within the area. Each hike can vary depending on season and wildlife search location, and the guide running your trip. On your hike you have the chance to see new families emerging across the park, including bear cubs and baby moose. 
Jasper Planetarium 
A planetarium may not be the first place you think of to book a tour or a National Park with, however Jasper Planetarium offers one of Canada's most incredible and unique tour experiences.
The Jasper Planetarium Constellation Binocular Tour is a must for anyone interested in the night sky. Suitable for ages 4 and up, and lasting a pleasant 50 minutes, head out at night with your specialist Dark Sky host to observe something incredible.
Your host will take you and your tour group to a specially-selected part of the dark sky site within walking distance of the Jasper Fairmont Hotel. Once you reach your destination a laser-guided tour of the constellations observable by the naked eye will begin. Binoculars are provided to help you get a closer view of the constellations, milky way, and deep space objects. 
Kananaskis National Park Tours – Beauty In The Foothills
Head out on a tour into Kananaskis Park to be completely surrounded by incredible wild land park. Tours of the Canadian Rockies through Kananaskis reveal a treasure-trove of natural beauty. As the park is one large ecological preserve, expect to see a wide variety of native flora and fauna on your tour. 
Boundary Ranch
Boundary Ranch is a tour like no other. Instead of heading out on foot or on a traditional tour bus, why not take in the majestic sites around you from a horse drawn sleigh?
The best time to take a horse drawn sleigh ride through Kananaskis is during winter for that truly quintessential sleigh ride experience. Huddle under a blanket and get lost in your winter wonderland. The land surrounding Boundary Ranch is overlooked by towering mountains and is bordered by thick forests of pine. Your sleigh ride has a stopping point at the Buffalo viewing paddock where you can observe, and of course photograph, Canada's largest land animal. 
Boundary Ranch tours also take in their Teepee Village which showcases local Native Heritage. Once back at the ranch enjoy a marshmallow or S'more roast around the bonfire. 
Boundary Ranch does not provide blankets, however small lap blankets can be rented. For the ultimate cosy experience back your own. 
The ride itself takes between 30 and 45 minutes, and includes a warming cup of hot chocolate or coffee. In addition to your ticket, extras including marshmallows or S'mores to roast around the bonfire, an Irish twist in your coffee or hot chocolate, and any additional drinks can be purchased. 
For fans of The Lion, The Witch and The Wardrobe, The Ice Queen, Frozen, or simply the romance of being on a horse drawn sleigh, this is a great way to see some of Canada's beauty. 
Kootenay National Park Tours – The Gateway into the Canadian Rockies
Exploring the unique landscape of Kootenay can be done in the traditional way (by bus or on foot) or through something a little more unusual.  
Scootin Koots
Book onto a Scootin Koots Segway tour and see the Kootenay National Park in a whole new way. Each 1.5 hour tour begins with a short training session where you will master the SegwayX2. 
On your SegwayX2 explore the wilderness surrounding Radium Hot Springs. On your guided you will head into the lush forests that border Kootenay National Park. As the experience is entirely off-road you will experience beautiful scenery and surroundings and some great photo opportunities while enjoying an unusual tour. 
Due to the nature of the tour and equipment used, guests are required to weigh between 90lbs and 260lbs which may not make this the best option for families with younger children. 
Waterton Lakes National Park Tours – The Land of Many Lakes
Waterton's landscape is where the prairies meet the peaks of the Rocky Mountains, while rivers meander and waterfalls cascade. Explore Canada's fourth National Park and its beautiful surroundings on a guided tour and above all, have fun.
Uplift Adventures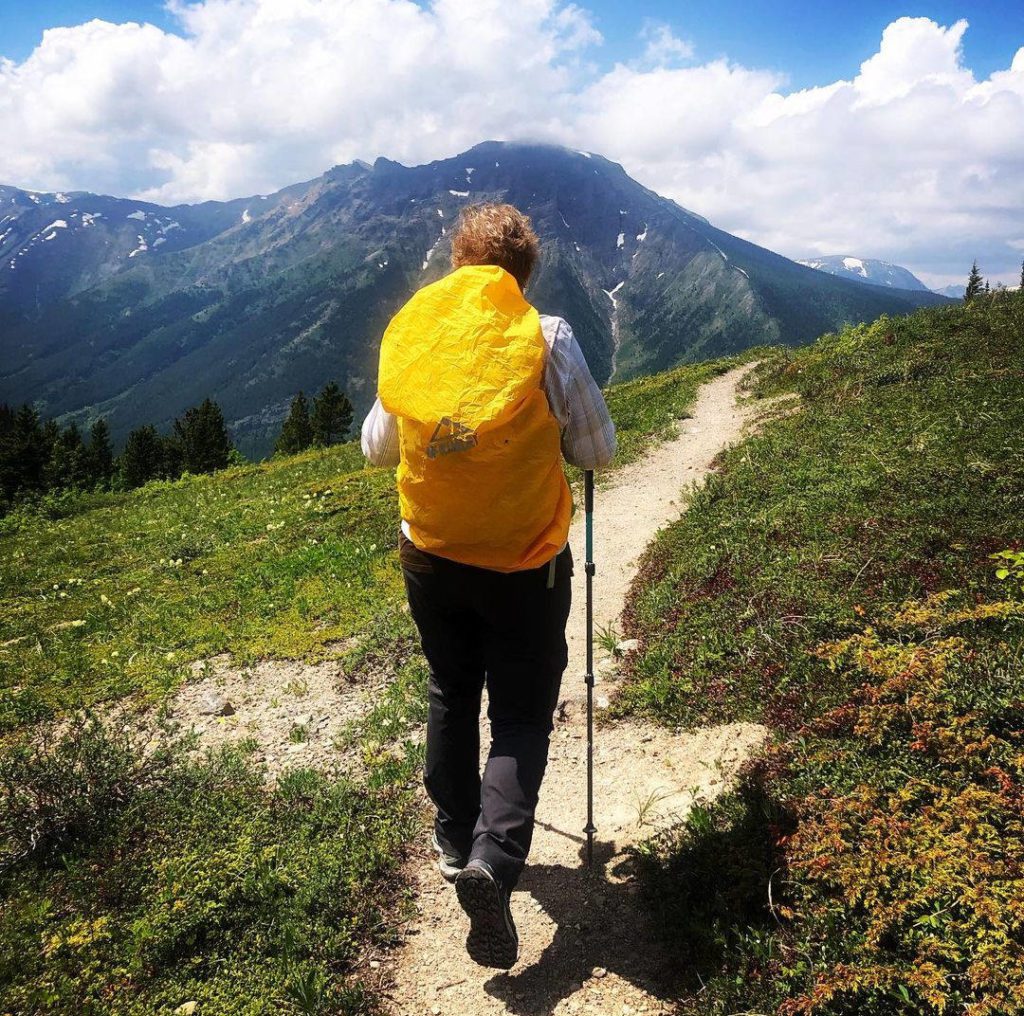 Uplift Adventures offer a range of outdoor activities and wilderness courses. Book onto an Intro into Backpacking course to understand what it takes to backpack successfully, head out on an overnight backpacking trip, or follow in the footsteps of famous Canadians on a historical tour. 
Uniquely, Uplift Adventures creates interpretive yours that tell stories to connect you to the nature and landscape surrounding you. The tours are all about combining learning and having fun. Above all, Uplift adventures are suitable for the whole family. 
One of the most popular tours with Uplift Adventures is the Waterton Wildflower Walks. This tour runs from mid-may to September on Monday, Wednesday and Friday. Meet your guide and learn about how to identify a range of diverse plants found in the National Park. 
Begin your tour at Crandell Lake where experienced guides reveal the interesting biodiversity of the area. Following this, at a slow pace your trail walk begins with regular stops to look at wildflowers. 
Whilst the tour covers 3.4 kilometres (2.11 miles) at a gain/loss elevation of 180m (590.55ft), it is carried out at a gentle pace making it suitable for all. 
Yoho National Park Tours – A Spectacular Landscape That Will You Keep You in Awe
Yoho National Park is deeply connected to its history, both through anthropology and geology. Tours of the Canadian Rockies through Yoho focus on reconnecting people with nature in a pure, organic and self-sustaining way.
Self-Propelled Adventures
Self-Propelled Adventures are a small local company that aim to preserve and promote a sustainable connection to outdoor activities. Above all, Self-Propelled Adventures aim to encourage people to slow down. They encourage guests to observe the world around them away from the stresses of everyday life. 
Self-Propelled Adventures offers a number of tours across the Canadian Rockies to inspire potential travellers. 
To truly understand the historical allure of Yoho, book onto the Emerald Triangle Tour. Due to it's advanced difficulty raiting, this trail is not recommended for families with young children, or those who struggle with hiking. The trek covers 19.7 kilometres (12.24 miles) in approximately 8 hours, at an elevation gain of 880m. Despite this challenge, the reward throughout the tour is breathtaking. Hike along Yoho and Burgess Passes, and head through the Wapiti Highline. From various viewpoints along your hike there are unrivalled views across Emerald Lake. Your guide will also share information about the world famous Burgess Shale Fossils. 
Summary
The Canadian Rockies are so vast and filled with wonder that it would take a lifetime to see everything. Coupled with the constraints of daily life, it can be difficult to decide what to do and where to go. As there is so much to do, there is a tour suitable for everyone's needs. For those who don't live there, the Canadian Rockies are a once in a lifetime experience. What better way to explore this incredible area than with an experienced guide. Tours in the Canadian Rockies are varied, exciting and above all will create incredible memories.