While taking in the astounding scenery of Banff National Park, you will likely also see many different animals that call this part of Canada their home.  Whether hiking the woods, paddling the rivers and lakes, playing a round of golf, or climbing rocky hills, the wildlife is abundant and easy to see if you know where to look and have a little patience.
In Banff, your best bets for seeing, watching and photographing wildlife are driving along Vermilion Lakes Drive, the Bow Valley Parkway or the Icefields Parkway early in the morning or late in the evening. The slow seasons for visitors (the fall and spring) tend to be the best times of the year to see animals, particularly bears and moose.
Following is an introduction to the wide range of animals that call Banff home.
Mammals
Elk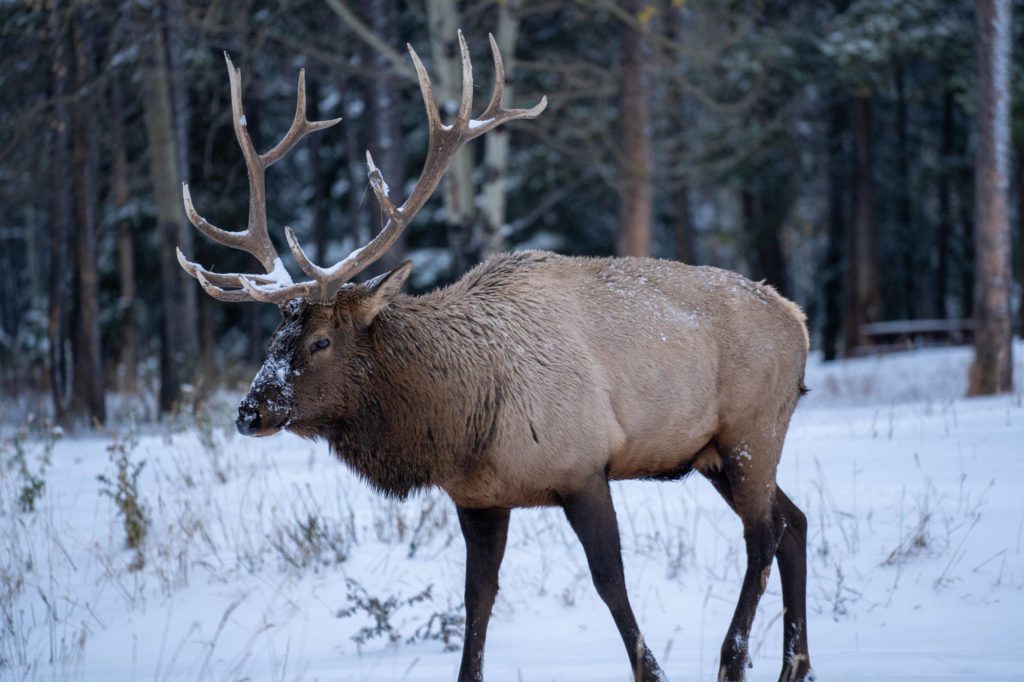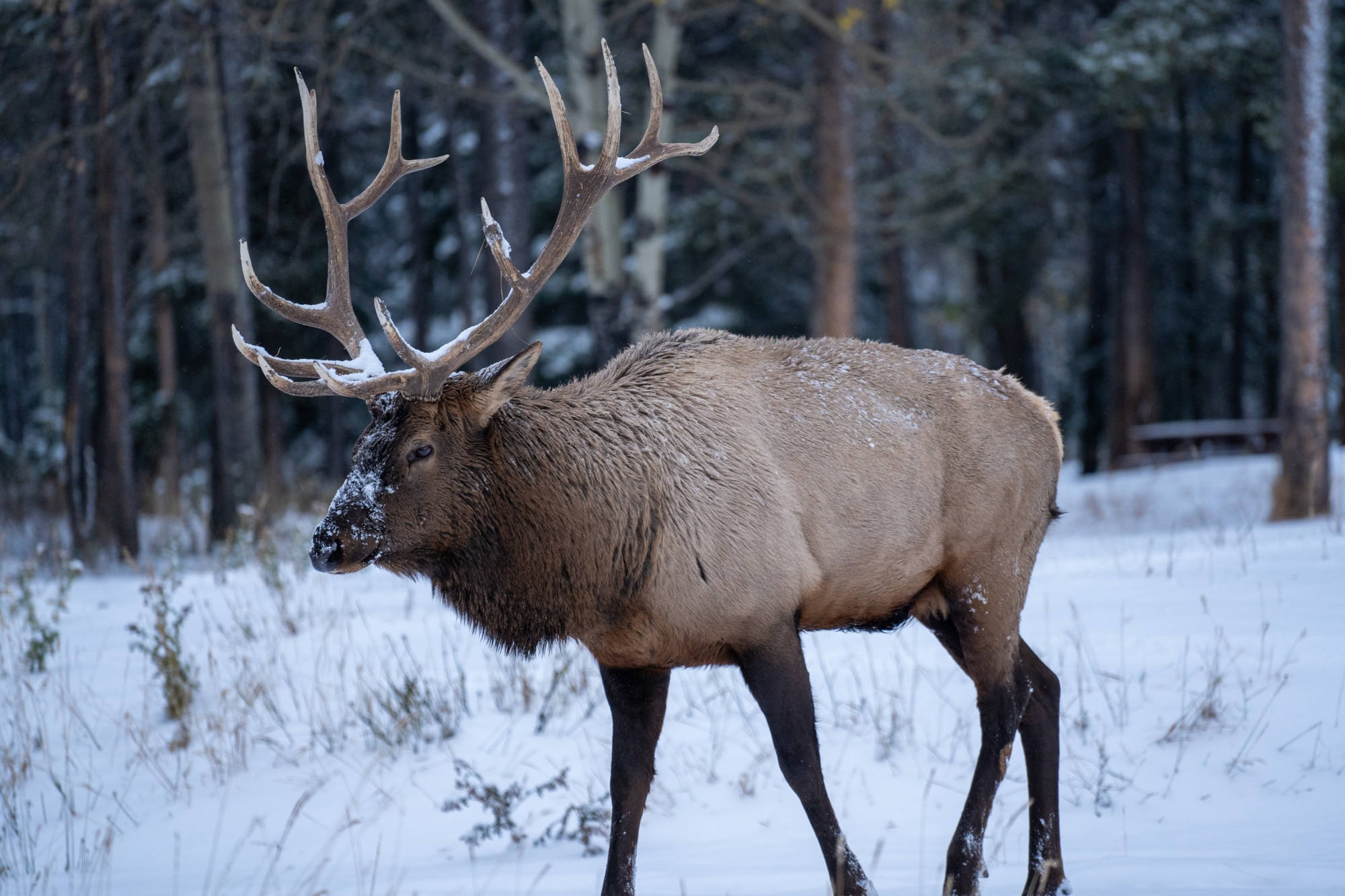 Banff has a robust elk population numbering in the thousands. The Vermilion Lakes Drive, the Buffalo Paddock, the Banff Springs golf course and the Bow Valley Parkway are all excellent venues for seeing and photographing elk, and the town of Banff itself is frequented by elk intent on eating the greenery in local's yards and escaping the predators they would face anywhere else in the park. For the best viewing opportunities, visit the park in late winter or early spring when huge herds gather at Vermilion Lakes and along the highway near the Buffalo Paddock, or come in September and watch the great bulls battle it out in the elk rut.
---
Elk Safety
Elk have injured far more people than bears…
DO NOT APPROACH THESE ANIMALS. STAY BACK 50 Meters
Use extra caution during Sept thru Oct which is their mating season – Male elk will fight anything approaching them including your car…
May and June is the birth season and mother elk will fight anything coming near their babies – which are usually hidden close by
These animals weigh over 1200 lbs and have antlers that are longer than your arm – and they move very quickly…
---
Moose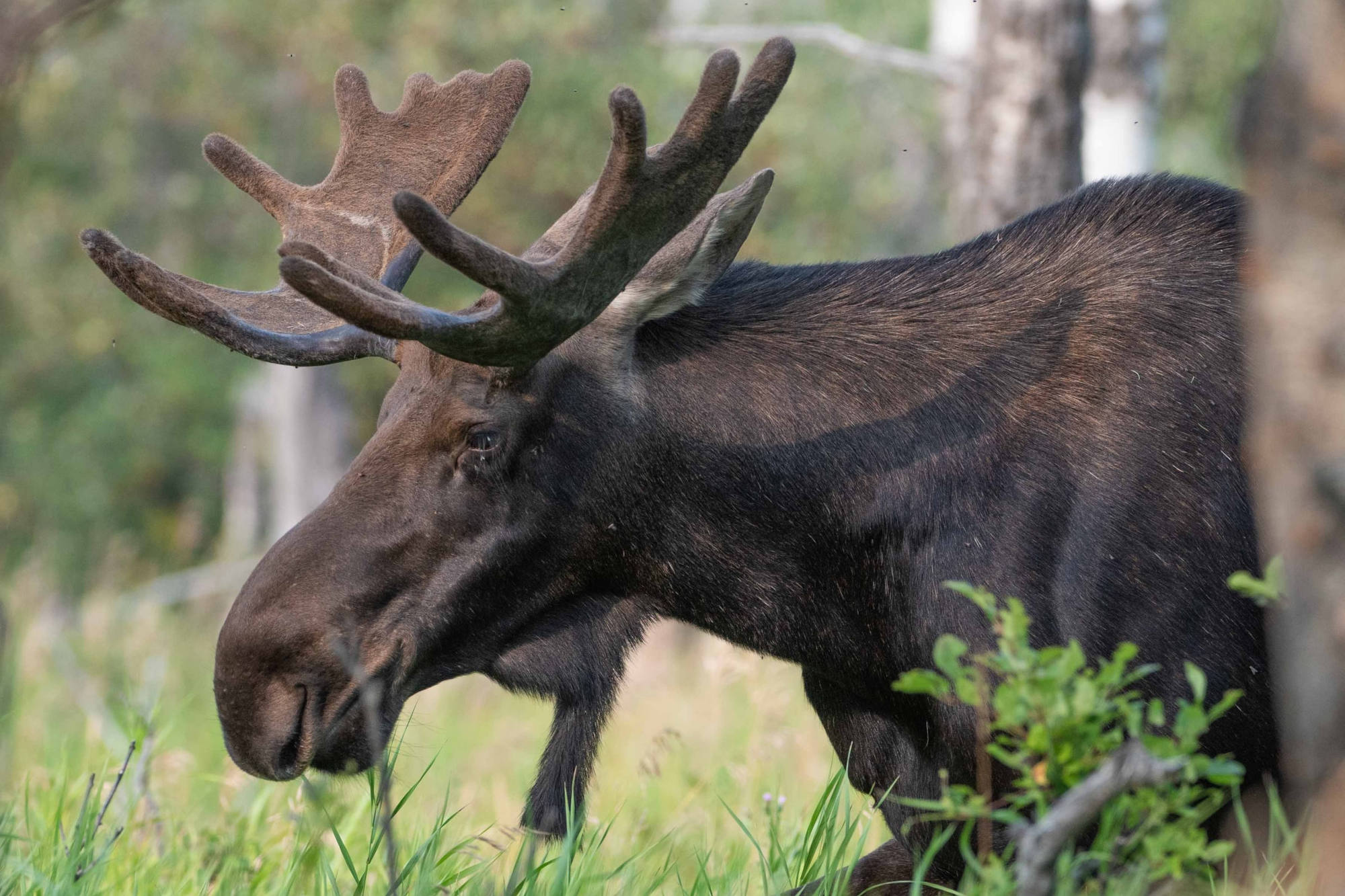 Moose are on the decline in the park, due in part to a deadly liver fluke, the return of wolves after a long absence, and an unnaturally high number of deaths on the railways and highways. However, you still have a good chance of spotting a moose in the ponds and lakes along the Icefields Parkway in the northern part of the park. The Saskatchewan River Crossing and Waterfowl Lakes areas are moose "hot spots" in the spring and summer months, and both Jasper National Park to the north and Kananaskis Country to the south have large healthy moose populations.
Deer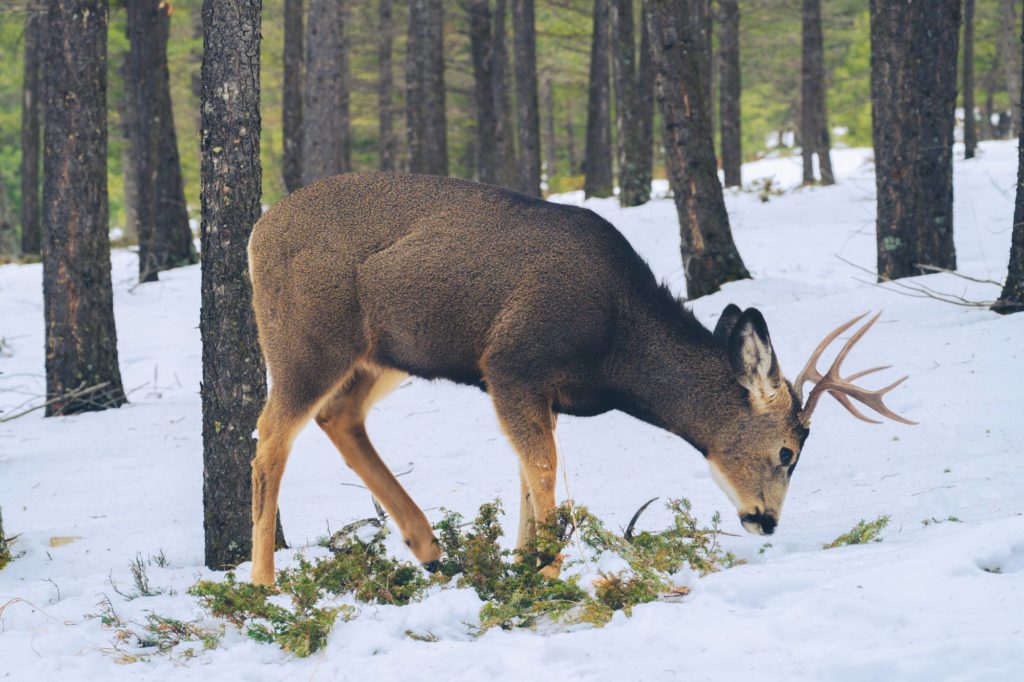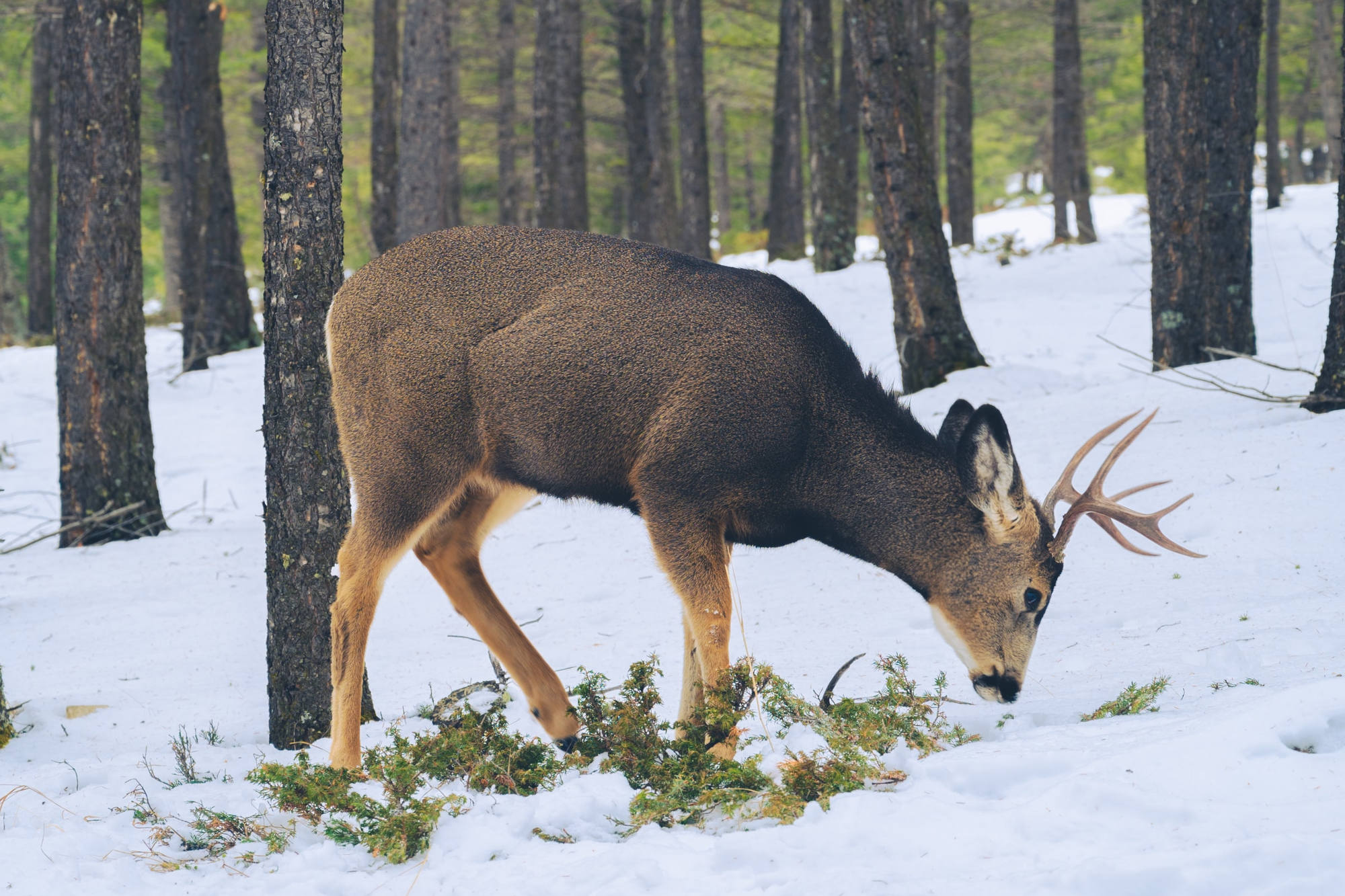 The park is home to both whitetail and mule deer, and both are common along the Vermilion Lakes Drive and the Bow Valley Parkway, particularly in the spring. There are twice as many mulies in the park as whitetails, and mule deer are common year-round in the vicinity of the Banff Centre and on the Mount Norquay Road. The mule deer are larger and have a black tip on the end of their tail in contrast to the smaller, more slender whitetails who have a white underside to their tail.
Bighorn Sheep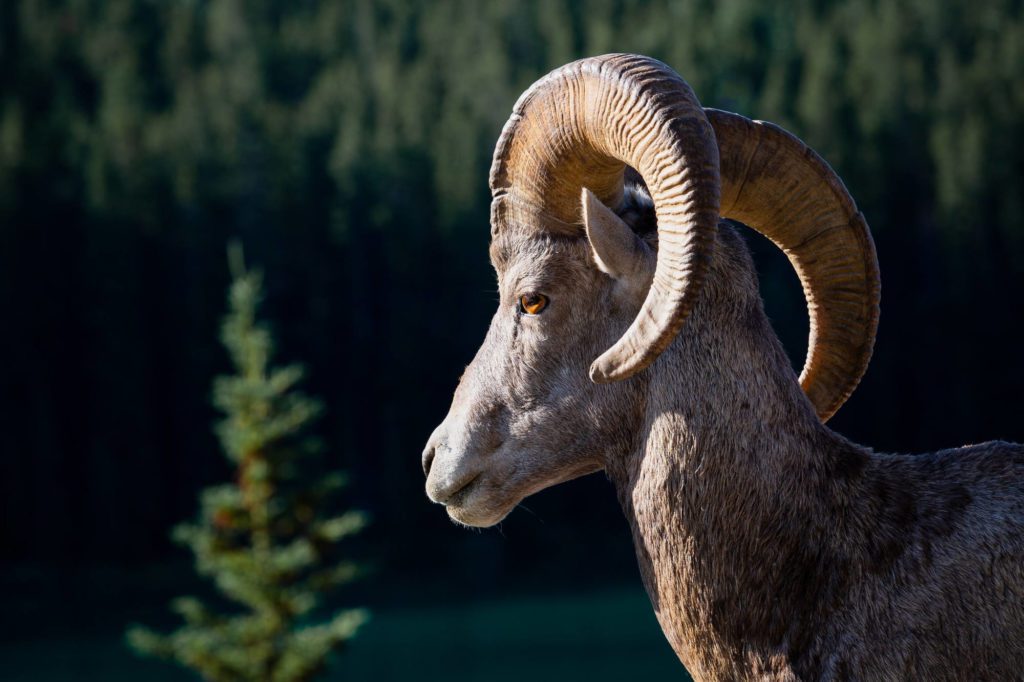 Bighorn sheep are abundant throughout the park, and are most commonly seen along the Bow Valley Parkway at Backswamp, on the Mount Norquay and Lake Minnewanka roads, and at the top of the gondola ride on Sulphur Mountain. The large rams are best viewed in the winter months when they are at lower elevations; in the summer, most of the rams and many of the ewes can be found by hiking into the high alpine meadows in the park.
Mountain Goat
Banff National Park has a healthy population of mountain goats, but has very few good places to view them from roads or short trails. Watch for them high on the cliffs along the Icefields Parkway as you approach Jasper National Park, or, if you're in a hiking mood, do a day-hike in to Bourgeau Lake and look for the herds of goats and sheep that call the area home.
---
The Difference Between Sheep and Goats
Mountain goats have shaggy white coats and sharp black horns like this one on the left, while bighorn sheep have brown coats and brown horns like the female on the right. You're more likely to see sheep in Banff National Park since most of our goats live at very high elevations on the cliffs and mountain tops.
---
Caribou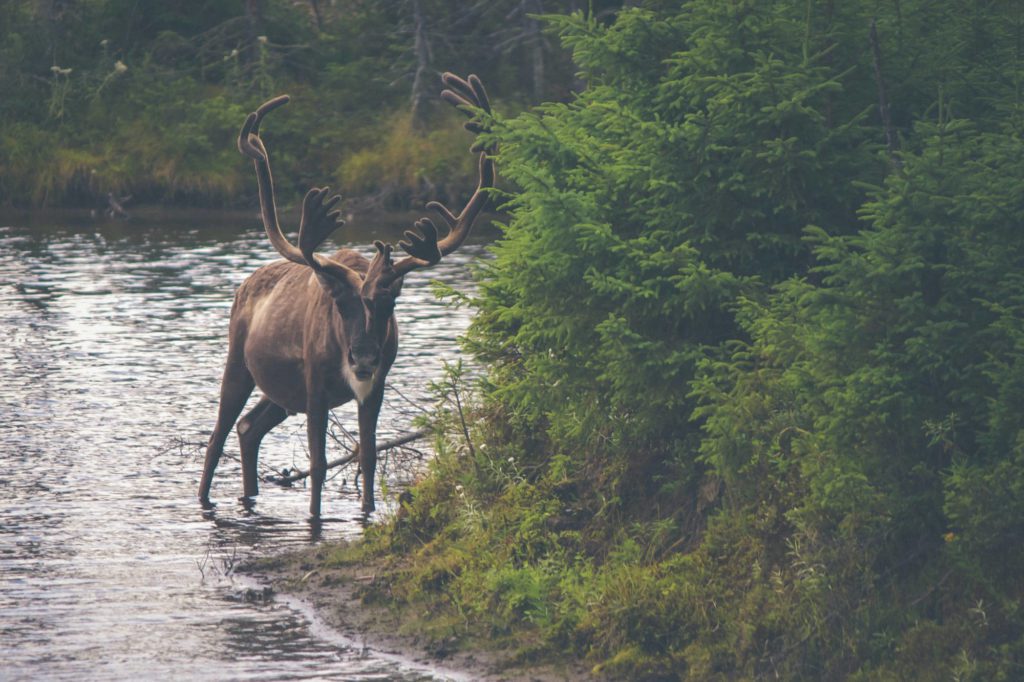 The mountain caribou's dwindling range in Alberta extends south into the northern section of Banff National Park, where a small herd of 10-15 animals makes its home in wild untouched country northeast of Lake Louise. The size of a large deer, caribou have dark brown bodies and white manes, and large curved antlers. Though rarely seen in Banff, sightings are common in Jasper National Park during the winter and spring.
Wolf
The park is home to 45 wolves comprising five different packs. After eradication from the park in the 1950s, wolves returned for good in 1982 and have been thriving in remote parts of the park ever since. Three of the five packs are rarely seen, but numerous sightings are made each year of the Cascade pack in the Lake Minnewanka area in winter, and of the Bow Valley pack between Banff and Lake Louise year-round.
Coyote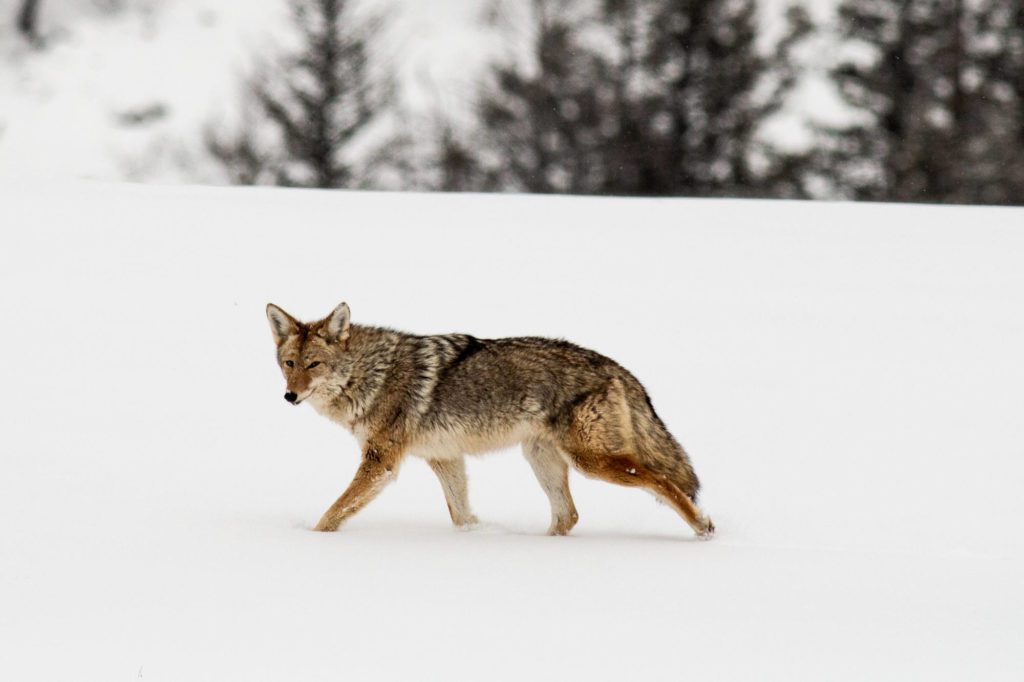 The coyote population in the park has been struggling in recent years, due largely to the increased volume of traffic on our roads. However, coyotes are still fairly common in most areas of the park where there are open meadows and good hunting grounds. The Vermilion Lakes Road, the Bow Valley Parkway and the Buffalo Paddock are each good places to spot them, as is most of Highway 93 South from Banff to Radium.
---
The Difference Between a Wolf and Coyote
Wolves are generally much larger than coyotes, and are usually the size of a large German Shepherd. They also have a broad face, in contrast to the narrow fox-like muzzle of the coyote. Coyotes come in one shade, a greyish-brown, while wolves come in all colours, including grey, black, white and brown.
---
Mountain Lion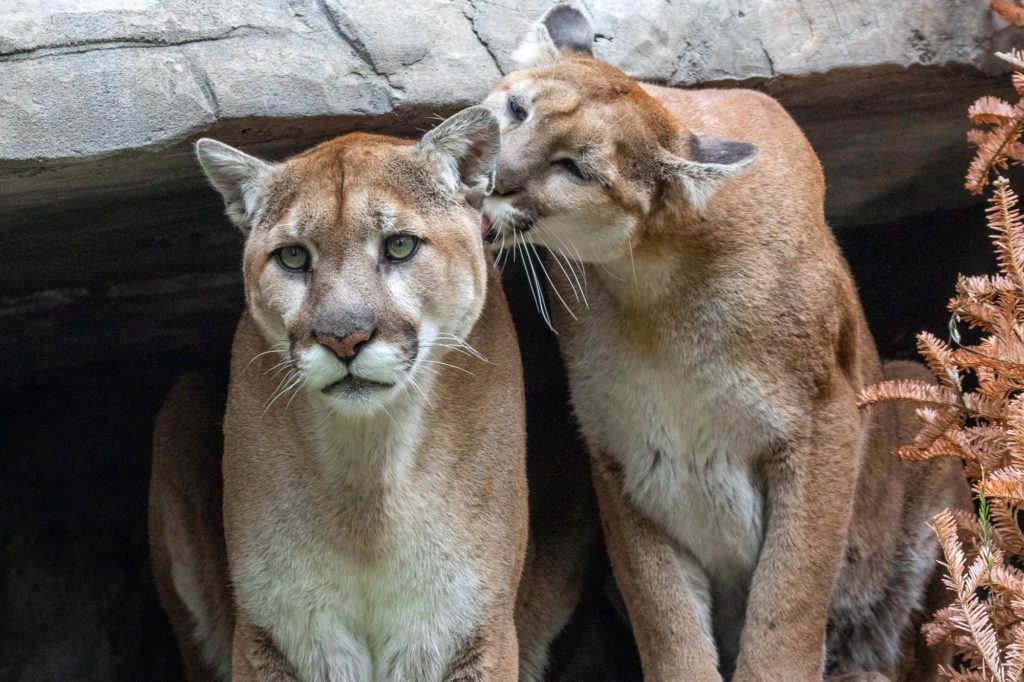 The park supports a small population of mountain lions (or cougars), however, sightings of these wily cats are extremely rare. They prey upon the park's deer, bighorn sheep and elk populations, and cat tracks are often sighted in the winter in the Mount Norquay and Sunshine Road areas. A much larger and more viable population of mountain lions lives to the south of the park in Kananaskis Country.
---
Mountain Lion Information and Safety
Mountain Lions are wary animals that naturally keep their distance from people. The recent encounters between mountain lion and people is unusual, but sightings in the Old Fort Point and Jasper Park Lodge area are not a rare occurrence. This is prime habitat for mountain lions. A majority are not attacks and result in no human injuries. A few years back. an incident involved injury to a dog and is unconfirmed whether the dog encountered a mountain lion or not. Parks Canada posted WARNING AND CLOSURE signs in the area immediately after the first incident. Due to the additional recent incidents, this warning area has been increased. The closed area remains the same. Wildlife specialists will continue to monitor the area and the area closure and warning will be removed when public safety is no longer at risk. Notices have been circulated widely throughout the Jasper community and key contact points to our visitors.
What should you do?
Avoid use of this area where the mountain lion has been seen.
Tips When Encountering a Mountain Loin
Do not approach the animal
Face the mountain lion, and retreat slowly
Do not run or play dead
Try to appear bigger by holding your arms or an object above your head (knapsack, bicycle, etc.)
Immediately pick up small children
Be aggressive, shout, wave a stick or throw rocks to deter an attack.
---
Black Bear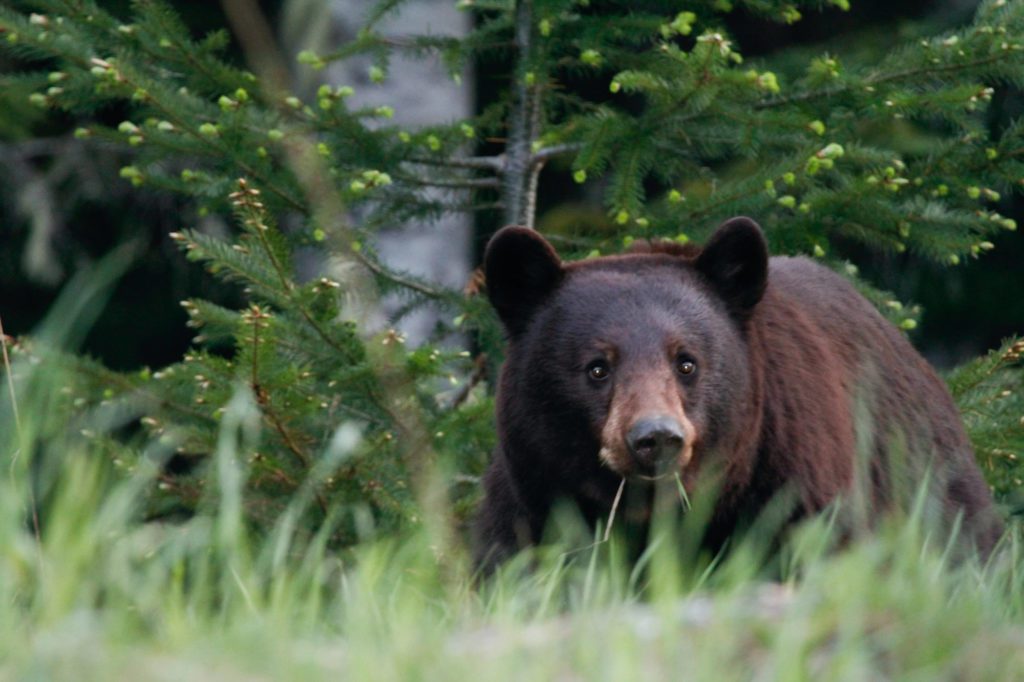 The black bear population is considered to be a threatened species in Banff National Park, with only 35-40 left. However, sightings in the spring and summer are still quite common, particularly along the Bow Valley Parkway and the Trans-Canada Highway between Banff and Lake Louise, and on the Icefields Parkway near Saskatchewan Crossing. Black bears in Banff come in a variety of colours, including black, brown and cream, and eat everything from ants to dandelions to buffalo berries. They go into hibernation in late October and usually don't emerge from their slumber until late April or early May.
Grizzly Bear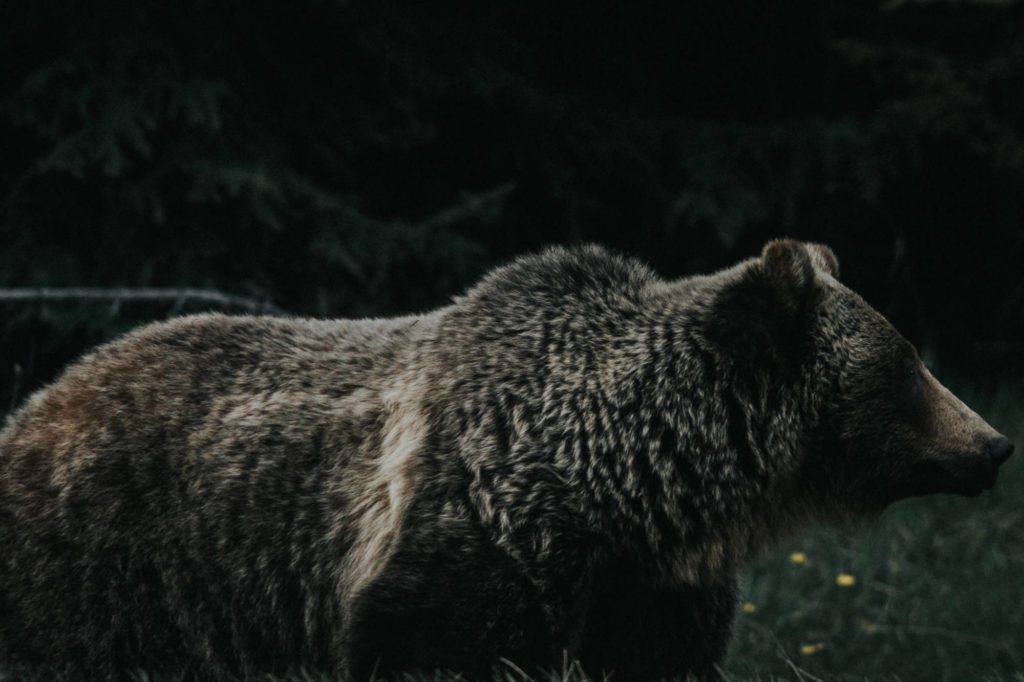 Surprisingly, there are more grizzly bears in Banff than black bears. Grizzly researchers working on the Rocky Mountains East Slope Grizzly Project estimate that the park is home to about 70 of the great bears. Grizzlies can be distinguished from black bears by the large hump of muscle on their shoulders and from the shape of their face: grizzlies have very broad round faces, while black bears have narrow roman profiles much like a dog's face. While sightings of grizzlies are rare, you may spot them in the backcountry or along the Bow Valley Parkway or the Icefields Parkway.
---
Bear Safety and Awareness
Both black and grizzly bears inhabit front and backcountry areas of the Canadian Rockies. Your safety is your own responsibility. In order to minimize encounters with bears that could endanger your life and that of the bear, please follow these suggestions:
Make plenty of noise to ensure you will not have a surprise encounter with a bear. Whistle, sing, clap your hands or holler every now and again, especially when travelling through thick brush, near streams, on avalanche slopes and through berry patches. Clapping and making noises like the classic pig call (soooouuuEEE) tend to travel farther in windy, noisy (creeks are surprising noisy) enviros.
Keep your eyes open for any sign of bears like tracks, diggings, poop.
Don't take pets into the backcountry, they may provoke a bear attack.
Hang all food, garbage, pots and pans, toothpaste, etc. from bear cables (in designated campsites) or from solid trees or cliffs.
In random camping areas sleep well away from your cooking area and camp at least 10 metres off the trail.
Where fires are permitted, burn all combustible garbage completely and carry out everything else.
Never put garbage down a pit toilet as it may attract bears to the campsite.
A quick check with your local park visitor centre will usually have 'bear hot areas'. Most parks are closing areas where significant bear activity is present.
Keep a clean camp. Do not leave anything out while you are away from the area. I've seen bears eat toothpaste, soap, tinfoil, SOS pads, deodorant, entire tubs of margarine, etc. Campground bears know what coolers are (that's where the food is kept) so place them inside your car when not in use.
If you do encounter a bear on the trail, stay calm (yes I know, its tough), talk to them, yell at them (to ensure they can hear you, tell them all about the lovely berries you saw 20 miles to their right). Bears tend to stand up on their hind legs when they encounter you so don't be alarmed. They are trying to smell you.
Things to Remember about Bears
Climbing trees (if required) are good if you can manage it. Most of the branches on the predominant spruce and pine here in the mountains that can support our weight are about 8 feet up.
Most bears can run at about 35 miles/hr (that's about 55 km/hr for those of us in Canada) and can maintain that speed for several miles. Yes they get slowed up running downhill on slopes in excess of 20 degrees, unfortunately so do we.
Bears will NOT usually follow you up a tree UNLESS it's a black bear mom who's cubs are nearby (she's just doing her job). She'll go away to take care of her cubs when she's satisfied you're not a threat. Hopefully you haven't picked the same tree her cubs have climbed up.
Remember grizzlies have a good 8-13 foot reach (depends on size) so climb high. I have also watched a grizzly climb a tree where the lower branches allowed it to pull itself up by its forearms.
Bear spray is a defensive measure only that is to be sprayed directly into the face of the bear if they are charging at you. Be warned, it's usually only effective at a range of about 8-10 feet. I know they claim 30 but wind and your shaking hands will make it difficult.
Guns are not allowed to be carried in any national park. Provincial parks do not allow guns either* (*except in a very few designated seasons and areas for hunting purposes)
If a bear, after you have told it all about the easy snacking in the next valley, won't go away, it's time for you to go away.
If the bear is walking towards you on the trail, get off the trail as best and as far you can without falling off a cliff or such. More than likely the bear wants the trail. Hey, it beats crashing thru the bush, that's why we made them.
If the bear is standing it's ground (i.e, pawing the ground, smacking it's lips), it's guarding something, most likely something to eat. Back away talking to it, keep going back down the trail until you can not see the bear anymore. Go back to the park ranger/warden office and tell them what behaviour you saw (the pawing of the ground) so they know you're not just a freaked out hiker who 'saw a bear' and can investigate.
Above all remember, they are not out there waiting for you like Ninja Bears. More than likely you will have more trouble with the dang ninja squirrels. Just follow some common sense rules like making noise when you can't see so you do not surprise a bear, tell them all about yourself if you run into one, and keep calm.
---
Pika
Moving on to some of the mammals that can be found in Banff National Park, one of the noisiest is the Rocky Mountain, or American, Pika.  These little sentries sound the alarm with a shrill peeeee-ka when danger approaches.  Closely related to hares and rabbits, there is a resemblance though the Pika has short, rounded ears.  The body is very round, limbs are short, and they have an even coat of light brown, tan and grey fur which is excellent camouflage against the rocky mountains where they like to live.  They eat mostly grasses and the flowers and stems of plants and can be seen gathering these items in autumn to take to their burrows for a long winter.  When you are hiking on rocky trails up in hilly or mountainous areas, keep an eye out for "pika piles"; small piles of vegetation that a pika will collect and leave out on rocks in the sun to dry.
Hoary Marmot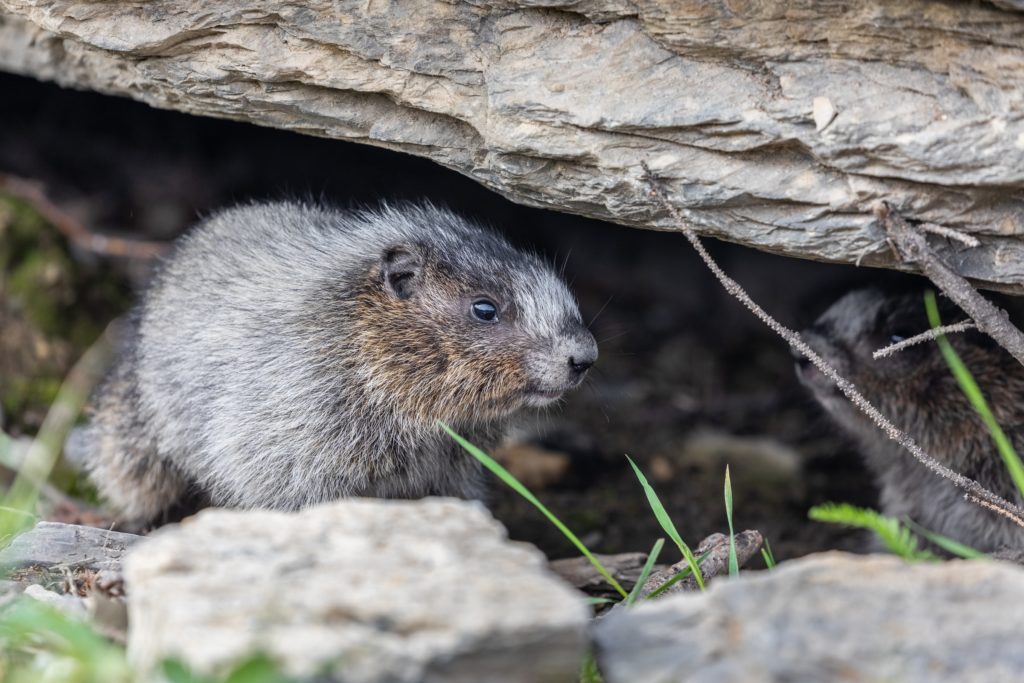 In the mountains above the tree line, in subalpine meadows, you will be in the habitat of the hoary marmot.  Also known as a whistle-pig, you can often hear its trademark whistle before you see it stretched out on a boulder.  They are most active in morning and evening, spending many mornings warming in the sun.  The name of this large, bulky, ground squirrel comes from the silver-grey fur on its shoulders and upper back.  Further down the body the fur tends to be a muted- or reddish-brown.  During the summer, they spend a lot of time eating the leaves, flowers, grasses, and sedges found in the mountains to create fat reserves critical for their survival during their hibernation that can be up to eight months in the winter.  They dig burrows in the soil and live in large colonies.  The underground system of sleeping burrows, added to each year, also can keep them safe from predators such as eagles, bears, coyotes, wolves, and cougars.
Porcupine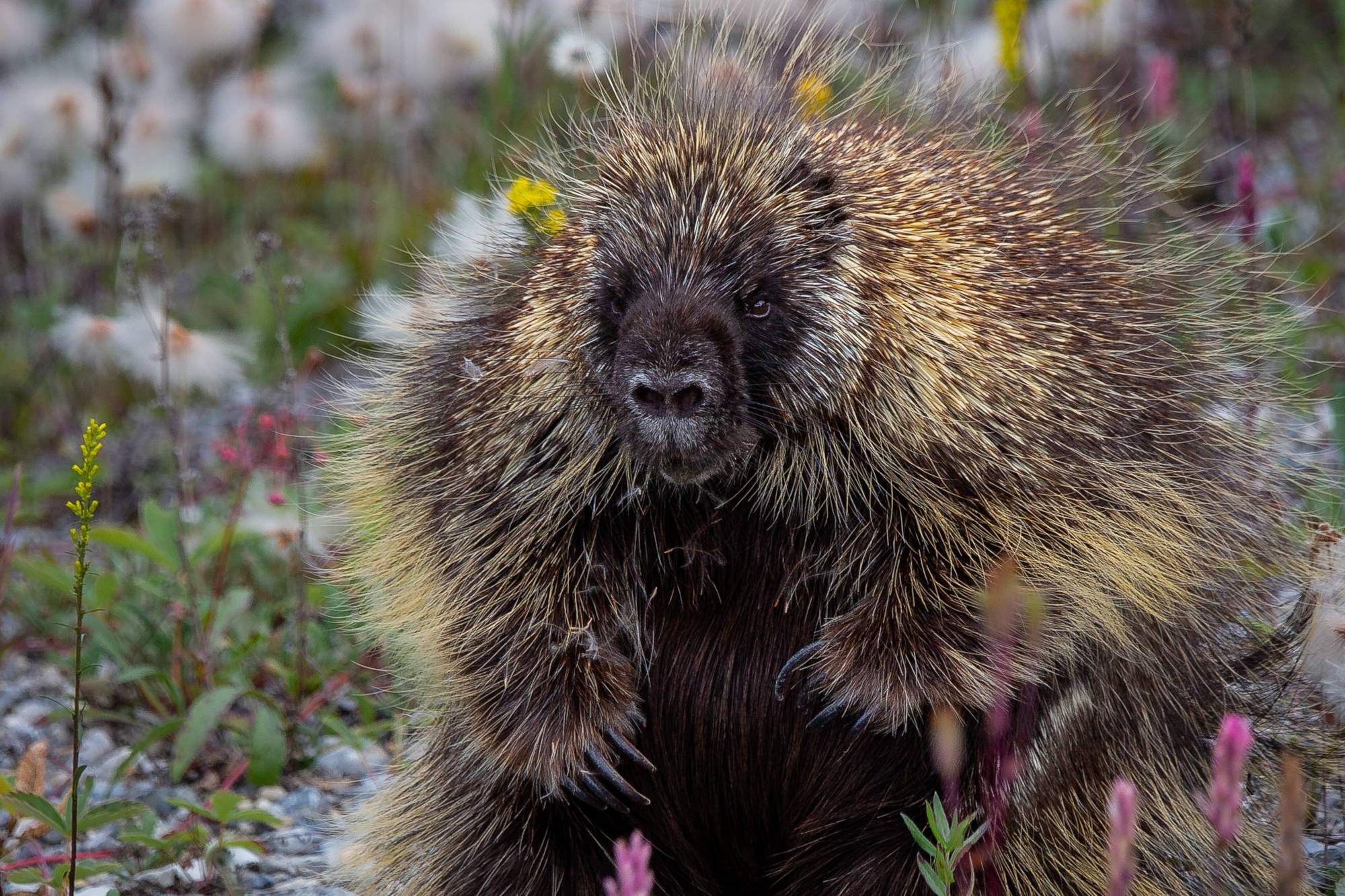 Another mammal found in Banff National Park is the porcupine. While generally nocturnal, it is not uncommon to see them during the day in the subalpine forests of the area. They are excellent climbers, foraging for leaves and twigs as part of their herbivorous diet so you may want to look up as you hike.  Their dark brown coloring does help them blend in even though they have large, rounded bodies and can reach up to 35 pounds.   On the ground, they will eat green plants like clover and other herbs and tend to move at their own pace, not typically showing aggression.  That said, as we all know, they rely on a covering of sharp, modified, keratin-covered hairs interspersed with their fur as a defense, indicating to would-be predators that they are not worth the effort.  Quills are not thrown as has been popularized by stories and myths, but rather are released on contact. Sometimes, you may find quills on the ground as they may be released when a porcupine shakes its body. 
Birds
Bald Eagle
Soaring birds are sometimes the first to be seen as it only take a look up or perhaps a good ear to recognize what is above you.  Bald Eagles can frequently be seen in the area.  They mate in the early spring and choose nesting sites that are high up in sturdy trees.  With a more than seven-foot wingspan, they can catch warm thermal columns of air that can lift them up high.  Look for the bright contrast of their dark brown bodies with white heads and tails on mature birds.  The characteristic bright yellow, strong, hooked beak may help confirm a sighting, even of a younger bird (less than five years old) that still has its brown mottled plumage.  Eagles are opportunistic hunters that can be seen searching for prey above meadows as well as rivers and lakes in the area.  They tend to prefer the latter for nesting sites.
Dusky Grouse
Hikers traversing the edge of where forests meet open country might have the opportunity to hear or see a Dusky Grouse. Previously grouped with another species and known as Blue Grouse, this now distinct species is a large bird with brown mottled plumage that blends in quite well. In fact, in early spring it may be more frequently found by listening for a series of deep hoots that are the song of males hoping to attract a mate. If lucky enough, you may see the males conduct displays either from perches in trees by strutting on the ground. Males can become territorial and aggressive during mating season.
A few years ago, a particular male Dusky Grouse near Canmore was frequently following and charging at hikers and bikers in an effort to defend its territory. They will forage on the ground for plants and insects and can also be found in trees, especially in winter when they forage for leaves, needles, and buds in the protection of dense conifer forests.
Canada Goose
Even if you aren't still looking up into the sky, you may hear a group of Canadian Geese coming your way. Famously migratory, flying up to 1,500 miles in one day, these birds arrive in the Banff area as the temperatures warm and open water forms from freezing winter temperatures. Mates for life, they nest along lakes and can frequently take over the nests of Osprey before the previous owners return. While known as waterfowl, Canada Geese spend a lot of time on land. As social birds, you can see them in large groups in grassy areas near shore where they eat – surprise – grass, up to three pounds a day.
They may also eat other green plants and small bugs. As cute or comical as they may look, waddling around, do note they can be aggressive towards people and other animals and fiercely protect their young.
Osprey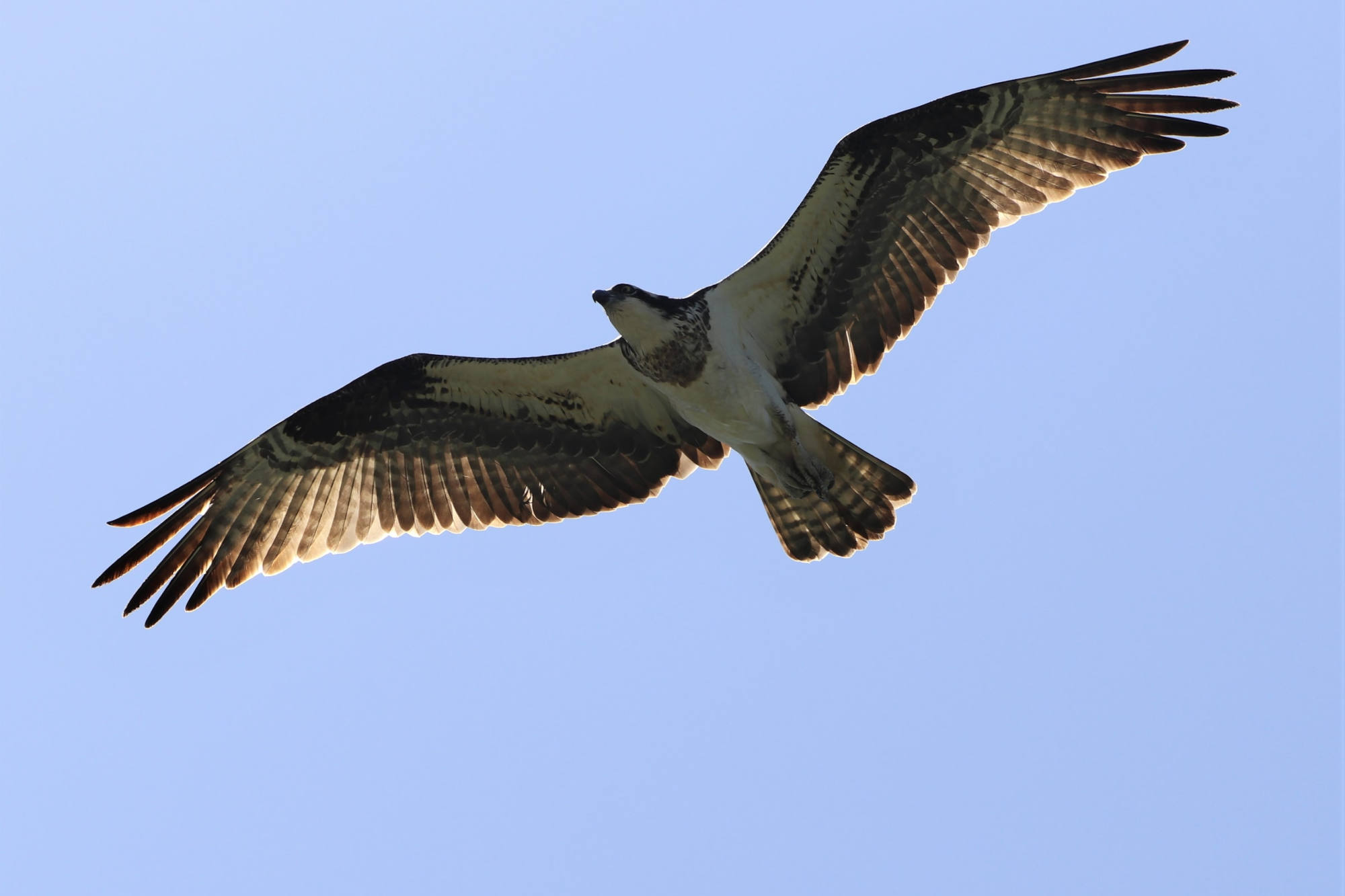 Another raptor, or bird of prey, that can be seen soaring above Banff National Park is the Osprey.  These diurnal birds are most often seen mornings and evenings in the spring or summer soaring to or from fishing areas.  They are migratory and often return to previously used nesting sites year after year.  They are the only raptor to exclusively eat fish.  Don't be surprised to see one drop from a high altitude directly into a lake to pluck a fish out.  If you aren't in a hurry, and come upon one that is fishing, it is worth taking the time to admire its stamina and patience. You might even cheer for it when it snags a fish and heads off towards its nest. Note how it holds the fish, as Osprey are known for carrying the fish in a streamlined manner as it flies.  Osprey are smaller than eagles with a wingspan up to 6 feet, which is still quite large.  As they soar you will notice a more mottled, white and brown body underneath.
Repecting Wildlife in Banff National Park
Please respect all wildlife you encounter and remember that Banff National Park is their home. 
Recommended Wildlife Tours
One of the greatest reasons to visit the Canadian Rockies is the chance to see some of North America's most magnificent wildlife, including the grizzly bear. With guided wildlife tour companies, you'll get the opportunity to not only see these animals, but get some of the best and most unique views possible.
Here are the four companies we recommend to make your vacation in Banff truly special.
Banff Adventures
Banff Adventures offers sightseeing and wildlife tours throughout the Canadian Rockies, giving you the best chance to view elk, moose, bears and other wildlife in their environment. Tour guides will help you to not only see the animals, but learn something about them as well.
Timberwolf Tours
Timberwolf Tours offers sightseeing and outdoor adventure activities throughout the Rocky Mountain national parks of Banff, Jasper, Yoho and Glacier, parks of northwestern BC, the Yukon, Vancouver Island and the Pacific shores.
Discover Banff Tours
Discover Banff Tours offers a variety of daily interpretive sightseeing tours in Banff National Park with small groups and professionally accredited guides.
Sundog Tours
SunDog Tour Co. offers memorable sightseeing tours, activities, and luxury transportation services in Jasper, Edmonton, Lake Louise, Banff and Calgary.