There are so many things to do in Banff National Park that you will wish you had more time on your vacation. It is easy to spend your first few hours in the park in sheer amazement at the scenery. It will seem as if the phrase 'majestic splendor' originated from someone's experience in the shadow and views of these Canadian Rockies.
However, while there are exceptional drives and lookouts that will afford you every opportunity you want for the breathtaking landscapes, your next great adventure is waiting for you no matter the season.  Get out in nature to explore, breathe deep, and unplug from your normal grind and then settle in for pampering and relaxation meant to rejuvenate.
Things to Do in Banff in the Summer
The warm summer months are the most popular time in Banff and certainly the list of things to do at that time of year is a bit longer. Hiking is an obvious choice, but don't forget your camera for nature photography. Bring along your sketch book or art supplies for some plein air painting.
Day hikes about for all skill levels and interests. From the one-hour Stewart Canyon trail with little elevation change up to the 6-hour, 13 km/8 mi Cory Pass Loop gaining over 900 m/3,000 ft in elevation, Banff trails will take you into meadows, along rivers and lakes, into woods and onto rocky slopes. 
Many accessible trails in Banff can be found such as the Hoodoos Trail for wheelchairs and strollers, as well as the Banff Gondola. Enjoy a birds-eye perspective on a thrilling ride up Sulphur Mountain for sweeping views that will take your breath away.
If you'd like to a soak up some local expertise, take a beginner mountaineering class with Yamnuska Mountain Adventures. Move beyond hiking with their rock climbing experiences for both beginners and those ready for multi-pitch routes.  Take in some family fun at Valley Zipline Adventures consisting of 7 zipline tours in the gorgeous Columbia Valley!
Contact Banff Trail Riders for an unforgettable horseback ride or make a reservation with Wild Water Adventures for the river rafting trip of a lifetime. Catch a brown trout in the upper Bow River or let Golf Canada's West set you up for the most scenic round of golf you may ever play.
Things to Do in Banff in the Winter
For those that love winter sports, there is a long list of options of things to do in Banff in winter. In December alone, areas in Banff National Park can get from 44 cm/1.5 ft to 76 cm/2+ ft of snow creating scenery into which you can venture out, hot cocoa in your pack.
Skiing and snowboarding opportunities abound as you might expect. But did you expect caving in winter? It's here. If the slopes aren't your speed, but you do like moving fast, go ice skating either on Lake Louise by the Fairmont Chateau or at an indoor rink. Rent snowshoes to explore the woods in winter or arrange for a guided interpretive hike to learn from a local and learn about area wildlife this time of year.
Book Your Banff Activity
Featured Banff Activity Partners
Banff Things to Do – The Ultimate List
Quick Links
Campgrounds
Real Estate
Weddings
---
Banff Summer Tours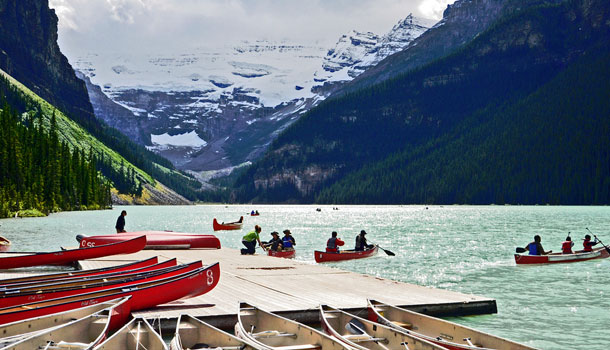 ---
---
Banff Area Activity Options
For the Kids
Take the kids to the Yamnuska Wolfdog Sanctuary, open year-round, to learn about wolves in the wild and see them up close, well, somewhat close. If you need to balance the outside fun for kids with some inside activities, you can find arcades, bowling and entertainment centers, and movie theatres in the towns of Banff, Canmore, and Lake Louise. Those communities also have a wonderful variety of shops featuring local artisans, gift shops, and specialty stores.
For Relaxation
With all there is to do, you might need some down time to relax or when you just need some pampering. You can choose the nature-made spa at the Banff Upper Hot Spring pool where you can gaze up at the mountains. If you'd prefer the more traditional spa experience, there are many spas and wellness centers in the Banff-area communities ready to treat you to a facial or a massage.
For Dining
Sampling everything Banff National Park has to offer can also include fine dining. If you didn't think you could enjoy a chef's tasting menu with wine pairings in the middle of the mountains, think again. Arrange to have dinner at Eden for French-inspired dishes celebrating local ingredients. Steakhouses such as the 1888 Chop House offer the most refined surf and turf imaginable.
Ready to start planning your getaway to Banff National Park but feeling overwhelmed? Check out our Ten Things To Do list, and our Insider's Guide to Hiking Banff. Click our sponsors links or any of the links below to quickly get information on other activities in Banff National Park.