Nestled in the heart of the Canadian Rockies, Banff is renowned for its breathtaking natural beauty. However, beyond its stunning landscapes, this charming town also boasts a rich cultural heritage. With a plethora of museums showcasing diverse exhibits, Banff offers visitors a unique opportunity to delve into the region's history, art, and indigenous culture. In this comprehensive guide, we will introduce you to a collection of the galleries and museums of Banff and the Rockies, providing essential information such as location, opening hours, entrance fees, and highlights of the exhibits on display. You'll also find details on special seasonal events and family-friendly programs to make your visit to Banff National Park a truly immersive experience for everyone in your traveling group.
Whyte Museum of the Canadian Rockies
Location: 111 Bear St, Banff, Alberta, Canada
Operating Hours: Open daily from 10:00 AM to 5:00 PM
Admission Cost: $12 CAD ($10 USD) for adults, $10 CAD ($8 USD) for and students, and free for children under 12 years old and are valid for 90 days from purchase.
The Whyte Museum of the Canadian Rockies showcases the art, culture, and history of the Canadian Rockies region. It features a diverse collection of artwork, historical photographs, and artifacts that highlight the natural beauty and human stories of the area. In addition, the museum also offers educational programs, exhibitions, and events throughout the year. 
Allow yourself at least one hour to enjoy everything the museum has to offer. However, many of the special programs and exhibits may entice you to linger a bit longer. When planning your itinerary, schedule an arrival no later than 4:15 PM. You will be required to check any large personal bags when you arrive.  Please check all backpacks and large bags upon arrival. Children under twelve are welcome but must be in the company of a supervising adult. 
Current Exhibits
Tom Willock: Celebrating an Exceptional Photographer
October 20, 2023 – January 19, 2024
This photographic exhibit, which runs until mid-January 2024, highlights the beauty of the natural world as seen through the eyes of photographer Tom Willock. Tom Willock, a natural historian and photographer, chronicles the nature of Southern Alberta in beautiful black-and-white, selenium-toned photographs. Dawn Mist Falls, one of the cornerstone pieces of the exhibition, required Tom to spend days wandering through waterways and forests to capture the perfect marriage of light and leaves. Tom's work also features images of the familiar sweeping mountainscapes like those witnessed by visitors to Banff National Park. 
​Bow Biennial: Four Unique Perspectives
October 20, 2023 – January 19, 2024
The Bow Biennial has been relaunched in 2023 after a pandemic pause. Traditionally, this event takes place every two years, shining a spotlight on the Banff community. This season it focuses on the work of four talented artists from the Alberta region: Amy Dryer, Wanda Ellerbeck, Barb Fyvie, and Eileen Murray. Each of these artists displays a unique method of artistic creation while sharing a unified sense of their surroundings in the Canadian Rockies. 
Banff Park Museum National Historic Site
Location: 91 Banff Ave, Banff, Alberta, Canada
Operating Hours: Open daily from 10:00 AM to 5:00 PM
Admission Cost: $4.90 CAD ($4 USD) for adults, $4.40 CAD ($3.50 USD) for adults 65 and over, and free for youth under 17 years old
The Banff Park Museum is a historic site featuring a collection of over 5,000 specimens of wildlife, including birds, mammals, insects, and plants. The museum building itself is a charming log cabin, dating back to 1903. It is considered one of the oldest natural history museums in Western Canada. Visitors can explore the exhibits and learn about the diverse flora and fauna of the region, connecting them on another level to the nature they will experience on the trails of Banff National Park.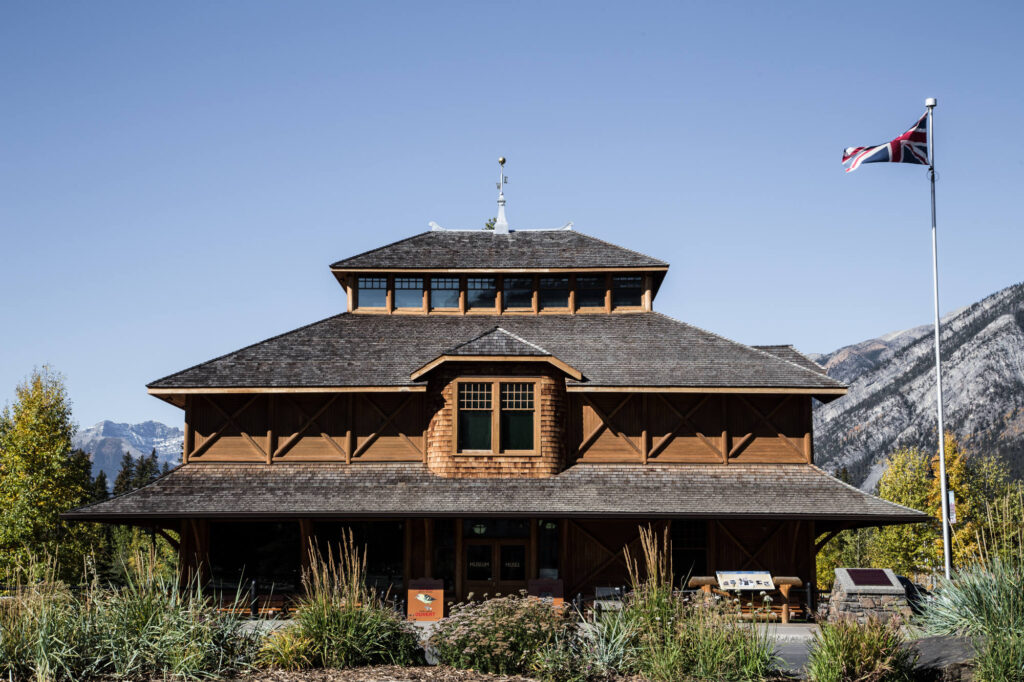 Current Exhibits
Mountains of Change Exhibit
Through 2023
Climate change affects many things—including the landscape of Banff National Park. As the climate warms, many familiar attractions in the park are undergoing a transformation. The Mountains of Change Exhibit uses science to educate visitors on the effect climate change has on Canada's national parks and the profound facelift the area in and around the Canadian Rockies is experiencing as a result. The exhibit also explores the proactive steps Canada is taking to preserve precious natural resources and ecosystems so both Canadians and visitors can continue to enjoy the beauty of the parks for generations to come.
The Xplorers Club
Ongoing
The Banff Park National Museum offers a fantastic opportunity to get kids excited about the natural history of the Canadian Rockies—The Xplorers Club. 
Designed for kids between 6-11 years old, this program provides participants with an Xplorers booklet packed with engaging activities designed to pique youngsters' curiosity and educate them about Banff National Park in a fun, exciting way. The activities can be completed in different areas and locations around the park—including the museum!
Children can try their skills in completing a jigsaw puzzle. They can become detectives and try to locate Norman Bethune Sanson, the famous former curator of the museum. They can even explore the Bow River to complete an exciting scavenger hunt. Six completed activities earn participants an official Xplorers certificate and a special Parks Canada souvenir.
Young or old, there's so much to see at the Banff Park National Museum, including lifelike specimens of local wildlife—cougars, elk, bears, and bighorn sheep—and native plants. There is even an Interactive Discovery Room where visitors can get hands-on with local fossils and preserved furs. Visit the Banff Park National Museum, and enter the rustic, historic log structure in the middle of Banff to explore two stories of exhibits.
Buffalo Nations Luxton Museum
Location: 1 Birch Ave, Banff, Alberta, Canada
Operating Hours: Open daily from 10:00 AM to 5:00 PM
Admission Cost: $12 CAD ($10 USD) for adults, $10 CAD ($8 USD) for adults 65 and older and students, and free for children under 12 years old
The Buffalo Nations Luxton Museum celebrates the heritage and culture of the Indigenous peoples of the Canadian Rockies. The museum features exhibits that showcase the history, art, and traditions of the First Nations, Métis, and Inuit communities. Visitors can learn about the significance of buffalo in Indigenous cultures and gain a deeper understanding of the region's rich Indigenous heritage.
Canada House Gallery
Location: 201 Bear St, Banff, Alberta, Canada
Operating Hours: Open daily from 10:00 AM to 5:00 PM
Admission: Free
Canada House Gallery is a renowned art gallery that showcases contemporary and traditional Canadian artwork. The gallery features a diverse collection of paintings, sculptures, and other artistic mediums created by Canadian artists. Visitors can explore the gallery and appreciate the talent and creativity of Canadian art.
Current Exhibitions
2023 Annual Print Collection from Cape Dorset
The Canada House Gallery proudly brings back the Annual Cape Dorset Print Collection. Kinngait Studios and West Baffin Eskimo Co-operative in Cape Dorset uses bold, bright colors. They also reflect many images and symbols that invoke the indigenous spirit of the people . Visitors to the gallery can view works and even purchase favorite pieces. Bring home a beautiful reminder of their visit to Banff National Park.
Walter Phillips Gallery
Location: 107 Tunnel Mountain Dr, Banff, Alberta, Canada
Operating Hours: Varies
Admission: Free
The Walter Phillips Gallery is part of the Banff Centre for Arts and Creativity. It focuses on contemporary art exhibitions and installations. The gallery showcases works by local, national, and international artists, providing a platform for innovative and thought-provoking artistic expressions. The exhibitions change regularly, offering visitors a chance to experience a wide range of contemporary art forms.
Current Exhibitions
In the Present Moment: Buddhism, Contemporary Art, and Social Practice
Wednesday – Sunday | 12:30 pm – 5:00 pm
September 15 – December 13, 2023
In the Present Moment: Buddhism, Contemporary Art, and Social Practice explores how Buddhism is influencing some North American artists in their practice—how materials are viewed, how art is conceptualized, and how it is created. 
Canmore Museum and Geoscience Centre
Location: 902B 7th Ave, Canmore, AB T1W 3K1, Canada
Opening Hours: 10:00 AM – 4:00 PM (Thursday-Monday)
Entrance Fee: Donations Accepted
Exhibits: Located just outside Banff in the town of Canmore, this museum focuses on the history, culture, and geology of the Canadian Rockies. Visitors can explore exhibits on mining, mountaineering, indigenous culture, and the region's unique geology. The museum tells the story of Canmore through works of art, historical objects, and special events that help enrich your Alberta experience.
Ongoing Exhibitions
Art That Captures the Historical Landscapes of Canmore and the Bow Valley 
The art displayed in the Canmore Museum and Geoscience Center captures the various landscapes of Canmore and the Bow Valley—and it's not all sweeping mountain vistas and sloping valleys. Through a carefully curated collection of imagery, the museum chronicles 150 years of Canmore's buildings, natural landscapes, and industrial progress in various mediums. See the different ways that artists have interpreted these images, choosing everything from realism to modernism.
Canmore Past on Display
Connect with Canmore's past and see how mountain life has evolved in the area over the years with the Canmore Museum's impressive display of historical objects. The inclusive collection contains objects from historic settlements and the immigrant experience. Visitors can see items from daily life and experience how wartime affected the area's inhabitants. There is also a detailed display chronicling Canmore's honor as the 1988 host of the 1988 Winter Olympics.
Survival in Paradise: Coal Mining in Canmore
Canmore is a town built on coal. The exhibit combines digital technology with an array of physical paraphernalia to detail the area's relationship to mining. Visitors will not only learn about the brave men who ventured into the belly of Canmore mines—they can also experience it themselves via the museum's interactive, virtual reality display. Narrated by veteran coalminers Ernie Lakusta and Ed Latvala and surrounded by realistic sights and sounds, museum-goers can truly get a sense of what it was like to labor in Canmore's No. 2 mine.
Special Exhibits and Events
Along with the regular, ongoing exhibits in and around Banff, there are several special museum events and programs to celebrate the spooky season and the spirit of the indigenous people of the Canadian Rockies. 
Spooks and Stories at the Barracks
Location: NWMP Barracks 609 8th Street, Canmore, Alberta, Canada
Date: October 28, 2023, 1:00 PM – 4:00 PM
Cost: Free, but registration is required
Looking for something fun to do with the kids this spooky season? Take them to the NWMP Barracks branch of the Canmore Museum and Geoscience Museum for a spooktacular Halloween Party. Participants will have the opportunity to swap spooky stories, do a make-and-take craft, play slightly scary games, and be a part of the costume party. All kids are welcome, but must bring a responsible adult. Register online.
Wagichibi Îhnuthe: Dance Regalia Of The Îyârhe Stoney Nakoda
Through January 18, 2024, the Wagichibi Îhnuthe share their own story of the Îyârhe Stoney Nakoda. A celebration of the cultural traditions of the people, visitors will gain an appreciation for the dance, regalia, and ceremony of this First Nations group as members recount tales of historical performances at the Banff Springs Hotel in 1894, Norman Luxton's support of indigenous people through the promotion of Banff Indian Days, the cultural exchange and immersion of Guy Weadick's Calgary Stampede, and a recounting of the competitive powwows at Mînî Thnif. Guests can also explore Îyârhe Stoney Nakoda artifacts and regalia of the people. 
Beading Workshop With Teresa Snow
On November 5, 2023, from 1:00 PM to 4:00 PM, guests can practice the art of beading with Teresa Snow. Learn the intricate techniques of the Stoney Nakoda art form used to embellish clothing, create beautiful works of art, and more. Participants will also learn the history of design and discover the different types of beadwork, including the different types of stitches as they create their own beadwork. No supplies are required. Everything you need is provided. However, participants must be at least 8 years old. Registration for this event is $50 CAD ($68.31 USD) for museum members and $60 CAD ($81.97 USD) for nonmembers.
Mountain Galleries at the Fairmont Banff Springs
Location: 405 Spray Ave, Banff, AB T1L 1J4, Canada
Opening Hours: Monday – Thursday 10:00 AM – 6:00 PM; Friday and Saturday 10:00 AM -10:00 PM; Sunday 10:00 AM – 8:00 PM
Entrance Fee: Free
Exhibits: Situated within the iconic Fairmont Banff Springs Hotel, this gallery showcases a collection of Canadian and international art. Visitors can admire stunning landscapes, wildlife paintings, and sculptures that capture the beauty of the Canadian Rockies and beyond.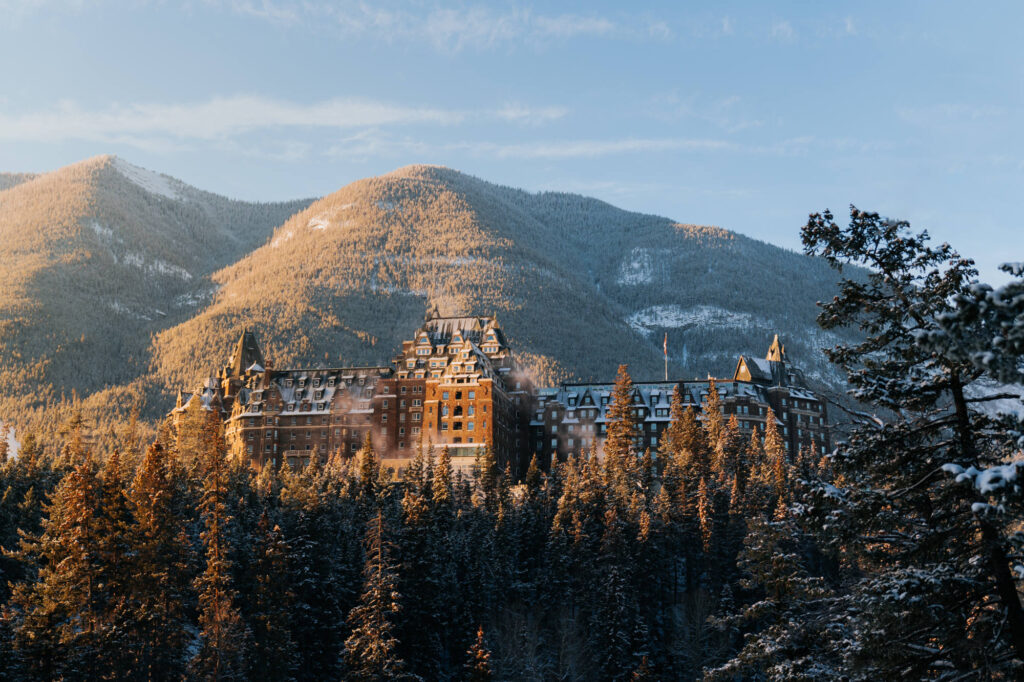 Until January 1, 2024, visitors to the Mountain Galleries at the Fairmont Banff Springs can witness the splendor of the Canadian Rockies without the need to bundle up. Inside the famous Fairmont Hotel, known as "the Castle of the Rockies," guests can stroll through the exclusive collection which rotates regularly, and witness gorgeous art, many created by Canadian artists like Dalyn Berryman, an artist who works with natural materials. Dalyn seeks to honor the forests, especially those affected by logging practices, through her haunting driftwood sculptures. Many pieces feature the natural beauty of the Banff National Park and its vast wilderness. Should you find a piece that speaks to you, all pieces are available for purchase. 
The Historic Luxton Home Museum
Location: 206 Beaver St, Banff, AB T1L 1B4, Canada
Opening Hours:
Entrance Fee: Donation
Exhibits: Visitors to the Luxton Museum will enjoy a stroll through the manicured gardens outside and marvel at the extensive collection of First Nations artifacts, period furniture and china, and much more.
The Historic Luxton Home Museum immerses visitors in the life of the historically prominent Luxton family. The Luxtons were a true Banff pioneer family. Norman Luxton and his families were fierce advocates for Banff, befriending many First Nations people and encouraging visitors to experience "the playground of the Canadian Rockies". The family home and gardens have been meticulously preserved, telling a ninety-year story of the Luxton legacy.
Wildlife Interpretive Centre
Location: 1 Whitehorn Road, Lake Louise, Alberta, Canada, T0L 1E0
Opening Hours: 9:00 AM – 5:00 PM (Opens November 10, 2023)
Entrance Fee: Free with the purchase of a lift pass
If you're taking advantage of the winter activities in Lake Louise, be sure to tack on a visit to the Wildlife Interpretive Centre. Just ten minutes away from the crest of the Banff gondola, the Centre contains many engaging and exciting exhibits about Banff's local wildlife. Visitors will find a combination of physical and digital displays, the helpful and informative staff also provides detailed wildlife talks twice a day.  The Wildlife Interpretive Centre is a fantastic, educational family attraction. Kids will delight in the opportunity to feel real animal pelts and animal skulls along with some replica animal poop, and gain a deeper appreciation for the world around them. We've even got some eco-friendly ways to entertain your kids and continue to build their awareness after your visit.
All in the Wild
Location: 105 Banff Ave, Banff, Alberta, T1L 1B6 
Opening Hours: Monday – Thursday 10:00 AM – 6:00 PM; Friday – Sunday 10:00 AM – 9:00 PM
Banff National Park can boast about a number of things—stunning natural landscapes, mountains teeming with a variety of wildlife, and talented artists to capture it all. All in the Wild features the world of one of these incredible artists, Jason Leo Bantle. Founded in 2000, this Canadian-owned company runs five year-round galleries and two seasonal galleries. 
Bantle is a staunch supporter of the wildlife that lives in and around Banff National Park. As such, a portion of the proceeds from every photograph sold goes to the All in the Wild Mand Fund. This fund is employed to protect the beautiful natural lands that so many visitors come to enjoy on their visits to Banff. Bantle hopes his art will help share the company's motto to respect nature and share its beauty,
Banff Public Art
Banff National Park has many stellar galleries and museums to help you appreciate the life and culture of the Canadian Rockies. However, in Banff itself, you don't even need a museum. The art is right out in the open!
Banff boasts several public art installations in various locations throughout the townsite. Banff prides itself on its Public Art Project, which commissions a selected artist to create a piece for public display. This year's chosen artist is Tiffany Shaw. 
The Banff Community Art Committee believes that art interacts with its environs to enhance the space, provide an outlet for new ideas and concepts, as well as strengthen the sense of community and identity. Spend a day strolling through town and take in the great "art-doors". You can find installations at the following locations:
Mistahiya, Stewart Steinhauer (2000), Whyte Museum Exterior
Sleeping Buffalo, Stewart Steinhauer (2000), Banff Central Park
Thunderbird, Stewart Steinhauer (2000), Bear Street and Lynx Intersection
Four Ravens, Eric Robertson (2005), Banff World Heritage Square
Mountain Camp, Susan Detwiler (2008), Elk Street and Banff Avenue
When I Close My Eyes, Sheila Kernan (2013), Bear Street Mall Wall
River Ribbon, Alexander Caldwell (2017), Bow River Trail 
Banff and its surrounding areas offer a treasure trove of museums that provide a deeper understanding of the region's history, art, and indigenous culture. From the Whyte Museum's art and photography collections to the Banff Park Museum's natural history displays to the public art on Bear Street, each museum, galley, and installation offers a unique perspective on the Canadian Rockies. Whether you're a history enthusiast, art lover, or simply curious about the region's heritage, these spots are a must-visit during your time in Banff. So, plan your itinerary, immerse yourself in the rich cultural heritage, and embark on an unforgettable journey through Banff's art scene.