While visitors to the Canadian Rockies can always expect to see some snow-capped peaks and maybe some ice, the vast expanse of ice known as the Columbia Icefield is a visually staggering natural wonder. It is the largest icefield in the Canadian Rockies, both above and below the surface. It is tipped at the edge by the Athabasca Glacier, one of the most accessible glaciers on the globe and one that offers a unique hiking experience. Visitors wanting to take a full-day hike of the Columbia Icefield and the Athabasca Glacier have a couple of options. No matter which one you choose, though, there is no argument that ice is nice!
Two Different Ways to Chill Out on the Columbia Ice Fields
Imagine if you will a blank canvas of ice stretching out in every direction. You pull on your crampons and step out onto the pristine surface as mountains rise up like fairy tale castles. It's almost like stepping onto a Disney movie set. But this is no movie. You can make the dream a reality when you visit Canada's spectacular Columbia Icefield and Athabasca Glacier. 
The Columbia Icefields and Athabasca Glacier see over a million visitors each year. There's a very valid reason. The Athabasca Glacier offers visitors unique and easy access, which is not possible with other glaciers around the world.  
There are a couple different ways you can experience a hiking day at the Columbia Icefields. The hike you choose will depend upon your personal preferences and budget. No matter which option you choose, there is something for everyone.
Athabasca Glacier Hike
Visiting the Athabasca Glacier is like traveling back in time. Some of the snow you'll witness was deposited nearly half a millennia ago. It is also an opportunity to experience first-hand one of the most massive forces in nature—one that has shaped our planet. The best part is you can experience it all for free!
The Athabasca Glacier hike is an easy, beginner-friendly hike which will give you stunning views of the glacier. You can't actually walk on the glacier with this hike—that experience is only available with a paid, guided tour. But it is a breathtaking opportunity that is easy on the wallet.
Getting There
To get to the Athabasca Glacier hike, take the Columbia Icefields Parkway. The drive itself is a fantastic experience with gorgeous scenery. The icefields and glacier are less than three hours north of Banff, making it an easy day hike. Look for signs for the Columbia Icefield Discovery Center. Turn onto Snowcoach Road, then Glacier Road which you will follow to the Athabasca Glacier Parking lot and the trailhead.
Highlights
The Athabasca Glacier hike is a basic, no-nonsense hike which makes it very family and beginner friendly. Dress warmly for this hike, for the mercury can hover low even in the summer months. You may find it windy as well.
Remember, as with any hike, safety first! Stay on the marked path and heed the signs. While the surface of the glacier may look solid enough, there are hidden crevasses and freezing cold rivers running beneath the ice, both of which pose dangerous hazards. Do watch your footing on the gravel path.
To get to the toe, just follow the well-defined trail. Clear markers ensure there is little danger in wandering off trail and getting lost. You'll experience a gradual incline and will find some points a little steeper than others, but anyone in reasonable physical condition can complete this hike.
Coupled with the drive and the one-hour round trip hike, this is a great, budget-friendly day hike in the Columbia Icefields. But if you still want to get really up close and personal with the glacier, you can always don some crampons and opt for a guided "ice walk."
Ice Walks
Ice Walks offers travelers a more intimate experience with the Columbia Icefields and Athabasca Glacier. They conduct tours of varying lengths to offer visitors a firsthand view of this huge natural wonder but do be aware—these tours can range in price from $124.50-$194.25 CAD for adults, so keep your budget in mind.
Getting There
Coming from Banff, follow Highway 1 west to Lake Louise. From there, you'll follow the Columbia Icefields Parkway to meet up with your Ice Walks tour. All their tours begin in the parking lot. Just follow the signs. Do keep in mind that while the Icefields Parkway is open year-round, these tours are only available from June to September.
Highlights
While the Athabasca Glacier hike can take you right up to the glacier, the Ice Walks full-day tour puts you right on it! Not only that, it takes you to the edge. Experience the jaw-dropping icefalls as your certified guide takes you all the way to the valley head. Be sure to pack a lunch as there is a scheduled break at the ice pillars. You'll get the to experience the exhilaration of a six-hour hike as well as learn some unique facts about the icefields and glacier.
The hike stretches for approximately 8.5km (5 miles). It has a moderate difficulty rating but does have some particularly challenging inclines with unsure footing. This tour is only available from June to September but call ahead as conditions may change.
Tours depart promptly at 9:30 AM Mountain Time, so be sure to arrive at least twenty minutes before to allow for parking and bathroom breaks before you start the hike.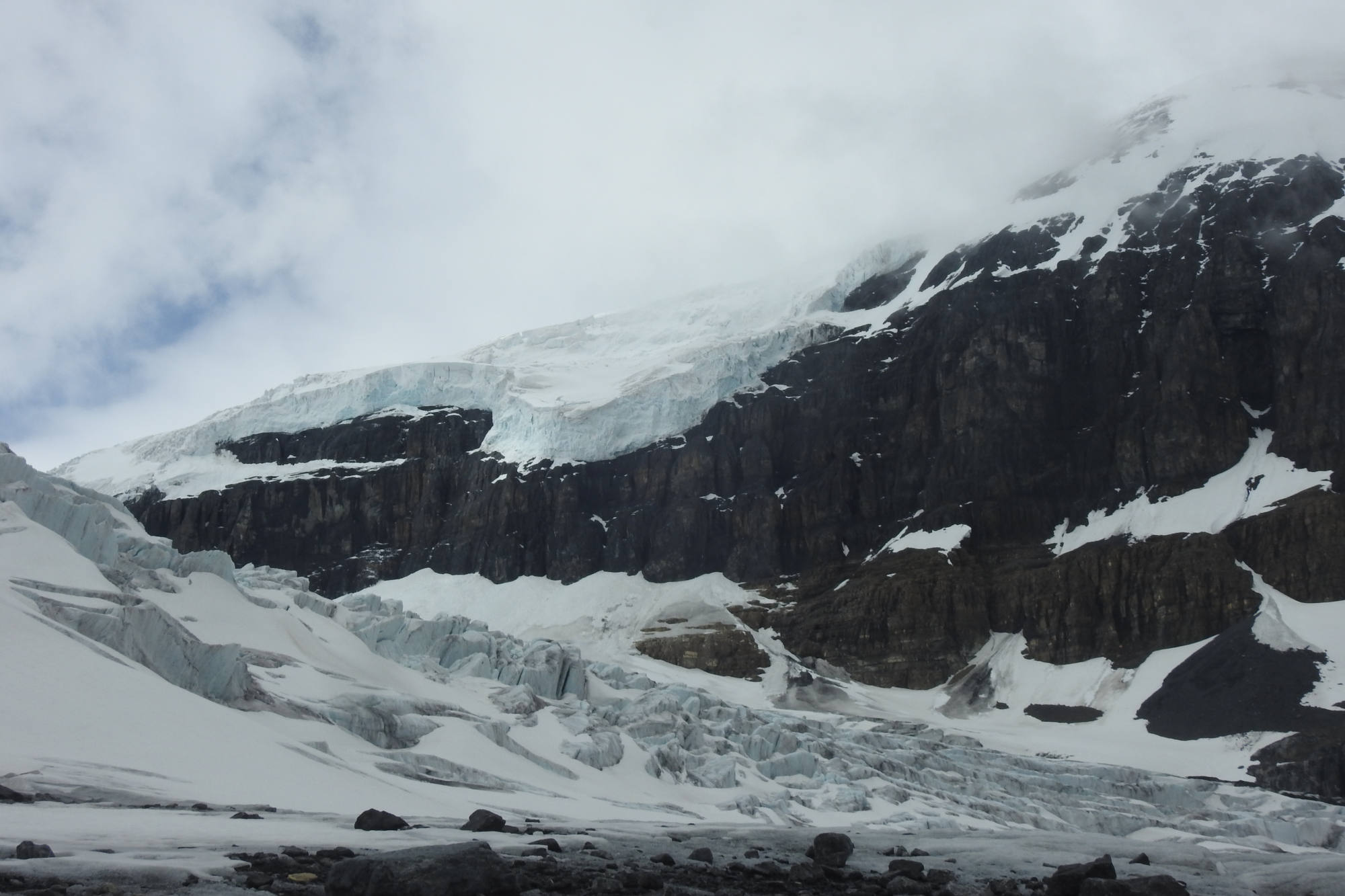 FAQs
Can you walk on the ice fields without a guide?
No. A guide is required for all excursions out onto the glacier itself. While sections of the glacier are as thick as the Eiffel Tower is tall, there are hidden dangers like crevasses and frozen rivers that make unguided exploration hazardous and even deadly.
When is the best time to visit the icefields?
It depends on your objectives. If you are happy with experiencing the icefields with a day drive along the Icefields Parkway and a hike along the Athabasca Glacier, you can visit year-round, though it might get cold. If you want to actually walk on the glacier, the Athabasca Glacier tours only operate in 2023 from June until September. The most agreeable weather is experienced between July and August. There is usually little cloud cover in these months and a hike on the ice is a great way to cool down.
Is there a fee to visit the icefields?
No. There is no fee to visit the icefields unless you wish to book one of the guided tours which will allow you to walk directly on the glacier itself. Do take note, however, you will need to procure a Parks Canada Pass to visit any area that falls within the Canada National Parks System. Passes are available for a single day or longer.
Summary
There are many other beautiful and scenic hikes that can be accessed off the Icefields Parkway, like Parker Ridge and Wilcox Pass. But if you think ice is nice and want the unparalleled experience of close contact with a massive glacier, these two hikes are your best option. From beginner-friendly walks to epic challenges, these full-day hiking excursions will let you experience history that will absolutely give you chills.