Mist Mountain is a one-stop hiking location in the Kananaskis area that offers something for avid hikers and nature lovers alike. The multiple routes toward its peak with their varied difficulty levels provides exhilarating physical challenges balanced with an opportunity to bask in the warmth of a natural hot spring. The Mist Mountain Hot Springs Trail offers visitors the best of both worlds.
The sweeping vistas, the natural amphitheater, and the picturesque hot springs make this a "must-see" hike. You can even take a dip in the natural hot springs! Most hikers in reasonable physical condition can make the trek without difficulty. As such, the Mist Mountain Springs hike enjoys immense popularity with avid hikers and those who visit Kananaskis Country to soak up the gorgeous alpine scenery!
Key Facts About Mist Mountain
| | |
| --- | --- |
| Length | 6.4 km (4 miles) |
| Duration | 2.5-3 hours |
| Elevation Gain | 554 meters (1,820 feet) |
| Difficulty Level | Challenging |
What You'll Need When Hiking Mist Mountain
Maps
If you plan on putting some mileage on your hiking boots during your visit to Kananaskis Country and its surrounding areas, it's a good idea to download a reliable hiking app like All Trails. All Trails allows you to plan your routes, advises you to current trail conditions, and even alerts you when you've wandered off the proper path, helping ensure a safer hike. Offline maps are also accessible for thousands of trails around the world. Users can also benefit from the insight of fellow hikers posted right in the app.
Park Passes
You must have a Conservation Pass if you plan on taking a vehicle into Elbow-Sheep Wildland Provincial Park or any other Provincial Parks or public use lands in the Kananaskis Country and Bow Valley Region.
You can either purchase a daily pass for $15 CAD or an annual pass for $90 CAD. The daily pass allows you to register one vehicle and covers all passengers in that vehicle. The annual pass allows you to register up to two vehicles and is valid for one year from date of purchase.
You also have the option of entering the park on foot, bike, or horseback. These methods of entry require no fee. You can find more information or purchase your passes on the Kananaskis Conservation Pass website.
Bear Spray
Many hikers have encountered bears on the trail, so it's a good idea to pack some bear spray in a readily-accessible holster for this hike. Exercise safe hiking practices for bear country. Stay alert. Stay on the trail. Hike in groups. It's also a good idea to review bear safety information and reports at Parks Canada before hitting the trails.
Hiking Boots & Trekking Poles
You'll definitely want a good pair of sturdy hiking boots for the Mist Mountain Hot Springs Trail While it is possible to complete this hike without trekking poles, they may assist in making the steep incline more manageable for some hikers.
Swimsuit & Towel
One of the highlights of this hike is the hot springs, and half the fun is taking a dip in the warm waters, so be sure to bring a suit! However, there are no facilities, so it might be a good idea to wear your suit beneath your clothing. The springs are also pretty popular. To avoid a long wait to wade, start your hike early!
Water & Snacks
There are no facilities along this hike, so bring plenty of water and hi-protein, carb-filled snacks to sustain you on this challenging hike.
Daypack
You'll need something to hold your swimsuit, towel, snacks, and extra layers.
Getting To Mist Mountain
The trailhead for the Mist Mountain Hot Springs can be found along Highway 40. Coming from Canmore, the trailhead will be on your left, but has no official marker. Sometimes fellow hikers have marked the narrow opening with a brightly colored ribbon, but don't count on it.
Still, it's easy enough to find using the GPS coordinates 50.522814° N, 114.883516° W. Fair warning—don't rely on cell service. It drops off abruptly in Kananaskis Country, so plug your coordinates in before you leave the hotel parking lot!
It is important to also be aware, Highway 40 is subject to seasonal road closures. Between December 1 and June 14, you cannot access the trailhead by car, but you can still bike in from the closure point at Highway 742.
Mist Mountain Hiking Highlights
Trailhead
As you travel along Highway 40, there is a fairly well-worn path slicing through the trees. The trailhead for Mist Mountain Hot Springs has no signage declaring "You Are Here," but keep an eye out for a sizable shoulder. The hot springs have gained such popularity, you will see a collection of vehicles gathered in the pull-off, even if you arrive early in the day.
Alpine Meadow and Nameless Ridge
The initial kilometer of this over six-kilometer trail travels through quiet trees. You'll find a well-defined path, overlaid with pine straw, with very few trip hazards along the way. After some brief climbs, you emerge from the forest into a broad meadow bordered by Eagle Ridge and Mist Mountain. From here, you will follow the trail toward Nameless Ridge.
With so many visitors now making the visit, the path is clearly defined through the meadow, and you'll have no trouble following it. You'll start to feel the burn, though, as the first real elevation on the trail begins here. Within 2.5 kilometers (1.55 miles) you gain about 450 meters of elevation as you cover the gap between Eagle Ridge and Mist Mountain to reach the saddle.
Elevation is not the only thing that picks up at this point in the trail. If you don't already have one on, grab a jacket from your daypack and layer up as the winds increase considerably on the saddle. Do take advantage of the spectacular views from the crests and ridges. In the summer months, you might get treated to startling splashes of color from the wildflowers that can blanket the meadow.
The Cirque
If you think Mother Nature is putting on a show with the wildflowers, once you reach the cirque, you'll realize that was just her opening act, and the cirque is her theater—literally.
A cirque is a natural amphitheater, a basin formed by glacial excavation and surrounded by rises. Follow the horseshoe-shaped, scree trail that rises to the left to reach the cirque. Watch your step and use your trekking poles if you have them to stay steady through the loose rock avoid the steep ledge down to your right. At the end, however, you'll be rewarded with a beautiful waterfall. If you keep a sharp eye out, you can even spot the hot springs from this point on the trail.
At the waterfall, the trail branches. You can either continue on to the hot springs or make for the summit. Many hikers bypass the summit trail altogether, opting to take the less-daunting path leading to the hot springs and take a dip in the warm waters overlooking the mountain vistas, instead.
Mist Mountain Hot Springs
Once upon a time, the Mist Mountain Hot Springs were a local secret—a relatively unknown destination. No longer. Countless Instagram and other social media posts have rocketed the popularity of these tiny pools in the Canadian Rockies. If a long, hot soak is what you had in mind, however, you're probably setting yourself up for disappointment.
In truth, the hot springs are small, with one of the pools accommodating only two people at a time and the other four at the max. With their increasing popularity, you can almost count on a wait to take a dip if you visit on a crowded weekend.
That's not to say the springs aren't worth a visit! The alpine views alone are jaw-droppingly spectacular. You'll frequently find photographers snapping pictures of the peaks getting lost in the swirling mist. There's an inherent magic to this place, formed without the hand of man, that you can't find at some of the more commercial hot springs in the Alberta area.
If you do make a visit to the pools, just bring some patience and watch your step! The pools are situated on a scree filled slope that is difficult to navigate on its own. When you add in the algae that forms from the water seeping down from the pools, it can get extremely slippery.
There are also no facilities to afford privacy for changing, so it is advisable to come with your swimsuit already on beneath your clothes. If you plan on changing at the pools, bring some large towels to keep your "exposure" to a minimum.
Mist Mountain Summit
Hikers do, of course, have the option of traveling to the summit of Mist Mountain. If hiking to the top is on your itinerary, keep several things in mind.
First, be prepared for anything. At higher elevations, the weather can be a fickle mistress. Expect changes in the blink of an eye. Clear conditions can turn suddenly rainy. Winds can gust, threatening stability. Second, it will add another 600 meters (1,968 feet) or so of elevation to your hike through loose rock, and another 4 kilometers (2.49 miles) distance. It is definitely not a portion of the trail for inexperienced hikers.
If you are feeling bold, you can reach the true summit via the trail running along the small creek by the waterfall. You actually have two options from this point. The official summit trail is filled with numerous small rocks, a feature which requires a great deal more scrambling. You can opt, instead, for the alternative route, which has larger rocks and eliminates a good bit of needed scrambling. Again, however, neither trail is suitable for inexperienced hikers.
If you stick it out, however, views of the foothills and downtown Calgary await you at the top. So do some substantial gusts of wind, so exercise plenty of caution! If you appreciate fossils, keep a sharp eye out. The summit hike is great place to see these ancient records.
Mist Mountain Hike Duration
It all depends on what you want to see and do. If you decide to include the summit trail on your hike, you invariably increase the time required to complete the Mist Mountain Hot Springs Hike. Of you only plan on taking the time to travel to the hot springs, you can easily make the trek in under three hours on average. Add an additional two to three hours to include a summit hike.
When planning your day, also keep in mind how long you may need to take photos and how long you may want or need to spend at the hot springs. Many hikers choose to pack a picnic lunch and make a day of it. If you do so, remember to leave no trace. Pack out what you pack in!
Mist Mountain Hike Difficulty
To handle this hike without much difficulty, hikers should be in reasonable shape and have some experience hiking elevated trails. You will climbing uphill for a large portion of the hike, so if you get winded easily, this may not be the hike for you.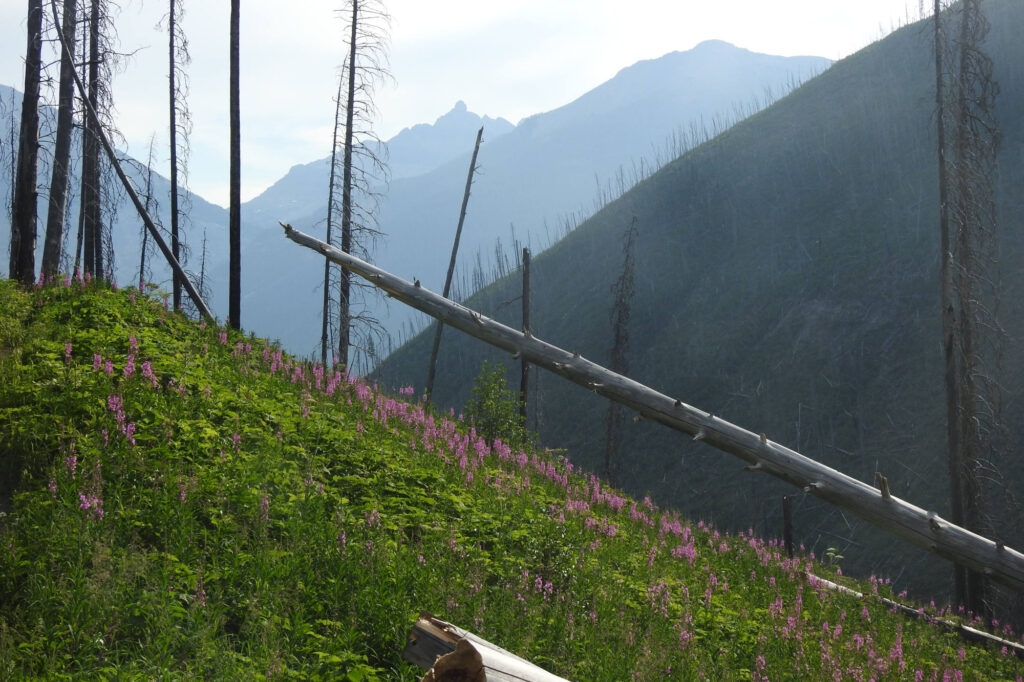 If you are able to tolerate elevation gains and are able to stay on your feet for at least three hours, you should be able to accomplish the hike to the hot springs with no problem. It is a moderate to challenging trek which older children, adults in good health, and even larger dogs can tackle.
If you're planning on going to the summit, however, it's probably advisable to leave the pups and kiddos at home.
Best Times to Visit Mist Mountain
If you are traveling to Alberta from June to September, you will have no problems with getting to the Mist Mountain Hot Springs Hike. As always, it is a good idea to check trail conditions before you hit the road. Unexpected weather conditions in the Canadian Rockies, like a late snow, can affect whether trails and roads are accessible at any time of year.
As previously mentioned, the hot springs' popularity has boomed in recent years. Busy pathways and long wait times for an abbreviated dip in the springs are the norm, especially on weekends and holidays. There are a few tips and tricks you can use, however, to help minimize the crowds you will experience at this popular tourist and local attraction.
First, try plan on arriving at the tailhead at sunrise. The earlier you hit the trail, the less competition you will have once you reach the springs. Second, if your schedule permits, try visiting on a weekday as opposed to a weekend. The numbers drop substantially during the week. Next, go for the gold with a late afternoon/early evening hike. The sunset views at the springs are unparalled. Do be advised, however, once that sun sets, the temperatures drop quickly. So, layer up!
Another way to avoid crowd congestion is to hike the trail between November and June. Temperatures are markedly cooler, and Highway 40 closes on December 1. You will have to find alternative means to access the trailhead—like biking in from the Highway 742 closure point—but the payoff comes from feeling like you have the trail almost completely to yourself.
Be advised, snow and wind can greatly affect the trail in the later months, particularly in late October-November. If you choose to visit during these times, keep in mind you will likely need additional equipment, such as snowshoes, and a lot more layers!
Kids & Canines
The great thing about the Mist Mountain and Hot Springs Trail is that it's a fabulous hike for just about everyone in the family. Active children who are ten years old or more can handle the climb with ease. Even larger dogs can usually manage. Just remember to keep them on a leash, and you may want to consider paw protection to avoid painful cuts and scrapes from the sharp scree.
Other Hikes in the Area
The Mist Mountain and Hot Springs Hike is just one of the many beautiful hikes available in Kananaskis Country. If you are an avid hiker looking for new ground to cover, consider one of these incredible hikes ranging from easy to challenging.
Blackshale Suspension Bridge and Black Prince Cirque
Distance: 6.1 km
Duration: approximately 3 hours
Elevation Gain: 125 m
Difficulty: Easy 
Combine these two easy Kananaskis hiking trails to get two for the price of one! Individually, the Blackshale Suspension Bridge walk and the Black Prince Cirque Interpretive Trail are simple, worthwhile trails. However, when you combine the two, it result in a comined six kilometer jaunt with some real "wow" factors.
Start off with the straightforward Blackshale Suspension Bridge loop trail. Only 1.1 kilometers long, this quick loop trail takes hikers over the Blackshale Creek Suspension Bridge and the first "wow" moment of these combined hikes. Take in the stunning scenery as the creek burbles along beneath the bridge before the trail takes you back to the parking lot where you can cross the highway to the trailhead for the Black Prince Cirque.
The "wow" factor for this part of the hike comes from the natural framing of the mountains around Warspite Lake. Visit in the summer time to get more bang for your buck when the wildflowers burst onto the scene and splash the area with a riot of color. 
Troll Falls
Length: 3.4 km
Duration: 1 hour
Elevation Gain: 151 m
Difficulty: Easy
Stroll through a magical, fairytale wonderland on this easy, family-friendly hike in Kananaskis. If you visit Troll Falls in the wintertime, you'll come upon a frozen waterfall. Little ones might even expect to see Elsa or Olaf peek from behind the glittering icicles. If you do visit in winter, consider microspikes as the trail can get a little slippery. If you plan on visiting during the summer, aim for a weekday hike to avoid the crowds.
Barrier Lake Trail
Length: 7.7 km
Duration: 3.5 hours
Elevation Gain:  233 m
Difficulty: Moderate 
If you are a cross-country runner or love long walks observing the wildlife, the Barrier Lake Trail is a less-crowded, lengthier option to enjoy. Stretching out nearly eight kilometers, this heavily forested trail offers numerous opportunities to spy some of the unique flora and fauna of the Canadian Rockies. 
Watridge Lake
Length: 8.2 km
Duration: 2-3 hours
Elevation Gain: 194 meters
Difficulty: Easy
Looking for a long, easygoing trail in Kananaskis Country? You don't have to look far. Watridge Lake is a flat, comfortably wide trail that stretches out over eight kilometers near Mount Shark. It offers awe-inspiring mountain views no matter which way you turn and can be enjoyed year round! So, whether you love hiking, cross-country skiing, or snowshoeing across the powder, the Watridge Lake Trail is always a great go-to choice for hiking in Kananaskis.
Rawson Lake
Length: 7.7 km
Duration: 3-5 hours
Elevation Gain: 320m
Difficulty: Moderate to Challenging
For a delightful summertime hike past numerous streams and waterfalls, try Rawson Lake. This almost eight kilometer trail skims the shoreline of Upper Kananaskis Lake before climbing to the perfect picnic spot at Rawson Lake.
Ptarmigan Cirque
Distance: 4.2 km
Duration:  2.5 hours
Elevation Gain: 210m
Difficulty: Easy to moderate
Breathtaking views? Check. Family-friendly? Check. Waterfalls? Check. Sprawling meadows? Check. The Ptarmigan Cirque Loop is last on our list of alternate Kananaskis hikes, but it is certainly not the least! This is the one hike that ticks off all the boxes for a truly stress-free, enjoyable family hike.
Travel Tips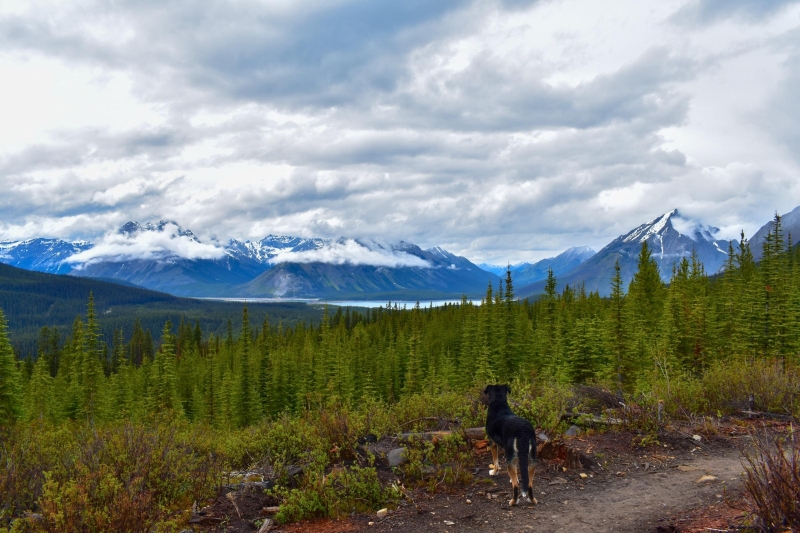 Plan ahead.
Download All Trails and any of its offline maps you may need.
Remember there is no cell service in Kananaskis Country.
Input GPS coordinates prior to departing.
Highway 40 is closed from Dec 1-June 14.
Start your trek at sunrise, late afternoon, or weekdays to avoid crowds at the springs.
Wear your swimsuit beneath your clothing as there are no facilities to change.
Dogs are welcomed, but must be on a leash at all times.
From scenic views to soothing springs, the Mist Mountain Hot Springs Trail is a great hike to add to your Canadian Rockies itinerary. You can take a dip in a hot spring, or be wowed by a waterfall. This popular, well-marked trail is straightforward enough to allow younger members of the family to enjoy, yet its steep elevation still provides a challenge to seasoned veterans as well. Between the heights and the epic scenery, one thing is certain—the Mist Mountain Hot Springs Trail in Kananaskis Country will take your breath away.