Planning a visit to Banff in April? The scenic Canadian Rockies offer visitors plenty of sun, a fair amount of snow, and some unpredictable days. It may be chillier than weather you may be used to in Spring, however, so you'll want to pack plenty of layers. But even if the weather is unpredictable, one thing about Banff in April you can count on—there is always something for everyone to enjoy!
A trip to Banff in April offers the perfect blend of outdoor recreation and breathtaking scenery. From incredible trails and unique wildlife opportunities to a variety of outdoor activities, you can take advantage of this beautiful Alberta location any time of year!
Things to Know Before Visiting Banff in April
The town of Banff is still recovering from the winter season, so some roads, trails, and services may not be fully operational.
Spring weather can be unpredictable, so be prepared for warm sunshine one day and snow the next.
The town is busiest during the peak of tourist season, so book accommodations and activities in advance.
What's the Weather Like in Banff in April?
The last trails of winter's frigid temperatures are almost a memory in April. Almost. 
Though the sun may shine in the crystal blue skies over the mountains during the day, once it drops behind the peaks, evening temperatures can plummet to below freezing. 
You can expect to experience average daytime temperatures around 10-12°C (49-51°F). Areas like Lake Louise will see average daytime temperatures around 8-9°C (47-48°F) and nighttime temperatures as low as -5-6°C (20-21°F). Banff itself is a little warmer, averaging nighttime temperatures around -2-3°C (25-26°F).
That doesn't mean you'll spend your entire visit with chattering teeth! April in Banff can offer the best of both worlds as far as the weather is concerned. As the month trundles on, you can almost experience all four seasons. You'll see enough warmer temperatures to thoroughly enjoy the wide variety of outdoor activities in Banff and the surrounding areas.
Though the mercury is rising, you can still experience a decent amount of snow in Banff in April. Skiers and snowboarders can squeeze in one last run as local resorts still feature decent snow, even sometimes as late as May. Pay attention to weather reports, however. The rapidly changing weather patterns can create dangerous conditions, such as increased chances of avalanches and other hazards. 
One Last Thing to Keep in Mind When Considering if Banff in April is For You
Since April is still considered "shoulder season," you can expect to enjoy a little more elbow room. So, while it may be markedly cooler, there are also fewer tourists crowding popular spots. This makes April a fantastic time to soak in the local flavor of the area without being jostled or cramped. Strike up a conversation with a regular at one of Banff's great local breweries. Take a quiet stroll through the town without the hustle and bustle of the busy months. You can also take advantage of the lower hotel costs available during the off-season. This makes a visit to Banff in April a fine choice for many travelers.
Packing for Banff in April
Layers are the name of the game for Banff in April! With rapidly changing weather patterns, you'll want to be ready for just about anything. Your packing list will also be influenced by the types of activities you plan on doing.
If you plan on spending time in the townsites, such as Banff, Canmore, or Lake Louise at any of the number of museums, craft breweries, or quaint shops they have to offer, you'll find long pants and a light jacket sufficient against catching a chill. In the evenings, however, you'll need a heavier coat as the temperatures drop and perhaps gloves, and a scarf as well.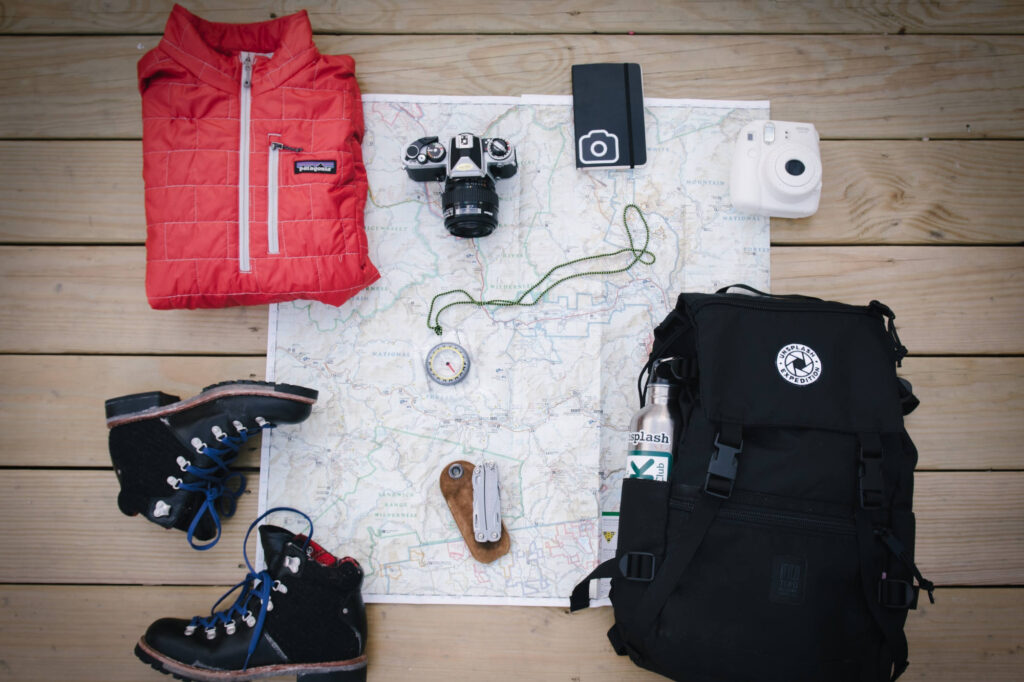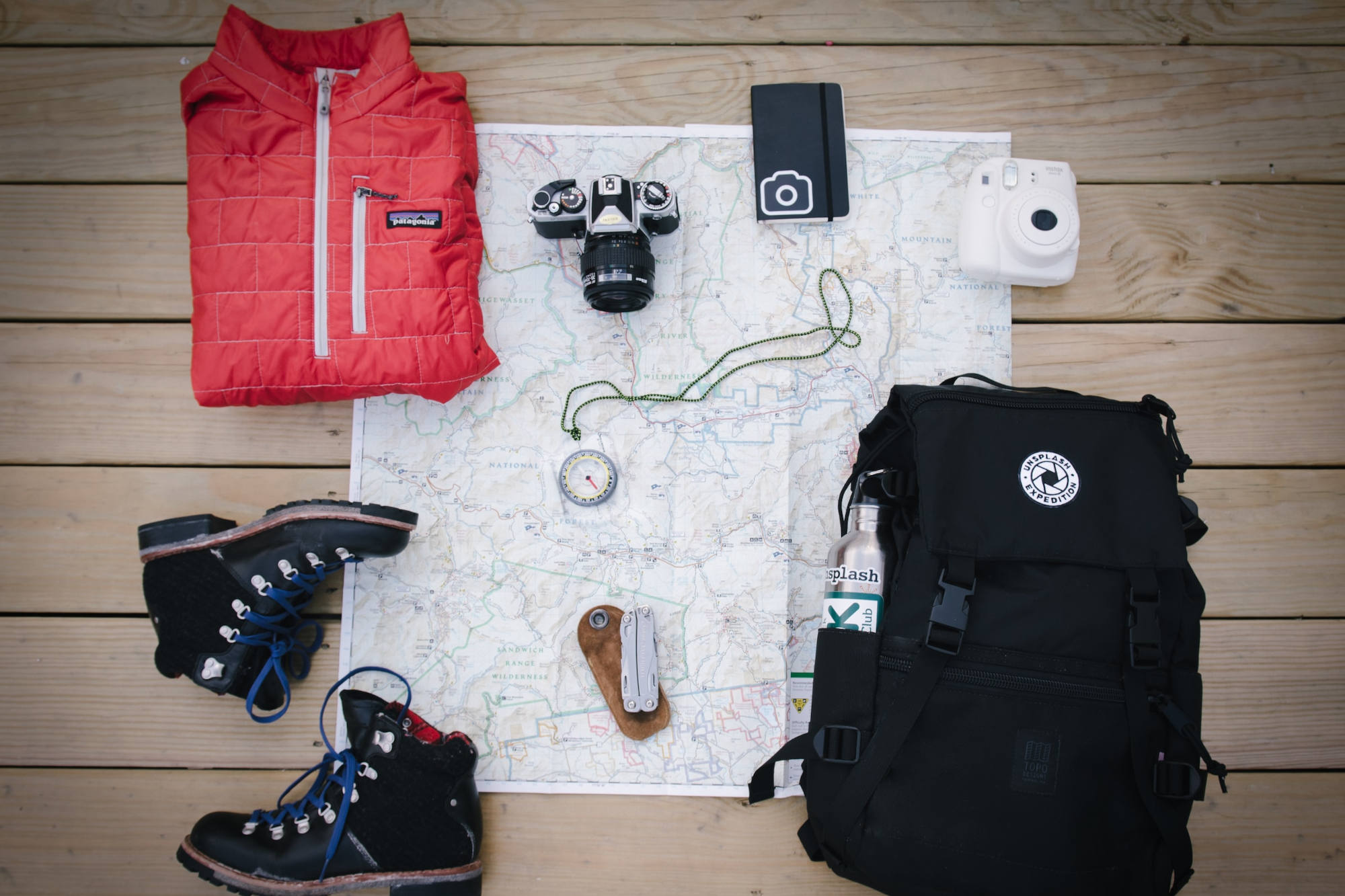 Sidewalks and trails alike can still be a little treacherous with ice leftover from frigid overnight temperatures, so pack footwear with excellent traction. If you expect to take advantage of the wide variety of hiking trails in Banff, you may want to consider microspikes. 
You'll want to pack long pants, and shirts with long sleeves without a doubt. April is not quite shorts and tank top season unless you're a fan of goosebumps and blue legs! Early on in the month, it's also often advisable to include a base layer of long underwear.
And while it may still be chilly on the trails and slopes, the sun shines bright, so don't forget sunscreen.
Things to Do in Banff in April
While the vast array of summery activities may not yet be available, there is still a wide variety of activities to fill your Banff in April itinerary. From festivals, to outdoor concerts, to early season hiking, savvy travelers will find loads of enjoyable things to do in Banff and the surrounding areas.
Capture the Beauty of Lake Louise
Lake Louise sits at a slightly higher elevation than Banff, so the lake will likely still be frozen. The still wintery landscape provides some beautiful scenery for a stroll along the boardwalk. You can also snap some great shots of the picturesque rapids along the way. Depending on the weather, there are often ice skating opportunities still available into mid-April. The Fairmont at Lake Louise has a beautiful, continuously maintained rink but, as always, exercise caution when skating on a natural lake.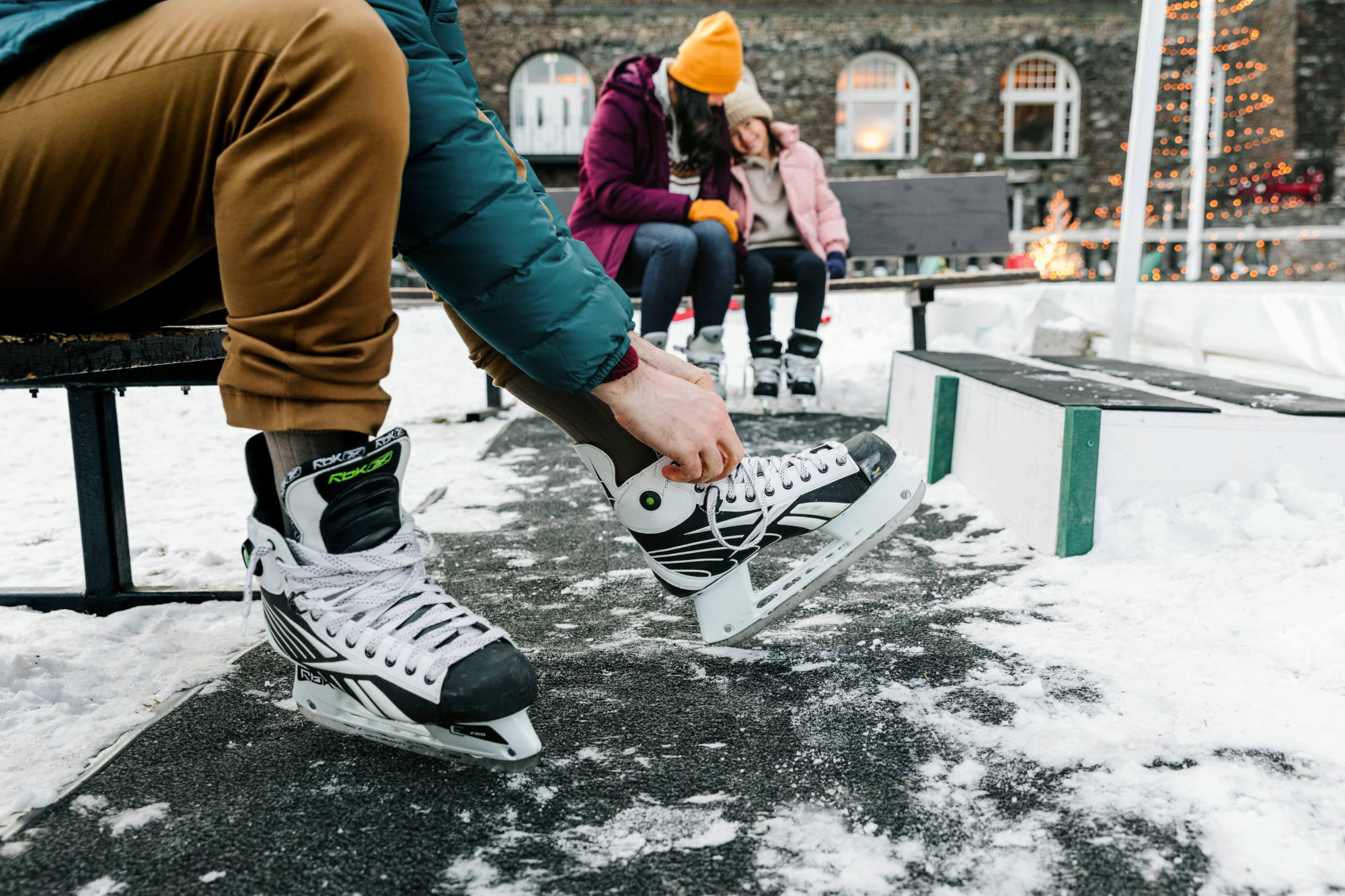 If you don't have your own skates, fear not!  You can rent them by the half-day or full-day from Chateau Ski and Snow at the Fairmont. Prices for the half-day rental are $23 CAD for adults and $13 CAD for children. Full-day prices are $33 CAD for adults and $23 CAD for children. If you feel like getting your Wayne Gretzky on, you can even pick up sticks and pucks for a friendly game of hockey on the ice. Skates are also available in the Lake Louise Village at Wilson Sports for $12 CAD a day.
Saddle Up for Adventure: Horseback Riding in Banff's Scenic Wilderness
If you want a unique way to take in the gorgeous views and sprawling vistas of the Canadian Rockies, consider trekking the trails on four legs instead of two. Horseback riding is a fabulous way to experience the beauty of Banff. Companies like Banff Trail Riders offer one-hour tours along the winding Bow River from $86 CAD.
If you prefer a longer experience, you can opt for the Sundance Loop Ride. This ride includes opportunities to see rarer wildlife and visit a sulphur hot spring. You'll trek up Sulphur Mountain all the way to Windy Knoll where you can get some incredible pictures of the rolling hills sprawling out below you. The Sundance Loop Ride costs $167 CAD per person.
If you'd rather leave the "driving" to someone else, you can also choose a quaint, private, horse-drawn carriage ride through downtown Banff or along the scenic Bow River. The tours range from $89-169 CAD per carriage. Tours last from 15-30 minutes depending on which tour you choose. Each carriage can accommodate up to six passengers which makes this a wonderful activity for the whole family to enjoy. Banff Trail Riders will also work with you to create a custom tour tailored to your personal tastes.
Banff's Hidden Gem: Grotto Canyon Cave Adventure
Want to experience a unique Banff activity at any time of year? Try caving. Explore the "upside down," or at least the underneath, with an adventure below ground at Grotto Caves. The caves below Grotto Mountain are the longest cave system in Canada. As they participate in a guided tour through tunnels of limestone, visitors can observe spectacular stalactite and stalagmite formations. Several companies offer tours averaging between $135-175 CAD and last anywhere from 4.5 to 6 hours. 
Caving tours require a good bit of bending, wiggling, and crawling—sometimes through very narrow spots—so be sure you're okay with enclosed spaces. Dress warmly as cave temperatures remain a steady 5°C (21°F) year-round. You will want to wear shoes with a good grip as cave surfaces can be quite slippery.
Made with Love Banff Food & Cocktail Festival
Banff has something new to sink your teeth into this April! April 10-23, 2023, Banff will host the first ever Made with Love Banff Food and Cocktail Festival. The purpose of this planned annual festival is to highlight the local cocktail and culinary scene. If you are visiting Banff in April, you'll have the opportunity to experience unique cocktails and mocktails and food pairings featured only during this special event. Visit participating bars, breweries, and eateries like Block Kitchen & Bar, Farm & Fire, or The Bison to participate in the fun and many curated events. Get a sneak peek at what's on tap at the Made with Love Banff Food & Cocktail Festival page.  Showcasing the vibrant local food and cocktail scene, the festival features curated events and special cocktail menus available in all participating restaurants.
Concerts
Once the Made with Love Banff Food & Cocktail Festival has filled up your belly, feed your soul with some incredible music at the Banff Sunshine Village Untracked Concert Series. Sit back and relax as the Canadian Rockies and Banff Sunshine Village offer you the best seat in the house for listening to talented DJs and fantastic live music through the month of April. Events are scheduled for April 15, 16, 22, 23, 29, & 30. Check the calendar for show times and locations.
Hike Banff's Most Popular Trails
Many people who come to Banff have hiking on their itinerary. It is one of the best ways to experience the awe-inspiring beauty of the Rockies. Luckily, Banff is threaded through with trails for hikers at all experience levels. Not so luckily, they aren't all accessible in April due to lingering winter conditions. But not to worry. If hiking is in your heart, we've cultivated a short list of available trails to enjoy if you visit Banff in April.
Starter Hike: Tunnel Mountain
Tunnel Mountain is one of the most popular hikes in Banff and is open year-round. Contrary to its name, however, there is not a single tunnel in sight. At one point in history, plans were to blast a tunnel for railroad access, but those plans never came to fruition. The plans didn't stick, but the name did.
This easy trail hikes 266 meters (872 feet) up one of the smallest mountains around Banff, making it a great choice for families and beginning hikers. It is 4.5 km (2.8 miles) long and can be completed somewhere between 1-2.5 hours depending on your pace.
You can access the trailhead from the lower parking lot in Downtown Banff. Once on the trail, you'll navigate through switchbacks and forests until you are afforded views of Bow Valley, Banff, and Spray Valley.
Hike the Popular Johnston Canyon
Just 30 minutes from Banff is one of the most beautiful and easy hikes in Alberta—Johnston Canyon. The trailhead for this hike is marked with a bright yellow wood arch emblazoned "Johnston Canyon." Extraordinarily popular during the warmer months, the raised catwalk trails through the canyon walls can get quite crowded. It can be difficult to get a comfortable spot in the viewing area behind the falls you'll see on this hike. Such is not the case in April, however.
During "shoulder season," the trail over the rushing white water is open and spacious. You can soak it all in, stress-free. The Johnston Canyon Trail sports two separate waterfalls, the Lower Falls and the Upper Falls. If you make the journey all the way to the Upper Falls and back, the trail extends for a total of 5 kilometers (3.6 miles) out and back. Its gentle elevation, topping out at only 120 meters, makes it a great hike for kids and beginning hikers, and can be completed in about 2 hours.
Enjoy a Relaxing Walk at Bow Falls
If you're looking for a picturesque quickie located within spitting distance of Banff, talk a stroll to Bow Falls. Just a nine meter drop into the Bow River, it may not be quite as impressive as the Johnston Canyon falls or the truly stunning Takkakaw Falls, but it still offers visitors some beautiful scenery. Despite their diminutive size, Bow Falls has shared the silver screen with Hollywood legend, Marilyn Monroe.
About a thirty minute walk total, one of the best viewpoints for visiting these falls is reached via the boardwalk that runs beside the Bow River. If you're seeking a romantic walk after enjoying a meal at any of Banff's fine dining establishments, pencil in some time to take in Bow Falls.
Skip the Ride, Hike Sulphur Mountain
If you're ready to get a great workout and enjoy stunning views of Bow Valley, skip the gondola line and grab your hiking poles for the trek up Sulphur Mountain!
The trailhead for this moderate 10.1 km (6.28 mile) trail can be found in the Banff Gondola parking lot. While it is a reliable trail, the lingering winter conditions can make conditions slippery, so equip yourself to navigate the trail securely. You'll probably want to opt for crampons versus microspikes as the Sulphur Mountain Trail climbs 744 meters through constant switchbacks. Hiking poles are also recommended to help keep you steady.
Once you've reached the top, you'll be treated to gorgeous views of Bow Valley. You can grab a cup of hot cocoa from the Banff Gondola Visitor's Centre to warm you up before the return hike. In all, the hike can take anywhere from 3-5 hours. If you are pressed for time, you can opt to take the gondola ride to the summit and just make the trip down via the trail.
Take the Banff Gondola Ride to the Top of Sulphur Mountain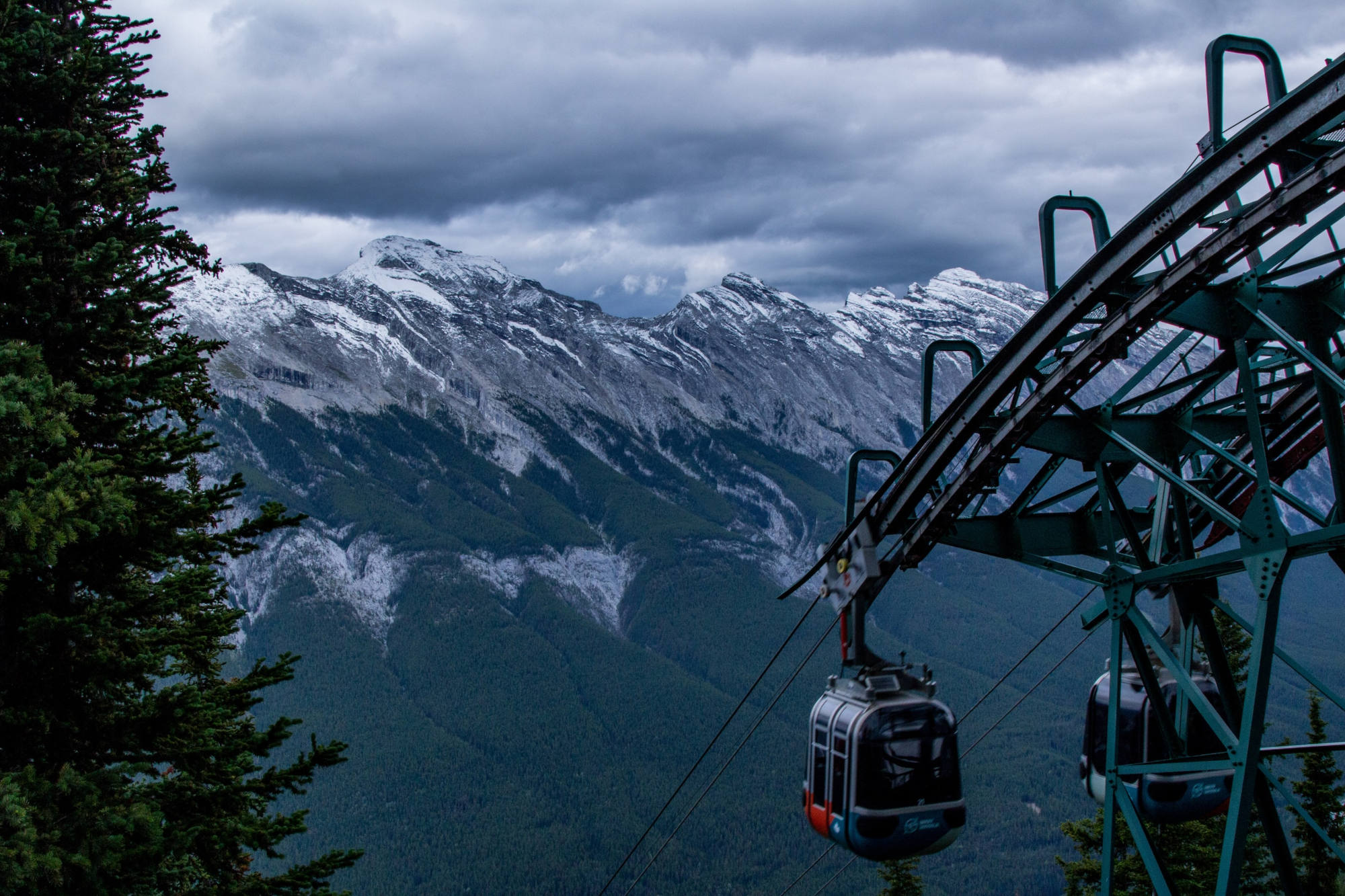 Eight minutes. That's how long it takes to see six mountain ranges, experience award-winning cuisine, and be mesmerized by stunning sunsets. Its also how long it takes to ride the Banff Gondola up to the summit of Sulphur Mountain.
As you glide over the alpine treetops in the four-passenger gondola car, you'll climb 698 meters (2,292 feet) to the top of the mountain. The first gondola ride opened in 1959 and brought visitors to the top to witness the epic views, but not much else. Today, you have a variety of dining opportunities and a host of family-friendly activities available to enjoy.
See a breathtaking immersive film at the Above Banff Theatre. Learn about everything from natural history to geology at the Above Bann Interpretive Centre. Families can make learning with their kids even more fun with the downloadable Agents of Discovery app that integrates educational activities with a trip to the summit. Or enjoy a three-course meal with a 360-degree view at the Sky Bistro.
April ticket prices for the gondola range from $58-67 CAD for adults. Children under 5 ride free, but they must be ticketed.
Take a Guided Wildlife Tour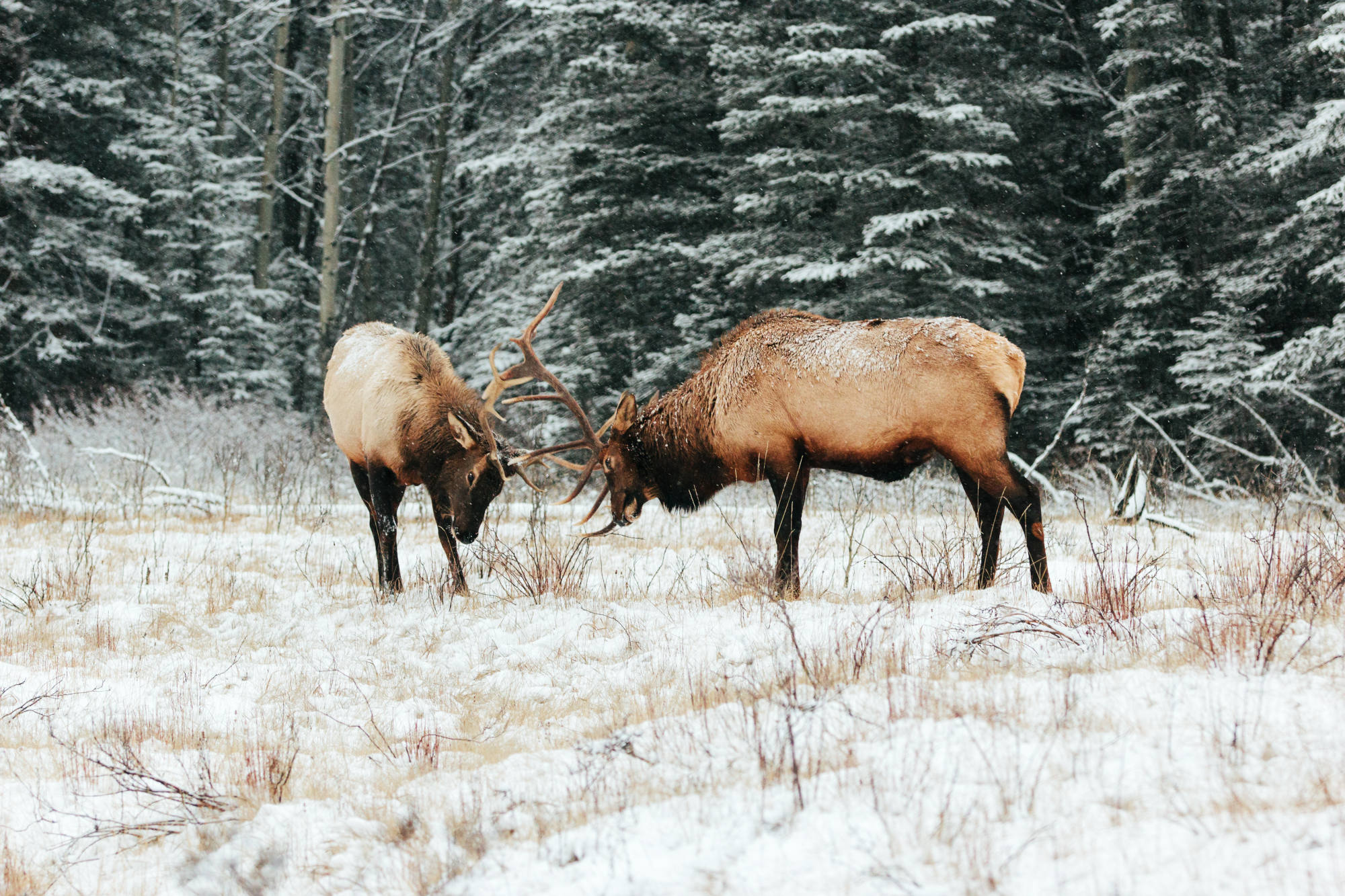 Want to enjoy an April Banff activity that "beary" nice? Sign up for a guided wildlife tour. Informative guides take you to wildlife hotspots in and around Banff where you can spot rutting elk with antlers locked in combat. Keep your eyes peeled and you might even spot a hungry grizzly searching for a ripe berry bush. If you're lucky, you could even be treated to the sight of the harder to spot big horn sheep from the safety of your tour bus.
Each bus has limited seating, affording visitors ample time to have any questions they have about the natural fauna of the Canadian Rockies answered. You can choose from a three hour daytime tour which also visits some of the prominent sightseeing locations in the Banff area, or you can elect to purchase a 2-hour evening wildlife safari tour that will pick you up right at your hotel! Costs range from $36-78 CAD per person with children under five free.
Hit the Mountain: Skiing/Snowboarding/Cross-Country Skiing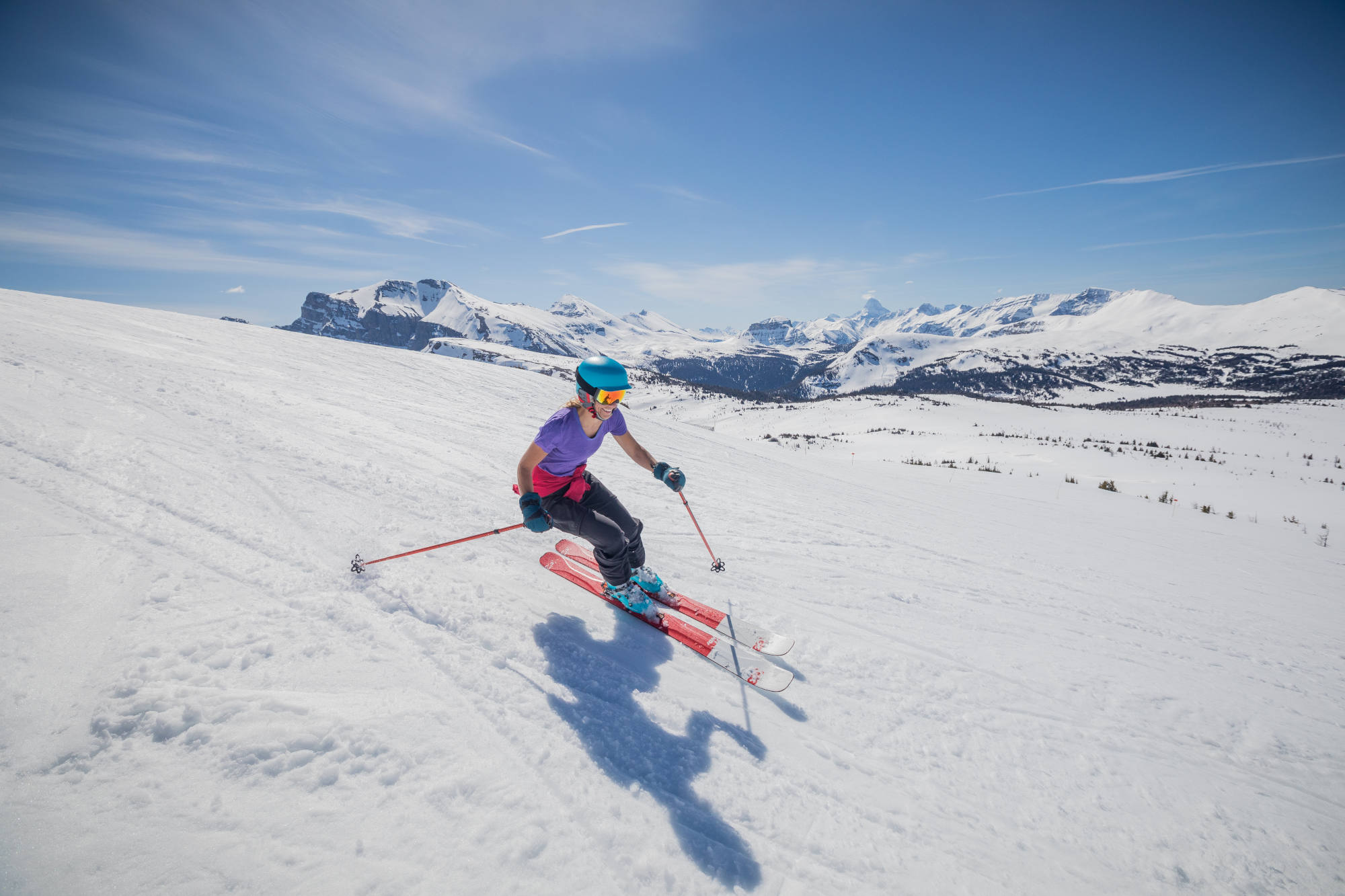 One of the great aspects of visiting Banff in April is the ability to still enjoy some winter sports like downhill skiing, snowboarding, and cross-country skiing. Some of the hiking opportunities that might otherwise be completely unavailable when snow is still on the ground are accessible with a good pair of skis. And you can catch some air at the late season resorts like Lake Louise or Sunshine Village.
Don't know how to ski? No worries. You can find ski lesson and rentals available to help get you ready to hit the slopes. And don't miss out on some great après ski company and conversations at many of the great patio options like Mad Trappers at Banff Sunshine, Banded Peak Base Camp in Lake Louise, or Lone Pine at Mount Norquay. Swap ski stories and sip some spirits as you warm yourself by the crackling open fireplaces.
And don't miss Mount Slushmore at the Lake Louise Ski Resort! An all-day event on April 29, 2023, attendees of this free party will have the chance to experience some great music, fantastic cocktails, and watch the antics of the Mount Slushmore Pond Skim. Dress code this year is retro ski, so dig out those onesies, don your shades, and get ready to party till the sun goes down.
Snowshoeing Paradise: Exploring Sunshine Meadows in Banff National Park
If you find yourself at Sunshine Village and prefer to keep you feet completely on the ground, snowshoeing is a great activity that is still available in April. One of the best snowshoeing opportunities in the Banff area is accessed from the Standish Lift right at Sunshine Village—Sunshine Meadows.
Start your snowshoeing adventure from the Standish Viewing Deck which can be found at the top of the Standish Lift. Clear days afford views of Quartz Hill and Rock Isle Lake.  After you've had your fill of glorious scenery, take the stairs until you hit the downhill expanse. Continuing down, you'll reach Rock Isle Lake, but do not tread the surface of the lake. The spring thaw makes it too treacherous.
Instead, veer left until you come to the turn for Citadel Pass. Continue pass the turn until you spot the ski runs on either side of you. Exercise extreme caution if you cross the ski runs, otherwise you may find yourself trammeled by an unsuspecting skier. It's a much better idea to snowshoe along the side of the runs instead. You can sometimes find a path through the trees to avoid the runs altogether.
From here, you'll make your way back into Sunshine Village where you can kick back and relax after your exhilarating day!
Mountain Biking Is a Possibility in April
Depending on the weather and conditions, another great outdoor activity for Banff in April is mountain biking. If it is clear, you can put some miles on the bike along Legacy Trail which runs from Banff all the way to Canmore. The paved path is a great, safe trail, but it is a multi-use path, so if you do use it for biking, be wary and respectful of others who may be using the trail.
Should I Visit Banff in April?
As you can see, while it still may be chilly and some favorite Banff activities may not be ready yet, there are still innumerable reasons to visit Banff in April. Let's face it—the Canadian Rockies are always a humbling, jaw-dropping sight no matter what time of the year it is. And Banff in April has much to offer that cannot be experienced during some of the more popular months.
So, even with its sometimes unpredictable weather, Banff still has plenty of sunshine to warm your soul. If you love winter sports, outdoor activities, wildlife, unique vacation experiences, music, and spectacular culinary offerings, visiting Banff in April is just the ticket!
Banff in April is a magical time to visit, with the town transitioning from winter to spring and offering a wealth of outdoor activities and scenic beauty. Whether you're a ski enthusiast, a nature lover, or just looking to escape the city, Banff is the perfect destination in April.