Spring, the second half of "shoulder season", comes to Banff National Park in March. It begins on March 20 and ends on June 21. Now, we've already shared some fall shoulder season splendor with you, but spring in Banff offers just as much to the savvy traveler. Many of the reasons that make the fall shoulder season an attractive time to visit Banff National Park still hold true for the spring. You can expect thinner crowds, lower prices, and the unique scenic landscape that makes Banff such a magical travel destination, no matter the time of year. However, if you're still on the fence deciding which shoulder season might be right for you, we've outlined the pros and cons of Banff National Park in the spring. We've also provided helpful facts like what to pack, available activities, and more—everything you need to get the most from your Banff vacation.
Required Documentation and Ticketing
Banff National Park requires specific documentation for visitor entry no matter the season. Both Canada and the park itself have requirements to which visitors must adhere. The requirements all straightforward and should not pose difficulties for anyone visiting the park. Here are some broad brushstrokes to help your travel go more smoothly.
Passports, Visas, and Global Entry
Your first stop when planning your shoulder season sojourn to the Canadian Rockies should be the Canadian Government website. Here you can verify the specific travel documents you will need before your trip. You will likely need your passport, but many visitors will require an Electronic Travel Authorization (eTA) if travel incudes arrival at the Calgary airport.
U.S. citizens can expedite their travel wait times on the way home by enrolling in the U.S. Customs and Border Protection (CBP) program, Global Entry. This program offers expedited clearance for pre-approved, low-risk travelers when arriving back in the United States. Find applications for the program at the Trusted Travelers Program page of the Department of Homeland Security's website. Application costs $100 USD and is nonrefundable.
Park Entry Requirements
Entry into any of Canada's national parks requires a National Park Pass. Whether you choose a single-park day pass or and annual pass depends on whether you're planning a brief trip to Banff or intend to linger and take advantage of the many gorgeous parks Canada has to offer. Also, keep in mind whether you wish to visit any of Canada's national historic sites, as day passes do not cover entry to these sites.  Regardless of which pass you choose, they can both be purchased online, at the park gates, and at any of the Banff and Lake Louise visitor centers.
If your plans only include visits to one or two parks, the individual park day pass offers the best option. Valid only for the day of purchase with a 4:00 PM expiration, these passes are available for individuals as well as families and groups. The family and group options cover up to seven persons in the same vehicle. Passes for adults ages 18-64 cost $10.50 CAD. Passes for adults ages 65-over cost $9.00 CAD. Youth passes for children up to age 17 are free, and the family or group pass costs $21.00 CAD.
Visitors who want to experience more of what Canada's eighty national parks and historic destinations have to offer should consider the Banff Discovery Pass. Valid for a full year from the date of purchase, this annual pass costs $72.25 CAD for adults ages 18-64. Passes for adults ages 65 and over cost $61.75 CAD. Youth passes for children up to age 17 are still free, and the family pass costs $145.25 CAD. All passes should be printed out and displayed prominently on the dash of your vehicle.
What to Pack for Banff Spring Shoulder Season
No matter if you plan on visiting Banff National Park in the spring or fall, you need to know what to pack. Some items remain a must-have regardless of whether you're soaking in some summer fun in one of Banff's iconic lakes, such as Moraine Lake, or "chilling" in Banff's Upper Hot Springs to ward off winter's nip. You can probably leave the designer duds at home, however, as Banff enjoys a very relaxed dress code for most destinations and activities. Leave the suits and dresses at home unless you have a special occasion planned.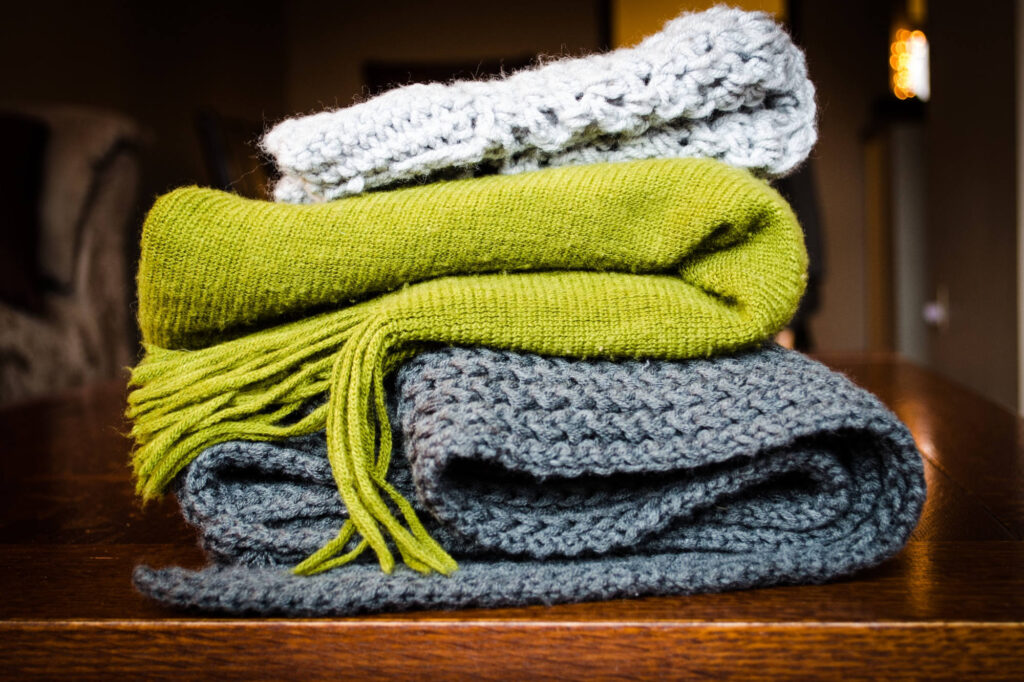 The Basics
The key points to remember when packing for Banff, regardless of whether it's spring, summer, winter, or fall are:
1} Steer clear of cotton which retains moisture instead of wicking it away from your body. Your teeth will chatter in your head when temperatures start to drop.
2) Layers are your friend! The weather can be erratic in the Canadian Rockies. Dressing in layers allows you to adjust on the move without interrupting your fun.
3) Observe safety measures at all times! The Parks Canada website has season and activity specific safety information to ensure all visitors to the parks can reduce their risks while enjoying everything Banff has to offer.
4) Your feet will support you during most of the fun you will experience in the park. As such, make certain you support them with the right socks and shoes.
We also highly recommend including some specific items in your Banff bag year-round. It's always a good time to pack a pullover. You may want to also include a few long-sleeved shirts as well. Pack a roomy daypack, handy for stowing those extra layers as you peel them off. Don't forget some simple survival tools like a compass, a first-aid kit, bear spray, and a good knife. You'll also want an environmentally friendly water bottle. Keeping your insides hydrated is important! Protect your outside with a highly rated UV sunblock. And to capture the scenic splendor of the Canadian Rockies in the shoulder season, make sure your phone is charged, or bring a camera!
Shoulder season makes packing interesting, but not impossible. It isn't unheard of to experience multiple seasons as the sun can give you some balmy days even when there's still snow on the ground. In the spring shoulder season, you can leave the heavy winter coat at home and opt for more extensive layering instead. Most travelers find it best to start with long pants and a t-shirt or long-sleeved bottom layer with a warm fleece sweatshirt or pullover on top. Spring is not the rainiest season in Banff. Still, it's a good idea to bring a lightweight, waterproof jacket to protect against any showers. Don't forget a warm hat and scarf. If you plan on getting in some hiking while you're visiting Banff National Park, you'll likely want to include hiking poles and possibly shoes with micro spikes.
Weather
Just like with the fall shoulder season, it's pretty much anything goes when it comes to daily weather in Banff. The season starts out with quite a bit of snow on the ground and average temperatures around 5°C (40°F). Expect cool mornings and even frigid nights until you get closer to summer.
March
March sees the first inkling of warmer temps—if you consider 1°C (34°F) warm! Average temperatures can range from -5°C to 3°C (23°F to 37°F)—warmer than winter, but still cold. If you love skiing and snowboarding, though, March is a prime time to visit as Banff sees some of its heaviest snowfall around this time. The area can see up to 10-14 centimeters (4-6 inches) of snow per week, with areas like Lake Louise getting up to 20 centimeters (8 inches)! But don't worry. After a day of sun and fun out on the slopes, you can cuddle up by a roaring fire to warm you up!
April
Spring starts to hint at its presence as April rounds the corner. Average temperatures warm to around 8°C (47°F), but winter is not quite ready to loosen its hold on the mountains. You'll still see a lot of snow on the trails and mountain peaks. Lakes will still be frozen, and low temperatures can drop to -3°C (26°F). Brr!
May
Lots of sunshine warms the skies in Banff during the month of May. The mercury climbs to an average high of around 9°C (48°F). You can expect a smattering of precipitation, usually in the form of snow, at higher elevations. In fact, Banff plays host to one of the longest ski seasons in North America. However, the snows do start melting at lower elevations. Nights still bring colder temps, averaging around 1°C (34°F), so bundle up.
June
Pack your rainboots! June showers the Canadian Rockies with the most rain it sees compared to every other month. But don't let it put a damper on your travel plans! With average high temperatures hovering around 18°C (64°F), you should be able to experience some of the beauty of the park's glacier lakes as they thaw. Moraine Lake and possibly Lake Louise may still be holding on to winter's freeze. Expect low temperatures to dip toward 5-6°C (40-41°F).
Getting There
Banff National Park features three common routes of travel by plane, by car, and by bus.
Plane
Flying into Calgary International Airport offers travelers the most convenient air access to Banff National Park. Located 140 kilometers (87 miles) to the east, you can drive the route in around ninety minutes.
Car
If you plan on coming into Banff by vehicle from Jasper, you can follow along the scenic Icefields Parkway. This route takes approximately three and a half hours. Coming in from Calgary, the drive along the Trans-Canada Highway only takes around ninety minutes.
Bus
Leave the driving to Canada's excellent bus and shuttle transportation system! Most of Alberta's major cities like Banff, Calgary, Jasper, and their popular attractions are easily accessible via public transportation. However, do check the current transit schedules as services may be reduced during shoulder season.
Pros 
Along with the fall shoulder season, spring shoulder season in Banff shares some distinct advantages for travelers to enjoy. However, it also has perks that are uniquely its own. As spring tiptoes in, treading on winter's tail, it gives visitors the opportunity to experience the best of both worlds. You can still enjoy certain snow activities and still marvel in the beauty of Banff's famous lakes. Certain special events only take place at this time of year, such as the Homegrown Art Show and the world-famous Slush Cup. It all comes together to make the spring shoulder season a great time to visit Banff and the Canadian Rockies.
Reduced Prices
Popular destinations like Banff often offer reduced prices in the off-season hoping to attract visitors. As such, savvy travelers can score some wonderful deals on airfare, accommodations, dining, attractions, and more during the shoulder season, leaving more money in your pocket. Typical prices in Banff can drop so significantly, you could see more than a couple hundred dollars in savings for a seven-day vacation.
Fewer Crowds
You may see a few more people in the park during the spring portion of shoulder season as ski enthusiasts still enjoy Banff's extended ski season. Still, you can enjoy more elbow room on the trails and at popular attractions like the Banff Gondola. You will also find it easier to find seating at some of Banff's scenic dining spots like Sky Bistro and The Rimrock Restaurant.
Cons
Visiting Banff during the shoulder seasons has benefits but be prepared to make a few concessions when taking advantage of the perks. Spring, specifcally, comes with a few downsides you won't contend with in the fall. Considering your itinerary can help determine if the cons will deter you from coming to Banff in the spring.
Low Temperatures
If you aren't a fan of chillier climes, visiting the Canadian Rockies in the spring might not be the best idea. With many nights dipping down to below freezing and highs cresting into the teens (Celsius), spring in Banff may prove too cold for sensitive visitors, even with the sunshine that begins to warm the mountain peaks in April and May. If your teeth tend to chatter when the mercury dives below zero, but still want to enjoy the benefits of spring shoulder season, June might be the better choice.
Frozen Scenery
If view the stunning turquoise of Canada's iconic Moraine Lake rates high on your agenda, skip spring and visit during the fall. Moraine Lake, which features prominently on some Canadian currency, won't reveal its jewel-toned waters until summer, still iced over with winter's touch sometimes into late June. If visiting in the latter portion of the season, you could get lucky and catch a glimpse, but to guarantee you get to enjoy the spectacular views, visiting Banff at another time is your bet. Lakes at lower elevations will thaw earlier and many offer equally beautiful views.
Restricted Access
Banff sees precipitation like "snow-body's" business during the winter months, and they linger well into the spring. While this makes for a great ski season, it wreaks havoc with many of the roads and thoroughfares that lead to popular Banff destinations. Many trails also see seasonal closures to guard against avalanche risks. Additionally, the park takes the conservation and protection of its wildlife seriously. This results in restricted access to some arteries to benefit certain habitats and animal migration.
Beginning at the tail end of fall and continuing into the beginning of spring, Lake Louise closes access to its cross-country ski trails. During the spring, Bow Valley Parkway has evening closures daily from 8PM-8AM, March 1 to June 25. Healy Pass, Sunshine Meadows, and the area north of Citadel Pass see some of the longest seasonal closures. They remain closed all the way from spring to fall. Hiking off trails in these areas is prohibited, too, as well as horseback riding in Healy Pass and Sunshine Meadows.
Limited Accommodations, Attractions, and Transportation Options
Spring shoulder season presents another drawback for Banff National Park visitors with limitations on the availability of accommodations, popular attractions, and transportation. While you can certainly score better prices at some of Banff's hotels and lodging, there may be fewer options available, so plan ahead. Camping sees marked reductions in availability in the early part of spring shoulder season. Only two of Banff's campgrounds, one at Tunnel Mountain and another at Lake Louise, have year-round availability, and spots go fast. If you want to camp, wait until after mid-May to better your options.
Your options for area activities could experience some restrictions as well. Be sure to review posted schedules for any attractions you plan to visit as many reduce hours due to the waning daylight hours. Some attractions close altogether due to weather conditions and safety concerns.
Many people come to Banff with hiking on their agenda. Snow, ice and in the spring, mud can affect the availability and conditions of many popular trails, particularly at higher elevations. Fortunately, Banff is home to over three hundred trails, many of which remain accessible year-round. Before you don those hiking boots, however, check a reliable site like AllTrails to stay abreast of current trail conditions.
If you plan on driving during your time in Banff, be aware the spring brings some potentially hazardous road conditions with it. You can experience everything from limited daylight, rain, and snow to the dangerous phenomenon known as "black ice." If you are driving in Banff and want to view real-time road conditions in the area, you can always check out the area webcams like the traffic cams at the Town of Banff website, the weather webcams at the Banff & Lake Louise tourism site or check out all the webcams in Banff in one location in this post. The 511Alberta website also maintains a camera page to give you current views on many of Alberta's roads and highways.
Tours and Activities Available During Banff's Shoulder Season
Tubing
Visiting Banff in the spring may have some limitations, but it has other fantastic reasons to visit, and this next one is "totally tubular"! Mount Norquay features many exciting activities to engage the whole family, like skiing, riding the lift, and even a Spring Break Ski Camp for kids ages 3-12. But nothing beats the excitement of sailing down the mountain on a tube! Available until around the middle of April, you can kick back and relax as the tow cable brings you to the crest of the hill then feel the rush as you fly down on the white powder. Riders must be at least 4 years old and be a minimum height of 42 inches. Tubing is super popular, so book your tubing session early to avoid disappointment. You can book a two-and-a-half-hour morning session from 10-12:30PM on weekends or holidays, afternoon sessions from 1:30-4PM, and until mid-March, you can also book a night session from 5PM-7:30PM.
Homegrown Art Show
Home is where the "art" is, and Banff is no exception. This special exhibition in Banff Town Hall features the artwork of local artists from the Bow Valley area throughout the spring. It kicks off at the beginning of March with an open house event and lasts throughout the month.
Banff Summer Arts Festival
Don't let the name fool you. Visitors can absolutely enjoy the Banff Summer Arts Festival starting in May each year. The festival offers visitors a unique opportunity to soak in some culture during the spring shoulder season. It takes place at the Banff Centre and features performances and exhibitions in just about every fine arts discipline—art, dance, film, drama, and the spoken word. With over one hundred fifty events throughout the festival, attendees can gain a unique perspective on mountain culture and nature exploration.
Slush Cup
Say goodbye to the ski season at the end of May with the fun and games of the Slush Cup! This extremely popular event has taken place annually for the past ninety-five years and always takes place on the final day of the ski and snowboard season. Spectators can cheer on competitors as they attempt to set the longest "skim" across a slushy pool, race in the All-Ages Slalom, or just enjoy the party atmosphere with crazy costumes and live bands.
Banff Marathon
One of the most unique ways to observe the brilliant spectacle of Banff's beauty is along the route of the famous Banff Marathon. Stretching from the beautiful Banff Central Park, traveling past the stunning Vermillion Lakes, and winding through the gorgeous Bow Valley, the annual event fills up quick, so register early. Registration opens in September. Even kids can get in on the fun with the Pursuit Kids Run, a free event for children ages 3-12.
Spring Wildlife Viewing
Nature lovers can get a first peek at the famous bighorn sheep, and some elk and deer as the meadows and grasslands begin to thaw with the spring sun. Wildlife tends to be more active at the beginning and end of the days, so schedule accordingly if nature watching appeals to you. As the snows melt, you can often spot these animals often close to the Banff townsite. You could even spot some of the Canadian Rockies native bears as they lumber out of hibernation. If you want to increase your chances of seeing some of the native wildlife, you can opt for a guided expert tour like Banff Tours. They offer a 1–3-hour tour with an expert guide starting at $43 CAD for children ages 6-12 and starting at $82 CAD for adults ages 13+. Your ticket price includes a delicious maple cookie with warming hot chocolate and offers hotel pick-up and drop off.
Open Top Touring
Spring heralds the start of a seasonal, one-of-a-kind tour experience in Banff. If you like your tours with twist, travel back to the 1930s aboard an open top coach and be regaled with fascinating tales of the people and places that made the Banff area what it is. Knowledgeable guides in period costume share Banff's history as you take in the sweeping vistas and scenic eye-candy of the Canadian Rockies. Tickets can be booked online. Adult tickets cost $55 CAD. Tickets for children ages 6-15 cost $36 CAD. Take advantage of a 10% discount if you book 48 hours in advance.
Walk on the Athabasca Glacier
Have you ever wanted to walk on a 10,000-year-old glacier? If you visit Banff in the shoulder season, you can! Participants in the Columbia Icefield Adventure board Ice Explorer ATVs and travel across the icy plain to the Athabasca Glacier, where they can experience what its like to walk across some of the oldest ice on the planet and even sample some of its fresh, cold water! Your ticket includes a thrilling walk across the Columbia Icefield Skywalk, a transparent platform soaring over nine hundred feet above the icefield. The Columbia Icefield Adventure begins seasonal operation in early May and continues operations into October. Ticket prices start at $89 CAD.
Feed Your Inner Adventurer
Since Banff enjoys one of the longest ski seasons in North America, there's no shortage of resort skiing available at places like Lake Louise and Mount Norquay. But if you're hungering for something a bit more adventurous, consider booking a ski adventure with Yamnuska Adventures. From March to mid-April, Yamnuska Adventures offers comprehensive adventure packages for beginning skiers to skiing enthusiasts starting at $479 CAD. With over 40 years of experience, they also offer ice climbing, mountaineering, and hiking packages sure to please even the most seasoned adventurer in your party. Choose your adventure and book online.
Hiking in Banff
Let's face it—most visitors to Banff come for the incredible scenery, and there is no better way to experience the sweeping vistas of the Canadian Rockies than out on the open trail. And even though some of the higher elevation trails have restricted access during the shoulder season, you can still find trails for all levels of hikers among the 300+ trails Banff National Park has to offer. With more elbow room on the path, guest appearances by local wildlife, and slowly lengthening days, hikers have a lot to gain from visiting Banff at this time of year. So, put one foot in front of the other and check out some of trails we've highlighted for you.
Marsh Loop
Difficulty: Easy
Elevation Gain: 101.8 meters (334 feet)
Length: 3.4 kilometers (2.1 miles)
Duration: 1 – 3 hours
For an easy spring hike that will really immerse you in Banff's natural surroundings, consider the Marsh Loop trail. The loamy and mineral-laden scent of Cave and Basin spring hang heavy over the wooden boardwalks that weave a 3.4-kilometer trail through the marsh. You may still see some snow and ice in the early part of the season, but as it warms up in the latter months you will find tall marsh grasses and other vegetation beginning to show through.
Stewart Canyon Trail
Difficulty: Moderate
Elevation Gain: 262.7 meters (862 feet)
Length: 6.8 kilometers (4.2 miles)
Duration: 2 – 6 Hours
This 6.8-kilometer (4.2 mile) trail is just outside the Banff area.  out-and-back trail near Banff, Alberta. Most hikers in fair shape will find this a moderate trail. It draws snowshoe enthusiasts in the very early part of spring, but also is an attractive hike for birdwatchers, especially as things begin to warm up. For traditional hiking, June is the best time to visit this trail during shoulder season. You can also bring your canine companions on this trail. Just ensure they are properly leashed.
Johnston Canyon to Lower Falls
Difficulty: Easy to Moderate
Elevation Gain: 104.9 meters (344 feet)
Length: 2.3 kilometers (1.4 miles)
Duration: 45 minutes – 1 hour
Another gentle spring hike is the Johnston Canyon to the Lower Falls Hike. If visiting this trail in March or April, micro spikes are advisable as there is still quite a bit of snow and ice along the trail. This 2.3-kilometer trail resembles a wintry wonderland in the early part of the season, with crystal blue frozen falls and sparkling icicles. Johnston Creek, which cuts through the towering walls of the canyon, will likely be partially defrosted, but you can expect it to still be crusted with bits winter's frost. Better times to explore this trail in the spring are the months of April through June. A very popular trail, you can also count on having some company. Leashed dogs are welcome.
Silverton Falls
Difficulty: Easy to Moderate
Elevation Gain: 112.8 meters (370 feet)
Length: 1.8 kilometers (1.1 miles)
Duration: 45 minutes – 1 hour
If you only have an hour to spare in between all the rest of the fun, squeeze in this "short and sweet" hike through an alpine forest to reach a beautiful 50-meter waterfall. The Silverton Falls hike tends to get overlooked by many visitors making it a peaceful sojourn for those seeking some quiet contemplation in the splendor of the mountain beauty. In the spring, depending on what time you travel, the falls may still be frozen, making for a wintry fantasy photo opportunity. Your four-footed, furry companions are welcome but must be leashed.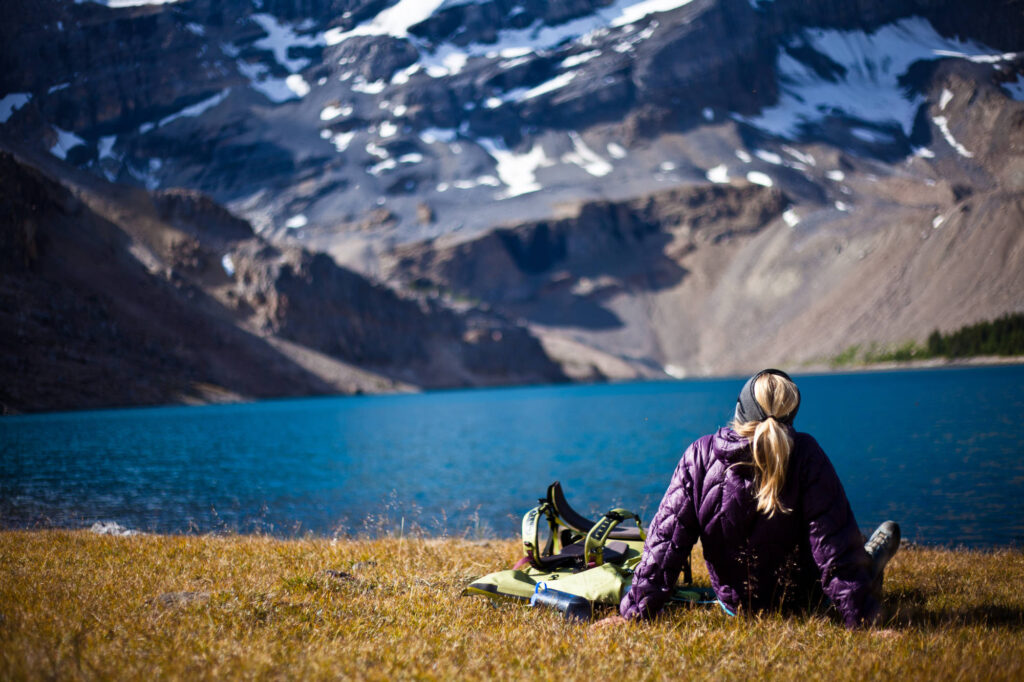 Sundance Canyon
Difficulty: Moderate to Challenging
Elevation Gain: 342 meters (1,122 feet)
Length: 8.7 kilometers (5.4 miles
Duration: 2 hours 44 minutes – 3 hours
The Sundance Canyon Trail is steeped in history. The trailhead is located where Banff National Park originated—at the Cave and Basin National Historic Site. You'll find a host of informative markers near the trailhead illustrating the rich history of the site. The trails itself begins on a smoothly paved path just beyond the Cave and Basin center. Boardwalks can be accessed to the right beyond the picnic tables. Real history buffs will appreciate the National World War I Internment Exhibit found beyond the picnic area. To thoroughly enjoy this trail, visit in the months of May through October. As with many of Banff's trails, pets are welcome if leashed.
As you can see, the spring shoulder season in Banff shares many of the advantages the fall shoulder season offers travelers. However, if snow and skiing figure into your travel plans, spring is by far the better choice. Visitors to Banff in the spring months can enjoy the extended ski and snowboard season, certainly, but do be aware that with the longer snow comes the associated lower temperatures. Don't be dissuaded by the mercury, though! With proper packing and strategic layering, you can still take advantage of all that Banff National Park and the spring shoulder season has to offer.
FAQS
Is the spring shoulder season a good time to visit Banff?
Yes, if you pack properly and don't have your heart set on out-of-season activities like swimming. Some visitors find shoulder season temperatures on the chilly side, if not downright cold. However, with strategic layering, most folks can tolerate daytime temperatures and take advantage of the reduced rates and smaller crowds Banff offers at this time of year.
What are the average temperatures in Banff during the spring shoulder season? 
During Banff's spring season, visitors can expect to see a wide variance in temperatures—from below freezing to a pleasant 18°C (64°F). Temperatures are typically chillier in the early mornings and evenings, but warm as the spring sun comes out.
Are all hiking trails in and around Banff open during the spring?
No. Certain trails remain closed, particularly those at higher elevations, until the winter snows have melted. Avalanche risk and wildlife allowances restrict access. However, a wide variety of trails, like Surprise Corner, Silverton Falls, and Tunnel Mountain Summit remain accessible for visitors interested in great hikes with great views.
Are there any special events taking place in the Banff area in the spring?
Yes! Banff hosts exciting and special events year-round, and spring is no exception. The spring shoulder season sees everything from sporting events like the Banff Marathon to cultural celebrations, like the Homegrown Art Show and the Banff Summer Arts Festival.
Can I still ski and snowboard in Banff in the spring?
Absolutely! Banff enjoys one of the longest ski and snowboarding seasons in North America. So, if hitting the slopes is your jam, the spring shoulder season is a great time to visit!