As the steamy heat of summer starts to fade and the lush jewel-toned colors of fall begin to emerge, it can only mean one thing. It's time for the on-point magic of Banff's almost off-season. Shoulder season is here! Banff actually experiences two shoulder seasons each year—one in the fall (Sept-Nov) and one in the spring (April-June). Travelers can sometimes get overwhelmed with all the information there is to digest about these two excellent times to visit Banff National Park. To make your planning easy, we've broken it all down into a two-part special series. You'll find this first article packed with information about the fall shoulder season. We've provided helpful tips on what to expect from the weather, what activities you can participate in, and even what to pack! And while Banff stands out as an incredible vacation, wedding, and honeymoon destination year-round, this two-part series shows the shoulder seasons, fall or spring, have some additional attractive perks to make your trip…magical!
The Essential Must-Have List for Banff's Shoulder Season
Required Documentation and Ticketing
Even in shoulder season, Banff National Park has a plethora of breathtaking views and exciting activities sure to enthrall you. And just like the regular season, it also has a few requirements for entry, both into the country and into the park itself. We've outlined a few of the critical highlights and provided some helpful tips to ensure a smooth trip to this gorgeous place.
Passports, Visas, and Global Entry
Most visitors to the Canadian Rockies need a visa or an Electronic Travel Authorization (eTA) if they plan on arriving via the Calgary airport, the nearest major airport to Banff National Park. The specific needs will depend upon what type of travel document you have, such as a passport, the country of issue, and where you are from. You can easily verify necessary travel documents at the Canadian Government website.
For U.S. citizens, here's a quick tip to expedite your travel wait times, particularly at airports. U.S. Customs and Border Protection (CBP) has a program called Global Entry which provides faster clearance for pre-approved, low-risk travelers upon arrival back into the United States. Members have designated automatic entry kiosks at specific airports when entering the United States. This expedites the U.S. entry process when you return home, tired from all the fun you experienced in Banff National Park.
You can apply for the program at the Trusted Travelers Program page of the Department of Homeland Security's website. The program application costs $100. DO note, the fee is non-refundable, even if your application is denied.
Park Entry Requirements
You must hold a National Park Pass to enter any of the national parks in Canada, including Banff National Park. Passes can be purchased online and at the park gates. The option also exists to pick up your pass in person at any of the visitor centers in Banff of the Lake Louise area.
You have two options for passes. If you are planning a brief trip to one or two parks, opt for the individual park day pass. Day Passes provide an ideal choice for travelers who intend to only make a short visit to Banff National Park. Do be aware, day passes do not include entry to any of Canada's national historic sites. Each pass is only valid for the day and expires at 4:00 p.m. the day of use. The passes are priced per individual, but a family or group option is available for up to seven persons in the same vehicle. Adult passes cost $10.50 CAD. Older Adult passes cost $9.00 CAD. Youth passes for children up to age 17 are free, and the family pass costs $21.00 CAD.
If you plan on spending a longer period in the Canadian Rockies and want the freedom to visit all of Canada's 80 national park and historic destinations, consider the Banff Discovery Pass. This annual pass remains valid for a full twelve months from the date of purchase. Adult passes cost $72.25 CAD. Older Adult passes cost $61.75 CAD. Youth passes for children up to age 17 are still free, and the family pass costs $145.25 CAD. Regardless of which type of pass you choose to purchase, make sure a physical copy is printed and on display in the dash of your vehicle.
Shoulder Season Packing Essentials
Packing for the fall shoulder season in Banff requires a wide variety of items and layers as Canada enjoys a reputation for unpredictable weather and marked temperature changes within any given day. As the calendar moves closer to the off-season of winter, you'll definitely want to add a heavier coat to this list.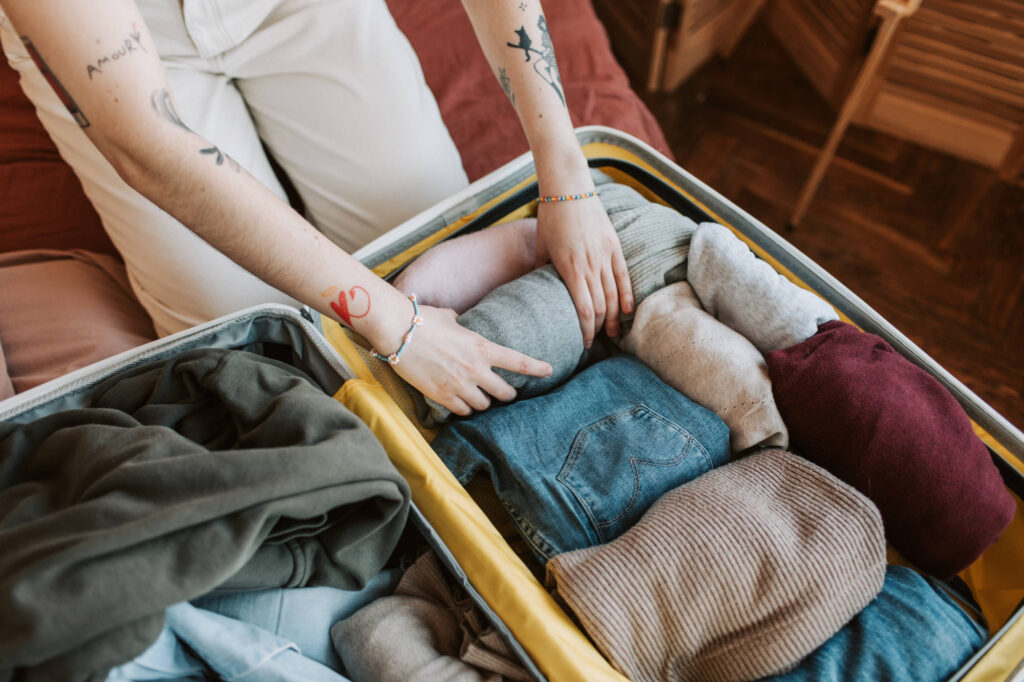 Clothes
The first three things on this list are essential. Layers, layers, layers. Because precipitation like rain and snow occur quite commonly in the shoulder season, make sure you have a waterproof outer layer, such as a rain jacket. Beneath that, you'll want warm layers that you can peel off at warmer times of the day or slip back on when the evening temps start to drop. A down jacket is a Banff must-have over a pullover fleece or sweatshirt. Fleece-lined leggings will keep you toasty, especially as temperatures really start to drop in October and November.  
Don't forget your base layers, too. Fleece-leggings won't always be the best choice, especially if you plan on some long hikes.
If hiking is, indeed, in your travel plans, be sure to bring comfortable, lightweight, waterproof hiking shoes. The latter part of shoulder season sees some slushy trails, and nothing's worse on the trail than cold, wet feet! Which brings socks to mind. Look for a cushioned pair of moisture-wicking socks to keep your feet happy and comfortable.
Last on our clothing list are a warm hat, a cozy scarf, and gloves. Even in the summer Banff National Park can see low temperatures drifting down to the 4˚ C (40˚ F). Early mornings and evenings both can have a substantial chill, so you'll want these items to avoid frozen fingers and chattering teeth! Consider touch-screen gloves so you can still take pictures of all the glorious scenery!
Equipment
You've got your clothes taken care of, but don't forget your gear! Pack adequate sun protection—glasses, sunscreen, lip balm with UV protectant, and you probably want a wide-brimmed hat. If you plan on hiking, you may want to bring lightweight carbon fiber hiking/walking poles. They can be a boon when trekking on uneven terrain and trails with substantial grades.
Whether you intend to hike, picnic, camp, biking, or participate in any other outdoor activity in Canada's national parks, carrying bear spray is a good idea. Know what sprays to purchase and learn how to use it properly as a deterrent at the Parks Canada bear safety page. The site also gives you great information on other ways to avoid entanglements with the black and grizzly bears that inhabit Banff National Park.
Always bring a daypack to stash your extra layers, snacks, water, sunscreen and bug spray. If you're going to be out on the trail for an extended period, consider bringing additional safety items like a first aid kit, a knife, a flashlight, waterproof matches, and a compass.
Weather During the Fall Shoulder Season
The key takeaway when considering Banff's shoulder season weather is "be ready for anything." Over the course of shoulder season, the weather can vary wildly, ranging from dry and sunny, to cold and snowy. We've broken it down for you by month so you have a better idea of what to expect from each one.
September
September offers visitors some pretty pleasant temperatures. You can still even find a few scattered hot days during the month. Expect the average temperature to hover somewhere near 10˚C (49˚F) with highs around 17˚C (62˚F). Nights, on the other hand, can be a bit on the "brr" side, with average lows dipping to about 3˚C (37˚F). Plan on a light jacket or sweater in the mornings and evenings.
October
Average temperatures start to dip In October. The air feels crisper. And even though you can still experience some comfortable warmer days, nights regularly see temperatures below zero. The October shoulder season has average temperatures just over 4˚C (40˚F), with high temperatures around 10°C (50˚F). Now, let's talk about the lows. The average low is just over -1 ˚C (30˚F). This is really the time of shoulder season where you might start considering a heavier coat.
November
November marks the transitions between shoulder season and the off-season in Banff. It is also the definitive start of heavy coat season with average daily temperatures just above -4˚C (25˚F). That's pretty cold! The high temperatures push the mercury higher, reaching just above freezing at .1˚C (32.2˚F), but the low average temperature plummets to just above -8˚C (17.4˚F). Snow starts falls most regularly during November, beating out December with over 200 millimeters of the white stuff. There are also some rainy days in November, bringing about 30 millimeters of rain.
Getting There
The three most common ways to travel to Banff National Park are by plane, by car, and by bus.
By Plane
When planning your trip to Banff, the airport with the easiest access is Calgary International Airport. A 90-minute drive from Banff, the airport is located about 140 kilometers (87 miles) to the east.
By Car
Follow the Trans-Canada Highway, also known as Highway 1, from Calgary for about ninety minutes to reach Banff. It's approximately ninety minutes. If you are coming from further afield, you can also reach Banff from Jasper along the Icefields Parkway. Expect the drive to take approximately three and a half hours.
By Bus
Canada offers excellent bus transportation between popular major destinations like Jasper, Calgary, and Banff. During fall shoulder season, however, there can be abbreviated schedules. So, just be certain to check the current transit schedules to ensure you don't get left out in the cold.
Pros of Banff's Fall Shoulder Season
September ushers in the shoulder season in Banff which continues through October and transitions into the winter off-season in November. The fall shoulder season offers everything you need for one of the most unique and memorable experiences in the Canadian Rockies. The first hints of fall began to peek as Banff's famous larch trees sport their golden foliage. The crowds start to thin allowing visitors more elbow room on the trails. Prices begin to drop, making the fall shoulder season an advantageous time to visit for budget-conscious visitors.
Yet, the warm temperatures of summer still linger at the start of shoulder season, along with opportunities to continue to enjoy summertime activities like swimming and mountain biking before the cooler temperatures roll in. You can even catch specialty events, like Melissa's Road Race or cultural activities such as the Banff International String Quartet Festival.
Shoulder Season Means Reduced Prices
The fall shoulder season in Banff sees generally lower prices for accommodations, activities, and tours than during the peak summer season. This can make it a more affordable time to visit the park. In October, many hotels and attractions in Banff drop prices even more. While November is technically the tail end of shoulder season in Banff, it straddles the line into off-season. As such, you'll see some of the lowest prices for accommodations, tours, and activities and visitors can takes advantage of features like fireplaces and hot tubs to make their accommodations cozier.
Shoulder Season = Fewer Crowds
This time of year is also a less crowded time to visit Banff, which means that you'll have an easier time getting around the park and accessing popular attractions without having to deal with long lines, wait times, or traffic on the roads. You can enjoy the breathtaking scenery and natural beauty of Banff National Park without feeling claustrophobic or hurried.
Fall Foliage
Nature erupts in all her splendor during the fall shoulder season. This is an excellent time to take in the turning colors, in particular the golden larch trees. You'll want to take plenty of pictures, and there are plenty of stunning photo opportunities.
Northern Lights
September and October provide prime opportunities to catch Canada's spectacular natural phenomenon, the Northern Lights. A combination of factors including clearer skies, cooler temperatures, and increased geomagnetic activity in the area makes the fall shoulder season a great time for this unique experience.          
A Photographer's Dream
Between the larch trees, the fall foliage, the active wildlife, September and October in Banff is a fantastic time for photography buffs. But there are even more picture postcard moments to be had in November as the fall colors give way to wintry landscapes of snow-capped peaks and dusted trees of the Canadian Rockies.
Wildlife Viewing During the Shoulder Season
September is an excellent time to see wildlife in Banff. Many animals prepare for winter and are more active during this time. As the temperatures start to drop further in October, many animals in Banff National Park become more active and visible. You may have a better chance of spotting elk, moose, and other wildlife in October, and in November, while some animals may begin to prepare for hibernation, other animals are still active and can be seen in their natural habitats.
Hiking
Sleptember and October offer great hiking opportunities in Banff. The trails aren't as crowded, and the changing colors make for gorgeous scenery along the trails. With the progressively cooler temperatures, you can look forward to spending more time on the trails without getting too warm.
Fantastic Fishing
Avid fishers can still enjoy casting a line during September and even into October in Banff National Park. September is also a good time for fishing in Banff. Waterways are still open, and with the cooler temperatures, the fish are more active.
Shoulder Season Snow Fun
To round out your shoulder season fun, you can look forward to fun in the snow as the ski and snowboard season opens without the hustle and bustle of peak season crowds.
Cons of Banff's Fall Shoulder Season
As beautiful as Banff shoulder season can be and even with all the advantages it brings, there can be a few downsides to be aware of. As long as you are aware, however, you can properly prepare and still enjoy all that Banff National Park has to offer.
Wild Weather
You can expect pretty mild temperatures in September, but weather in Banff can be notoriously unpredictable. On any given day you could see rain, snow, or even be surprised by a stifling heat wave. October weather is equally unpredictable. In November, the temperatures really start to drop and higher levels of precipitation occur—both rain and snow. Just be packed and prepared for just about any type of weather conditions.
Limited Accommodations, Attractions, and Transportation Options
With the end of the peak season, Banff starts to slow down a little and even some of Banff's popular attractions may start to experience limited availability or hours. As the shoulder season progresses, some activities close altogether. Always check before you go. You may also see a reduction in the availability of accommodations. Plan ahead and book early.
A Reduction in Daylight Hours
Along with lower temperatures, the shoulder season also sees shorter days. This can mean some creative scheduling is needed in order to get in all the sights and activities you want to see as the sun sets sooner.
Road Closures
With the end of the fall shoulder season in November, expect some roads and attractions to be closed due to seasonal maintenance or weather conditions.
Precipitation
November is the shoulder season month with the highest precipitation chances, but there can be occurrences of snow as early as September. This can negatively impact travel and the availability of certain outdoor activities. Snow and ice can both affect October, particularly in the latter part of the month. This can affect driving and hiking. In November, as ski season opens, there is an increased threat of avalanche.
Hiking Opportunities During Shoulder Season
If hiking makes you happy, get ready to shout hip, hip, hooray! Without a doubt, September takes the title as the best month for hiking in Banff National Park. With over 1,600 kilometers of paths and trails throughout the park, hikers of any skill level will be able to enjoy a scenic stroll filled with breathtaking views of the Canadian Rockies and more. In September, you get the added bonus of witnessing the spectacular colors of autumn as they begin to dot the landscape. October is the time for the larch trees to really shine, covering the countryside in gold. As the peak crowds begin to dwindle, you'll also have more room to meander, even on more popular trails like the Lake Agnes Tea House Hike or Johnston Canyon Hike. Here are some "can't miss" September hikes in Banff National Park.
Hike the Hoodoos Trail
Difficulty: Easy
Elevation Gain: 355 meters (1165 feet)
Length: 9.6 km (5.97 miles)
Duration: 2-3 hours 
The Hoodoos Trail is a fairly gentle hike that comes in just under 10 kilometers (approximately 6 miles) out and back with a reasonable elevation gain. You can access the trailhead just outside Banff at Surprise Corner on Tunnel Mountain.
The trail takes hikers along the beautiful Bow River with colorful views of the fall foliage. After traversing through a section of forest, hikers emerge at the unique spires known colloquially as "the hoodoos."  Some indigenous cultures have legends about these odd, eroded sedimentary structures, believing them to be the remnants of evil doers turned to stone. Other cultures call the hoodoos "fairy chimneys" or "goblins." Most hikers will prefer this well-maintained trail in the morning or late afternoon hours when the crowds dissipate.
Larch Valley Hike
Difficulty: Moderate
Elevation Gain: 535 meters/1755 feet
Length: 8.6 kilometers/5.4 miles
Duration: 5–6 hours
The most famous hiking trail during Banff's fall season must be the stunning Larch Valley hike. Around mid-September, the park's larch trees turn a breathtaking golden hue. Ancient peoples believed that incorporating larch wood into their fires would protect against evil spirits. Today they simply add to the stunning beauty of Banff National Park. The "golden hour" is fairly fleeting, lasting only from the middle of September into the first week of October. So, plan ahead to catch these legendary trees at their best. 
This moderately difficult hike starts with a hefty incline and includes a fair majority of the hike's elevation gain clocking in at approximately 450 meters (1,476 feet). You'll need to allot about an hour and a half to complete this portion of the trail, after which you'll find yourself at the Minnestimma Lakes. Hikers have the option of continuing to Sentinel Pass which offers a sprawling view of Paradise Valley.
Dogs are welcome on the Larch Valley Trail, however they must be leashed, and be prepared to clean up behind them. Be aware, bears can be more active in the summer and early fall. Hikers need to travel in groups of four or greater, and carrying bear spray is advised.
Healy Pass Trail
Difficulty: Challenging
Elevation Gain 858 m (2,815 feet)
Length 17.9 km (11.12 miles)
Duration: 6 hours 8 minutes
If you're looking for a full-day hike with the best of everything, consider the Healy Pass Trail. This challenging hike takes you through thick forests, across sweeping alpine meadows, and sports some water features like Egypt Lake and a burbling creek to help you fill your feed with some stunning photos.
The start of the trail takes you along a wide, shaded path up a minor grade. The path narrows as it takes you into a forest before breaking out into wide views of craggy peaks rising over broad alpine meadows and picturesque lakes.
Biking Opportunities During Shoulder Season
Two legs isn't the only way to experience the scenic shoulder season wonder of Banff National Park. You can do it on two wheels, too! Biking enthusiasts can choose from multiple trails, both paved and unpaved, to explore the area. Snow often limits the availability of many biking trails in the park, often arriving early in the season and frequently lingering into the start of the summer season. This makes the early part of Banff's shoulder season one of the most opportune months to experience Banff on two wheels. Biking opportunities begin to drop off as the fall shoulder season progresses. But until then, from Tunnel Mountain to the Legacy Trail, you can find rides for bikers of various levels all over Banff National Park.
Tunnel Mountain 
Tunnel Mountain offers biking experiences for both the novice and more experienced rider. No matter which route you choose, however, you'll be afforded spectacular views and experience breathtaking excitement. Don't have a bike? No problem. You can rent a bike and necessary gear for every member of the family at Banff Cycle and Sport from $35 CAD to $119 CAD. 
For beginning bikers, the Tunnel Bench Loop provides a perfect course. The route begins in the Hoodoos Lookout parking area. It covers 5.7 kilometers (3.54 miles) and offers breathtaking views of Bow Valley.
For those with a little more experience, consider taking on the more difficult Tunnel Mountain trail known as The Toe. This extremely narrow trail winds in a 7.9-kilometer loop (4.9 miles) and does have a number of sections that are quite steep.
Bike the Lake Minnewanka Loop in Banff
If smooth sailing is more your speed, the paved Lake Minnewanka Loop offers a paved, 15.5-kilometer (9.63 miles) ride which starts at Cascade Ponds, travels to Lake Minnewanka, and loops back for a gorgeous ninety-minute ride. You'll experience epic views of Two Jack Lake and Lake Minnewanka on this route.
Goat Creek Trail–Spray River Combination
Get two for one when you bike the Goat Creek–Spray River Trail combination. This popular ride can be tackled in two different ways. The easier option begins at the Goat Creek Trailhead and takes you 19 kilometers (11.8 miles) all the way into Banff. Alternatively, you can take the out and back option which starts at the Goat Creek Trailhead and follows the fire road until it meets up with the Spray River Trail. Don't miss the opportunity to see the beautiful Bow Falls!
Swims & Soaks in September
Up until mid-September, you can still take a dip in some of Banff National Park's lakes. Some of Banff's more iconic lakes, such as Moraine Lake and Lake Louise, are too chilly at this time of year as they are glacier-fed. If you have your heart set on a leisurely soak, don't fret. Banff National Park still has some great options for swimming early in the month. Once you pass the midpoint of the month, however, even these areas will likely drop too low.  
Johnson Lake
If you're looking for a spot where you can make a day of it, consider Johnson Lake. Great for wading, Johnson Lake sports a large sand beach. Pack a basket and enjoy a scenic lunch in the picnic area. Outhouses are located nearby for your convenience.
Cascade Ponds
The relatively shallow waters of Cascade Ponds makes it a great choice for bathers looking for warmer waters. The shallow water and sand beach also make it an ideal swimming spot for families. Cascade Ponds also has picnic facilities, both covered and in the open, with a wood stove and fire pit, respectively. There are also outhouses available. 
Herbert Lake
Just off the Icefields Parkway, just minutes away from Lake Louise, you can find Hebert Lake. This shallow lake, while often colder than Cascade Ponds and Johnson Lake, can still be tolerable for September swimming. It even has a diving board for those who don't mind the colder waters. Hebert Lake does not have a beach, but it does have facilities available, such as an outhouse and parking.  
Public Pools 
If outdoor swimming sounds too cold for you, but you still want to work in a dip during your trip, you still have a couple options for September soaks in Banff. Both these locations can be found in Banff town—Banff Upper Hot Springs and the Aquatic Centre.
Banff Upper Hot Springs 
If you've heard of Banff, you've likely heard of Banff Upper Hot Springs. Indeed, the springs initiated the development of Banff National Park. The hot springs themselves are fed by natural mineral water warmed beneath the earth's crust. They trickle down from points atop Mount Rundle and Sulphur Mountain before they burble up and fill the pool on Sulphur Mountain.
The pool at Banff Upper Hot Springs is a fantastic soaking pool. The minerals found in the water supposedly carry many health benefits. You can enjoy a therapeutic soak in the hot springs for $16.50 CAD for adults 18-64. Children 3-17 years old and adults 65+ cost $14.25 CAD. Children under three enter free. One locker token is included with each separate ticket.
Family options can be bought for $53.00 CAD, which includes up to four people. Allowable combinations include two adults and two youths, one adult and three youths, two seniors and two youths, one senior, one adult, and two youths, or four sibling youths where at least one of the siblings is over 18 years old. Extra youth passes can be purchased for $7.75 CAD each. One locker token is included with a family group ticket. Banff's Upper Hot Springs remain a popular attraction throughout the year so you may want to visit early in the mornings or later in the evenings to avoid long wait times. Banff Upper Hot Springs is open on Canadian holidays including Thanksgiving Day, Christmas Day, Boxing Day, New Year's Day, Good Friday, and Easter from 10 am to 10 pm, daily with the last entry is at 9:30 pm. Of course, hours of operation are always subject to change, so check the Banff Hot Springs website before you go.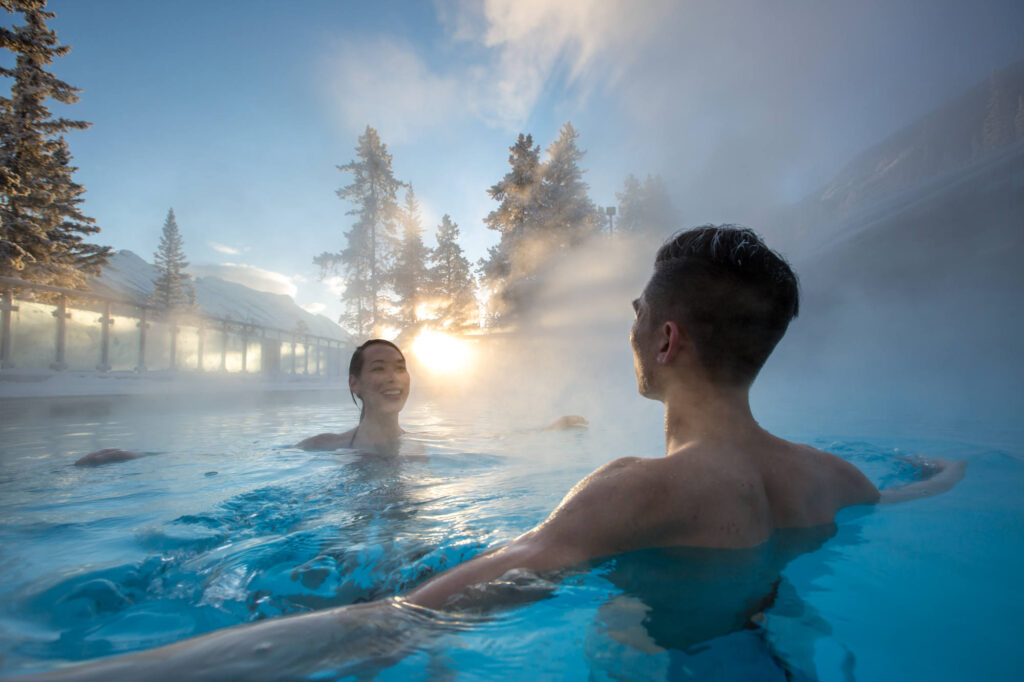 Aquatics Centre
The Aquatics Centre, part of the Sally Borden Fitness & Recreation, has a traditional public swimming pool at Banff Centre. Located at Tunnel Mountain, the Aquatic Centre is just a portion of the facilities available at Banff Centre. Besides the 25-meter pool, hot tub, steam room, and wading pool, you will also find art and conference facilities within the complex. Day passes are available for $20.00 CAD for adults, $16.00 CAD for seniors 60+, and $16.00 CAD for youths 4 – 15 years old. Note that GST is not included in pricing. The Aquatics Centre hours of operation are Monday to Friday 7:00 am – 8:00 pm, Saturday & Sunday 8:00 am – 8:00 pm, and holidays 11:00 am – 6:00 pm.
Tours and Activities Available During Banff's Shoulder Season
The fall shoulder season brings some incredibly unique tours and activity opportunities for visitors to experience. From nature enthusiasts to indoor athletes, you're certain to find something exciting to do during a visit to Banff September through November.
Spectacular Sights with Banff's Northern Lights
A natural phenomenon, the northern lights are a beautiful display of dancing colors arcing over the night skies in the northern hemisphere. Otherwise known as the aurora borealis, the shoulder season provides a great opportunity to view this spectacular light show in the skies over the Canadian Rockies. A visit in September and October can increase your chances. The geomagnetic activity on the planet, a factor in the appearance of the lights, peaks in September and October. For more on the history and legend of the northern lights and best spots and times to see them in Banff National Park, read the informative article here.
Pins, Pints, and Pizza
Banff has bowling! For a truly unique experience in Banff, lace up your bowling shoes and "alley" oop to High Rollers Banff. Located in the heart of downtown, you can kick back after an exhilarating day hitting the trails with some pins, pints, and pizza. In fact, that's even the motto of this fun eatery and entertainment venue. 
Bowl on any of the six available lanes and sample one of the 48 craft beers on tap. And Brooklyn's got nothing on the extra-large slices of pie made right in their own pizza kitchen! Book your lane in advance as this place hops and is frequently busy.  Groups up to eight can bowl for $50 CAD per hour. Shoe rentals are $6 per person. 
Sunrise at Moraine Lake
The road to Banff's Moraine Lake currently remains closed to personal vehicles. That doesn't mean you can't still experience the epic beauty of this iconic lake. Witness the stunning awe of a Moraine Lake sunrise with an organized tour. Regular shuttles will not depart in time for this unique, once-in-a-lifetime experience. 
The Earlybird Explorer Tour offers participants a chance to see the incredible sunrise over Moraine Lake and provides a steaming cup of coffee or hot cocoa to ward off the early morning chill. The tour continues on to Lake Louise, offering the advantage of visiting two of Banff's most popular lakes without the bustle of crowds. Tour prices start at $221.31 CAD and, should your plans change, have free cancellation up to 24 hours prior to departure.
A second, more affordable option exists with departures from Lake Louise Village. A sunrise shuttle departs from Moraine Lake twice a day, once at 4:00 am and again at 5:00 am. September prices range from $149-169 CAD and can be booked online. You can also book a return time to avoid long lines.
On Your Mark, Get Set, Go with Melissa's Road Race
On your mark, get set, and go to Banff in September to experience one of Canada's most popular and historic races! In 1979, Melissa's Road Race began as a tourist magnet. Today, with everything from a 5K to a half-marathon, over 5,000 runners participate in this incredible event.
Melissa's Road Race takes place on September 23, 2023. It not only features leveled running events along incredibly scenic routes, but also features world-class entertainment dotted along the course and a post-run bash that pulls out all the stops. Participants can register online and will receive a long-sleeve, commemorative shirt featuring art from local artists.
Music in the Mountains
Play that mountain music! For the first time since 2018, Canada's Banff International String Quartet Festival (BISQFest) will be happening live in Alberta's Rocky Mountains. Starting on September 1, 2023, the festival stretches live music, open rehearsals, movie screenings, and talks with the artists over three fabulous days. 
Hear classical music from Beethoven, Schubert, Haydn, Shostakovich, and more performed from award-winning classical artists like New Orford String Quartet, the Dior Quartet, Leonkoro Anna Štube, and Thomas Wolf, among others. The festival also features unique fusions with narration and acting, truly turning the experience into a performance art piece. Purchase tickets for individual events here.
Banff Centre Mountain Film and Book Festival
In the middle of fall shoulder season, afficionados of film and literature are treated to the Banff Centre Mountain Film and Book Festival. The event takes place from October 28 – November 5, 2023, and celebrates the spirit of adventure as authors, photographers, and filmmakers share tales of exploration and discovery the Banff Centre Mountain Film and Book Festival shares tales of enthralling journeys and ground-breaking expeditions from around the world.
Banff Craft Beer Festival
In November, the Banff Craft Beer Festival returns to the Cave & Basin National Historic Site. While the dates for 2023 are still pending, visitors can expect a wide array of craft beers from talented brew masters in the Alberta area. Sample ales from breweries like Three Bears Brewery and Banff Avenue Brewing Company. Dazzle your tastebuds with delicious food offerings from over 40 vendors, including Nourish Bistro's one-of-a-kind beer week pie!
Banff Christmas Market
It's never too early to start thinking about the holidays, and as the fall shoulder season draws to a close in November, winter is heralded in by the festive Banff Christmas Market! Only a 10-minute walk from downtown Banff, take a stroll through Central Park and along the new Bow River pedestrian bridge and follow the path to the right to Warner Stables and the big red barn and twinkling lights! Created for families and adults of all ages, this event takes place at the Warner Stables, 100 Sundance Road in Banff on three consecutive weekends— November 17-19, November 24-26, December 1-3. Hours are Friday & Saturday 10am – 8pm, Sunday 10am – 4pm.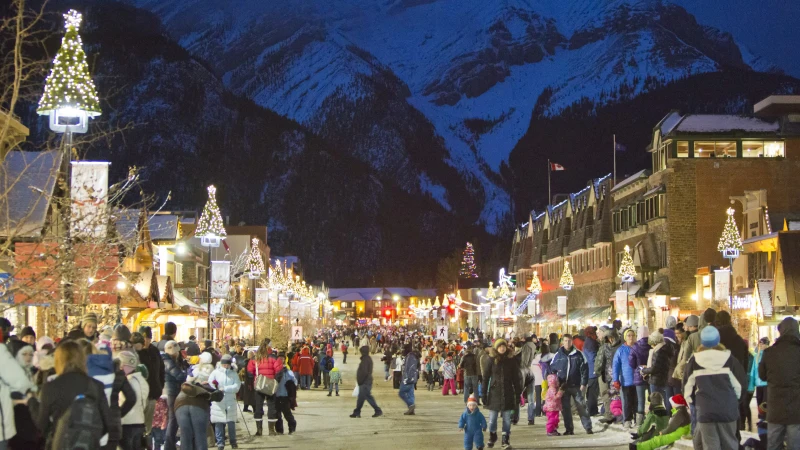 Banff Shoulder Season FAQS
Is fall shoulder season a good time to visit Banff National Park?
Yes! The fall shoulder season offers numerous advantages to visitors, such as lower prices, smaller crowds, and unique experiences not available at other times of the year, such as the beautiful, golden larch trees.
Can you still swim in Banff area lakes during the fall shoulder season?
In the early part of the shoulder season there are still several opportunities to swim in places like Johnson Lake and Cascade Ponds. When the weather starts chilling, you can still visit Banff Hot Springs or the Aquatics Center.
Can I hike during the fall shoulder season in Banff?
Absolutely! Most of the summer access trails are still accessible in September before any sufficient snow begins to fall. As the shoulder season progresses, there are still a number of trails to experience and explore in Banff's vast network of trails. Always check a respected site like AllTrails to verify trail conditions.
Can I see the Northern Lights during the fall shoulder season?
Yes! Though the light can be unpredictable, your chances of spying the famous aurora borealis increases at this time of year in conjunction with the planet's geomagnetic activity and the clear, dark skies.
Summary of the Fall Shoulder Season in Banff
In essence, visiting Banff National Park during the fall shoulder season unveils a hidden gem that unveils the park's true essence. The balance between serenity and adventure, the breathtaking scenery, and the abundance of wildlife encounters make it a must-visit destination for travelers seeking an exceptional and off-the-beaten-path experience.
So, no matter what draws you to Banff—mountains, music, or marathons—the fall shoulder season might just be the perfect time to visit Banff for the most unique and memorable visit the Canadian Rockies has to offer. Still, Banff has even more magic to entice visitors during the spring. So, stay tuned for the second installment of our shoulder season special!