For travelers in search of the perfect summer destination, look no further than Banff in July. Banff explodes in all her glory in July with exciting festivals, exhilarating outdoor activities, and longer days to make sure you can fit in all the fun. Mother Nature graces Banff with spectacular weather, basking the picturesque Canadian Rockies in warm sunshine. And the fun doesn't end when the sun goes down. Settle in with a thermos of cocoa or any of the delicious local craft beers while you marvel at the expanse of stars dappled across Banff's clear night skies.
Whether your vibe is hiking, fishing, sightseeing, or soaking in local culture, Banff National Park offers something for everyone. It's no wonder that July is the busy season in Banff National Park. Don't let the burgeoning crowds dissuade you, however. With all the information packed into this article, you can easily plan a July Banff vacation that will give you memories to last a lifetime!
Suitcase Essentials for Banff in July
What should you pack for a visit to Banff in July? A little bit of this and a little bit of that. Keep in mind that even though it's technically summer in Banff in July, the temperature is not necessarily comparable to summer temps in the lower forty-eight. You can enjoy relative comfort during the daylight hours with shorts and tank tops, but you may want to consider lightweight long sleeves and pants to combat biting insects depending on your planned activities for the day. You'll also find more coverage desirable as the sun sets. That's when temperatures start to drop, bringing a nip to the mountain air.
Review your itinerary when you're packing. Depending on what you have planned, you might want to consider bringing particular specialized equipment—trekking poles, a sturdy pair of hiking boots, and maybe a water bladder. If you have a romantic dinner scheduled, perhaps at the storybook, five-starred Michelin restaurant at the Fairmont, you'll probably want to include some dressier haute couture.
Is Banff in July Worth It?
July is inarguably one of the busiest months in Banff National Park. You can expect longer wait times at Banff's popular attractions and thicker crowds on the trails and at the lakes. Don't allow this to dissuade you from visiting Banff as the busy season ramps up, however. Instead, simply weigh the pros and cons of this busy season to help you better decide if visiting this beautiful place is for you.
Pros of Visiting Banff in July
One of the biggest boons of visiting Banff in July is its brilliant sunshine and the warm weather it brings. You can expect plenty of excellent weather as well as extended daylight hours to enjoy all the outdoor activities Banff has to offer. Temperatures typically hover near the 20°C (68°F) mark. This comfortable temperature is perfect for swimming or paddleboarding in any of Banff's beautiful waterways and hiking on the picturesque trails throughout the park.
Speaking of trails—hiking season is in full swing by July. The weather is warm but not uncomfortable. The winter snows have melted off most trails. If you enjoy strolling through idyllic alpine forests and taking in some of the epic views of the Canadian Rockies, July just might be the perfect month for you.
You can also find some of the most epic scenery in North America in Banff. July sees the countryside carpeted in a brilliant palette of wildflowers. Colorful flora like fireweed, lupine, or Indian paintbrush line many of the trails and blanket the landscape of the park.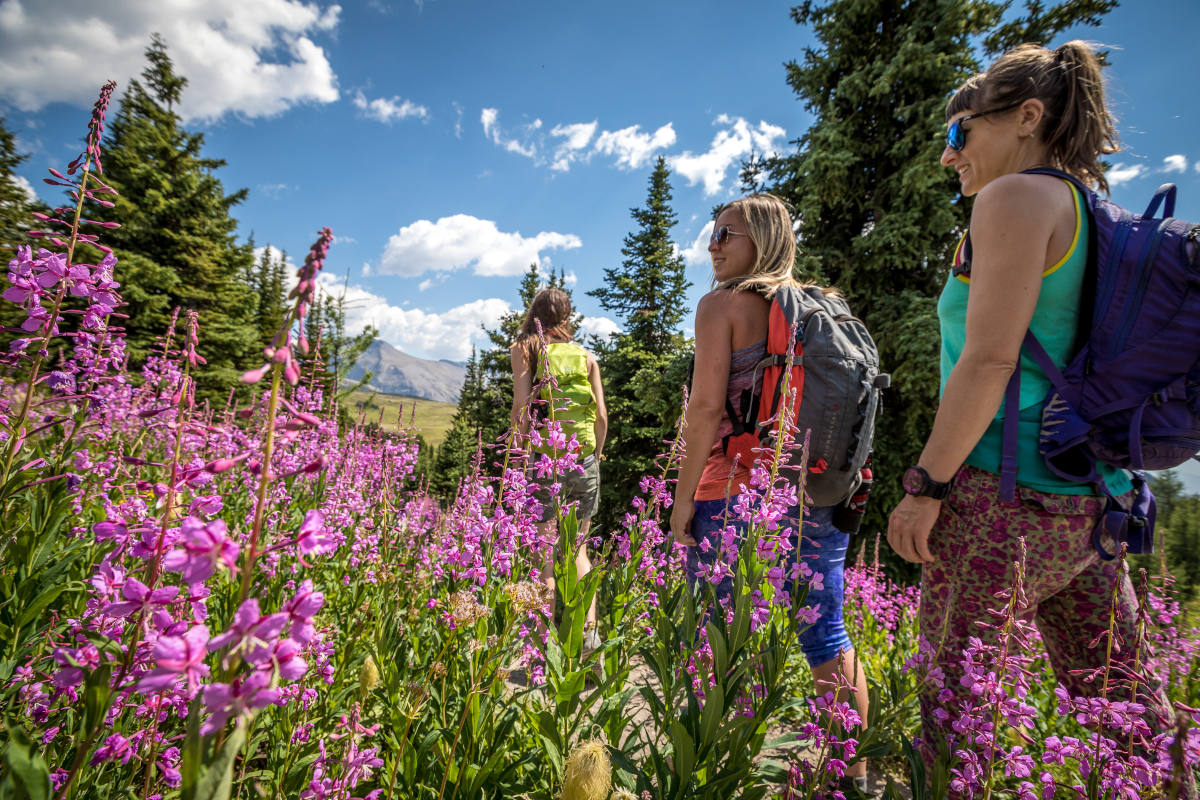 While July in Banff is perfect for wildflowers, it's also perfect for wildlife! Nature lovers will appreciate the abundant opportunities to spot bighorn sheep, majestic elk, beautiful deer, and muscled, lumbering bears. Wildlife activity rises with the temperatures, offering many opportunities to see the fauna of the Canadian Rockies moving about in their natural habitats. Do exercise proper safety and caution whenever wild animals are concerned. Respect distances, carry bear spray, and travel in groups. For more wildlife safety tips, visit the Parks Canada website.
Get Outside!
If you have a penchant for water activities, like canoeing, white water rafting, paddleboarding, and kayaking, July offers a widely varied menu of winding rivers and placid lakes. Winter's ice chills the waters to frigid temperatures, making these fun activities inaccessible altogether or unbearably cold. When the lakes defrost and begin to warm in the summer sun, the fun can begin. Kayak from the Ghost Reservoir to Cochrane, a route which offers camping opportunities on Wildcat Island.
The allure of sleeping under the stars in the great outdoors draws many visitors to Banff National Park. It's no wonder! The variety of both front and back country camping abounds throughout the park. Camping not only offers a great opportunity to connect with nature, it can also be a great way to reduce travel costs and provide convenient access to many popular Banff activities.
With so much to do and see, you might be wondering how to fit it all in—don't worry. July not only brings sun. It brings it longer. The average July day in Banff enjoys over sixteen hours of daylight—plenty of time to get in a great hike, some fishing, a ride up the Banff Gondola.
Cons of Visiting Banff in July
The July sunshine may bring the warm weather, but it also brings the crowds. Banff's iconic lakes, such as Lake Louise and Moraine Lake see greater numbers of visitors in July than in any other month. Some of the more popular trails, such as the Lake Agnes Tea House and Plain of the Six Glaciers hikes also become more congested. You can still enjoy these sights in relative comfort by planning ahead and arriving early.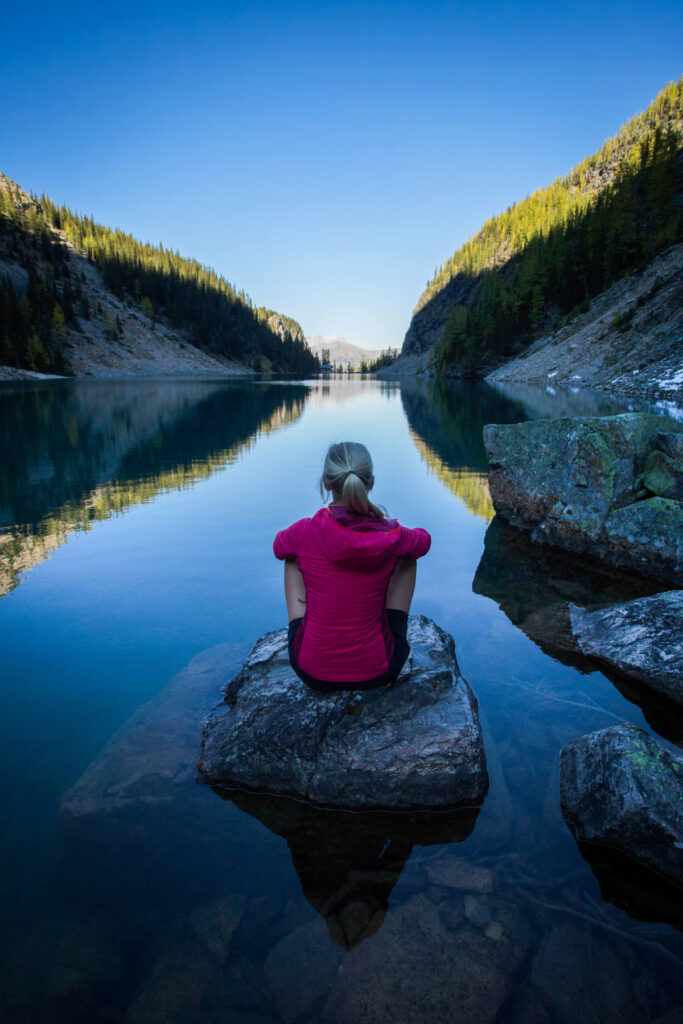 While the list of accessible trails continues to lengthen by July, be advised some of the higher elevation trails may still have limited access. Occasionally, ice and snow still linger at greater heights. Know before you go by checking the status of your desired routes on AllTrails. This reputable site keeps up-to-date trail conditions and access information to help you plan a safe and enjoyable hike.
When the Wildflowers Blossom, so do the Prices in Banff
Don't expect to find the more budget-friendly prices of "shoulder season" in July. Many hotels, popular activities, and tours see a spike in pricing this month.
Travelers have more to contend with than rising prices in July. Banff's warm weather and popular summer activities draw so many visitors, finding accommodations and available tour tickets can be challenging. Plan your trip far enough in advance to avoid be shut out from places you may want to stay and things you may want to do.
Planning for a trip to Banff in July also means planning for the unexpected. Even though sunshine tends to be the order of most days this month, visitors should not be surprised to see some random, wild weather. July can bring hail and blustery, booming thunderstorms. Know what to do when the weather pattern changes out on the trail to ensure the safety of you and everyone in your party. You can find many helpful safety tips here.
Don't just pack the bear spray if heading to Banff in July. Make certain to bring mosquito spray, too!  As the weather warms, it makes things more comfortable for us humans. Unfortunately, it also makes it more comfortable for those pesky mosquitoes. Consider wearing lightweight, long-sleeved clothing and pants, or opt for an environmentally friendly bug spray. Try to avoid using products that are water soluble, particularly if you plan to spend time on any of Banff's waterways. Water soluble repellents and the ingredients they contain can contaminate natural water sources, potentially harming indigenous wildlife.
None of these challenges is insurmountable, however. Banff remains one of Canada's most worthwhile destinations. Let us tell you more.
Banff Celebrates with July Festivals and Holidays
The hills are alive with the sound of music! You may not spy Julie Andrews spinning in valley, but you can enjoy a decades-old musical celebration with the Canmore Folk Music Festival and other concerts scattered around Downtown Banff and the surrounding areas. Many of these musical events take place in conjunction with Canada Day, a national holiday that occurs on July 1, 2023.
Canada Day
The whole of Canada erupts in celebration of this national holiday. The holiday celebrates the signing of the British North America Act. Formerly known as Dominion Day, the annual celebration marks the start of the Confederation.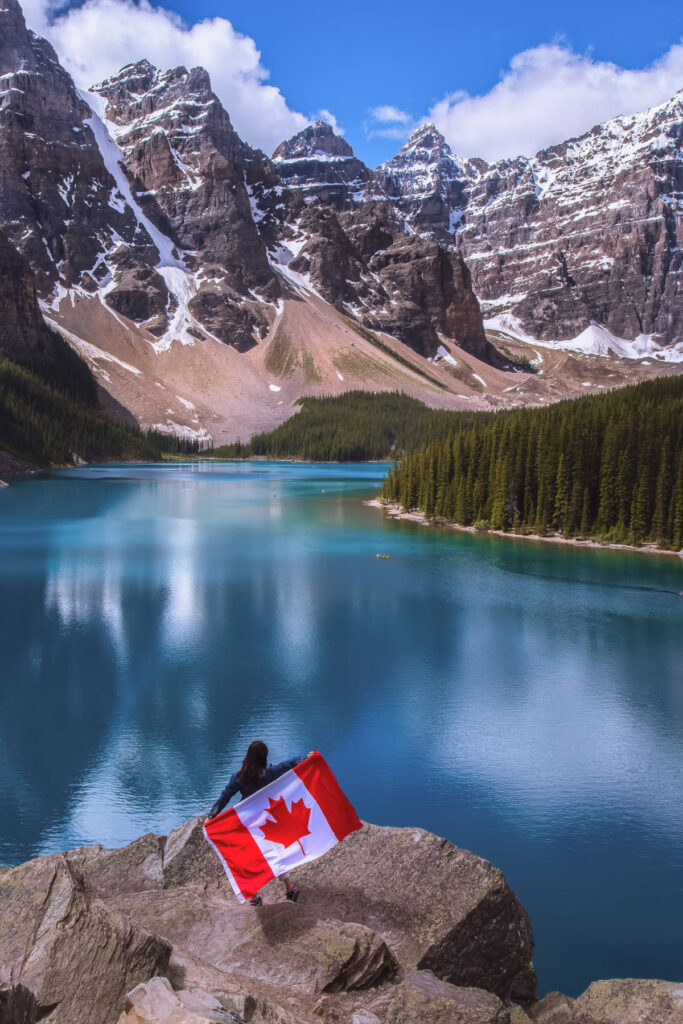 In downtown Banff, the celebration starts at 11:00 AM in Central Park. The opening ceremonies kick off a jam-packed schedule of music, dance, puppet shows, and demonstrations and sales of local arts and crafts. If you prefer a little more solitude on your vacations, consider a scenic drive along the Icefields Parkway, or a peaceful hike. We have some great suggestions here.
Sunset Festival
Nothing quite takes your breath away like a golden sunset behind the silhouetted peaks of the Canadian Rockies. And nowhere offers such a unique vantage point as Banff Gondola Peak Patio and its annual Sunset Festival.
The Sunset Festival takes place atop Sulphur Mountain at the peak of the Banff Gondola ride. From June 30 through September 5, 2023, visitors can pull up a chair on the Peak Patio and watch the summer sun slip behind the mountaintops as they sip on craft cocktails, local beers, and enjoy a donair.
Local Fare with Canadian Flair
A donair, or Döner Kebab, takes its place on a list of distinctly Canadian fare, like the familiar poutine and beaver tails. Its roots can be traced back to Halifax, purportedly around the 1970s. A delicious combination of spiced ground meat and breadcrumbs, the meat cooks on a spit, like gyro meat. Like the lamb popular in gyros, donairs are also served with pita bread, onion, and tomato. You won't find any tzatziki sauce, however. Instead, donairs come with a sweet sauce made with garlic, evaporated milk, sugar, and vinegar.
Music and Mountain Views
Great music accompanies the great food and fantastic views as live local bands fill the evening air with lively tunes. The fun starts every evening at 5:30 PM and continues until 9:30 PM, weather permitting. You will need to purchase a Banff Gondola ticket to enjoy all the fun. Ticket costs vary depending on your dates of travel. You can check prices and availability here, as well as purchase your tickets online. Keep in mind, children ages 5 and under ride free, but still need to hold a ticket.
July Activities in and Around Banff
Banff abounds with things to explore year-round, but July offers some singularly spectacular opportunities for visitors to enjoy. From grizzly encounters to soaring high over Mount Norquay, whichever unforgettable activity you choose to enjoy, you're certain to leave Banff with memories that will last a lifetime.
Peek-a-"Boo" Bear Encounter
The furrier denizens of Banff become more active in the summer months. While chances of meeting one of Banff's lumbering grizzlies out on the trails rise with the summer temperatures, it's also not a safe way to encounter one of these 600-lb. giants.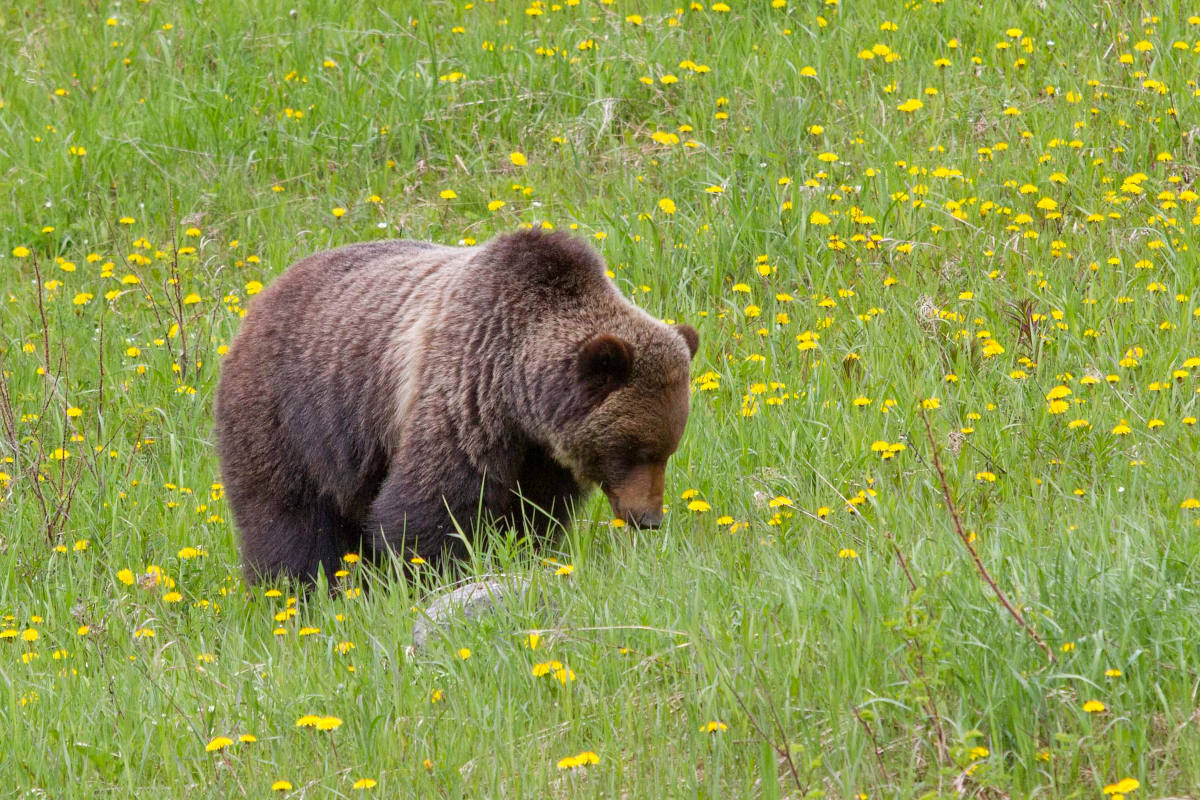 If, however, you have your heart set on seeing one of these majestic creatures, consider taking a guided, supervised peek at Boo. Boo resides in a protected sanctuary at the Kicking Horse Mountain Resort.
Boo came to live at the Kicking Horse Refuge as a cub after he lost his mother to a poacher in 2002. He lives a life very akin to his wild cousins, roaming freely to forage and play. The refuge hours vary dependent on the time of year. During July, visitors can visit daily.
Adults aged 18-64 years old can choose a self-guided tour of Boo's habitat for $35.95 CAD. Youths aged 13-17 and adults aged 65 and above can take the tour for $30.95. Tickets for children aged 12-16 cost $17.95 CAD. There is also a family option for groups including two adults and up to four children, which costs $82.95 CAD.
If you'd like a more in-depth experience, consider the Ranger Assist Tour, which includes an informative program demonstrating the enrichment protocols used to make Boo's life even better. The Ranger Assist Tours are available at either 9:00 AM or 3:00 PM. Costs for the Ranger Assist Program range from $38.95-76.95 CAD. Group rates are available for $176.95 CAD. Groups for the Ranger Assist Tour are limited to 4, including two adults and up to 2 children or youths. Find more information and purchase tickets here.
Hiking
The incredible hiking opportunities bring many people to Banff in the summer months. With such a wide and varied selection of boardwalk paths to advanced scrambles, it's no wonder. Among them all, some trails stand out, and we've highlighted them here.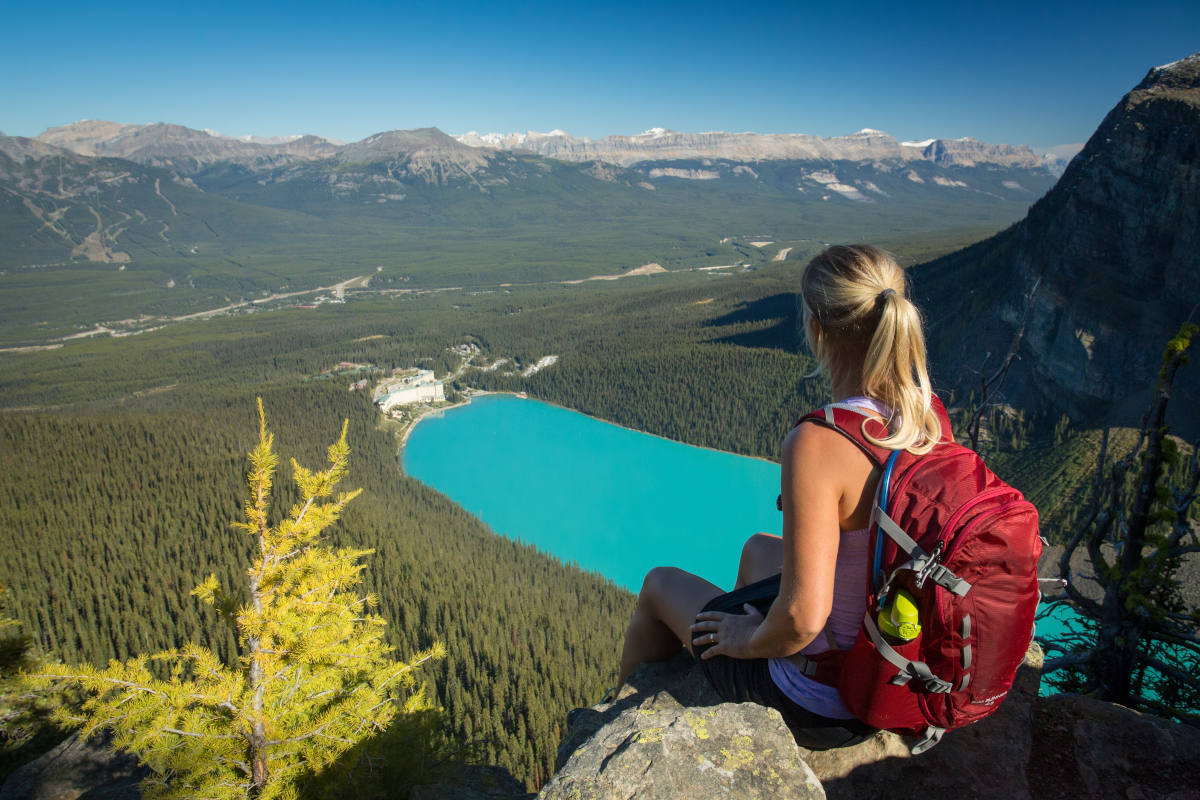 Golden Skybridge
If you want to get the most bang for your buck, the short hike across the Golden Skybridge pays incredible visual dividends! Located about two hours from Banff, the Golden Skybridge spans the Columbia Valley Canyon, 426 feet above the ground. The highest suspension bridge in Canada, it offers stunning views of both the Canadian Rockies and Purcell Mountain ranges.
Tickets for the bridge start at $31.50 CAD for adults and $23.20 CAD for children. Extend the fun beyond the hike and experience the Canyon Edge Challenge Course, zipline between the peaks, ride a rollicking mountain rollercoaster, and even try your hand at axe throwing with the Adventure Pass starting at $63.20 CAD for adults and $55.20 CAD for children.
Healy Pass
If you love bursting blooms, then you'll want to include Healy Pass on your must-do hike list. This out-and-back trail is 18.3 kilometers (11.37 miles) long. It has an elevation gain of 890 meters (2919 feet). The gradual climb begins on a gravel dirt road behind the Sunshine Village Gondola building. Mount Borgeau peeks through the dense forest hike as you cross over running waterways on wooden bridges. When you reach Healy Pass, the vista opens onto a meadow of brilliantly colored grasses and wildflowers.
Walking Tours
If you prefer more extensive trail exploration in Banff National Park, try Yamnuska Mountain Adventures. They offer several, unique and comprehensive tours that cover everything from alpine cirques to three-day treks across the Wapta Ice Fields. The multiple day guided treks include healthy, gourmet meals crafted by an in-house chef. Yamnuska Mountain Adventures also offer classes in rock climbing, mountaineering, and other adventure sports.012
Soar Through the Clouds
The Banff Gondola certainly offers visitors a bird's eye view of Banff town. The rooftops and valley sprawl out beneath you as the gondola car climbs it way to the peak of Sulphur Mountain. But you can have an even more breathtaking journey skyward with the Banff Sightseeing Chairlift.
The open-air, two-seated lift soars almost 7,000 feet toward the summit of Mount Norquay. Bring your camera. You'll be afforded absolutely spectacular views of both the Spray and Bow valleys. You can also glimpse the rugged splendor of Mount Rundle as its jagged peaks rise over Banff townsite. Tickets range from $27-$43 CAD and can be purchased here.
Whitewater Rafting
Looking for an adrenaline-pumping, heart-ponding adventure? Look no further than a whitewater rafting experience with Wildwater Adventures' Whitewater Exciter excursion. For novices to seasoned rafters, your experienced and knowledgeable guides will ensure you learn everything you need to know to have a safe and enjoyable trip.
Your half-day trip begins at the RiverBase Day Lodge where you will meet your professional guide and receive your equipment. The $125 CAD ticket per person includes safety instruction and necessary equipment. As your raft makes its way down the Kicking Horse River, your trip takes you through some mad paddling over rapids with names like Roller Coaster, Hopi's Hole, Goat Rapid, and Twin Peaks. For an additional $35 CAD, you can receive keepsake photos to commemorate your trip. Buy tickets here.
Caving
No bones about it—there's more to Banff than what you see above ground! For an interesting twist on sightseeing, you may want to consider taking a guided cave tour below ground. Especially when days can get a little warmer, caving provides a cooler option that can be just as memorable.
Canmore Cave Tours offers a wonderful 4.5-hour long adventure perfectly tailored for large groups, young families, and those who want to cram as much fun into their Banff area vacation as possible. Their Explorer Tour gives participants the opportunity to learn about caves, the unique formations, and even see ancient, prehistoric fossils. For those who like a challenge, you can "squeeze" even more fun into your tour by taking the warm-up and challenge squeezes along the way.
With features like the Five Way Chamber, "The Box," and the Grand Gallery, visitors will be enthralled at the natural wonders along the route. Perhaps the most stunning feature of all is The Grotto and its crystal pool of water surrounded by grand stalactites and stalagmites. Ticket prices start at $149 CAD.
Biking
For an exhilarating scenic experience, consider biking the Rocky Mountain Legacy Trail. The 26.8-kilometer Rocky Mountain Legacy Trail forms from the conjunction of the Banff Legacy Trail and an additional 4.5 kilometers of trail beyond Banff's East Gate all the way to the Travel Alberta Visitor Information Centre.
If the 53.6-mile round-trip sounds a bit daunting, don't worry. You always have the option of riding one-way and returning via public transportation. From Canmore to Banff, take the Roam Bus Number 3. Riding the trail from Banff to Canmore makes this ride more manageable as it trends more downhill. But no matter which direction you choose to take this trek, the scenery along this paved trail is stunning.
Paddleboarding
Banff enjoys a plethora of beautiful lakes and waterways. As the summer sun warms these waters, it means that visitors can once again partake in the wide variety of watersports available in Bann and the surrounding areas. You can fish, paddleboard, canoe, or kayak on some of the most jaw-droppingly beautiful lakes and rivers in North America.
Paddleboarding offers a great alternative to hiking while you're in the Canadian Rockies. No matter which of the area lakes or rivers you choose, you will be surrounded by stunning vistas that include colorful wildflowers and craggy peaks. Glide along the glassy surfaces of iconic lakes like Lake Louise or Moraine Lake, but plan ahead. Not all paddleboarding locations have rentals available and you'll need to make other arrangements.
Moraine Lake, for example, does not provide paddleboard rentals. With proper planning, however, you can rent a board at the Banff Canoe Club or the SkiBig3 Adventure Hub. They both offer off-site rentals, which will allow you to take your rented board out to any of the many SUP destinations in Banff National Park. Prices start at $79 CAD and go up to $90 CAD for a full day rental.
Fishing
Fishing enthusiasts can enjoy fantastic fishing along the Bow River in July, but you'll need a permit. They can be obtained at the park's visitor centers or at many sporting goods stores in Banff. Day permits cost $9.80 CAD, or you can choose an annual permit for $34.30 CAD.
You will also need a National Parks pass. These can be purchased online or in-person at Alberta Hunter Education Instructors' Association, Cabela's Retail Canada, Cross Iron Mills, DMF Travel Centre, Tourism Canmore Kananaskis, or Tourism Golden.
Those sixteen and under don't need to hold a permit if they are accompanied by a permit holder over sixteen. Their catch, however, when combined with that of the permit holder, cannot exceed the permit holder's limit. Do note that most species of fish in the Banff area are required catch and release. The only exceptions is Lake Trout caught at Lake Minnewanka. There the catch and possession limit is two.
Lets Wrap It Up!
Beyond a doubt, Banff in July offers something for everyone. July brings more of everything to Banff—more sun, more fun, more festivals, and more time each day to squeeze in all the fun. July can also bring a few challenges, like longer lines, higher prices, and larger crowds, but careful planning can ensure you can still enjoy an exciting and memorable vacation in Banff National Park in the month of July.