A trip to the Banff area would not be complete without a visit to Lake Minnewanka. With a wide variety of activities available year-round, it's easy to see why this glacier-fed lake enjoys immense popularity with locals and visitors alike. This second-longest waterway sits in a prime location on the eastern side of Banff National Park and offers easy access from the town of Banff itself. It is also just a stone's throw away from Two Jacks Lake, another excellent Canadian Rockies destination.
To help you get the most from your visit, no matter what time of year, we have put together a helpful guide with tips and tricks to help you get the most from your visit to Canada's most visited lake.
History of Lake Minnewanka
Indigenous people have made their home along the banks of Lake Minnewanka for ages. Archaeological artifacts have been discovered dating as far back as 14,000 years ago. The name "Minnewanka" comes from the Stoney Nakoda people. They called it "Minni-waki." Loosely translated, the name means "Lake of the Spirits." The First Nations people held the belief that the lake had a strong spiritual presence. The first European settlers to the area had a more daunting moniker for the body of water, calling it "Devil's Lake".
In 1886, the area gave way to a modern settlement when Europeans constructed a log hotel, the "Beach House", near the lake's shore. Further development occurred over the years as the hotel was joined by a dam project in 1895 to make the area more suitable for boating. By 1912, a second dam was constructed and a modest village with only a few streets and avenues was erected. Lake cruises became fashionable. Passengers could tour the shimmering waters aboard the "Daughter of the Peaks" or the "Lady of the Lake".
Minnewanka Landing, as the town was called, is still there today. However, you'll have to hold your breath if you want to see it, as it is entirely underwater! The 1912 dam project had partially submerged the town, but a final, 1941 project flooded it completely.
Best Time to Visit Lake Minnewanka
The beauty of Banff National Park is that it provides opportunity to experience the marvel of nature and exceitement of outdoor activities year-round. However, to get the most mileage from your trip to Lake Minnewanka, visiting between June and October will allow you to fully experience all that the area has to offer.  By the middle of June, visitors can take advantage of lake cruises, swimming, and other water activities offered at the lake along with land-based activities like hiking, camping, and mountain biking.
The early days of October, when the snows start to fall, see many of Lake Minnewanka water activities begin to shut down. As the winter months march on, the lake experiences a hard freeze along with a thick layer of snow. There are still many winter activities to fill your day, however. Before the snow completely covers the lake's surface, it offers opportunities for ice skating and viewing the famous ice bubbles.
Throughout the winter, you can experience a fantastic workout with snowshoeing or cross-country skiing available along the shores and trails. The winter months are also a great time to look for Canada's famed Northern Lights.  From September through May, visitors have the best opportunity to spy the dancing lights of the aurora borealis. All in all, there is no "bad" time to visit Lake Minnewanka. It really just depends on the types of activities you wish to pursue.
Getting to Lake Minnewanka
Getting to Lake Minnewanka is a pretty straightforward affair. Visitors can opt to travel by car, public transport, or even by bike!
Car
If traveling to Lake Minnewanka by car, the route is simple. Do be aware, however, the route alters slightly depending on the time of year of your visit. From Banff, the drive is approximately fifteen minutes. From Calgary, plan for about a 90-minute drive.
If you are visiting anywhere from mid to late April all the way until early to mid-October, you can simply head west on Highway 1 from Calgary and take the Banff/Lake Minnewanka Loop. From there, bear right at the fork which will take you Lake Minnewanka Scenic Drive. Just follow the signs for Cascade Pond/Two Jack Lake and you'll reach the Lake Minnewanka parking lot.
If your visit brings you to Lake Minnewanka anywhere from late October to mid-April, you'll want to use the eastern portion of the loop to reach the lake. During the winter, the western portion of the loop is closed to vehicular traffic as it serves as a wildlife corridor.
Lake Minnewanka offers a sizeable parking lot to accommodate its many visitors. Be advised, however, it can still fill quite quickly, particularly during the summer. To avoid disappointment, we advise consulting Banff Now, which provides live parking availability at most Banff National Park facilities.
The lot is structured to accommodate typical passenger vehicles and some motorhomes, but keep in mind allowed vehicles are restricted to fourteen meters or less. Allow yourself at least 45 minutes for parking if you're taking advantage of one of Lake Minnewanka's fabulous boat cruises or tours.
Bus
If you'd rather not worry about parking, you can always opt to take the bus to Lake Minnewanka. You can easily catch the ROAM Public Transport (Route 6) from downtown Banff for just $2 CAD (Adults) and $1 CAD (Children 13-18) one-way. Children aged 12 and under ride free. If you plan on significant use of the ROAM system, you can also purchase day or multi-day passes.
All the buses are wheelchair accessible. They can also accommodate up to three bikes at a time on exterior bike racks for those planning to hit the mountain bike trails around the lake. Pet lovers, fear not! If you want to include your furry companions in on all the fun, crated cats and dogs are welcome aboard at no extra charge. Pets must remain in carriers at all times, unless they are a certified service animal.
The ride takes approximately 25 minutes to reach the lake and run every 30 minutes, seven days a week. Do note, however, the ROAM buses only operate in the summer months. You can verify the current operating schedule on the ROAM Transit site.
Bike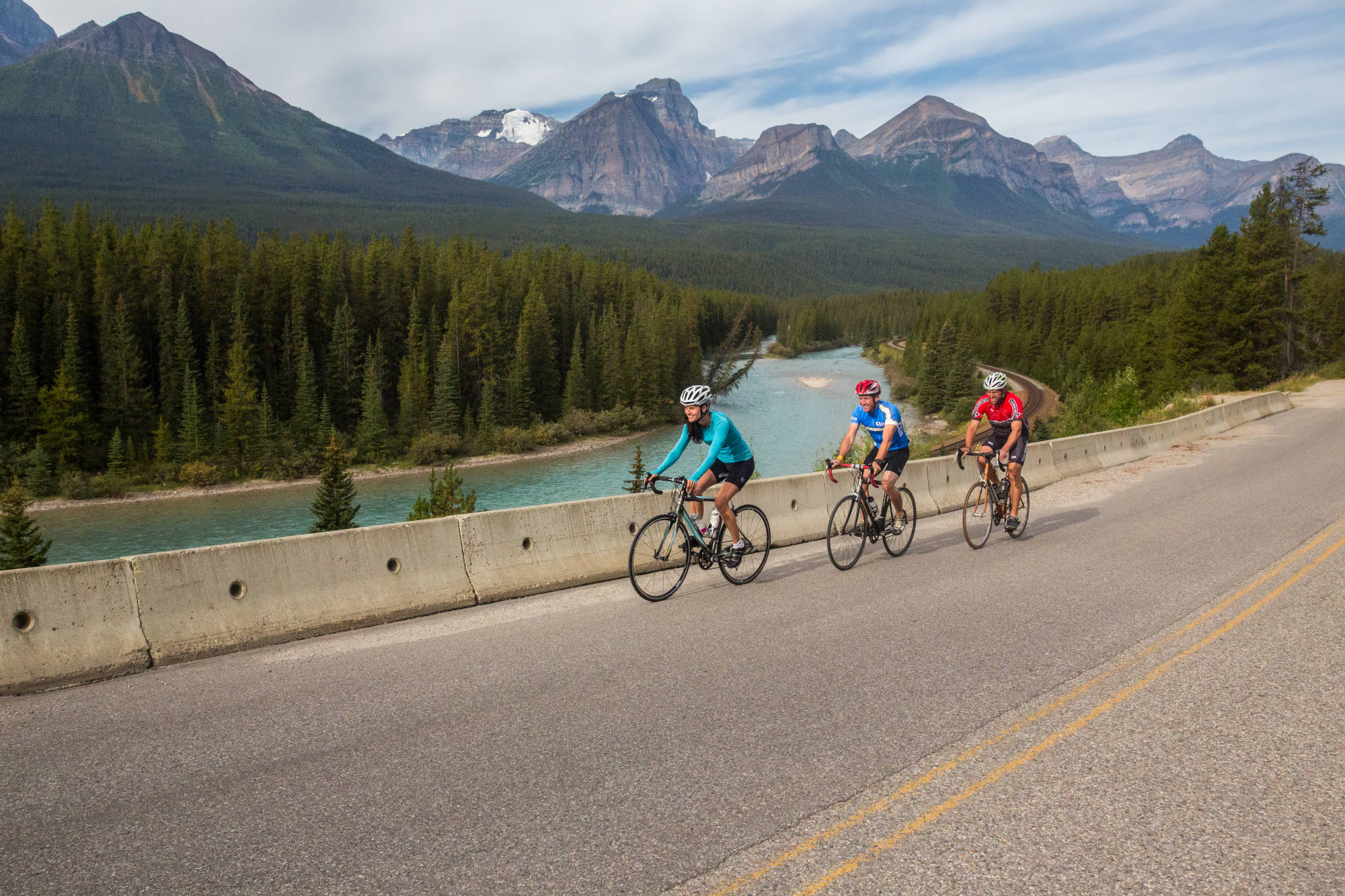 For those who can't get enough fresh air, Lake Minnewanka can be accessed by bicycle in the summer months. From Banff, hop on the Banff Legacy Trail at the eastern end of Banff Avenue. Continue until you cross Tunnel Mountain Road where you'll find yourself next to the Trans-Canada Highway. After taking a left at the intersection, the trail dips beneath the highway and takes you past breathtaking views of Cascade Ponds and the Lake Minnewanka Scenic Drive.
In all, expect a brisk ride just a bit over 13 kilometers. It's not too much of a challenge, but there are a few hills along the way that may require a little extra effort. Unless you're biking Lake Minnewanka road when it is closed to traffic, we recommend riding either early in the morning or later in the evening when the road isn't thick with cars.
Park Passes
As with all of the Canadian National Parks, entrance is free of charge with a National Parks Pass. There are several options available. You can purchase a day pass, which is valid until 4:00PM the day after purchase and costs $10.50 CAD (Adults), $9.00 CAD (Seniors), and children are free. Families or groups of up to seven people in one vehicle can enter for $21.00 CAD.
If you are planning a longer stay in the area, we highly recommend a Discovery Pass which is valid for one year from the date of purchase and good for entry into over 80 destinations from coast to coast. The discovery pass is $72.25 CAD (Adults), $61.75 (Seniors), and children are free. Passes are available on the Parks Canada site, or at any national park gate.
Lake Minnewanka Activities
You can find every activity under the sun (and under water) at Lake Minnewanka. Activities vary from the summer to the winter season, but one thing is always the same—whether you get hyped for hiking or go wild for wildlife, there is something at Lake Minnewanka to please every member of the family.
Hiking Near Lake Minnewanka
Enjoy the fresh mountain air and gorgeous scenery with a healthy hike around Lake Minnewanka and its surrounding area. While there is no full loop around the lake, there are multiple trails of varying lengths for hikers at every level. Regardless of which trail you choose, it's always a good idea to verify trail openings and current conditions.
Lake Minnewanka Trail
For those who love the long haul, the Lake Minnewanka Trail covers 62 kilometers out and back. It starts at the Lake Minnewanka day use area and goes all the way to Devil's Gap. This trail does fall under seasonal trail restrictions due to its proximity to grizzly territory. So, from mid-July to mid-September, you must hike in groups of four or more supplied with bear spray.
Stewart Canyon Bridge
For a great family-friendly trail, a great choice is the Stewart Canyon Trail. Mostly flat with very little elevation, this trail starts in the Lake Minnewanka parking lot and meanders around the lake's edge for one and a half kilometers until it reaches the Stewart Canyon Bridge. Enjoy the views and head back, or continue for another two or so kilometers where the sights are truly breathtaking. This trail is open throughout the entire year, but winter conditions make the trail slippery enough to require ice cleats.
C Level Cirque
If you're looking to mix a little history with your hike, consider the C-Level Cirque Trail. This moderate, 7.8-kilometer hike is a well-maintained trail that takes hikers through aspen and evergreen forest, through flowering wildflower meadows, and passes by an abandoned coal mine building which is available for exploration. Do keep an eye on the kiddos, though, as there are some other, dangerous structures nearby!
The trail continues to wind up Cascade Mountain. Keep a keen eye peeled for the chubby-cheeked pika who live among the rocky boulders further up the trail. The boulder field is a convenient turn-around for many hikers, but there is a little over a kilometer left to the trail for those who have stamina left.
Aylmer Lookout Trail
Some of the most stunning views are afforded hikers who take on the Aylmer Lookout Hike. This 14.4 kilometer out-and-back trail (28.8 km roundtrip) is probably the best opportunity to grab a panoramic view of Lake Minnewanka's blue waters. It has a considerable elevation, however, reaching 600 meters, so it can be considered a challenging hike. The trailhead begins in the Lake Minnewanka parking lot. Plan between 7.5-9 hours to complete this hike in its entirety.
Boating
You don't need to own a boat to bob on the crystal blue waters of Lake Minnewanka. Throughout the summer, motorboat rentals are readily available, with rates starting at $115 CAD for your first hour. You can tack on more time for an additional $65 CAD per hour or take advantage of the half-day packages that start as low as $295—all rentals include required licensing.
Do take note that there are rules and regulations in place if you do wish to use your own boat. This includes a dry-dock period to help prevent the spread of invasive aquatic species that can threaten Canadian waterways and wildlife.
You can also take advantage of the canoe and kayak rentals that are available lakeside. Take a leisurely cruise on the lake's blue waters where you can even spy some Canadian wildlife like elk, bighorn sheep, deer, and grizzlies from a safe distance. Costs for canoes start at $85 CAD and can fit up to three people. Kayaks are a little bit less expensive starting at $75 CAD for a double and as little as $45 CAD for a single kayak.
Lake Minnewanka Cruises
Another popular summer time activity are the Lake Minnewanka boat cruises. This is a fantastic way to soak in the sights and history of the area. Ticket prices include an hour water tour with an informative guide. Cruise availability generally begins in mid-May and continue through mid-October. Tickets, on average, start around $49, with prices subject to change due to date and availability. Children under 5 ride for free, but must still be ticketed.
Fishing
If you enjoy angling for Rocky Mountain whitefish or trout, Lake Minnewanka is an absolute must on your Banff to-do list. You can rent one of the 16-ft aluminum motorboats and push off for a self-guided fishing trip in the deeper waters of the lake, or spend a carefree, casual day casting off from the shore.
Either way, be certain you have procured the proper licenses for fishing in Canada. You can purchase them at any national parks visitor center for $12.75 per day or $44.25 for an annual permit. Anglers under 16 fish for free as long as they are accompanied by a permit-holder.
You also have the option of purchasing a Lake Minnewanka fishing charter. Several companies offer 4-6 hour trips with expert guides. They will also provide all the equipment you need for a fun-filled day fishing and will even provide assistance procuring the required permits.
Be advised of the current catch and release policy throughout all Banff, Yoho or Kootenay National Parks. All fish caught must be released into the waterway they were caught with the exception of Lake Minnewanka trout. In that case, there is a daily catch and possession limit of two fish per angler. If you are accompanied by an angler under 16, their catch will be included as part of your daily limit. You can find all fishing regulations at the Parks Canada Fishing and Angling page.
Scuba Diving
Lake Minnewaka offers visitors a genuinely unique opportunity—to visit a ghost town—sixty feet underwater! The historic town of Minnewaka Landing was completely submerged beneath the lake's waters as a result of the 1941 dam project. Fully-certified divers can visit a total of sixteen dive sites, including ten of the townsite, five at the dam area, and one at the bridge. Divers can swim through the cold, eerie stillness of what was once considered "a pretty chalet…an inducement for a sojourn."
If you plan on making a sojourn beneath the surface of Lake Minnewanka, be certain to adhere to the requirements. You can find all the rules and regulations for scuba diving in Canada's national parks at the Parks Canada Scuba Diving page as well as a diving map for the Minnewanka Landing sites.
Backcountry Camping
If you want to spread your fun over several days, you can combine your hiking with backcountry camping. In the Lake Minnewanka area there is a variety of campsites to choose from. You can choose them based on distance from the Lake Minnewanka parking lot if you wish. Just pay attention to the LM designation in the site name. For instance, the popular LM8 Aylmer Pass Junction Campground and the LM9 Aylmer Canyon Campground are eight and nine kilometers from the parking lot, respectively.
If you want to put a little more mileage on the trail before making camp, check out the LM20 Mount Costigan Campground or the LM31 Ghost Lakes Campground. Remember, the numbers indicate distance from the Lake Minnewanka parking lot. So, these campgrounds are 20 and 30 kilometers away and are recommended only for experienced backcountry hikers.
Picnicking
With all this outdoor activity, you certain to work up a healthy appetite. Good thing Lake Minnewanka offers a lovely assortment of scenic spots to enjoy a packed lunch. The picnic area is approximately a five to ten minute walk from the Lake Minnewanka Trailhead. You'll spot the famous Parks Canada Red Chairs almost immediately—those iconic Adirondacks strategically placed for visitors to enjoy a rest along with the incredible views. If you arrive early in the day, you can even catch a gorgeous Canadian sunrise before hitting one of the many exhilarating trails. There are also a number of picnic tables available as well, but know before you go—they go quick during the popular summer months!
Ice Skating
Summer is not the only season to enjoy Lake Minnewanka. The winter time offers some thrilling cold weather activities. One fan favorite is ice skating. It's almost like skating inside a snow globe as the scenic Canadian Rockies rise up behind you, snowy peaks reaching up toward the wide blue skies. You do need to bring your own skates, and there is no official monitoring of skating activities, so observe caution when venturing out on the ice. The Play Outside Guide offers some helpful safety tips to help you enjoy the ice safely. Lake Minnewanka is one of the last of the Canadian lakes to freeze over completely, so it is advisable to wait until late December before attempting any triple lutzes or figure eights.
Ice Bubbles
Watch the smiles bubble up when you spot the curious methane bubbles trapped beneath the lake's frozen surface in the Banff winter months. These spherical phenomenon occur as plants and sunken trees begin to decay underwater and release bubbles of methane. When the temperature drops dramatically in the winter months, these bubbles remain suspended in a frozen limbo just beneath the water's surface.
As with ice skating, always exercise caution on the frozen lake. You can usually spot these spherical phenomenon at the far end of Lake Minnewanka. Sometimes, however, you can see them closer to the shoreline. You can also spot ice bubbles in Alberta's Abraham Lake.
Snowshoeing & Skiing
When the hiking trails at Lake Minnewanka fill up with the white stuff, it's "snow" problem. Just grab some snowshoes or skis and let the fun begin! You can rent snowshoes for $17 CAD a day. Cross-country skis are available for only $25 CAD per day. A great winter trail to snowshoe or ski is Range Road. This access road is closed to motorized vehicles in the winter season making it an excellent spot for both these winter activities.
Northern Lights
Lake Minnewanka offers some excellent opportunities to view Canada's famous Northern Lights. A good time to spot this atmospheric phenomenon is from September to May and one of the closest spots to Banff to do so. If you want to increase your chances, download an aurora forecast app like Articans Forecast App Banff or My Aurora Forecast. Be sure to pack your hot cocoa and blankets and settle in to watch this beautiful light show across the Lake Minnewanka skies.
Summary
So, it is easy to see why Lake Minnewanka is one of the most popular recreational areas in Banff National Park. To make the most of your visit, it's important to plan ahead and be prepared for the weather and terrain. Visitors should also follow safety guidelines and respect the natural environment to help preserve the beauty of the lake for generations to come. No matter what type of outdoor activity you prefer, or what time of the year you decide to visit, there is something for everyone at Lake Minnewanka.