If you love outdoor activities like canoeing and hiking, or simply appreciate nature's wonder, Banff is nirvana. But whether you plan for a day trekking the Johnston Canyon Icewalk or snowshoeing on the top of the world, fueling up for the fresh air is an absolute must.
And what better way to fuel up for a day of exploring than with a delicious breakfast? In this article, we'll explore what to expect from a delicious breakfast in Banff and highlight some of the top local spots to check out. Banff's breakfast scene has something for everyone!
What to Expect When Going Out for Breakfast in Banff
Brunch in Banff is a laid-back affair, with a focus on hearty and satisfying dishes that will keep you energized throughout the day. Many restaurants and cafes offer brunch menus on weekends and holidays, usually from around 9 am to 2 pm. You can expect to find a range of classic breakfast fare, like eggs benedict, pancakes, and omelets, as well as more unique dishes that showcase local ingredients and flavors. The atmosphere is typically relaxed and welcoming, with plenty of cozy seating areas and outdoor patios that offer stunning views of the surrounding mountains.
The Must Visit Breakfast in Banff Locations
There's only one thing that can rival Banff's breathtaking scenery and the wide variety of outdoor activities—Banff's breakfasts and brunches. Mother always told you breakfast is the most important meal of the day, and many of Banff's require loads of energy. But whether you prefer a bagel or a buffet, Banff has a menu of great spots to carpe cappuccino before you carpe diem. We've highlighted the top nine breakfast and brunch spots to fuel your day, including a bonus stop!
Goodearth Coffee House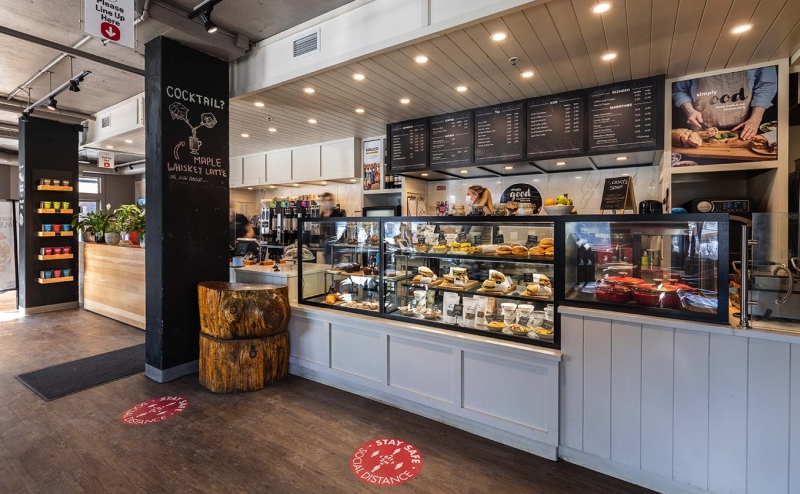 Location: 333 Banff Avenue Banff, AB T1L 1B1 Canada
Cuisine: Café
Price: Low
Just off the lobby of the Elk and Avenue Hotel in Banff, this busy café offers a variety of coffee drinks, breakfast sandwiches, and pastries. They also feature seasonal specialty drinks like a Toasted Marshmallow Mocha and a Toasted Pistachio Latté in winter. While there is ample seating offered inside and outside, be prepared to wait a bit in line at this popular spot during peak hours. Baristas are ready to take your order at 6:30AM.
Eclipse Coffee
Location: 817 Main Street Canmore, AB T1W 2B3 Canada
Cuisine: Café and Coffee Roaster
Price: Low
Eclipse Coffee is the home of some of the best artisanal roasts and green coffees in Alberta. Located in Canmore, it's the perfect place to pick up a flat white with a chocolate hazelnut pastry before an energizing hike in Kananaskis. Also, if you find a roast you really like, you can grab a bag or two to bring home with you. They open and are ready to serve at 8AM.
Whitebark Café
Location: 401 Banff Avenue Banff, AB T1L 1A9 Canada
Cuisine: Café
Price: Low
If coffee is the most important part of your morning routine, we highly recommend visiting the Whitebark Café. They proudly serve Canadian organic fair-trade coffee and loose-leaf teas to help keep you going. Even though it's not really a sit-and-stay spot, it does offer a variety of tasty pastries, including some vegan and gluten-free options, that make it a great choice for breakfast on the go. Service begins at 6:30AM.
Bare Bistro Banff
Location: 100 Owl Street Unit 6 Banff, AB T1L 1A6 Canada
Cuisine: Bakery
Price Range: Moderate
Bare Bistro is a family owned and operated bakery—the Banff brick and mortar location for Fedora's Cakes and Bakes. As such, patrons of Bare Bistro can expect decadent artisan baked goods and sumptuous breakfast treats like Eggs Benedict served on in-house crafted toast. The bakery offers take-away service and several gluten-free options. It opens at 7AM Monday through Saturday and 8AM on Sundays, ready to serve you a satisfying breakfast to fuel your day.
Wild Flour
Location: 211 Bear Street Ste 101 Banff, AB T1L 1B4 Canada
Cuisine: Bakery
Price Range: Low
No matter if you are up with the roosters or prefer to greet your morning on the later side, you can always expect to enjoy a variety of healthy, whole foods to get your day started right. From granolas made in-house to frittatas made with fresh, free-range eggs and hearty veggies, there's something for everyone on the Wild Flour menu. Check out their bread schedule to catch their signature specialties like Cranberry Walnut Rye or the Cheddar Levain, and top it off with a cappuccino made with Wild Flour's own signature espresso. Get "wild" at 7AM every morning.
Farm & Fire
Location: 333 Banff Ave Banff, AB T1L 1B1 Canada
Cuisine: Canadian
Price Range: Moderate to Expensive
For a farm to table to vibe with healthy helping of class, make your way downtown to the Farm & Fire restaurant. From the Apple Cinnamon Bread Pudding French Toast to the Lox to Look Forward To, you'll be ready to tackle Mount Forbes after you eat these breakfasts! The atmosphere is delightfully pleasant with seating that affords patrons beautiful light from tall windows. You'll be hard-pressed to find an item you won't enjoy!
Tooloulous
Location: 204 Caribou Street Banff, AB T1L 1A6
Cuisine: Cajun/Creole
Price Range: Moderate
You don't need Mardi Gras to get a taste of New Orleans at Tooloulous. Come hungry to this Cajun-inspired restaurant where there's no such thing as a small portion. They have everything from Bananas Foster Pancakes to the flavors of spicy andouille and chicken in the Jambalaya Omelet. If you need a cool drink to cool down the southern spice, be sure to order one of the tasty drinks like the Mamou Mimosa or the Bourbon Street Bellini.  
Juniper Bistro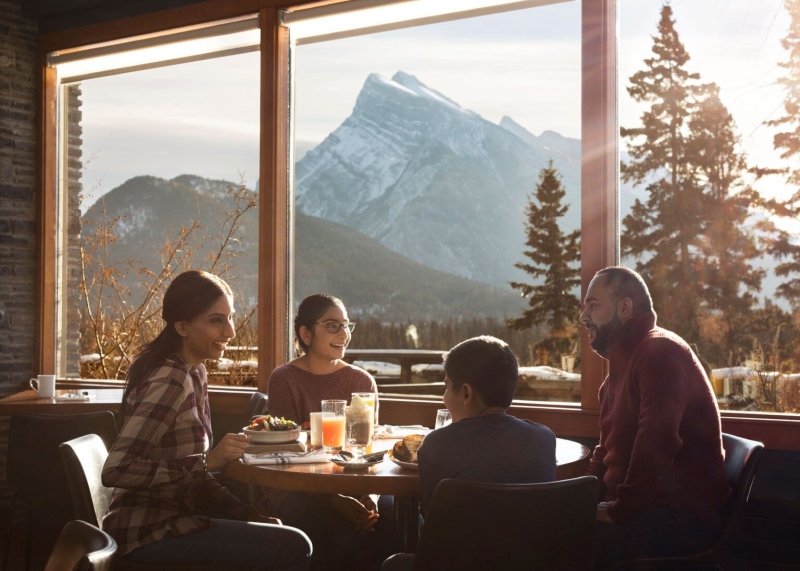 Location: 1 Juniper Way Banff, AB T1L 1E1 Canada
Cuisine: Canadian
Price Range: Moderate
Juniper Bistro is one brunch spot on this list where the quality of the views almost surpass the menu choices. That being said, items like the Juniper Benny with fry bread, braised rabbit, buffalo mozzarella, juniper berry glaze, two poached eggs, hollandaise, and potato hash with have your mouth watering. This restaurant's brunch was voted Best of the Bow 2022 as well as best patio, and the stunning view has also been honored. 
Melissa's Missteak
Location: 201 Banff Ave 2nd Fl Banff, AB T1L 1A9 Canada
Cuisine: Steakhouse
Price Range: Moderate
A steakhouse on a breakfast list? Trust us. It's not a "missteak." Melissa's Missteak is a traditional go-to for Banff for a stick-to-your-ribs breakfast that will keep you going all day long. Not to mention, where else would you expect to find a melt-in-your-mouth Prime Rib Benny? Many locals favor the Mixed Grill, which offers diners two made-to-order eggs, two strips of bacon, two sausages, grilled tomatoes, and shredded hashbrowns.
Bonus Stop: Nourish Bistro
Location: 110-211 Bear Street Banff, AB T1L 1A8
Cuisine: Vegan/Vegetarian
Price Range:  Moderate
A delicious vegan and vegetarian brunch option in Banff is the Nourish Bistro. Imagine fresh avocado on in-house focaccia, served with a side a coconut "bacon" chips, brightened by fresh cilantro and grilled lemon, with the zing of chili flakes.  Watching your gluten? No problem. Nourish Bistro offers patrons gluten-free bread upon request. And who can resist the call of the wild with their Jungle Pancakes, a recipe drawn upon a Peruvian recipe containing bananas and blueberries. Topped with coconut whipped cream, real maple syrup, apricot compote and raw granola made in house, this mini stack really is stacked with everything you need to conquer your day!
The Quick Breakfast in Banff Summary
Breakfast in Banff is a must-try experience for anyone visiting this beautiful mountain town. With plenty of local spots to choose from, you're sure to find something that satisfies your taste buds and fuels your adventures. Whether you prefer bagels or bennies, Banff has a buffet of breakfast and brunch choices, and these are some of the best! Banff is the place to be when you have an appetite for adventure…and food!