What awaits the traveler journeying to Banff in November? Why, a winter wonderland, of course! As the fall shoulder season segues into winter, visitors will find a picturesque town nestled among the snow-capped peaks of the Canadian Rockies. November brings a unique charm to this already enchanting destination. Snow dusts the landscapes. Icicles twinkle along popular hikes. But the magic doesn't stop there. In this article, we will explore the wonders of Banff in November. We'll include everything you need to know. You'll find tons of helpful hints on the weather, the best hiking opportunities, special events, cave tours, and other winter activities awaiting you in this breathtaking mountain paradise.
Typical Weather in Banff in November
November in Banff brings crisp, cool temperatures. The first signs of winter settle in for the season. As the month progresses, the average temperature ranges from -5°C to -10°C (23°F to 14°F). Snowfall becomes more frequent, truly transforming the landscape into a winter wonderland that would make Bing Crosby proud. While the temperatures can get quite chilly, with proper planning and packing, you can still comfortably enjoy all that Banff has to offer in November. 
Packing for Banff in November
When packing for a trip to Banff in November, keep in mind that the weather can be unpredictable. Be prepared for just about anything. Keep in mind, too, what activities you plan to include on your itinerary. This will affect some specific items you'll want to include. But here is a list of essential items to pack to ensure a comfortable and enjoyable experience.
Warm Clothing
Banff in November can be quite chilly. Okay. If we're being honest, it frequently reaches temperatures below freezing. So warm clothing, including thermal base layers, sweaters, fleece jackets, and a waterproof and insulated winter coat are a must! Don't forget to bring hats, gloves, scarves, and thick socks to keep yourself cozy. 
Sturdy Boots 
Hiking enjoys a top spot on Banff National Park's must-do list year-round. However, exploring Banff's trails and engaging in other winter activities requires sturdy, and sometimes specialized, footwear. No matter what your itinerary has in store, though, opt for waterproof and insulated boots with good traction to navigate through snowy and icy terrain. Microspikes, crampons, or ice cleats are also a good idea for added grip on slippery surfaces.
Snow Gear
If you plan on participating in winter activities like skiing, snowboarding, or snowshoeing, make sure to pack appropriate gear. You can bring your own ski or snowboard equipment if you have it. But if you want to avoid exorbitant luggage costs, or just don't want to bother, Banff has convenient rentals for much of the equipment you might need. 
Black Tie Skis offers an incredibly convenient delivery service for ski and snowboarding equipment. You can visit them at their storefront at 201 Lynx Street in Banff, or place a rental order online and wait for them to deliver your winter sports needs right to your door! If you're skiing at Mount Norquay, Lake Louise, or Sunshine Village, you can also rent from Ski Big 3. Adult Mid-Performance Ski Packages start at $50 CAD ($36.85 USD) per day. Don't forget to pack snow pants, goggles, helmets, and hand and toe warmers for added comfort.
Layered Clothing
Layering is key to staying warm and comfortable in Banff's fluctuating temperatures. Pack a variety of base layers, such as thermal tops and bottoms, to help keep your body temperature regulated. Mid-layers like fleece jackets or down vests provide insulation, while a waterproof outer layer protects you from snow and wind. You'll appreciate it as you explore the mountain trails—especially at higher elevations.
Daypack or Backpack
A roomy daypack or sturdy backpack is essential for carrying your daily requirements during outdoor activities. Choose one with enough space to hold extra layers, water bottles, snacks, and any other items you may need during your adventures.
Hand and Foot Warmers
Banff's cold temperatures can be harsh on your extremities. Pack hand and foot warmers to keep your hands and feet toasty during outdoor activities. These small, disposable heat packs can provide much-needed warmth and comfort. Be certain to adhere to the "leave no trace" policy on the trails and dispose of these items properly.
Sun Protection
It may not be swimsuit season, but you can still get a heck of a sunburn! Even in winter, the sun's rays can be intense, especially when reflecting off the snow. Pack sunscreen with a high SPF, lip balm with SPF, and sunglasses to protect your skin and eyes from harmful UV rays.
Portable Charger 
With the abundance of Insta-worthy moments in Banff, you'll want to ensure your electronic devices stay charged. A portable charger to keep your phone, camera, or other devices powered up throughout your adventures makes a smart addition to your packing list.
First Aid Kit
It's always wise to have a basic first aid kit on hand. Include items such as band-aids, pain relievers, blister pads, and any necessary prescription medications. 
Snacks and Water
Stay hydrated and energized by packing water bottles and snacks. Granola bars, trail mix, and dried fruits are convenient options for on-the-go nourishment.
Bear Spray
While the bears will soon be curling up for a long winter's nap, being prepared for a bear encounter on the trails is always a good plan. Parks Canada has some great information on bears and bear safety in the Canadian Rockies. The site even has information on what to look for in a bear spray.
Remember to check the weather forecast before your trip and adjust your packing list accordingly. By packing these essential items, you'll be well-prepared to embrace the beauty and adventure that Banff National Park has to offer in November.
Pros of Visiting Banff in November
With every season, you will find pros and cons to visiting Banff. Many savvy travelers swear the "shoulder seasons" rank as the best months to visit Banff, including November. You can read more about the Banff fall shoulder season here and the spring shoulder season here. But let's break down some of the specific advantages of visiting Banff in November.
Winter Wonderland
Have you ever wondered what it would be like to linger inside a snow globe? November in Banff can make that dream come true. The magical winter wonderland abounds with snow-covered landscapes, frozen lakes, and picturesque mountain scenery perfect for outdoor activities like skiing, snowboarding, ice skating, and snowshoeing.
Fewer Crowds in Banff in November
Banff National Park is practically empty! Compared to the peak summer season, November sees fewer tourists, allowing visitors to enjoy the beauty of Banff in tranquility with more elbow room. This means shorter lines, easier access to popular attractions, and a more intimate experience with nature.
Lower Prices
November is considered the shoulder season in Banff, resulting in lower accommodation rates and discounted activities. Visitors can take advantage of these cost savings and enjoy the same stunning scenery and outdoor adventures at a more affordable price.
Cons of Visiting Banff in November
While visiting Banff in November offers some splendid advantages, it also presents some challenges. However, with proper planning and awareness, you can still find countless exhilarating adventures to enjoy. When planning your Banff November excursions, keep some key facts in mind.
Weather Variability While in Banff in November
November weather in Banff can be unpredictable, with fluctuating temperatures and occasional snowstorms. You must be prepared for changing conditions. Stay aware of potential road closures or limited access to certain areas. 511 Alberta offers up-to-date information on road conditions and traffic in the Alberta region. If you are driving, be certain your car has snow tires or chains. Between October 1 and April 30, they are required to travel on Hwy 1/Trans Canada Hwy. They are also required on Icefields Pkwy between November 1 and March 31. Check the driving page on Parks Canada for more information.
Limited Activities
While skiing and snowboarding are popular in November, some other outdoor activities may be limited or inaccessible due to weather conditions. Certain hiking trails may be closed, and wildlife sightings may be less frequent. 
Shorter Days
November has shorter daylight hours, which means less time for outdoor exploration and sightseeing. You can expect an average of just below nine hours of daylight in November. The sun typically peeks over the mountains around 8:30 AM and dips below the horizon before 6:30 PM. Plan your activities accordingly and you can still pack a ton of fun into each day.
Overall, visiting Banff in November offers the opportunity to experience a winter wonderland with fewer crowds and lower prices. However, keep in mind that some activity options may not be available in the colder months and the weather can vary. With proper planning and flexibility, November can be a fantastic time to enjoy the natural beauty of Banff National Park.
Best Hiking Opportunities in Banff in November
While some trails may be inaccessible due to snowfall, November offers a unique opportunity for winter hiking in Banff. Strap on your snowshoes or rent them from local outfitters to explore trails such as Johnston Canyon or Tunnel Mountain. These hikes offer breathtaking views of frozen waterfalls, snow-covered peaks, and serene winter landscapes. 
Johnston Canyon
The Johnston Canyon hike in Banff National Park is a must-visit trail, offering breathtaking views of frozen waterfalls, towering limestone cliffs, and serene winter landscapes. While it is a popular destination year-round, exploring Johnston Canyon in November adds an extra layer of magic to the experience.
The best times to visit all Johnston Canyon trails in November are early in the morning or later in the afternoon to avoid crowds. These popular trails can get busy, especially during weekends and peak hours. Visiting during weekdays or in the shoulder season can provide a quieter and more serene experience.
All the Johnston Canyon trails can be icy and slippery in November. Wear appropriate footwear with good traction and consider using microspikes for added grip. Dress warmly. Remember to check trail conditions on reliable sites like AllTrails before you go. Now, let's look at some highlights of Johnston Canyon, including the Lower Falls Trail, Upper Falls Trail, and Ink Pots Trail, as well as key information about each section.
Lower Falls
Difficulty: Easy
Length: 1.1km (.7 miles)
Elevation Gain: 30 meters (98 feet)
Duration: 30-60 minutes
The Lower Falls Trail is the first section of the Johnston Canyon hike and is accessible to visitors of all fitness levels. This well-maintained trail follows the path of Johnston Creek, leading you through a narrow canyon draped with icy walls and frozen waterfalls. It's almost as if Arendelle has descended upon Banff! But even if you don't spy Elsa or Olaf, the Lower Falls Trail is relatively easy, making it very accessible to families and beginners. The duration of this section of Johnston Canyon is around 30 minutes to an hour, depending on your pace. 
Upper Falls
Difficulty: Moderate
Length: 2.7km (1.7 miles)
Elevation Gain: 135 meters (443 feet)
Duration: 1-1.5 hours
Continuing along the Johnston Canyon trail, you'll reach the Upper Falls Trail. This section offers more challenging terrain and rewards hikers with stunning views of the 40-meter (131-foot) tall Upper Falls. The Upper Falls Trail can take between 1 to 1.5 hours depending on how long you linger to admire the majestic frozen falls. The trail is rated as moderate, with some steeper sections and uneven terrain. Exercise caution, especially in icy conditions. Microspikes can make this trail easier to navigate.
Ink Pots Trail
Difficulty: Moderate to Difficult
Length: 5.8km (3.6 miles)
Elevation Gain: 215 meters (705 feet)
Duration: 2-3 hours
For those seeking a longer and more adventurous hike, the Ink Pots Trail is a fantastic option. This section takes you beyond the Upper Falls to a series of vibrant turquoise-colored mineral springs known as the Ink Pots. A venture to the Ink Pots is great for those days you have a little extra time as it takes about 2 to 3 hours. The Ink Pots Trail is rated as moderate to difficult, so is not advisable for families with small children. Experienced hikers in good shape will get the most from this trail. Microspikes or crampons and poles can help keep you steady on this trail.
Exploring Johnston Canyon in November offers a unique opportunity to witness the frozen beauty of the waterfalls and experience the tranquility of the winter landscape. Whether you choose to hike the Lower Falls Trail, venture to the Upper Falls, or continue to the Ink Pots, any section of this trail promises an unforgettable adventure in the heart of Banff National Park.
Tunnel Mountain
Difficulty: Moderate
Length: 4.3km (2.7 miles)
Elevation Gain: 300 meters (984 feet)
Duration: 2-3 hours
The Tunnel Mountain hike in Banff National Park offers hikers a lot of bang for their buck. This popular and rewarding trail has stunning panoramic views of the surrounding mountains and the Banff townsite. While it is a year-round hike, exploring Tunnel Mountain in November adds a touch of winter magic to the experience. The Tunnel Mountain hike is a great option for those looking for a shorter hike with rewarding views. While it does involve some uphill sections, the trail is well-maintained and offers plenty of spots to rest and catch your breath. It is suitable for families, beginners, and anyone looking to enjoy the beauty of Banff's winter landscape.
In November, the Tunnel Mountain trail is often covered in a blanket of snow, creating a picturesque winter landscape. It is important to come prepared with appropriate footwear, such as sturdy hiking boots or traction devices, as the trail can be icy and slippery. Be certain to dress warmly.
As you ascend Tunnel Mountain, you'll be treated to breathtaking views of the surrounding peaks, including Mount Rundle and the Bow Valley. The trail winds through a mix of forested areas and open slopes, offering glimpses of the town of Banff below. The highlight of the hike is reaching the summit, where you'll be rewarded with a panoramic vista that stretches as far as the eye can see. The view encompasses the majestic mountains, the Bow River, and the charming town nestled in the valley.
Do note that daylight hours are shorter in November, so it is advisable to start the hike earlier in the day to allow ample time to complete the trail before sunset. Additionally, always check the weather conditions and trail reports before embarking on any hike in Banff National Park.
Special Events in Banff in November
Banff comes alive with a variety of special events in November. The Banff Mountain Film and Book Festival, a renowned celebration of mountain culture, showcases inspiring films, books, and speakers from around the world. The Banff Craft Beer Festival invites visitors to sample a wide range of local and international brews. Banff visitors can marvel at the wonder of the night sky with Banff Nightrise, a phenomenally magical event returning to Banff on November 18 high atop Sulphur Mountain.
Banff Centre Mountain Film and Book Festival
Celebrate the the spirit of adventure and mountain culture with the Banff Centre Mountain Film and Book Festival! Held annually in the charming town of Banff, Alberta, this highly anticipated festival brings together filmmakers, authors, and outdoor enthusiasts from around the world. The festival typically spans over nine days, offering a diverse range of film screenings, book presentations, panel discussions, and interactive workshops. In 2023, the Banff Mountain Film and Book Festival is scheduled to take place from October 28 – November 5, 2023. 
The festival schedule is carefully curated to accommodate various interests and schedules, with events taking place throughout the day and evening. Hear guest speakers like filmmakers Sonnie Trotter and Ashima Shiraish. Listen to exhilarating tales of adventure from real-life explorers and authors like Graham Zimmerman and Helen Mort.
Tickets for the Banff Centre Mountain Film and Book Festival can be purchased online through the festival's official website. Tickets range from $18- $38 CAD (13.20-27.86 USD). You can also purchase a single pass for all film events for $75 CAD ($54.99). It is advisable to book tickets in advance, as popular events tend to sell out quickly.
Banff Craft Beer Festival
The 2023 Banff Craft Beer Festival is an exciting event that brings together beer enthusiasts, local breweries, and food vendors for a weekend of delicious brews and culinary delights. This festival showcases the vibrant craft beer scene in Banff, Alberta, and offers attendees the opportunity to sample a wide variety of beers, indulge in delectable food, and enjoy live entertainment. 
The Banff Craft Beer Festival takes place from November 23-25, 2023 at the Cave and Basin National Historic Site, 311 Cave Avenue. The Cave and Basin National Historic Site is a unique venue that offers a historic and picturesque setting for the festival. Attendees can explore the site's natural hot springs and learn about the history of Banff while enjoying their favorite craft beers. Attendees can expect a wide selection of craft beers from both local and international breweries. From hoppy IPAs to rich stouts and refreshing lagers, there is something to suit every beer lover's palate. The festival also showcases a variety of food vendors offering delicious bites to pair with your drinks. 
Tickets are required for entry to the Banff Craft Beer Festival. When tickets go live, they can be purchased online through the festival's official website.  Package tickets for the Thursday evening session, 5:PM-10:PM cost $58.99 CAD ($43.25 USD). The package includes entry into the festival, $40 in sample tokens, and a commemorative sample mug. Friday evening session, 5:PM-10:PM cost $67.99 CAD ($49.85 USD). The package includes entry into the festival, $40 in sample tokens, and a commemorative sample mug. The Saturday session includes the same items, but visitors can choose to attend the afternoon session from 12:PM-4:PM or the evening session from 5:PM-9:PM. 
Shoot for the Stars in November with Banff Nightrise
Banff Nightrise is an annual event held in Banff National Park this November that offers visitors a unique opportunity to join the Stoney Nakoda tradition of honoring the mountain magic. Ride the famous Banff Gondola to the summit of Sulphur Mountain, and interact with four separate multimedia presentations on various levels of the summit. Tickets including Banff Gondola access and admission to Nightrise can be purchased online. Adult tickets cost $58 CAD ($42.84 USD) and children's tickets are $37.70 CAD ($27.85 USD).
Best Cave Tours in Banff in November
Delve into the mysterious underworld of Banff with a cave tour. Explore the ancient passages of Rat's Nest Cave, guided by experienced spelunkers who will lead you through narrow tunnels, stunning chambers, and unique geological formations. Discover the hidden wonders beneath the surface and gain a new perspective on Banff's natural beauty. 
The Rat's Nest Cave tour offered by Canmore Cave Tours is an exhilarating underground adventure that allows visitors to explore the fascinating subterranean world beneath the Canadian Rockies. With various exploration packages available, each offering unique highlights, this tour promises an unforgettable experience for adventure seekers. Canmore Cave Tours offers two exploration packages for the Rat's Nest Cave tour: the Explorer Tour and the Adventure Tour. Each package caters to different levels of experience and desired intensity.
The Explorer Tour is an introductory tour suitable for beginners and families. It lasts approximately 4.5 hours with around 2.5 hours underground. This tour allows visitors to marvel at the cave's unique geological formations, crawl through narrow passages, and witness the underground wonders. The cost for the Explorer Tour is around $129 CAD ($94.61 USD) for children ages 10-15 and $149 CAD ($109.28) for adults. Children under ten and pets are not allowed.
The Adventure Tour is a more challenging option, ideal for those seeking a more immersive experience. Lasting approximately 4 to 5 hours, this tour includes additional challenges such as rappelling, chimney climbs, and squeezes through tight spaces. The Adventure Tour offers a deeper exploration of the cave's hidden chambers and costs around $169 CAD ($123.95 USD) per child ages 12-15 and $199 CAD ($145.95 USD) for adults. This tour is not suitable for children under 12. Pets are not allowed. 
Canmore Cave Tours provides all the necessary equipment for the Rat's Nest Cave tour, including helmets, headlamps, coveralls, gloves, and kneepads. Visitors are required to bring their own sturdy footwear, such as hiking boots or approach shoes, as well as a sense of adventure and a willingness to get dirty.
November Skiing and Snowboarding at Sunshine Village
Sunshine Village in Banff National Park is a premier destination for skiing and snowboarding enthusiasts. Located just 15 minutes from the town of Banff, Sunshine Village offers world-class slopes and breathtaking mountain views. The resort is situated at 1 Sunshine Access Road, Banff, Alberta, Canada.
Sunshine Village typically opens its slopes in November, weather permitting. The hours of operation are from 9:00 AM to 4:00 PM, allowing ample time for visitors to enjoy a full day of skiing or snowboarding.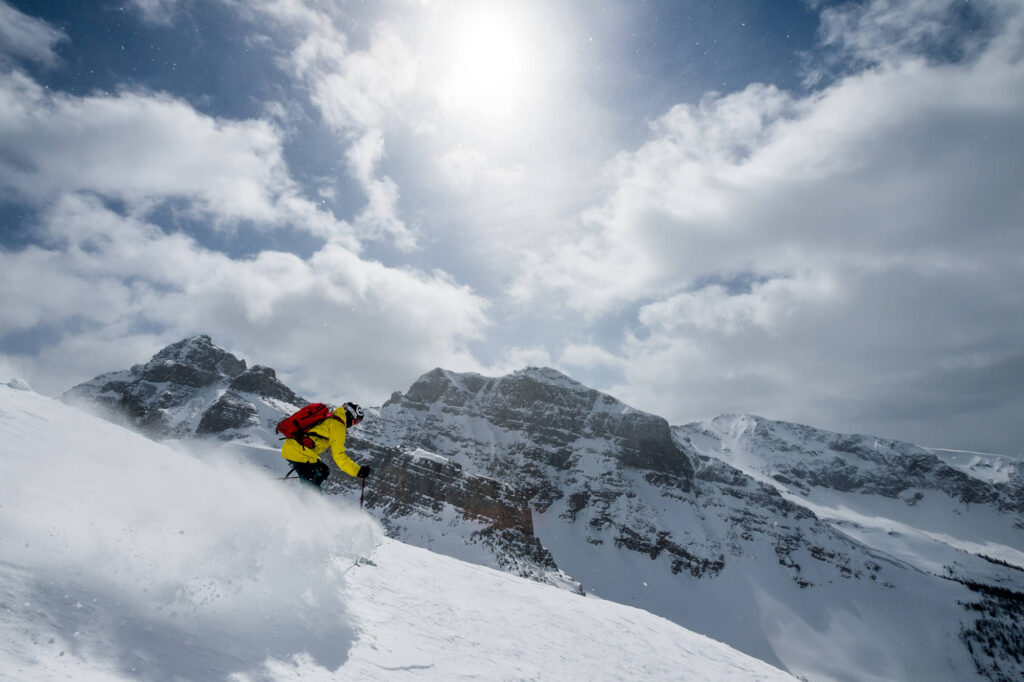 Ticket prices at Sunshine Village vary depending on the age of the visitor and the time of year. For the 2023 season, adult lift tickets start at approximately $109 CAD ($79.94 USD), while youth (ages 13-17) and child (ages 6-12) tickets start at around $69 CAD ($50.61 USD) and $39 ($28.61 CAD), respectively. Children under the age of 6 can ski for free. Pricing is subject to change. It is advisable to check the official website or contact Sunshine Village for the most up-to-date ticket pricing information.
Rental equipment is available at Sunshine Village for those who do not have their own gear. The rental prices for skis, boots, and poles start at approximately $45 CAD ($33 USD) per day for adults and $30 CAD ($22 USD) per day for children. Snowboard and boot rentals start at around $50 CAD ($36.67 USD) per day for adults and $35 CAD ($25.67 USD) per day for children. These prices are subject to change, so it is recommended to check the official website or contact Sunshine Village for the most current rental rates.
Quick Summary
So, when the snowflakes start to tickle your nose, it's time to begin enjoying Banff's winter wonderland. A visit to Banff in November offers a captivating blend of natural beauty, outdoor adventures, and festive celebrations. From hiking through snow-covered trails to exploring hidden caves, there is something for everyone in Banff National Park. Embrace the enchanting magic of Banff's November charm and create unforgettable memories in this breathtaking destination.