If you have ever wanted to have your poutine and eat it, too, then Banff in October is the perfect place for your fall travel destination. Nestled in the snow-capped Canadian Rockies in Alberta, Canada's first national park and UNESCO World Heritage site is rich with sprawling vistas, outdoor activities, and tons of family fun year-round. But October offers visitors a unique experience that only fall can deliver. Whether it's the remarkably pleasant weather, the seasonal turning of the golden larch trees, or the creative meld of art and culture at the Banff Film and Book Festival, there is something special for everyone in this jewel of the Rockies. Read on and you might just discover yourself "falling" for Banff, too.
Best of Both Worlds
Banff is a mecca for travelers. It receives over three million visitors per year. It's not very hard to see why. The stunning mountain views peppered with fir, spruce and lodgepole pine offer Insta-worthy memories to summer visitors with ample opportunity to spy some of the Banff wildlife like bighorn sheep, moose, grizzly bears, and deer. Unparalleled fishing available at Bow River or in Lake Louise draws countless anglers in both the summer and winter months. January brings a special kind of magic—and thousands of visitors—as artisans transform ice into intricate sculptures on the frozen shores of Lake Louise. But if you prefer less layers or crowds aren't your thing, don't worry, Goldilocks. October in Banff is just right.
The October weather in Banff truly is the best of both worlds. It's a unique opportunity to enjoy multiple seasons in just one trip. Refreshing and crisp, high temperatures average around 54°F and lows can drop to below freezing. While there might be the occasional light dusting of snow, however, the days still offer plenty of sunshine. You can still venture out and comfortably enjoy the scenery and many outdoor activities during the day and come back in the evening and warm up with a hot cup of cocoa by a crackling fire.
Crowds tend to thin out in the autumn, too, as most of the popular summer attractions have closed for the season and the ski runs are still waiting for the first major snow. This means the parks and trails are a little bit quieter, allowing you to soak in the serenity of the Canadian wilderness and take advantage of some of the other spectacular things a Banff October has to offer.
What to do When Visiting Banff in October?
Even though Lake Louise hasn't quite frozen over enough for ice skating and it's a bit nippy to take on the frothing rapids on the Kicking Horse River, there is still plenty to do in Banff in the fall. You can take advantage of the off-season rates and lower crowds for things like the Banff Gondola and Upper Hot Springs. There is a wide variety of activities available in October, some of which are only available at this time of year.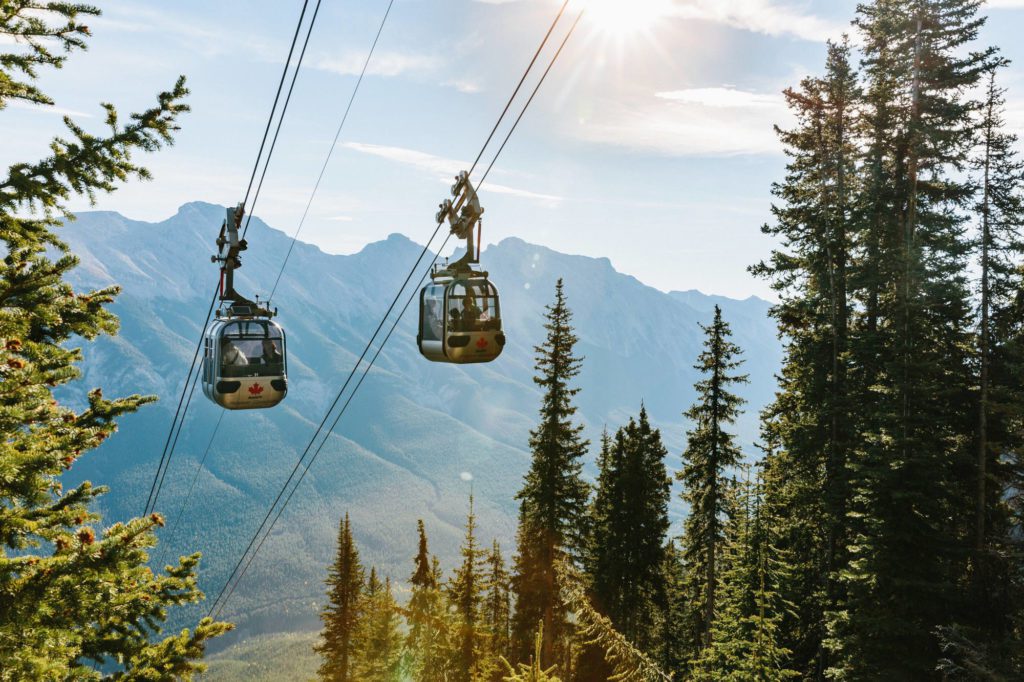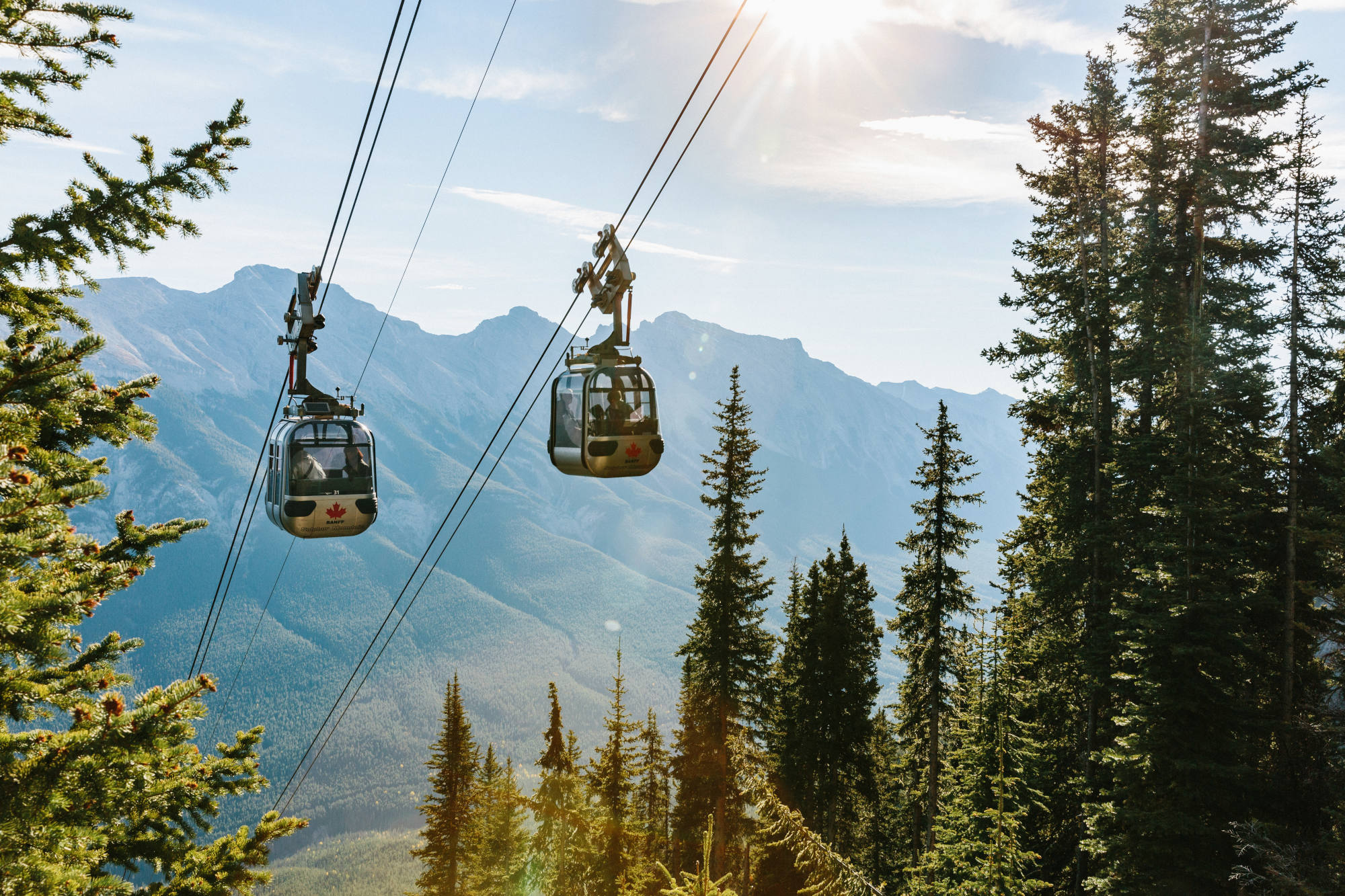 Lights! Camera! Action!
With its vast network of hiking trails, towering peaks, and winding rivers, Banff has always represented the spirit of adventure and exploration. Nowhere is this more prevalent that at the Banff Centre Mountain Film and Book Festival. Now in its 47th year, the festival features pulse-pounding tales of journeys to remote destinations, expeditions that break barriers, and marvelous achievements, brought to you by the people who lived them and the writers and filmmakers who chronicled them. The 2022 festival takes place both online and at the Banff Centre for Arts and Creativity over the course of nine days, from October 29th to November 6th, 2022. Find out schedule and ticket information here.
Be "Buffaloed" By the Views from Tunnel Mountain
With an elevation gain of only 266 meters, Tunnel Mountain is not much of a mountain. In fact, it doesn't even have a tunnel! But the ambling switchback trail up the eastern slope does afford hikers some breathtaking views of Bow River, Banff Town, and the surrounding majestic peaks like Cascade Mountain. So, why the curious name?
Historically, the hill was known as Eyarhey Tatanga Woweyahgey Wakân, or "Sleeping Buffalo" by the Stoney Nakoda people. When viewed from the north, the mountain looks like a resting buffalo. The mountain received its new moniker, Tunnel Mountain, in the 1800s when the Canadian Pacific Railway made plans to create a tunnel through it. Though the plans never came to fruition, the name stuck. Even if you prefer to call it Sleeping Buffalo, you can't help but be wide awake to marvel at the spectacular scenery of the surrounding countryside.
Color Abounds when in Banff in October
You don't have to be the Lorax to appreciate the golden treasures that are Banff's famous larch trees. In fact, in European folklore, it was the larch that did the protecting—no Lorax needed. People believed that the burning larch wood guarded against malevolent spirits and could fend off enchantment. Today, the only burning involving these deciduous conifers is the fiery, golden display they produce in autumn before they drop their needles for the winter.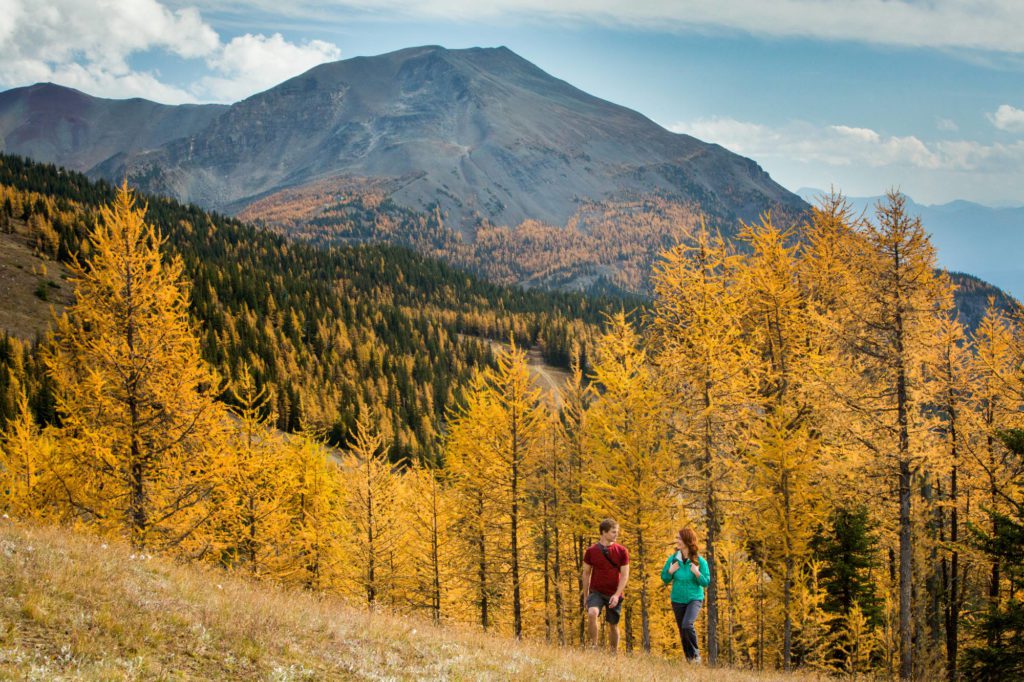 While clusters of larch trees can be spotted all around the Banff area, perhaps the best place to appreciate these golden beauties is along the Larch Valley Trail Hike. The trailhead for this 4.3 km (2.67 mi) one-way hike is located near the Lake Moraine parking lot. It takes 3.5 to 4 hours at a leisurely pace to make the journey, a little more if you plan to stop for photos, of course. It's a moderately difficult hike. An insider tip is go as early as 5:00 AM or wait till the evening to avoid congested trails.
"Scare" Up a Good Time
Of course, it wouldn't be October without Halloween. If you're looking to "scare" up a good time by adding something a little spooky to your visit, consider stopping at the Fairmont Springs Banff Hotel. Some of the guests over the years have supposedly checked in…but haven't quite checked out. After it first opened to the public in 1888, the "Castle of the Rockies" quickly rocketed to one of North America's premier vacation getaways. Then, tragedy struck.
In 1926, the original wooden hotel burned to the ground. It was rebuilt, even bigger and better than before, but over the years, it seemed more than the hotel had come back. Rumored sightings of a spectral bride dancing in the ballroom have been reported. Numerous spooky incidents in Room 873 prompted hotel management to seal the room permanently. And that friendly bellman who smiled and tipped his hat as you passed? Take another look. Don't be surprised if you just see empty space. Bellman Sam Macauley hasn't worked at the hotel since the 1970s before his death. Caught a chill yet? Maybe it's time for some more of that hot cocoa.
Thanks-giving for the Memories
If you'd rather avoid things that go bump in the night, there are other holidays celebrated in Baff in October. Canadians celebrate Thanksgiving on the second Monday in October. Some historians attribute the tradition of Thanksgiving to English seafarer Martin Frobisher. After a harrowing sea journey in search of the Northwest Passage, Frobisher supposedly celebrated a safe landing and gave thanks. The tradition would be mimicked by French settlers and continued to morph until we arrived at the Thanksgiving celebrations we have today.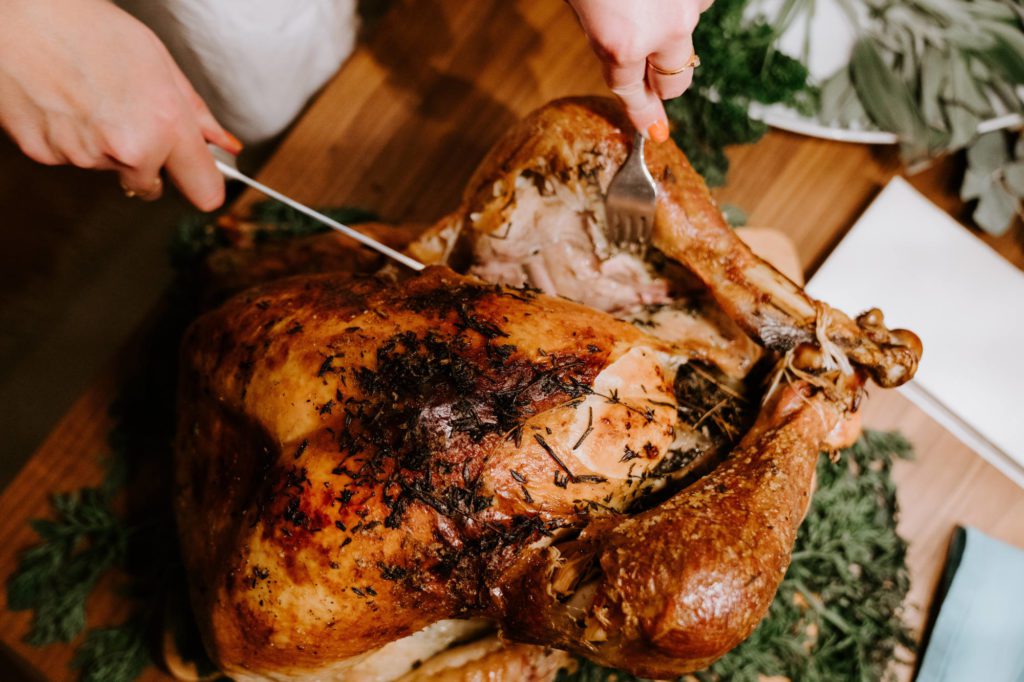 Canadian Thanksgiving shares a similar menu to its American counterpart. There's turkey, mashed potatoes, sweet potatoes, and corn. If you're in Banff during this extended holiday, many local resorts offer special Thanksgiving buffets and family-friendly activities.
For more "a-MAZE-ing" family fun, take a jaunt to Calgary and spend a fun-filled day at the Calgary Farmyard and wind your way through the corn maze. There's also a petting zoo, a Wild West Shooting Gallery, a rope course, potato sack slide and more! On Fridays and Saturdays through October 30th, stay for the Harvest Lights after dark. Watch as the sky comes alive with colorful, twinkling lights. Tickets are $20.95+gst per person online, or $25.95+gst at the gate. Children 2 years of age and under are free.
Hit the Road, Jack
While Banff offers a wide variety of hiking opportunities, it also affords visitors a unique opportunity to appreciate its scenic views with the Moraine-Lake Louise Open Top Explorer & Shuttle. See the great outdoors the way it was meant to be seen—from the outdoors! Climb aboard Banff's only open-top double-decker at the Lake Louise Ski Resort Park-and-Ride and get ready for a 2.5 hour guided driving tour of this great national park. Feel the crisp fall breeze in your hair when you take the Same Day Sightseeing Loop, and see plunging waterfalls, broad lakes, and sprawling vistas—all for the low price of $43.70. Children under the age of 5 ride free. If your party is four or more, you'll enjoy an additional 10% discount, too!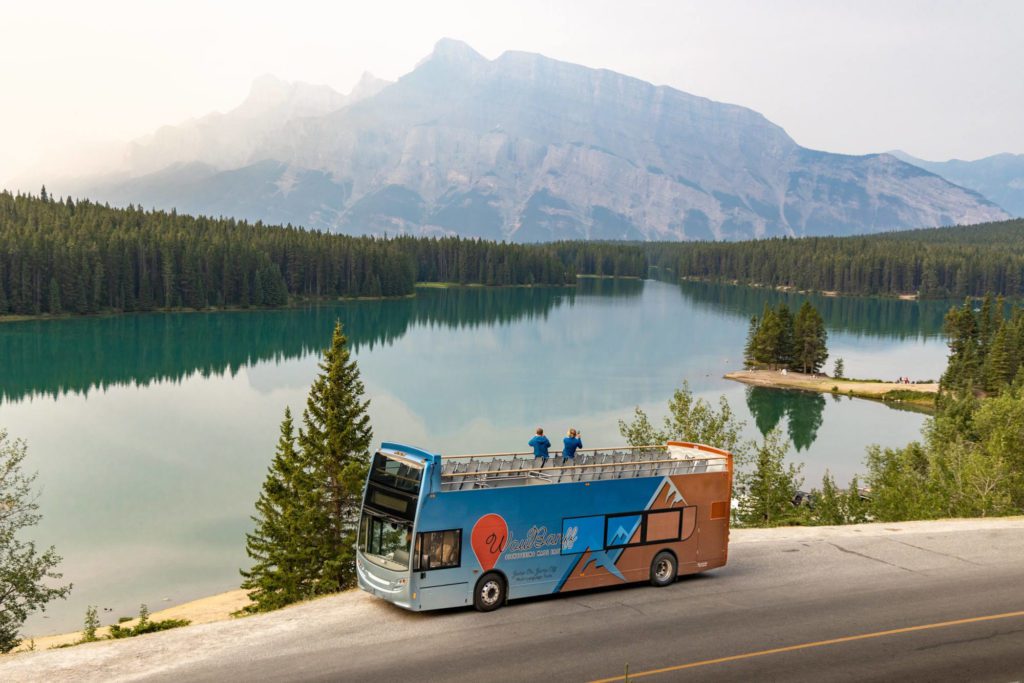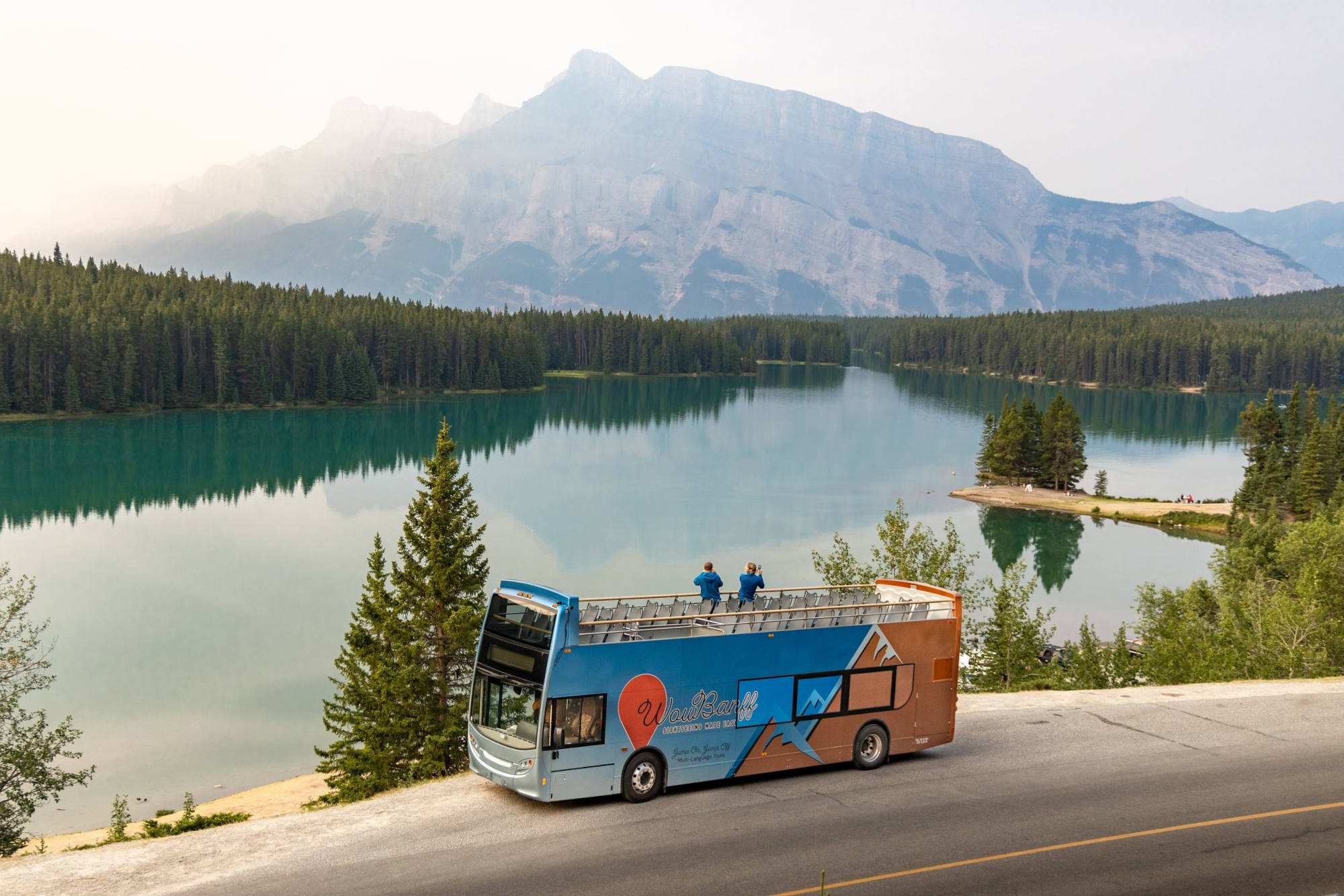 Cuisine Among the Clouds
If you're looking for something a little heartier than tea, Banff's culinary scene is second to none, particularly among the national parks. While many have sparse offering of trail mix and nut butter sandwiches to fuel you on your outdoor adventures, Banff's restaurants fuel your soul.
Pablo Picasso said "art is food for the soul." At Storm Mountain Lodge, the chef has taken it to another level. Crafted from local and sustainable Canadian foods, each meal that arrives at your table is its own work of art. And for staving off the evening chill, try the Park Distillery's Observation Deck Cocktail. The 2.5-oz. blend of Park Glacier Rye, Appleton Rum, Amaro Montenegro, cherry liqueur, Park orange bitters, with a smoked cedar square leads off a menu of small batch spirits, brews and cocktails all sourced from the local Alberta Rockies and foothills. Tours of the distillery are available at $25 per person and can be booked online.
Last, but certainly not least, if you want a heavenly dining experience while in Banff, there's no place better than among the clouds. Ride the Banff Gondola to the top of Sulphur Mountain and enjoy 360° views while enjoying a hearty chowder made with Canadian mussels and clams. Watch the clouds halo the mountaintops as you dine on succulent Alberta Beef Tartare with Saskatoon berry mustard, pickled radish, and crispy fingerling potatoes. As the sun sets, finish things off with the rich chocolate truffle cake accompanied by a cherry and ginger compote.
Banff in October is a Special Time of Year
There's so much to see and do in Banff year-round, but October offers experiences visitors won't find at any other time of year. With activities for the solo traveler to great family activities, the perfect crowds and perfect weather beckon travelers north. Whatever your tastes, from fine dining to fine art or haunted hotels to historic hikes, come to Banff ready to slake your thirst for adventure.