From Seattle to Banff is a great way to see Canada's stunning Rocky Mountains in all its glory. In this article we give the reader 4 routes that will take travelers through Washington state, British Columbia, and Alberta.
So fill up the gas tank, grab some snacks, and prepare for the most epic road trip in 2022!
Quick Overview of Banff National Park
Have you ever heard of Banff National Park? Located in Alberta, Canada, this gorgeous piece of land was the first ever National Park in the country, established back in 1885. The Park spans 6,641 square kilometres and encompasses some of the most spectacular mountain scenery that the Canadian Rocky Mountains have to offer.
Outdoor enthusiasts flock to the Park every year to experience hiking, biking, rafting, fishing, canoeing, kayaking, horseback riding, golfing, ziplining, climbing, camping, skiing and snowboarding. The charming town of Banff, and the uniquely-colored, glacier fed Lake Louise are fantastic destinations for those looking for a slightly tamer travel experience that includes shopping, short easy walks, historic sites to visit, and great culinary options with amazing views.
Of course, the famous Banff Hot Springs, Banff Gondola and nearby Columbia Icefields Skywalk offer up unique opportunities to experience the area in a different way. Wildlife abounds throughout the area, and many tourists have the chance to view bears, elk, deer, moose and other animals, not to mention the plethora of bird life.
There is so much to see and do within the Park that it would be easy to spend a week or more just exploring, no matter which season you choose to travel in, but there are several things to consider as you plan your travels into Canada and Banff National Park.
Tips Before You Go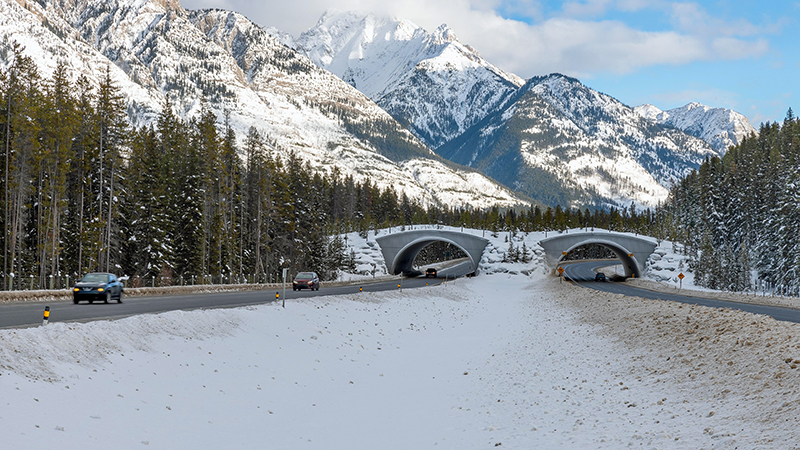 Although Banff offers excellent travel opportunities through the year, highways to this area always pass through mountain ranges and passes, and winter road conditions can sometimes close highways or slow traffic significantly. There are areas where cell service may not be available, and towns can be few and far between. It is best to prepare well for any winter highway travel by carrying extra food, water, warm clothes, a blanket and a flashlight. Winter tires are required by law to travel through the province of British Columbia between October and May.
A National Park pass is required to spend any time in any of Canada's National Parks, and can be purchased in person at one of the Park gates. If you are spending more than seven days in the Park, you may want to consider purchasing a year pass, as it will be less expensive. Rates change on a yearly basis, and you can check daily and yearly fees here.
You may want to consider reserving your accommodations before travelling, as during busy summer and winter months hotels can easily sell out. Summer months also provide opportunities for camping, which can be booked online in advance.
If you are a U.S. citizen, you will require a valid passport to cross the border into Canada. It is always a good idea to check travel advisories, restrictions and border rules, and of course, that your vehicle is in roadworthy shape, before heading out for your trip.
4 Epic Driving Routes from Seattle to Banff
There are four versions of driving routes that can be taken, dependent on how much time you want to spend on the road, or what else you would like to see. If you are determined, you could drive the entire trip in one long day, but there is so much to see and do along the routes that we recommend that you take the time to enjoy every mile.
Driving Route One from Seattle to Banff
Total drive time: 10 hours 30 minutes (with no stops)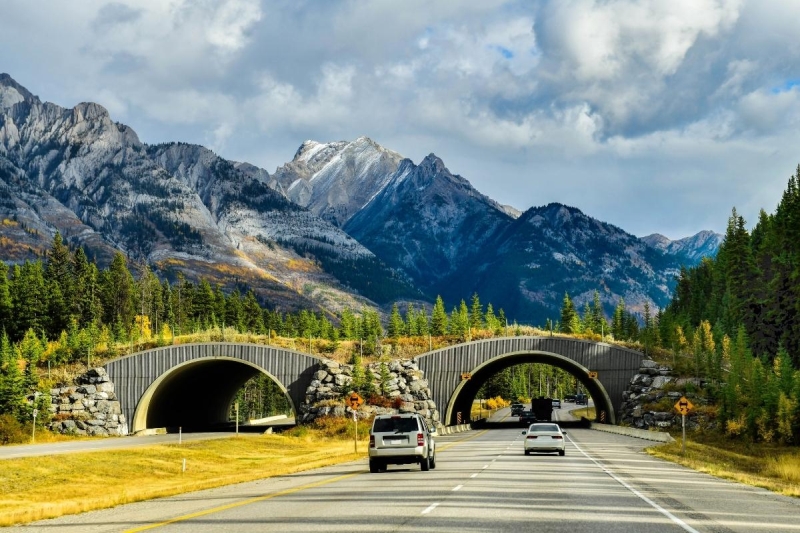 No matter where you are departing from in the Seattle area, you will need to get onto the I-5 heading north. You will be following directions to Sumas, where you will be crossing the border into the province of British Columbia. Follow the I-5 for approximately 88 miles to Bellingham, where you will take Exit 255 for WA-542 E/Sunset Dr toward Mt Baker. From here you continue, following the signs for Customs and Immigration until you come to the border crossing.
Welcome to Canada! This highway turns into BC-11, which you will follow for a short jog of 2 miles before turning right onto Highway 1 – the Trans Canada Highway towards Hope. Remember that distance signs and posted speed limits are now in kilometers, rather than miles.
Everyone Loves a Waterfall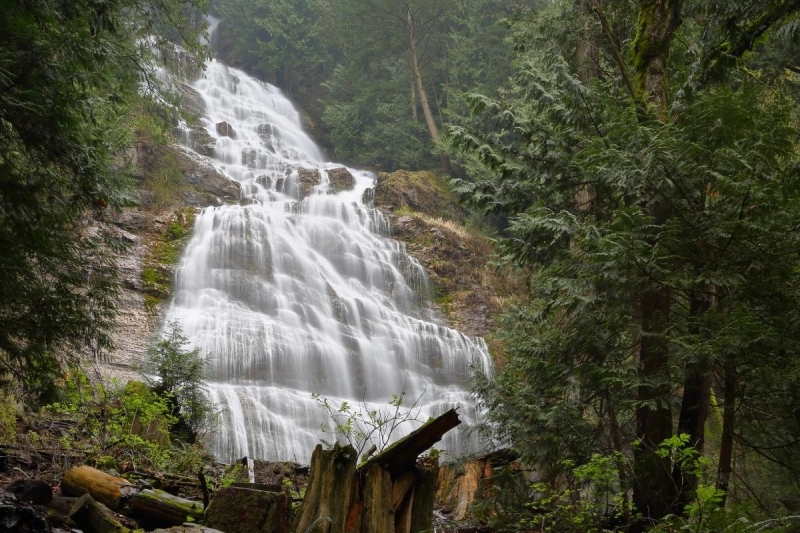 Our first recommended stop will be at Bridal Veil Falls, approximately a 35-minute drive down the road. Just east of Chilliwack, this provincial park only covers 32 hectares, but is home to a spectacular waterfall that is a definite must see if you are in the area. The water falls 60 meters over the smooth rock face, creating a veil effect which has provided the name. The walk to the falls is only about 15 minutes, so no real workout required to enjoy this beautiful natural site.
Hope, BC – A City of Opportunity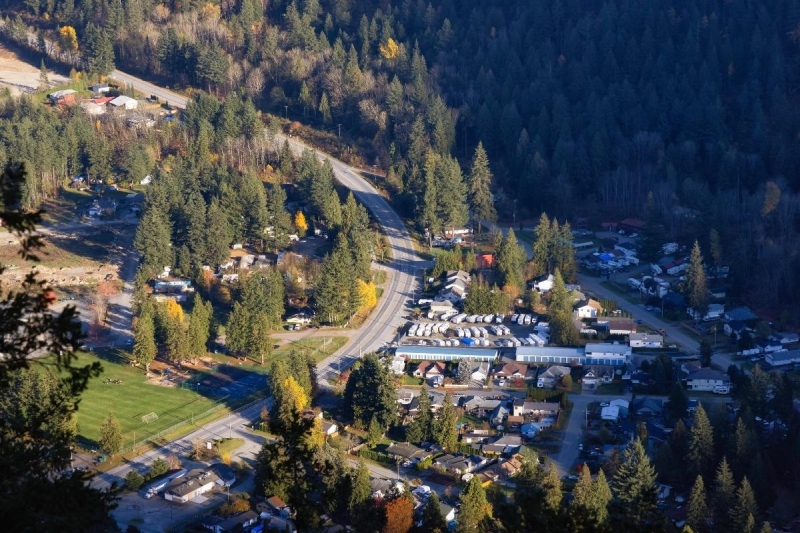 Once you have stretched your legs and taken some pics, your next stop may be Hope, located just 25 minutes farther down Highway 1. The town of Hope is a good place to get out to stretch your legs as well, with its walking tour of the 80-plus wood carved structures throughout the town. You can get your Chainsaw Carvings walking tour brochure from the Visitor's Center.
The Coquihalla Highway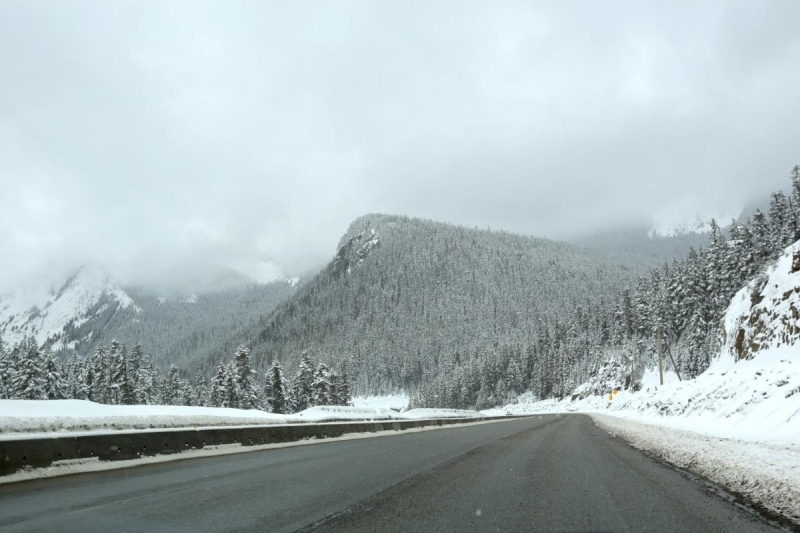 From Hope, you will be departing on BC-3 E, commonly known as the Coquihalla Highway, looking for the exit for BC-5 N after approximately 4 miles. At the summit of this highway, the road reaches elevations of 1,224 m (4081 ft). This section of highway winds through the Cascade Mountains, following the route of the historic Kettle Valley Railway. Keep your eyes out for small locomotive-shaped signs marking the nearby locations of the old Kettle Valley Railway Stations. If you would like another chance at hiking, stop and check out the Othello Tunnels. This beautiful 2 mile walk leads you through old train tunnels and over bridges steeped in history. How the original engineers over 100 years ago built this railway, given the sheer rock cliffs, racing river, and remote access to the area, is seriously impressive.
Two Steppin' into Merritt, BC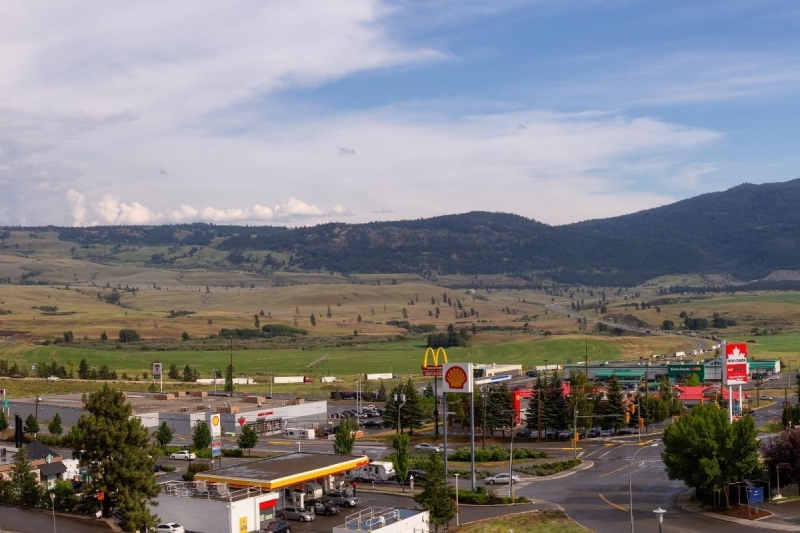 The next major town along the route is Merritt, which is a drive of about an hour and fifteen minutes. Merritt is famous for its Mountain Music Fest and the town shows its love of music with the interesting Country Legend Murals, located throughout the town; the Walk of Stars, which has more than 100 stars of musicians who have performed at the Fest; and the Canadian Country Music Hall of Fame, featuring iconic Canadian country music artists. Stop by the Ballie House for more information on where to see the murals and stars, as is not only a historic site but also the Visitors Information center.
Spend the Night in Kamloops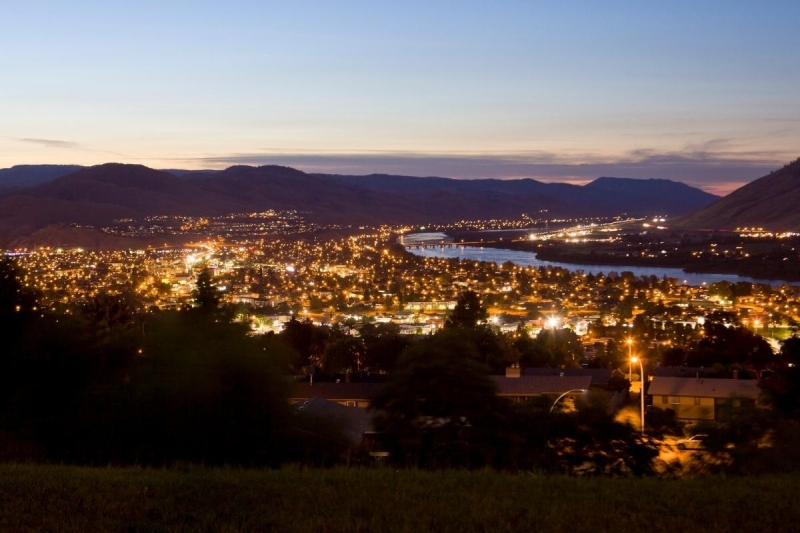 Continuing on your journey, the Coquihalla Highway takes you to the city of Kamloops, another hour up the road. If you have made a lot of stops along the way, this may be the place to spend the night. Kamloops also offers up some fun activities and attractions, depending on which season you are travelling. You can check out the British Columbia Wildlife Park, the Secwepemc Museum and Heritage Park , or take a ride on the Kamloops Heritage Railway, amongst other activities.
Revelstoke – Beautiful Scenery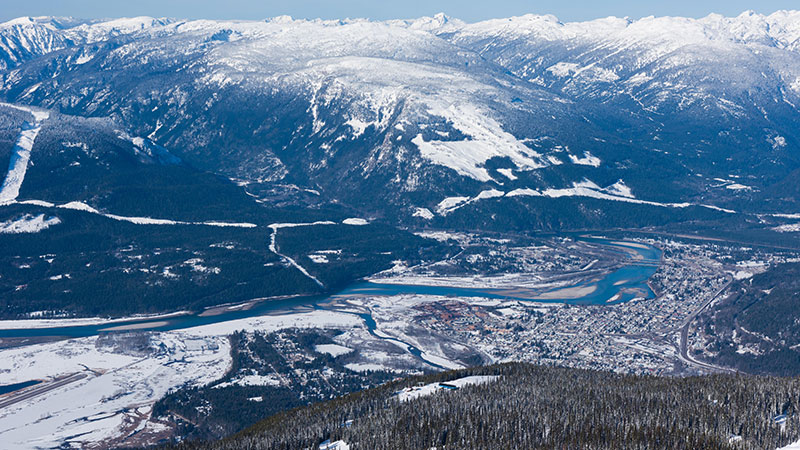 From Kamloops to the next major stop of the city of Revelstoke, you will be driving for approximately two and a half hours if you choose not to stop anywhere else, but of course there are things to do and see along the way. The highway will wind its way through Salmon Arm, where you can stop and visit the R.J. Haney Heritage Village and Museum, if you like, or simply continue through the lovely scenery towards Three Valley Gap. There is a hotel here, but if you don't have time to stop for the night, the historic buildings and exhibits in the Historic Ghost Town provide for much entertainment.
Of course, Revelstoke is the main place to stay in the region, with plenty of hotels, campgrounds, resorts, shops and restaurants to enjoy. If you have the time during summer or fall months, venture up the gondola at Revelstoke Mountain Resort for breathtaking views and hiking opportunities, along with a great breakfast or lunch spot! Otherwise, strap on a pair of skis or a snowboard and explore their runs during the winter months.
Another fun activity for summer months in the Revelstoke area is to ride the Pipe Mountain Coaster, where you can take a thrilling ride on a self controlled 1.4-km coaster that can propel you up to 42-kms an hour!
Glacier National Park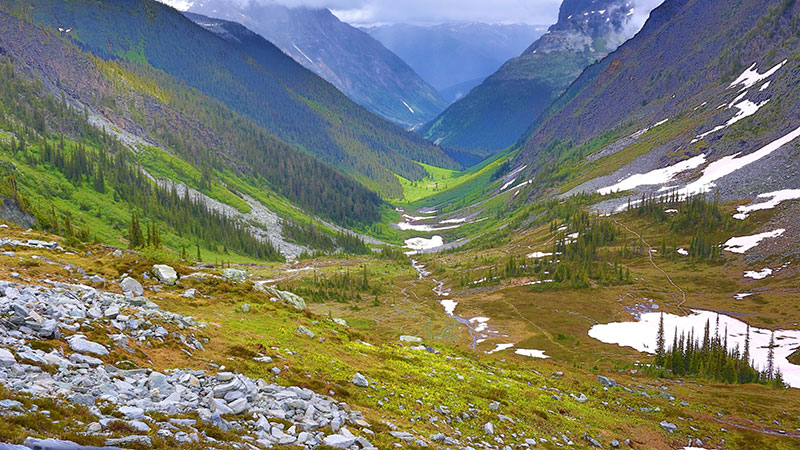 From Revelstoke you will travel into Glacier National Park, where there are many pull offs and signs indicating there is something interesting to stop and see. The Giant Cedar's Boardwalk Trail is found approximately 20 minutes outside of the city and is a short half kilometer boardwalk that will get you out amongst the cedars that can be hundreds of years old. Your next stop should be at Canyon Hot Springs Resort where you can soak your worries away in the mineral springs.
Quick Stopping Points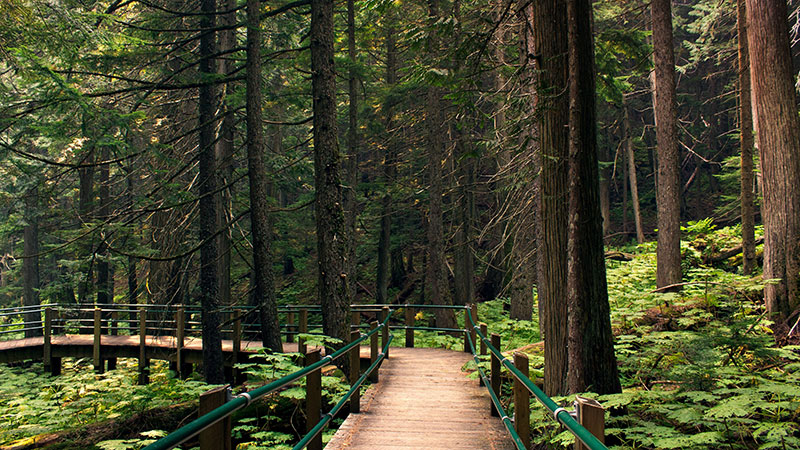 A bit farther down the highway you will come across the Hemlock Grove Boardwalk Trail. This is another very short walk that will take you through this amazing forest.
A fantastic stop along this highway is the Roger's Pass Discovery Centre, which, of course, provides you with all the information you would like about the discovery of the Pass and the history of the area. With a theatre and exhibits, this is a must do along this highway. The next notable stop is at Bear Creek Falls. Less than a mile long, this easily accessible trail takes you to a beautiful waterfall.
Golden Rules, Indeed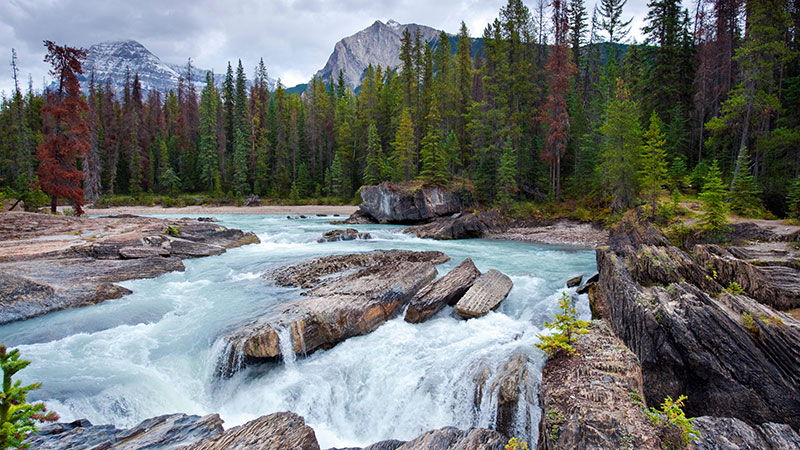 From here it is only about a 45-minute drive to the town of Golden. It is fun to stop for a bit to see some of the sites here, such as the Kicking Horse River Pedestrian Bridge, which, at 151 feet across, is the longest freestanding timber frame bridge in Canada. The Golden Museum is also worth some time to learn about the fantastic history of the town and the area.
From Golden, you return to travel on Highway 1 towards Lake Louise and Banff National Park.
NOTE to Travellers: Highway 1 will be closed to traffic between Golden and Field from September 26, 2022, until 6 a.m. on December 1, 2022. Please follow alternate route signs during this time, and allow for up to an hour and a half of extra drive time.
Fantastic Finds in Field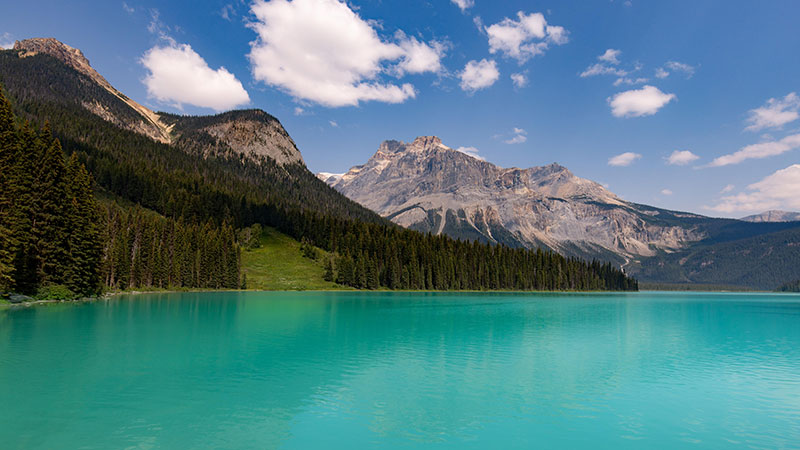 By the time you reach Field, you will be almost at the Alberta border, and only a 25-minute drive away from the famous Lake Louise. There are several natural sites to see in the Field area, and plenty of activities to keep you busy for a day or two if you so choose. Check out the Natural Bridge, Emerald Lake, the skiing opportunities, hiking trails, or activities like ice climbing or dog sledding.
The scenery in these parts is spectacular, and you will find driving along the highway during any season to be an amazing journey. Take the time to pull off in the rest stops to take pictures and smell the fresh air, and enjoy each place as you travel through.
Marvel at Lake Louise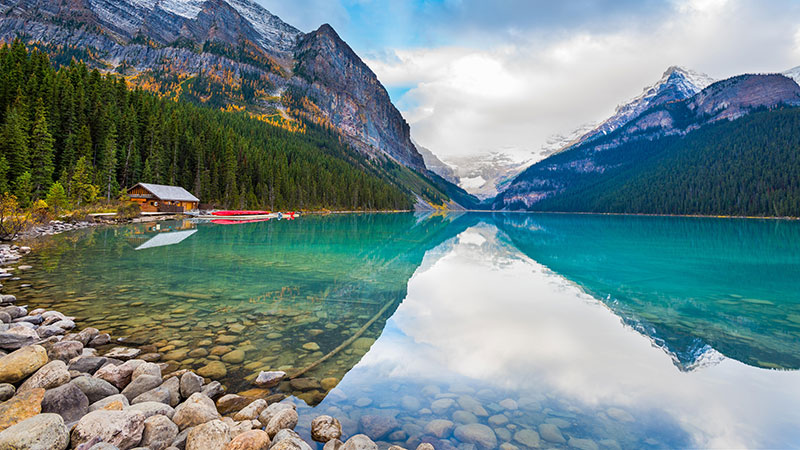 You can't drive by Lake Louise without stopping, so you might as well plan to spend at least part of a day up at the famous turquoise coloured lake. During the summer there are plenty of hiking opportunities, as well as kayaking and canoeing on the Lake itself; during the winter you can ice skate, hike, snowshoe and cross country ski. The nearby ski hill offers up plenty of chances to enjoy the downhill side of things as well. Check out the historic Chateau for an overnight stay or a meal.
The journey on the Trans-Canada Highway from Lake Louise to the town of Banff is only 45 minutes, but the journey through the incredible Rocky Mountain vistas will make you wish it was much longer. The charming town of Banff is chock full of hotels, restaurants and sites, and in the area you will find plenty of opportunities to enjoy outdoor activities such as hiking.
Driving Route Two from Seattle to Banff
Total Drive Time: 12 hours 30 minutes (no stops)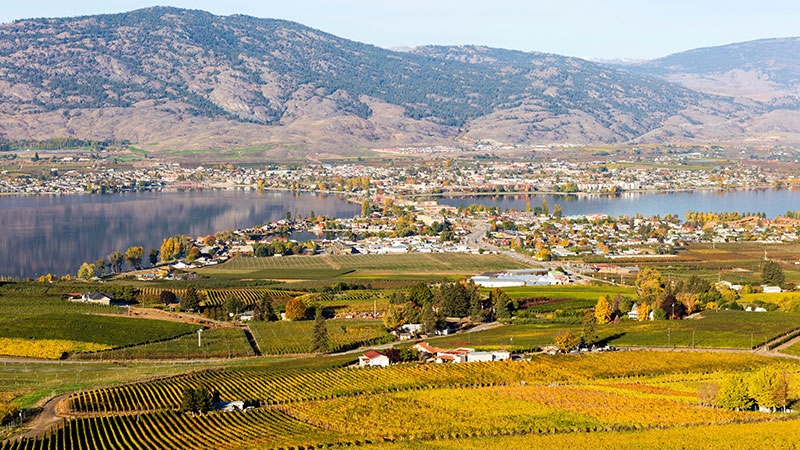 Departing from Seattle, you will want to head east on I-90 E/Bellevue/Spokane. Look out for exit 85 to travel onto WA-970 N toward Wenatchee. From there, turn left onto WA-970, keeping right to stay on 970 for another 10 miles. From here you will be continuing on to US-97 N. This route takes you towards Wenatchee – but you will have to exit onto US-2. There are plenty of places to stop to stretch your legs, including the Blewett Townsite, which is a historical site with an information sign right off the highway.
Be aware that you will have to take the exchange US-2 E/US-97 N ramp to Okanogan/Spokane in Sunnyslope, before continuing your drive on US-97. Dependent on the time of year, you may find orchards and fruit stands to visit alongside the highway north. This route takes you through a variety of landscapes and provides many places to pull over to take pictures or stretch your legs. The highway is flanked by natural areas and small towns, and if you don't mind taking slight detours you can view some pretty cool things – such as Chelan Falls, just 45 minutes outside of Sunnyslope. There are several trails that will lead you through the gorge to spectacular scenery and views.
Winding your way through the mountains towards the Canadian border, you may find that you want to stop in every small charming town, each with their own history and beauty.
After passing through the Canadian border, the first major place that you will come across will be Osoyoos. One of the most unique things about this area of British Columbia is that it is a desert! The town provides the perfect place to learn about the ecology of the region at the Desert Center. This 67-acre interpretive nature center provides information about the unique desert ecology and conservation of endangered ecosystems.
Seeing Spots in the Summer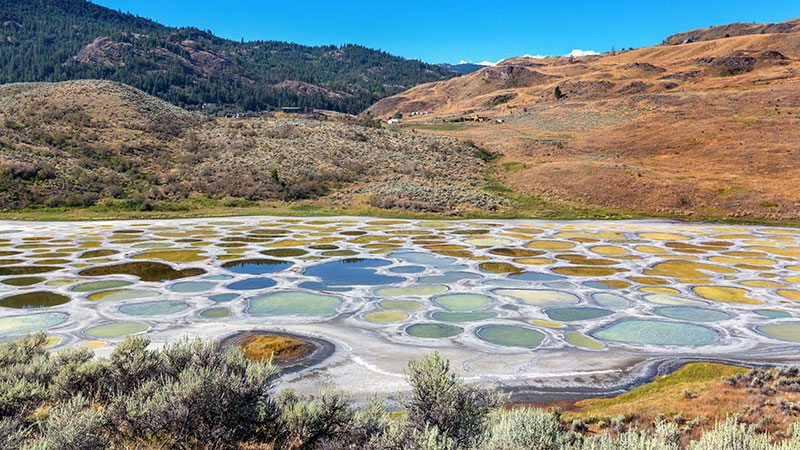 Also in the area is one of the most unique features in the country – Spotted Lake – but this incredible lake is best viewed during the summer months. Due to the heat of the summer, much of the water in the lake evaporates, leaving large concentrations of various minerals that form the spots visible in the lake. Throughout the summer, the spots shift in size and colour as the minerals within each change with further evaporation. You can see colours ranging from blue to green to yellow dependant on the mineral makeup in the water that's left. Note to travellers: you can not swim in this lake at any time of year.
The Wine Country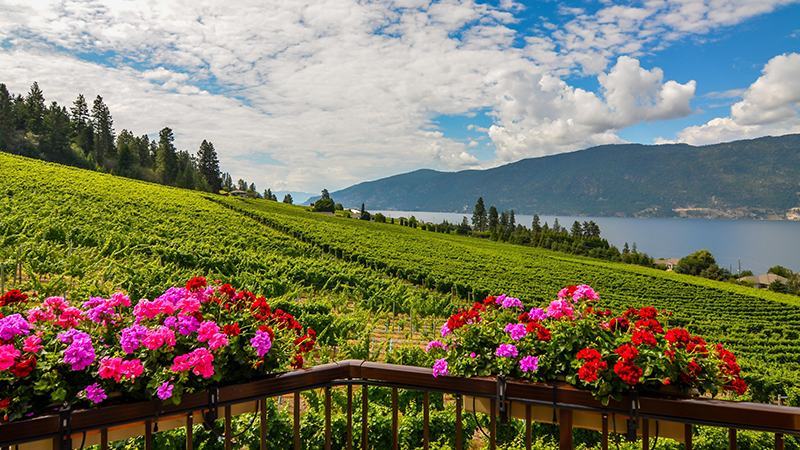 This is also the beginning of wine country in the province, so if you are a wine lover, you will find a variety of vineyards and tasting rooms all along the highway from here to Kelowna and beyond. It is impossible to list every vineyard, activity, historic site and orchard in the Okanagan, but we suggest that you plan to spend several days (if you can) exploring this region.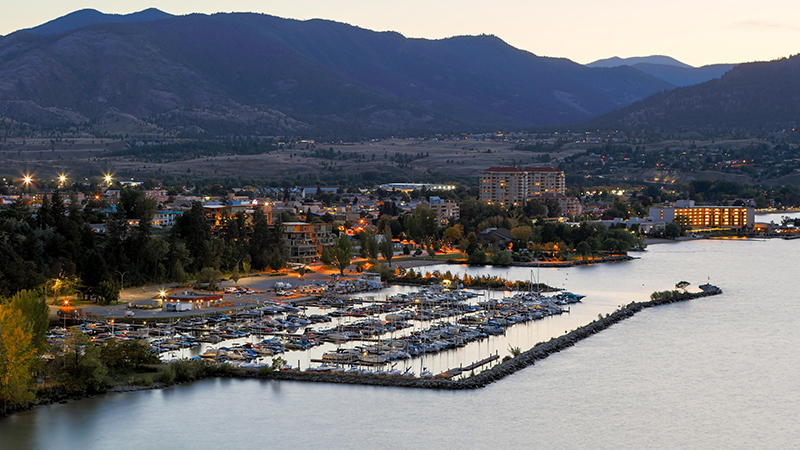 From Osoyoos, you will head north to Penticton on Highway 97, where Okanagan Lake begins. This journey will only take an hour if you don't stop anywhere. Penticton is beginning of a condensed area with plenty of small towns, orchards, vineyards, and activities. During the summer, fruit stands are found all along the highway between Penticton and the larger city of Kelowna, just another 45 minute drive down Highway 97.
A Keystone Location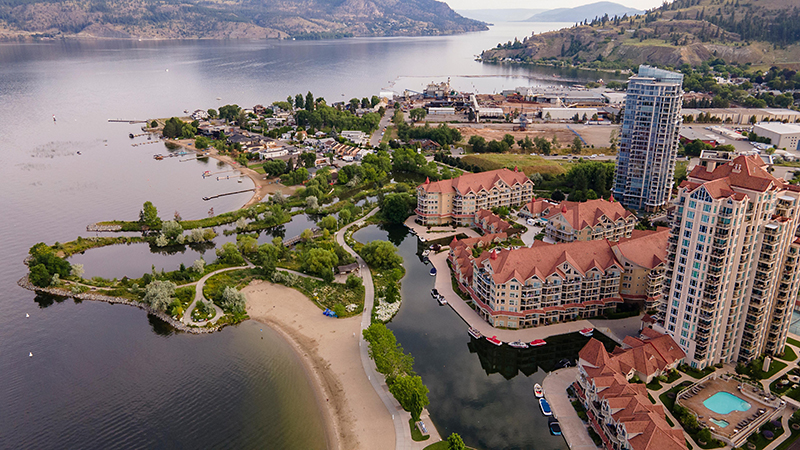 Kelowna is a fantastic place to make as a base at any time of year if you have the time to explore the region before heading on to Banff. The mild weather here has created a year round destination for all types of travellers. This vibrant city is full of hotels, restaurants, shops, boat rental agencies and lots of distilleries and places to drink wine. There is plenty of hiking and fishing, and during the winter you can enjoy downhill activities at the nearby Big White Ski Resort.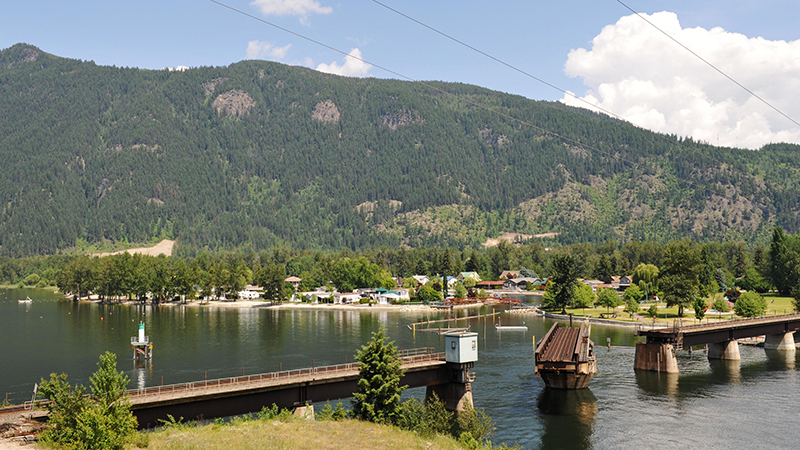 While we love the Kelowna area, the journey is onwards to Banff National Park, and so you must continue to travel alongside the beautiful Okanagan Lake towards the town of Vernon on Highway 97. Continuing to drive north, you will merge onto Vernon-Sicamous Hwy/BC-97A N, following that highway until you reach Sicamous, the houseboat capital of Canada, which is 218 kilometers away. At Sicamous, you will be turning right to join the Trans-Canada Highway (Hwy 1). This is the junction where you would meet up with the description from Driving Route One, as Sicamous is located between Salmon Arm and Three Valley Gap. You will have a four to five hour drive from Sicamous to Banff, if you make no stops along the way.
Driving Route Three from Seattle to Banff
Total Drive Time: 13 hours (no stops)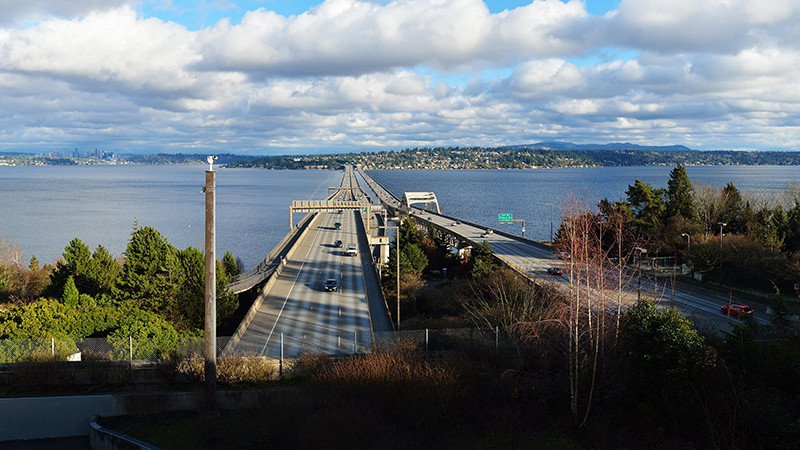 From the city of Seattle, you will need to be able to travel east out of the city on the I-90 to Bellevue/Spokane. It seems strange to be travelling southeast to go north, but this highway is a fast alternative to the side highways which may take you a lot longer to get to your destination. Even though this is a major highway, you are surrounded by plenty of green spaces and it is beautiful scenery to be passing through on your way to Canada.
After you merge onto I-90, you will travel 297 miles and through Spokane before you need to turn off anywhere, which will be shortly after you enter Idaho. Look for Exit 2 to Pleasant View Road, where you will want to turn left onto N Pleasant View Rd/Pleasant Vw Rd, following that for 2.5 miles. You will have to go through a traffic circle (take the second exit) and continue on Pleasant View Road for another half a mile before you come across ID-53 E/W Hwy 53. You will follow this for just over 7 miles before turning right onto ID-41 S/ID-53 E.
In less than a half a mile, you will have to turn left onto ID-53 E, following that for 4.3 miles before merging to the left onto US-95 N. Driving on, you will pass by NAPA Auto Parts – BONNERS FERRY ID (on the right in 67.1 mi) before turning right onto Customs Lp/Ferry Ave. From here, turn left at the 1st cross street onto Customs Lp/Immigration St and continue to follow Customs Lp. You will turn right onto US-95 to enter the province of British Columbia, in Canada.
Spectacular Seasonal Crossing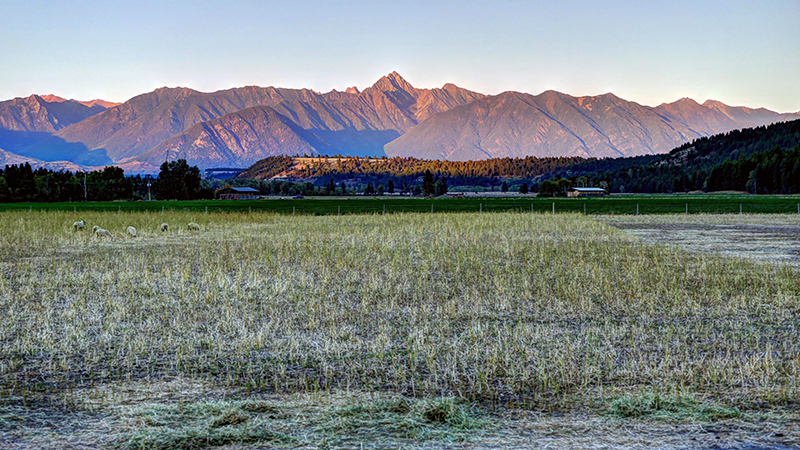 After you enter B.C., US-95 N turns slightly right and becomes BC-95 N. Approximately an hour down the road, you will come across the small city of Cranbrook. In the autumn months, this town is home to, and surrounded by, gorgeous fall colours as the golden larches mature. In the winter months, Cranbrook is famous for its mild climate and the eight world-class ski resorts within driving distance, not to mention the more than 50 kilometers of snowmobile trails in the area. Of course, Cranbrook is also a really cool little historic town, with plenty of charm and great restaurants to enjoy.
This is a quick trip through British Columbia, because your destination along this route is the province of Alberta. BC-95 N will shortly turn into BC-3 E, and will enter Alberta in approximately 85 miles, changing into AB-3 E. The next place that you will come across is the junction town of Elko. Located at the junction of two major scenic highways (Highway 93 and Crowsnest Highway 3), the town sits in the valley of the gorgeous surrounding mountains. Estimate a 45 minute drive between Cranbrook and Elko.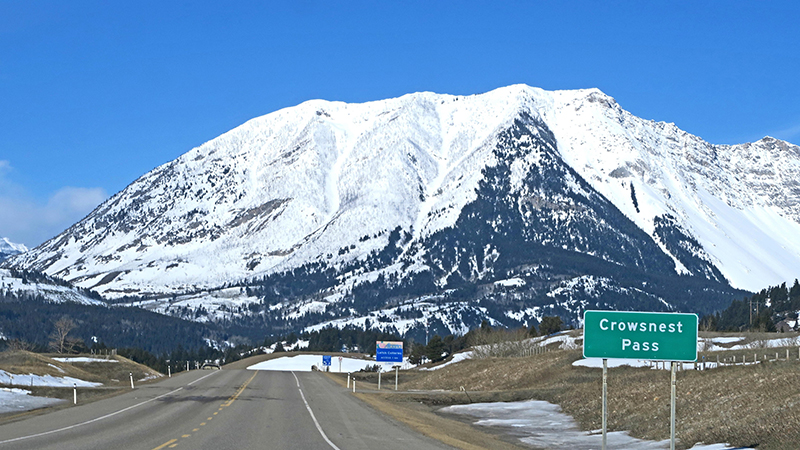 This highway is commonly known as the Crowsnest Highway, and it will provide you with spectacular views of the southern Rocky Mountains, and provide incredible viewpoints for natural wonders and historic sites. There are many places to visit along this route, but opening days and times of most places will depend on the time of year that you are travelling. You will want to check road conditions before travelling this highway during the winter months.
Discover Fernie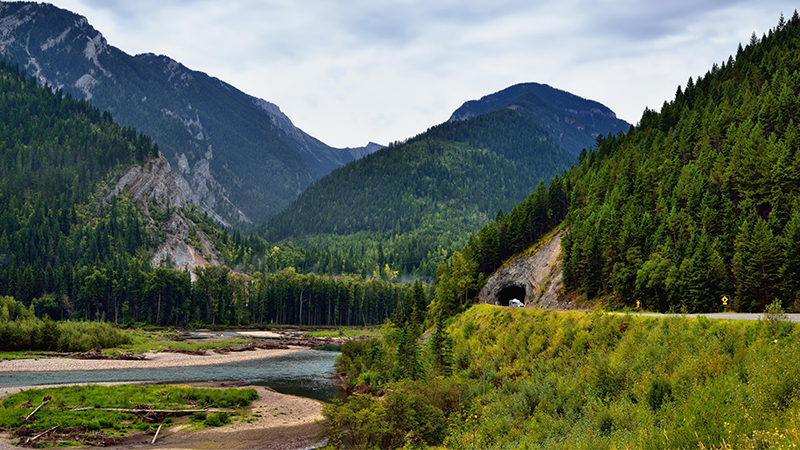 From Elko, your next major stop would be the town of Fernie, located 25 minutes north on Highway 3. Everything in this area is within a short drive, but if you are stopping at multiple places along Crowsnest Pass, you may want to consider planning for a day in this area. Fernie is famous for its skiing and powder conditions during the winter, but is also a fantastic summer destination. The stunning scenery that surrounds the town makes it a perfect place to hang out for a couple of days and experience the outdoor activities. You can also take a self-guided walking tour of the town to see the historic side.
If you are a fan of mining or heavy equipment, you will want to stop in Sparwood, another 25 minutes up the road from Fernie. At the very least, you will probably want to take at least a minute or two to stop for a picture with the Terex Titan. This immense truck was built by General Motors of Canada in 1974, and weighs a mind-boggling 350 tonnes, which makes it a great roadside attraction. If you happen to be passing through on a Tuesday, Wednesday or Thursday through July or August, you can also partake of a mine tour here. Pop into the Visitor's Center to get all the information on a self-guided or guided walking tour of the town as well, as there are many murals and tons of mining equipment located throughout.
Continuing on the Crowsnest Highway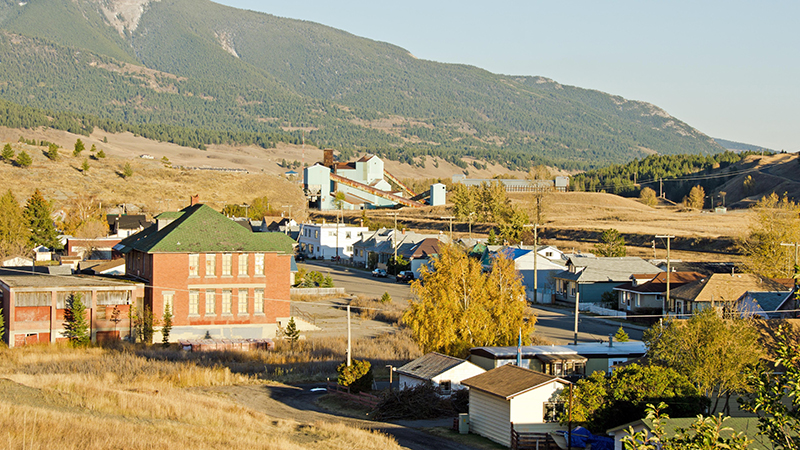 The next recommended visit is to the town of Coleman, located another 35 kilometers down the Crowsnest Highway. The Crowsnest Museum, located in downtown Coleman, is a great place to learn the story of Crowsnest Pass. Their exhibit spaces are set up as rooms, so you can enjoy a Mining Room, a General Store and Blacksmith Shop, a Pioneer Room, a Military/Police Gallery, a Wildlife Room and one more room with changing exhibits. If you don't want to stop at the museum, the town of Coleman itself is almost living history. Take a self-guided tour of downtown – a National Historic Site lined with miners' cottages and the original buildings that once housed a hotel, mercantile store, grocers, theatre and boarding house. Since you are in Coleman anyway, stop for a snack at the Cinnamon Bear Café and Bakery, located at 8342 20 Avenue.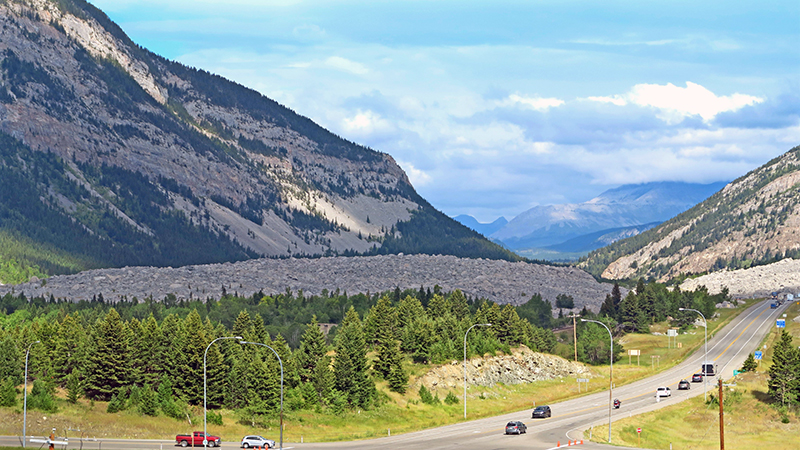 Hop back onto Highway 3 to continue driving through the Pass. Just 15 minutes down the road there will be a stop that you should not miss, that being the important Frank Slide Historic Site. On April 29th, 1903, a horrific event happened which devastated the Crowsnest Pass area and killed 90 people. This historic site will give you the opportunity to learn all about the slide, how and why it happened, and the people and mining community that were affected. Spend some time at the Frank Slide Interpretive Centre viewing their new multimedia exhibits before taking a walk through the debris field to appreciate the scale of the boulders that tumbled across the valley.
Hike Turtle Mountain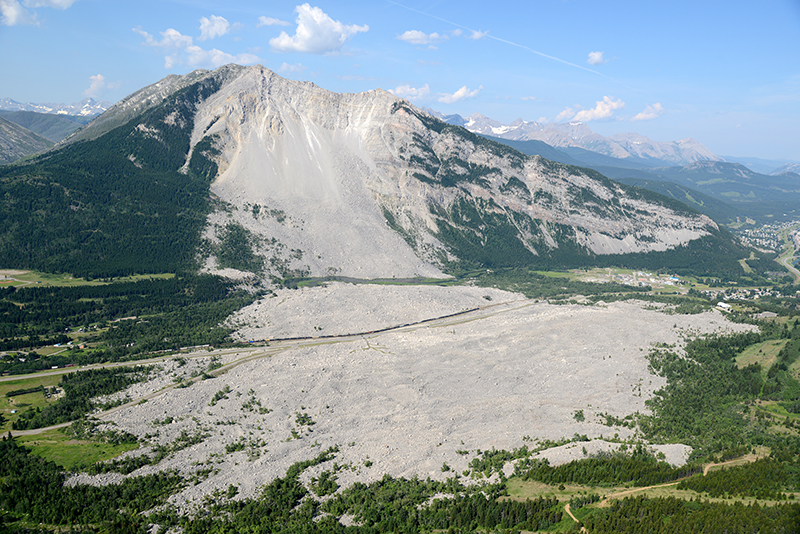 If you have time, and the energy, to hike Turtle Mountain, you will end up with phenomenal views from the top of the slide area. The hike itself is just over 6 kilometers return, with an elevation gain of 900 meters but will reward you with incredible views of the slide and the surrounding area. The parking for Turtle Mountain is located at the end of a gravel road near 134 Street and 15 Avenue in Blairmore, just 5 minutes down the road from the Frank Slide Historic Site. To get there, turn left onto 129 Street from Highway 3. Take a left at 19th Avenue, then right on 132nd Street; 132nd will turn into 15 Ave. At the T-intersection, turn right. 1 block later, take a right onto the dirt road across from the cul-de-sac. Follow it for about half a kilometre to the parking area at the top of a rise. Yellow markers painted at the base of the cliffs just past the parking area indicate the trailhead.
View to a Waterfall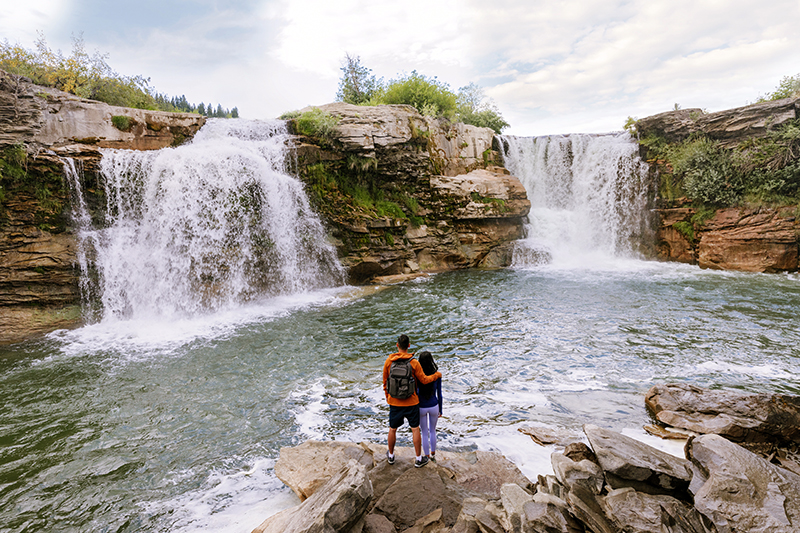 You are almost out of the Pass itself when you depart the Frank Slide site, and if you are not in too much of a hurry, you can make a short stop at the pretty Lundbreck Falls, which is located 15 minutes further down Highway 3. Located right off the Crowsnest Highway, this waterfall is an easy access for those who would like a beautiful view without much effort, or if you don't want to take too much time at this stop. This 12-foot drop waterfall is gorgeous at any time of year, but of course as the summer wanes on you may find that it gushes a little less. You can easily view the falls from the observation platform, or if you are a bit more adventurous, head down on the hike to the bottom to get an up close and personal look at the rushing waters.
This is very near the junction of where you will turn north, so if you do stop to enjoy the flowing waters, make sure that you turn right back onto Highway 3, but look immediately for the turn to the left to follow Highway 22/AB-22 (signs for Longview/Black Diamond/Turner Valley). This highway is famously known as the "Cowboy Trail".
Have Your Camera Ready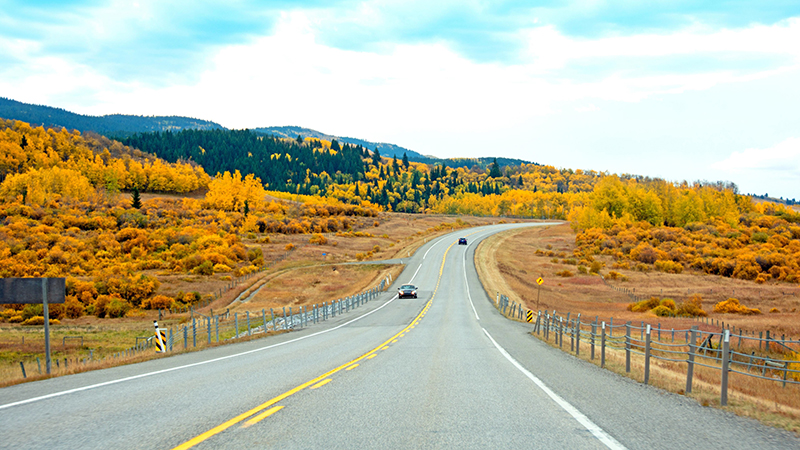 Making its way through the beautiful rolling foothills, with views of the Rockies, and farmers fields full of bright canola, tall wheat, or herds of cattle and horses flanking each side of the highway, this lovely route holds parts of Alberta's past and some of the most interesting and beautiful scenery. Historic sites and ranches can be found along the way, along with some interesting adventure activities, good food and plenty of chances to get out to spend some time taking pictures. Keep your eyes open for wildlife and birdlife, especially at dawn and dusk.
Tuck In for Dinner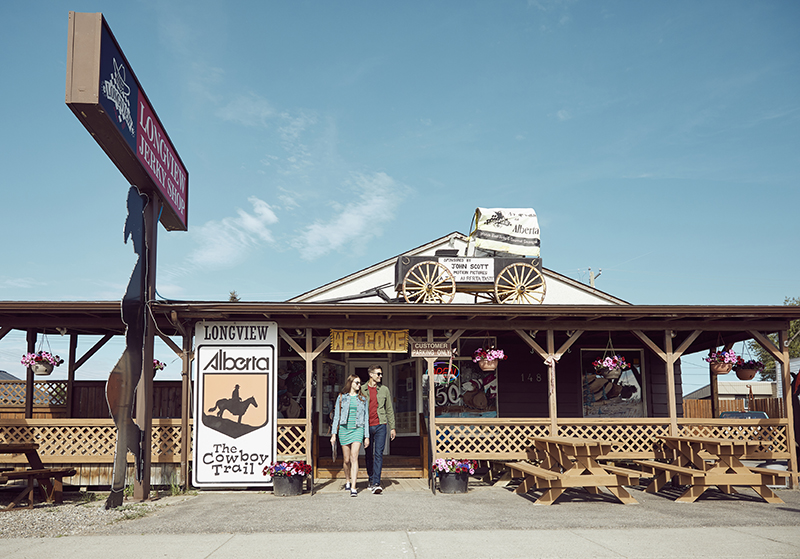 You are going to want to stop in Longview, even if you don't stop anywhere else along this trail, because there is nothing better eaten than some good old Alberta beef. From Lundbreck Falls, it is 113 kilometers, or just over an hour to drive up to Longview. Stop for a meal at the Longview Steakhouse, or if you don't have time to enjoy the steakhouse, you can stop by the Jerky Shop to pick up some high-quality beef jerky to take on the road with you. There are 32 different types of jerky to be had here, including some unique ones such as Mandarin Ginger, Dill Pickle and Maple Beef.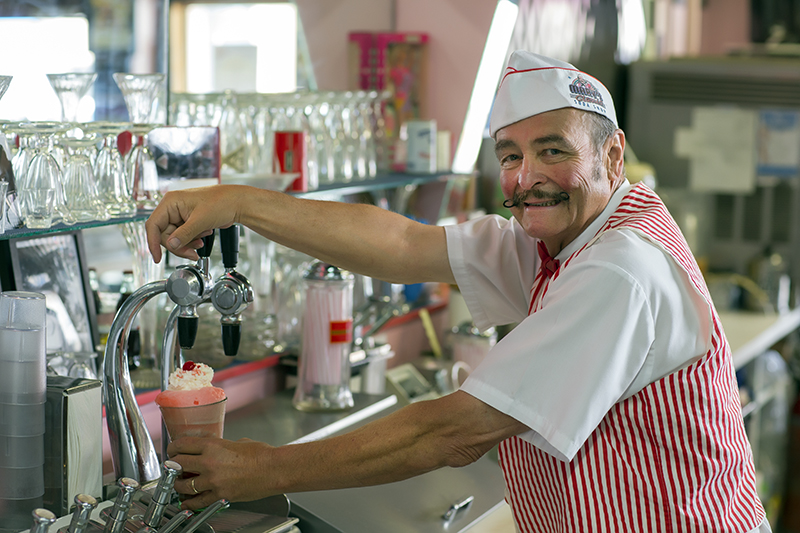 Continue north on Highway 22, up to the town of Black Diamond, and turn left to follow the highway. Watch out along Main Street here, you can see the restored coal car and big black diamond that represent Black Diamond's mining history. Even the name of the town is taken from the coal beds in the vicinity. If you didn't stop to eat in Longview, perhaps Marv's Classic Soda Shop in Black Diamond is more your style – it is an actual 1950's classic restaurant. The memorabilia takes you back to the golden age of diners and the classic style burgers, fries and milkshakes will fill you up to keep you continuing along your way.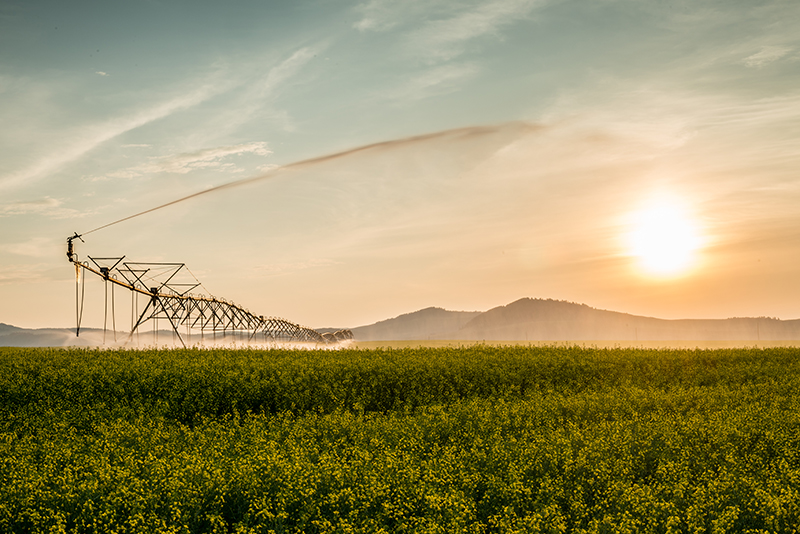 Even if the diner is not for you, and you are still looking for somewhere yummy to eat, Turner Valley is only 3 kilometers up the road, and is home to the famous Chuckwagon Café, where you can eat breakfast all day long. Along with the claim that they have the best burgers in the province, this eatery has been included in the television show "You Gotta Eat Here" and once you've been here you will understand why. The western themed interior is a good accompaniment to the great food.
Historic Trading Post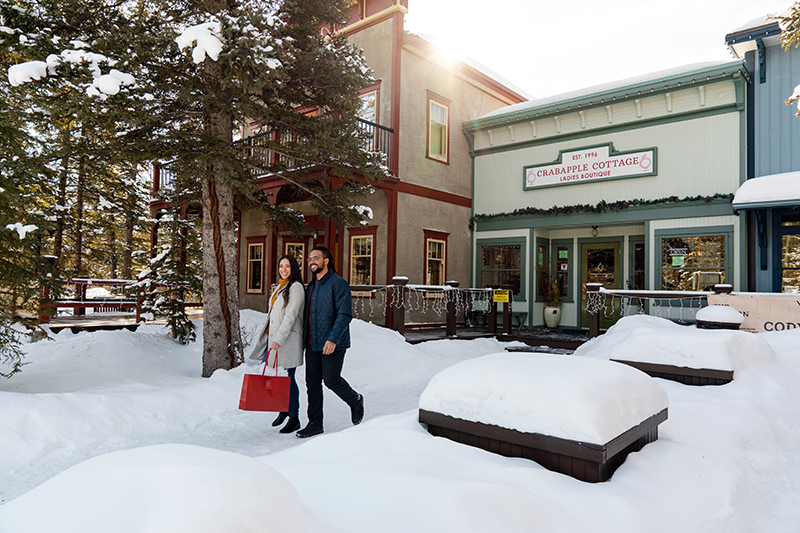 Following Highway 22 north, you will turn left in Priddis, before arriving to Bragg Creek, which is a short 51 kilometer drive from Turner Valley. In Bragg Creek, we recommend stopping to visit the original Historic Bragg Creek Trading Post. For over 90 years this trading post has been serving the community and the surrounding area. The same family, with the same values, continues to own and run this unique business. Stop in to soak in the history and perhaps purchase some genuine native crafts, moccasins, mukluks, the real Cowichan Knitwear and much more.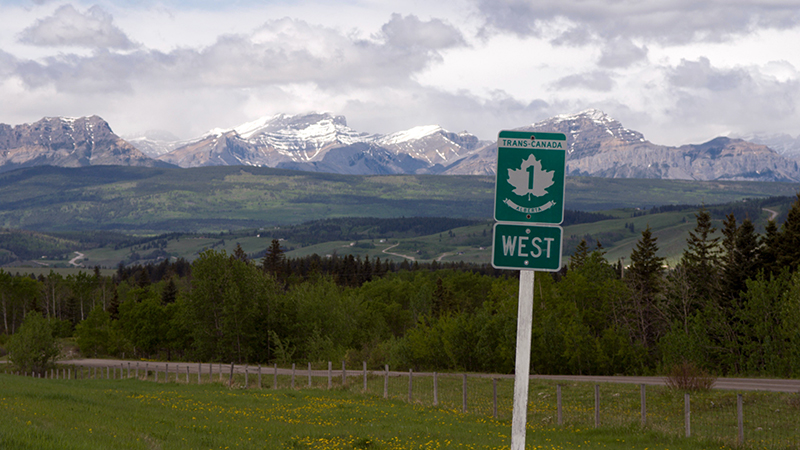 Your journey to Banff National Park, or the towns of Banff or Lake Louise, is almost complete! Another hour and a half and you will be immersed in the beauty of the Canadian Rocky Mountains. Travel north on Highway 22 to the exit for Highway 1 W, Trans-Canada Highway W, and follow this well travelled road to the gorgeous area that we know as Banff National Park.
Driving Route Four from Seattle to Banff
Total Drive Time: 13 hours (no stops)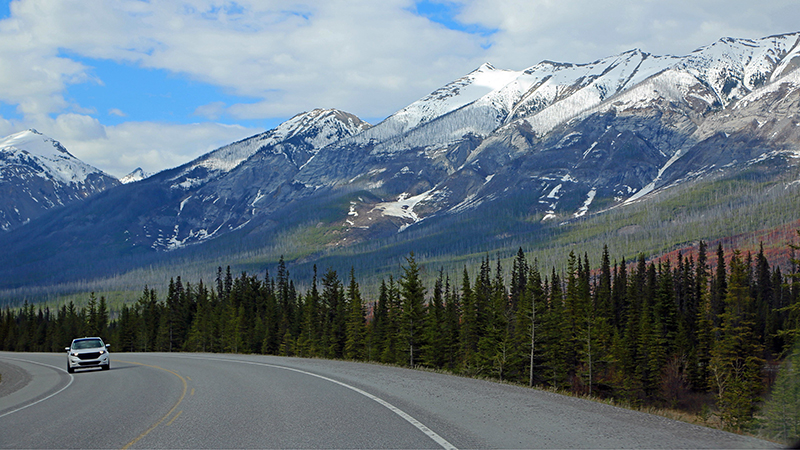 Okay, here we go again! You will need to follow the driving directions on Driving Route Two until you hit the Canadian town of Osoyoos. This time, instead of travelling north, you will be heading west from Osoyoos on Crowsnest Hwy/BC-3 E towards Castlegar. You will be travelling into the stunning Kootenay Rockies, through rolling orchards and vineyards, along lakesides and rivers.
Soak up Some Art and Culture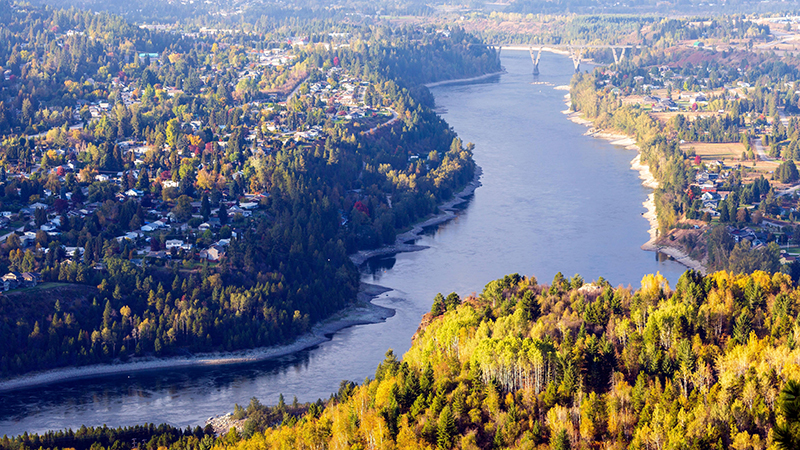 The small mountain town of Castlegar lies in the heart of the Kootenays and offers a mix of arts, culture, and outdoor adventure. It is known as the "sculpture capital of Canada" thanks to its outdoor installations. Every year, from May to October, local and international artists compete in Sculpturewalk, and many of the pieces are leased or purchased by the town to be displayed year round. Castlegar is located approximately 222 kilometers (2 hours and 40 minutes) from Osoyoos, so it makes a fantastic place to stop to stretch your legs.
If you are travelling during the summer months, take the opportunity learn some history about the Doukhobors, a group of Russian pacifists who migrated to the Kootenays in the early 1900s, at the Doukhobor Discovery Centre. As well, downtown Castlegar is home to the CPR Station Museum, housed in a 100+ year-old station.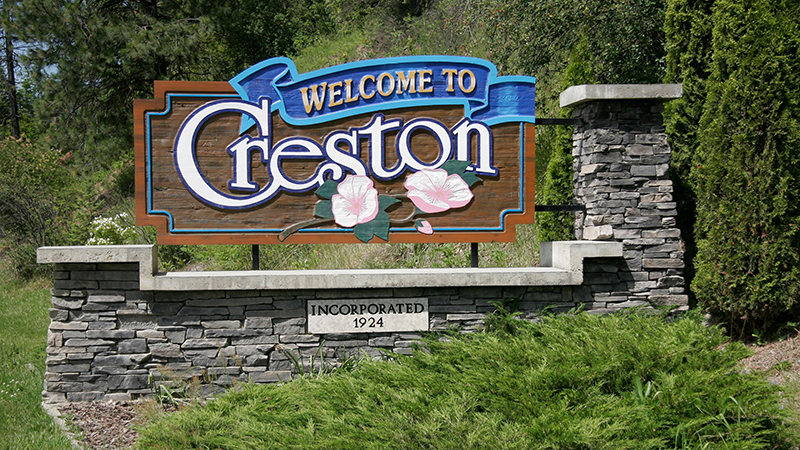 From Castlegar, continue on the Crowsnest Highway to Creston, another hour and a half drive away to the east. This small town is considered to be a hidden gem in the Kootenays and is touted to be the next wine region in British Columbia. Along with three well known wineries, there is a plethora of outdoor spaces to enjoy, along with fantastic culinary opportunities.
Follow Highway 3 to the junction of BC-3/BC-95 N (signs for Cranbrook) and turn left. We already talked about Cranbrook in the Driving Route Three, so we won't get into any more detail about the city or surrounds.
Experience Living History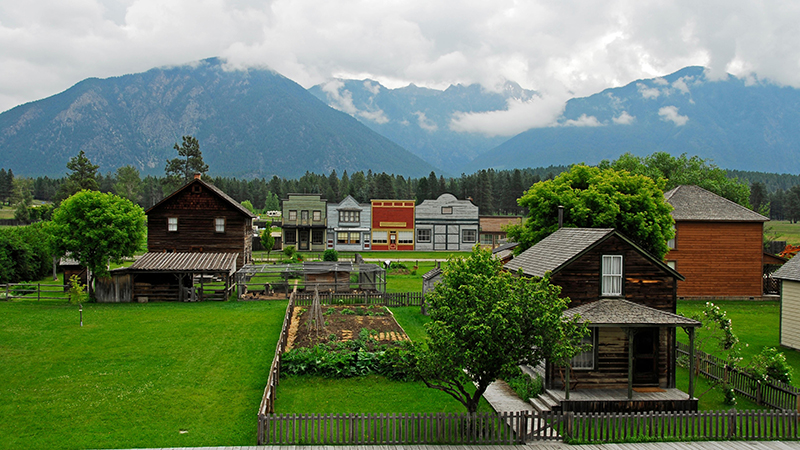 This route, however, is going to continue north on Crowsnest Hwy/BC-3 W/BC-95 S and BC-93 N towards Invermere and Radium Hot Springs. You will pass through Fort Steele, where, if you have the time, you can visit the Heritage Park, which is the perfect place to step back in time to experience what life was like here in times previous. This living history museum is run by a not-for-profit and has 98 incredible structures that have been preserved, maintained or renovated to their original splendor for your enjoyment.
For an outdoor experience not too far up the road, you can head next to Wasa Lake Provincial Park, which has the warmest waters to swim in the Kootenays, or a bit farther along to another lovely warm lake that is popular with windsurfers, paddlers and fisherpersons – Columbia Lake Provincial Park.
Hot Springs = Natural Spa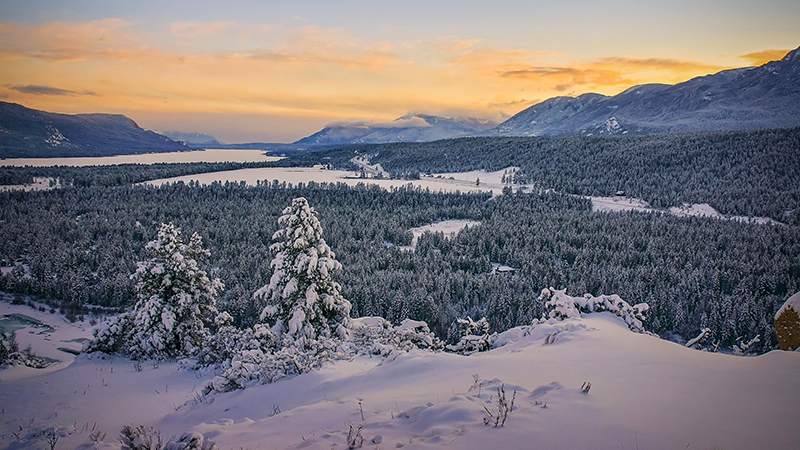 The real attraction in this area is the next recommended stop along this route. Tucked into the valley between the Purcell Mountain Range and the Rockies, Fairmont Hot Springs has an array of outdoor activities to keep you busy while visiting, but of course, the highlight of any stop here is a soak in the hot springs themselves. From Fort Steele to Fairmont you should allow yourself an hour to drive, if you don't stop anywhere along the route.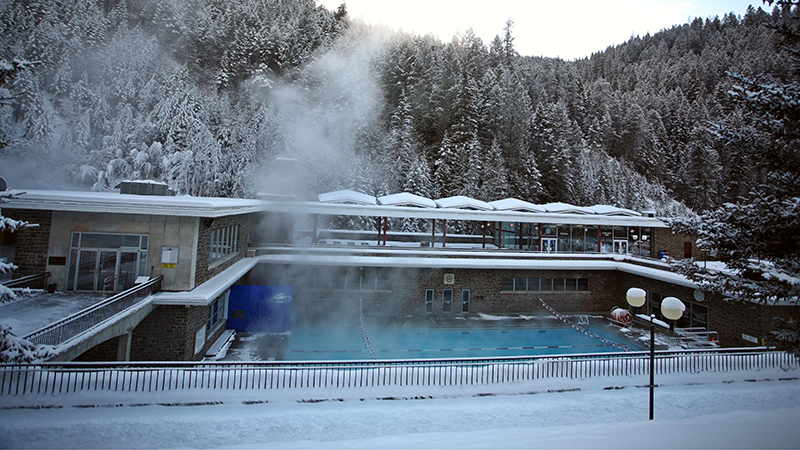 If you don't get a chance to stop at Fairmont to enjoy soaking in the pools there, you can always make a stop at Radium Hot Springs, another gem of a spot found in the Kootenay Rockies and less than half an hour drive up the highway. Of course, the Radium Hot Springs Pools are the perfect place to soak up the atmosphere as you enjoy the naturally heated mineral waters. Stop in at the Visitor's Center to get some information on the area from their great interpretive displays, or ask one of the staff about the nearby hiking or biking trails.
Radium is the last stop along this highway, so you need to watch for the turn off sign to head towards Lake Louise and Banff. Take BC-93 out of town to the east, and drive until you come to Highway 1, where you will take the off ramp to the right. From Radium, you are now only an hour and a half away from the town of Banff in the National Park. This highway is twisty, with lots of fantastic lookout points to stop and take pictures in. There are even some historical signs in some of the pull outs that will give you some basic information about the area. Travelling through the Kootenays and into the Canadian Rockies is an experience that you will never forget.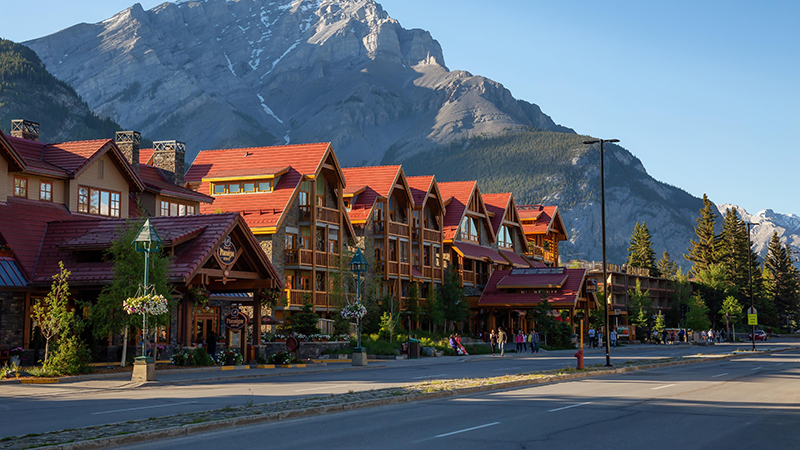 All Roads North Lead to Banff National Park
From Seattle to Banff, there are many great places to visit in Canada and the United States. These 4 road trips will take you through beautiful landscapes, historic sites, and even some of the best food around. Whether you're looking for an adventure or just some relaxation, the 4 epic road trips have something for everyone. Get ready to explore!