During the summer months, we get a lot of families vacationing in Banff, Jasper and surrounding Canadian Rockies destinations. Families love to vacation here because there are plenty of activities for kids and adults alike. Just make sure to make your reservation early.
Douglas Fir Resort and Chalet, Banff's top family/kid-friendly resort
When my friend Sue decided to invite me and two of her other best friends on a trip to Banff and the Canadian Rockies before her wedding, I couldn't be more delighted to find out she had booked a two bedroom A-frame chalet at the Douglas Fir Resort & Chalets.
I had heard about this amazing place for some time and determined that one day I would find the time to go. And now here I was on my way with great friends, ready to enjoy it.
I am going to admit right here and now that it was very difficult to leave the chalet to explore the Canadian Rockies and the majestic fir forests that surrounded us. With a queen size bed in the loft, two singles downstairs, and a pull-out sofa bed in the living room, we were in Rocky Mountain chalet heaven! Add the charm and warmth of wood everywhere and you too would be happy to wile away the hours relaxing with several good bottles of wine and your best buddies.
Your Kids will have a Terrific Time at the Resort's Water Park
Besides us, there were many families enjoying themselves at Douglas Fir, and there was no mystery as to why. Known as Banff's most child-friendly resort, there seemed to be activities galore for kids and parents alike.
One family was having a bang-up birthday party in the waterpark area for their seven year old, with the full use of the party room that was filled with child size tables and chairs. We took a look at the two indoor watersides that are a child's paradise and then had a swim in the beautiful pool, going on to enjoy our own brand of nirvana in the sauna and steam room. The resort even offers a fitness room, which we passed on this time around, as our intention to do a great amount of hiking was going to give us enough exercise.
If there is any one thing that seals the deal for me to return, it is Douglas Fir Resort's policy on dogs. The owners realize that leaving a family pet behind can be painful, and so they offer pet friendly condos for vacation travelers who want to bring Fido. This is duly noted for my next trip to Banff, as I hate leaving my puppy behind. Not all rooms are pet friendly, however, which makes it easy for visitors who have allergies to book rooms that are hair and dander free.
The Douglas Fir Resort Provides Non-Stop Fun for Families
There are many vacation options at Douglas Fir Resort & Chalets. You can stay in a one bedroom condo, a one bedroom with loft condo, or rent a studio or loft in the lodge. You can also rent an A-frame chalet like we did, and stay in either a two or three bedroom accommodation, or you can stay in one of the specialty suites such as the Mt. Rundle Suite, the Executive Suite, the Jacuzzi Suite, the Cascade Suite, or the Bachelor Suite.
One thing is for sure – there is no question that the perfect accommodation is there for you in one of the most perfect settings the Canadian Rockies has to offer.
The Top Three Recommendations for Families Vacationing in the Canadian Rockies
Whitewater Rafting
Cool down on a pleasant summer day by hoping aboard a rafting trip. For the adventurous family, whitewater rafting on the Athabasca River is a great way for everyone to enjoy themselves. Choose between a 2 or 3 hour trip on Class II rapids, perfect for youngsters and enjoyable for adults. Riding the rapids is also a great way to catch some wildlife sightings on the banks of the river. Keep your eyes open for bears, elk, big horned sheep and eagles.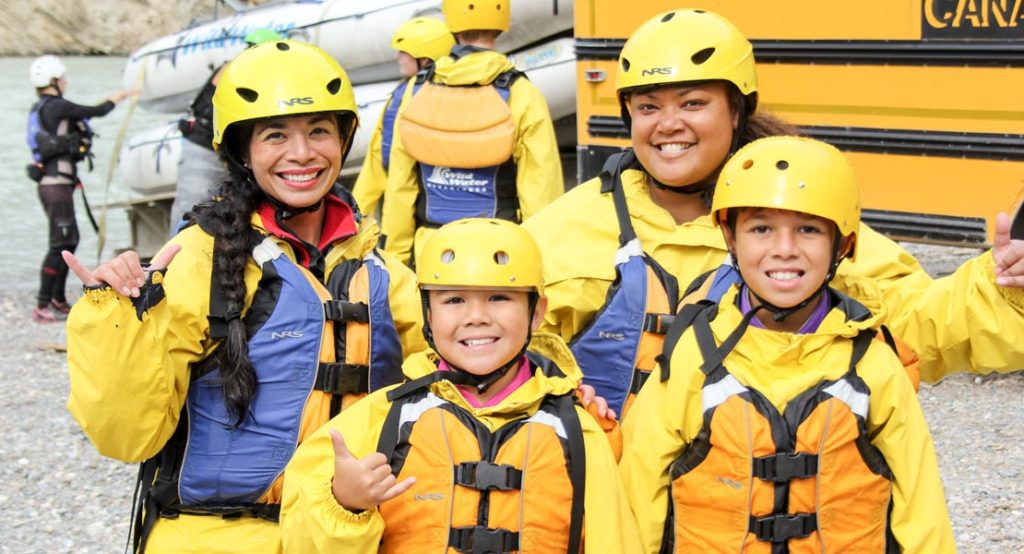 Jasper Tramway
Hiking up the giant Canadian Rockies peaks can be a bit daunting for little legs, so instead of missing out on awesome views, take the Jasper Tramway to the top of Whistler Mountain. Tour operators can provide round trip tours from designated spots in Jasper which also includes the price of the tram. Once you reach the top, enjoy a picnic lunch with your family as you explore the boardwalks and trail networks on the peak.
Banff National Park houses some of the most beautiful lakes in the Canadian Rockies. The hotel will recommend a company to use if you want a roundtrip transportation to Lake Minnewanka and a picturesque cruise that everyone in the family will enjoy. Not only will you see towering mountains, but keep your eyes peeled for native wildlife such as bears, big horned sheep and eagles.